i'm going to miss visionary a lot. the other day i was wandering around and saw all this commotion. last time there was this much commotion lifehouse was waiting around in the hallway for someone to show them where the studio was. this time it was just everyone, even our GM, cleaning out the old jock lockers.
i scored motor oil. they said it might have been Lisa D's. aw! i loved her.

tuesday after work was the first time i ever parked this high at ward to go to E&O. it's actually a pretty nice view up here. you can totally see bowls. if anyone wants to kick it in the shade for the next contest and has, like, a megaturbosuperzoom lens this might be your spot.

but ya, i was lurking green drinks. and taco tuesday across the way. it's like the college co-eds vs. the green grown ups every first tuesday.

mel was rocking the hotgrownupgreendrink look, i was in to it.

snuck over to the halekulani too. the bright shining star that is christina simpkins was having a nice event for her investors and regent entertainment films.

if any of you have actually been around her in person you might not be able to see so well anymore. her light is kinda blinding. i know i need bifocals. HI!!!

it was bougie to the max. but really fun and friendly vibe. with an uncommon but delightful surprise chance to spend some time with women i usually see in passing. kimi introduced me to Gladys Vernoy – ahem, the Consul General of Chile.

the lanai here is so romantic
i hope he realizes how big he scored getting to work with christina, man.
hi!
it was nice to bump in to mr n mrs miao. i was just lurking valerie like last week too. hi hi!
blaine knows grace. duh! fabulous soirée's much gals!
this guy was my total fave
i wish i can remember his name (aaron?). christina loves his espressos and his bigbrightshiningstarlightpresence presence. we were all totally enamored.
overate with eskae at the lunch spot the other day. we must have had like 8 cokes between the two of us, ha ha and they left like all the glasses on the table. we totally felt like little kids, but it was fun.
WAY more fun than the lunch he was sporting when i called him up. although i must admit this salad looks pretty damn good.
speaking of fun! jason mcvearry was actually in town. these are totally special occasions. and usually ones that call for beer.
waikiki beer
waikiki beer after work = the best beer in the world
wine tasting helps too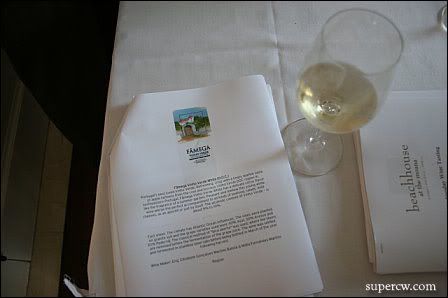 ps: we're at the beach house and it's a wednesday. in case you wanna, you know… drink. this would be listed but it's not free…
…but you totally feel like you've escaped to the hamptons. er. waikiki hamptons.
sup suzy! hey pam! sup fabulous writer from the seattle times!
i'm up for a steep learning curve in the whole wine and booze world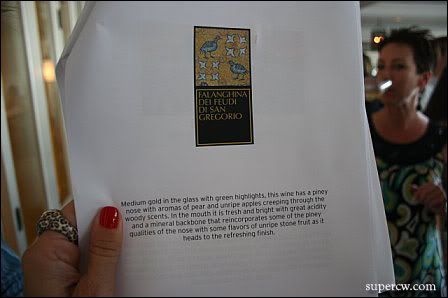 jason know a lot tho. cheers!
they were all summer wines. delish.
i'm sorry. i have to exploit jason for a minute. he is actually moving back to LA. probably this week. i guess i am his only team rider in Honolulu and i'm not as important as all those other guys. at the time of this photo i didn't know that. damn kid! honolulu is gonna miss that face.
reason # 102849384 why i'm going to miss visionary. getting to lurk B-Rock on the morning show with Cecilio & Kapono.
ooooo and getting rides in the Bomb Vee.
so that friday. the sneak-attack barack. when did you hear about it? i heard about it when i overheard cedric saying he was going to take the bomb vee to barack obama to drive it around all those people. i was like "!!!!!!!!!!!!!! CAN I COOOOOOOOOOOMEEEEEEEEEEE:KJASDKFJDKJFKLDSJHGJFASJF!!!!!!!"
a lot of people there WAS. three thousand to more specific. it was so hot and so awesome though. everyone was pretty hyped.
i saw a lot of you there. yup, jacy that was me. you weren't hearing things. i saw your photos tho!
i'll just tell you now, mine were pretty non existent
we weren't really down with going all the way in. it seemed frighteningly hot and we didn't have umbrellas.
but i could hear just fine. hi!
the only thing remotely close to anything other than support. but i think this guy is probably a very supportive person. especially for tibet.
the camp's media people arrived with the motorcade. they rushed in like major pros. i was drooling. the writer people were walking really fast too. with their laptops open.
they even got their own guards.
and there's barry. swear. i was scared to even point because of the coast guard guns trained on me. but it was actually mind blowing to be there. i really really really felt like i was part of something very special.
thank you for coming, man. mark haworth tells us stories about you. remember your classmate mark? you might not of, he was a "geeky choir boy". his words, not mine!
later got even more special. i was the first one to the wyland waikiki for art party. got to catch some of the opening ceremony. bien mucho gusto!
julie aragaki with her man. they are usually like me. right on time or early. i'm telling you. that's the goods.
hhhhhhhhhhiiiiiiiiiiiii!!!!!
ha ha look at the bands justin had. blast from the past?
art on the avenue!
PR heads and bartending academy heads were all up in the room early too.
so how rad was it that carl had an opportunity to come back through! this kid! i mean, come on! if you're spent even a small amount of time with him you already know, but he is a very amazing individual. doing amazing extraordinary things. and they are all done very well. except your website. get it up!! that would make life so much better. the WORLD so much better.
he showed me to the secret passageway that had the secret art
oooo HI!
his photos from all over, like bolivia and sweeden. it was nice to catch up with his adventurousness.
made mikey catch up too.
lurked john berger's…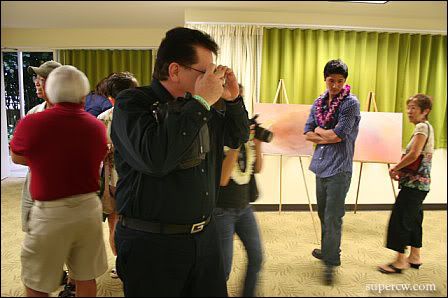 …photo
we all did. hooray!
oh there was hotness there
lauren and patrick
the pacific edge with social wahines.
and my new best friend. at least for the next ten minutes. SO yum!
finn was around. doug lange too. how's models!
got there just as blaze was coming. again!! ahhggggggggggghhhhhhh. couldn't really get a straight shot. honey wild turkey.
saw these kids outside and was like…
…you MUST be friends with carl!
made it to chinatown
cause it's 8-8-08!!!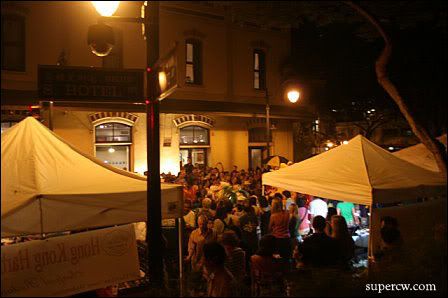 don't think there wasn't a ton of people there
this is the luckiest day in the world. in the 808 state. i'm thinking we are the luckiest people ever. at least tonight.
joe put some money on it.
saw james's band. they are so fun.
wound up upstairs for a second for a breather
a superfun retro furniture breather.
i love this place. wish i could buy everything in here. or maybe just live here. i could!
i mean. i could just go back to old school blogging!
the [area] guys were watching the olympics and drinking wine
we kicked it for a sec
and wrote wishes for the trees. you might not be able to read it but vince hopes jeannie has a safe trip home.
aw!
i wished for some stuff too. it worked so far!
ooooo also caught cherry blossom cabaret
shelly's itty bitty bikini gig. it was so cute.
kitty chow's gigs are always SO pro. all seductive and classy.
she's definitely a jaw dropper.
*sigh*
ok ok ok. one more. sorry to exploit. but humidahumidahumida.
hi!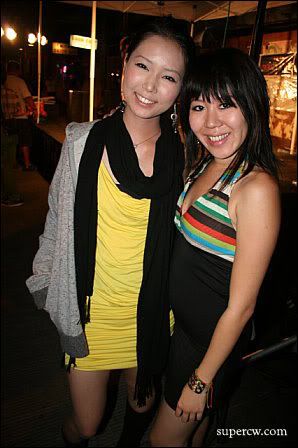 was leaving thirtynine but saw morgan and vikki on my way down. my new rule is to NEVER leave if i see someone on their way in when i'm on my way out of thirtyninehotel.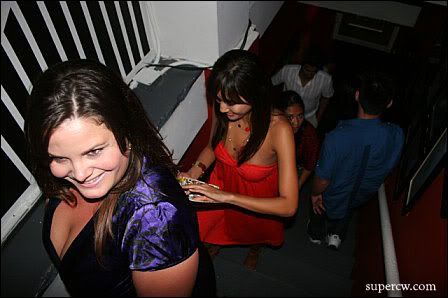 forever infinity. besides. it was nice to have a drink with these legs. i mean, these ladies.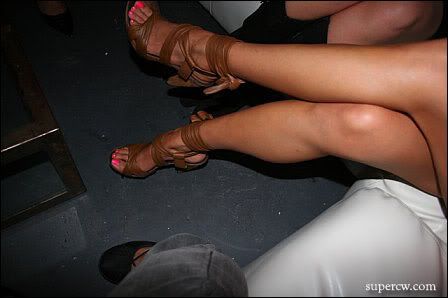 saw lance too. happy 8-8-08!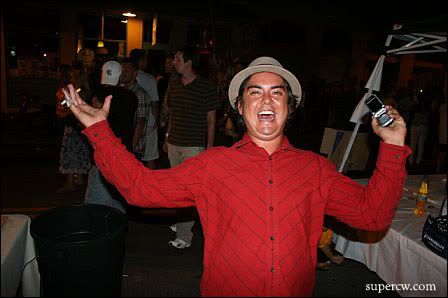 yes, i'm still in chinatown. i know this threw you off! but YA! the vertical junkies did a party at the loft for 8-8-08.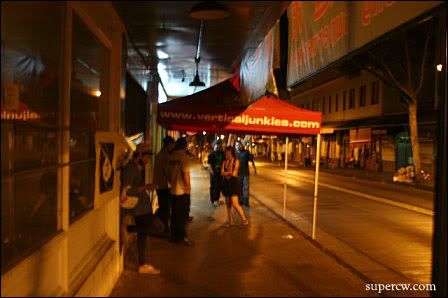 i was beyond stoked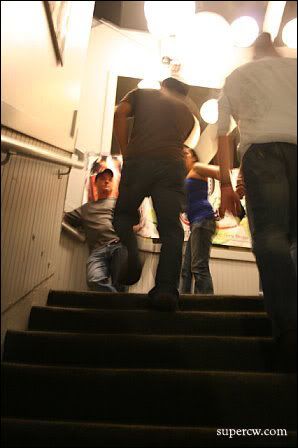 russ guys being incog cause it's the hipster capitol of honolulu. whatever! hipster goes with anything man. it's like tabasco sauce.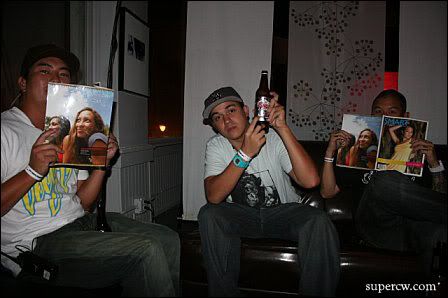 not gonna lie. it makes me feel good when i realize that not so many people can take good photos with my canon. ha ha if you saw how many shots like this i get in a week….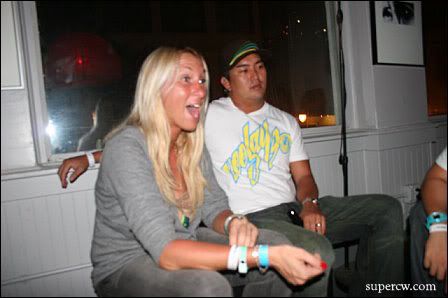 oh that. aw! no i am not seeing niv anymore. you HAVE to set ones like that back into the world. too hot.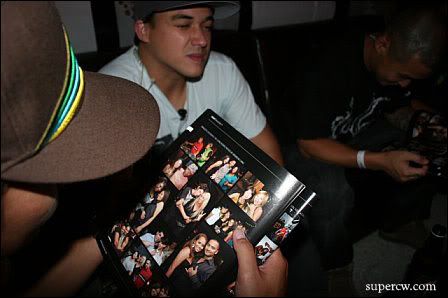 speaking of too hot.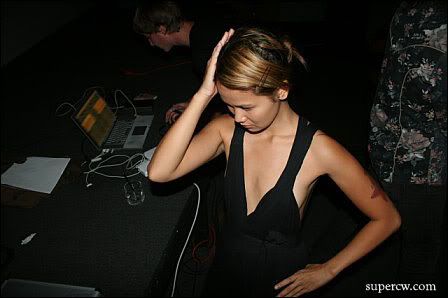 matt mcvickar is now officially dj cape cod. i think he plays kaleidoscope this week at the loft too. you might wanna check that if you like to dance.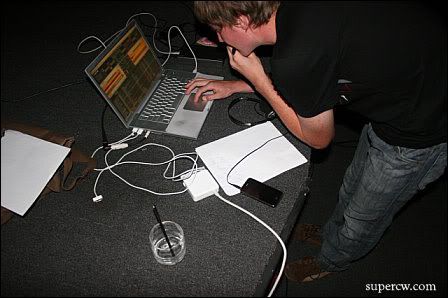 yes this is the same day as the street party. we're just a block down from it.
hotness at the loft!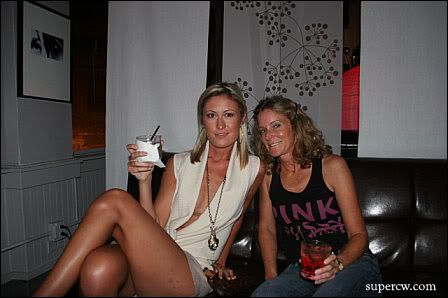 triple hotness at the loft!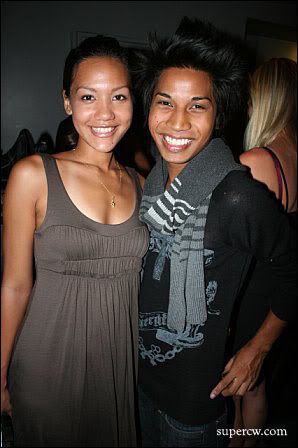 quadruple mega turbo hotness at the loft!
bubaaaaaaaaaaaaa. buba buba buba buba. call me!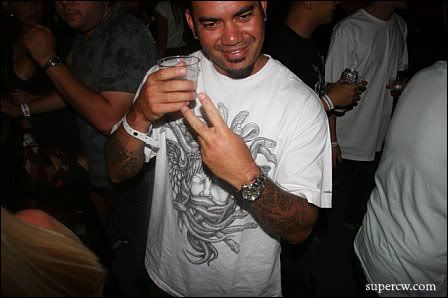 so can i just say… it was so fun to have the VJs in hipsterland. i never wanted this night to end.
bayly where do you put your photos man! i lurked your myspace but only saw surf stuff…. help meeee.
i got busted for giving half to eskae. we had to celebrate tho! he got honolulu weekly's readers pick for best local club DJ!
saw corey lurking. i know where he puts his shots.
overheard tonight by a minidress: "man that DJ was playing XR1 with crystal castles. he's the shit!!"
ya. it pretty much was the shit.
TRIED to get over to indigo since there was a bit of a bar crawl thing going tonight for chinatown. made it as far as this hair.
and this face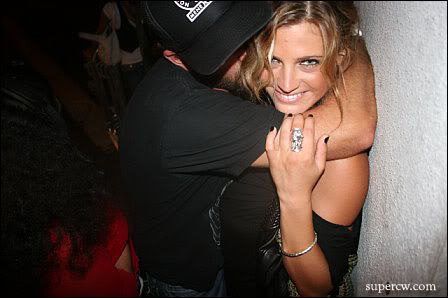 oh hey, nick. can i holler at your girl alex for a sec..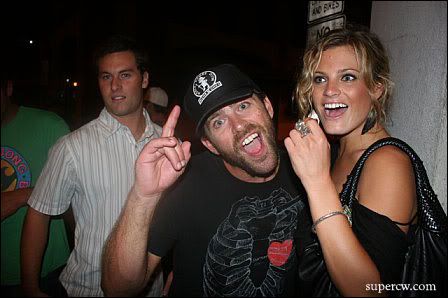 hiiiiiiiiiiiiiiiiiiiiiiiiiiiiiiii…….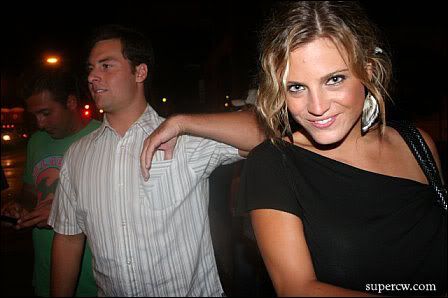 saw eli baxter! saw eli baxter!!! she was hyped that i got to visit seattle. i wanted to tell her that all i did was talk about hawaii and hang out with a friend from hawaii. but we just giggled instead. honey wild turkey.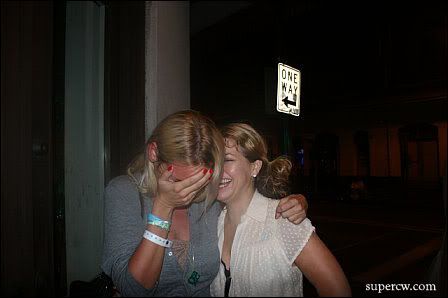 carl and his bigbrightshiningstarlightpresence presence. yup. he's one of those too.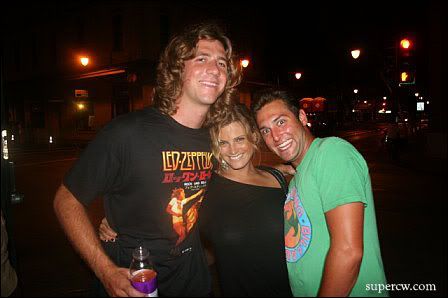 wanted to check out emerc at indigo but there seemed to be some stuff happening there. i heard i missed a good show. PISSED i didn't go over aaaaaaaghggggggghh.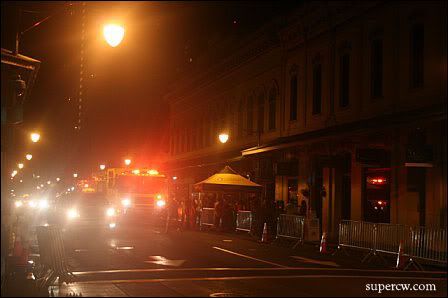 but it's cool, man. the loft was so fun. i danced even.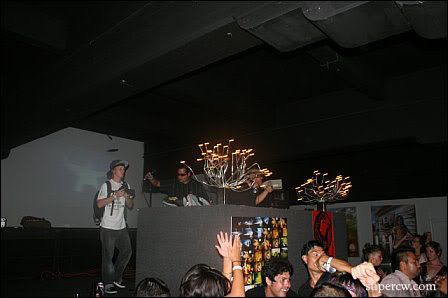 maleks made it through too. leobrating his leoness. happy birthday man!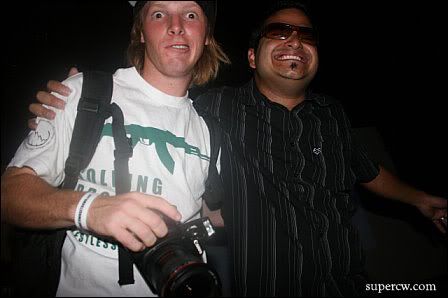 hi!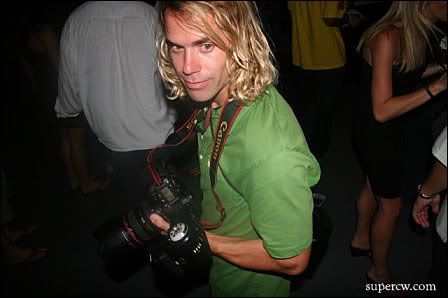 jim bought me a red bull. it definitely help ward off the honey wild turkey. i was back to normal in like ten minutes. thank god!
rp in his usual stance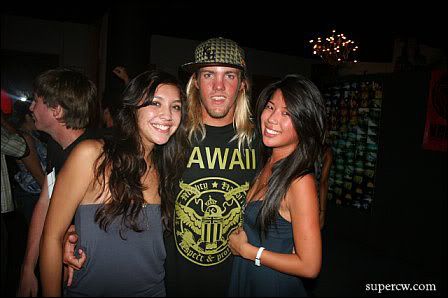 alex in his usual "i just saw cw" stance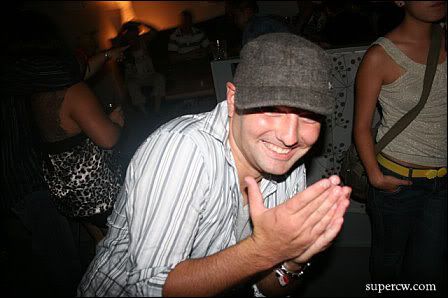 kera in her usual hottestgirleverintheworldeverever stance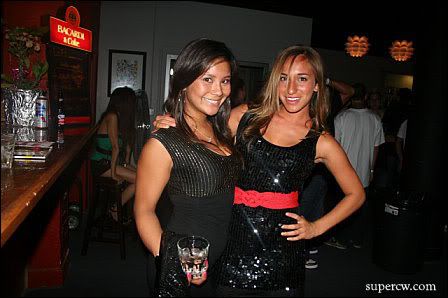 sorry. she gets two. i mean, you guys! the girl does VIRAL videos!! guguuguguguuguguugugugu.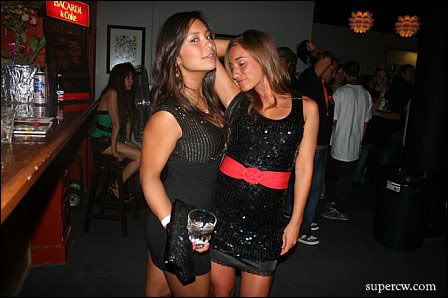 vince and andrew. hipsters! i am loving dan weavers new shirts too. vee is s.h.r.n.
i hid behind eskae for a while. waiting for the honey to get out and the red bull to get in.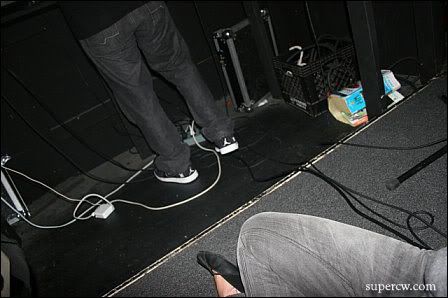 eskaeeeeeeeeeeeeeeeeeeee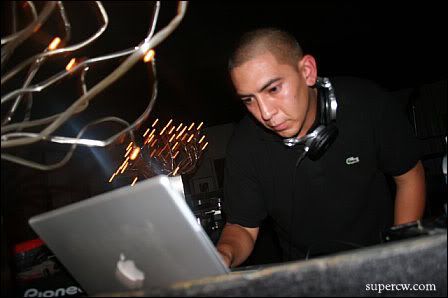 watched the bboys. yup. minidresses. tight pants. AND bboys. i love the loft.
i hope kanoe loves the loft too. cause ya'll got to come back for sure. this party ruled.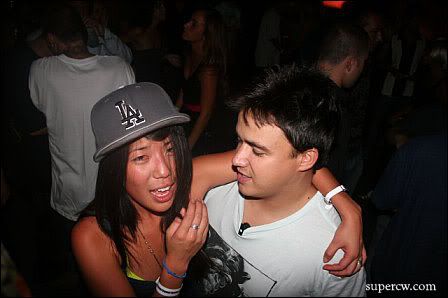 chilled out……. where am i… OH! still at the loft. downstairs. omg. i stayed here til closing.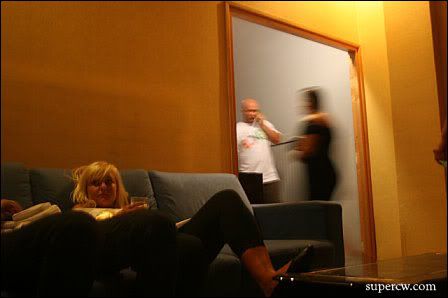 that's a record for me i think
creeped with vince for a bit
they all went to lotus. i caught a ride home.
gonna need to learn how to stay out past 2 again.
i can! i think?
how was your 8-8-08? did you watch the olympics? how's that going? i have a lot more photo stuff to catch up with but i'm almost there now. watch this space!
i'll tell you more about my new job in a bit. prepare to have fun all the time if you come around here tho.