So. want to know the MOST POSSIBLE amount of fun you can possibly have with arts and crafts for grownups? check THIS out! charlie boy turned me on to what i am pretty much calling the coolest thing on the internet right now. cube e craft. you HAVE to try it!

totally got a surprise visit from the cherry blossom cabaret last week. shelly! i mean. er. catwings! woooo. she's everywhere this one. monday night live. cabaret. parties. stuffs. totally pro. way to make our town sing, miss.
i was the first one at jazz minds last wednesday.
but skip ahead an hour or so. then i was witness to some of the coolest people in town. damn! it only be like 9:30pm too.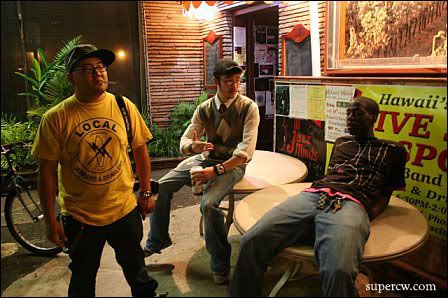 nah. but i been meaning and meaning and meaning to get over and see the deadbeats on wednesday nights. jesse and aaron have only been telling me about it all year. sorry guys, i'm not the biggest fan of the money pit that is jazz minds. but i heard they are free before 9pm now. totally rewarding people who can be early me with amazing talent.
got there before 9pm to not pay the $5 cover then spent my last $20 on a split. pretty much the opposite of what i should have done in retrospect. sorry. i definitely been having what you might call an "off week"
cruised in with ed cause he's never been there. LOVE taking people who've never been there. oh, he got the tofu steaks. waited about 2.5 hours for them. poor guy.
i hear this kim chee pancake is the best thing since spam and eggs. totally true. i couldn't stop sneaking over to sample.
yup. these guys totally kill it. i've been making quotes all over town about how much i love this band. i'll just say one more time. LOVE this band.
and oh man harumi. do you even remember when we first met, sweetheart? i do. it was at the living room at like 3am. maybe 4 years back. you were wearing your hood up before that was cool to do and just sort of owning the dancefloor. i was the one drooling in the corner. we talked for a sec and traded numbers. it was nice.
and WOAH! where did you find your melody maker? cause. damn. first of all, baby is like the reincarnation of mark howard. second. he absolutely kills it on piano.
ya. it was chill.
until the second set. when things got a bit nuts. and juan p was requesting…
…some major stuffs.
meanwhile during the day at my second home. i totally was fooling germ. i was all "i'm not getting your face, i'm just getting your radical new t shirt design, don't worry"
yup, i'm pretty sure this is the last time i can get away with this.
stuck around for a bit. did you know they're doing this really cool thursday there? sorry i can't focus it.
oh yup. bumblebee and his friends. jamal was so in to it he had to contribute even.
yup. it was chill.
saturday i couldn't not lurk the contemporary museum. Art Spree!!
i mean. they only do this once a year. have people in the pool, i mean.
definitely worth waking up early.
i'm just sad i don't have children to share it with yet. but it's still pretty fun. art spree!
with the mermaids!
all i ever want to do when i'm up at the museum is jump in the pool. so i get to watch these ladies go at it. so jealous.
museum PR darlings and honolulu fashion icons. pua and hiro. muahmuahmuah,
oh hiro! stop it! *blush*
but ya, this year was just as artsy craftsy as usual.
the arielist broke her ankle the day before. so i didn't get to see that part. bummer.
and everyone must have heard about the free starbucks. cause. the line was longer than usual.
but the famous amos was totally reading dr suess.
and mikey was doing a helluva job lurking
the usual scene of super fun arts and crafts
and the face painting was beyond the usual face painting….
….like, chinese opera face painting!
this was by far the coolest part
the av club!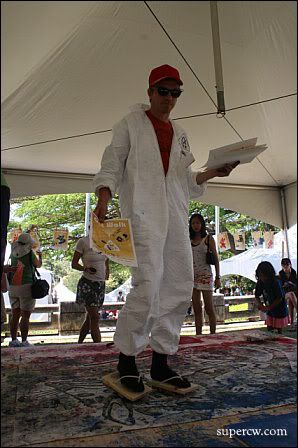 i wanted to make one so bad
so i noticed this but didn't really understand at first….
…that the av club had microphones on the stage
so they were totally tweaking all the sounds of the kids walking around in paint making art.
it was fucking genius.
the noises were mostly echoey. but so cool.
it took a second for the kids to realize what was going on. then they would stomp around more. the more walking the kids did, the more it would reveal the painting that was under the paper on the stage. fucking genius.
later at work i finally got to see the SB photo from the best of hawaii. man, that was so fun!
and also in my area. dave hisaka was all excited to show me his new toys.
dude bought like THREE digital cameras, a video camera and a laptop. i was like woah. what are you spending?! Baht??
last week i also got to see tanna dang. she got me all hyped about her event. if any of you have ever had a conversation with her you totally know what i mean. she is so rad. describing the entire event. up-lighting. a makeshift forest. linens. wine. entertainment. food stations. and $25 not the usual $150. i can't wait for this now!
nathan kam invited me to come say hello at murphy's last week. roxanne darling was there!
wait. i didn't do this right, lol. was trying to get one of us together.
got to sit in and meet more pr darlings. why? um! cause they were learning about new media! ps: WHY are people in pr always so ridiculously good looking?
what this looks like: super yummy fries and chicken. what it really is: another 45 minutes walking uphill. shit!
when he's not winning multiple PR awards, nathan is all about twitter
snuck in to thirtyninehotel on my way home. saw this from saturday night. aw!
been seeing the most beautiful cloud-sun formations all week. maybe they're always there and this week i'm just looking up more. whatever it is, it's very nice. would be nicer if i knew how to clean my sensor though. er.
speaking of nice formations. i attacked the dragon gate hawaii wrestlers in the hallway at work.
the event looks like a lot of fun. it's like WWE but from japan. they are all like actor-wrestlers.
omg! HI! the one on the end's name is
oh wait. HERE's the group shot. had to get monica the media star in there!
meanwhile last wednesday. i saw rob at the mall.
and moseyed on over to club monaco
they were kind of having a ridiculously epic opening party displaying some black & white photography.
it was definitely a bit of a media studded event.
that's the club monaco girls there with alyson. lauren and stacey came in from new york. they were beyond fabulous. i was watching their every move. learning. how. to. be. cool.
omg, leslie and elliot are so my favorite people to see at stuff like this. modern luxury !
omg, yu shing too. midweek !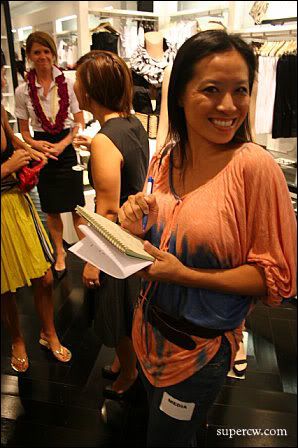 i wanted this bag really bad. which reminds me. wasn't i supposed to be getting a damn stimulus check !
mark's photos
oooooo even the m&ms were black & white.
store party. wooo.
wait no, i mean store art party woooo.
been seeing more and more of michael ni the PR guy
blaine ashley was there. totally matching the uber-ness of lauren.
naomi's photos were my favorite. it totally takes the paradiseyness and extends it. like, literally. the sky looks so cool when it's captured this way. yeah, naomi!
lurked michael making this video.
aaron is a friend…
…of anthony! didn't see aaron. saw anthony tho. HI!
and GOD! the people helping couldn't have been any taller, more male, or more attractive? way to get us ladies to say "YES!" to them every time they popped over with a tray. yes ye syes yes yes!
the media lurking the uber-ness
seriously. good lookingness and male is like the winning formula. i normally would have been like "no, thank you!"
club monaco = the smartest party ever
the media lurking naomi's breathtaking photos
outside for a breather myself. was hot in there. and omg! look who rolled up! mister antwan. if i had time i would so google my site for the good old days. when we were both batshit crazy in the party scene.
now you're all sophisticated and uber!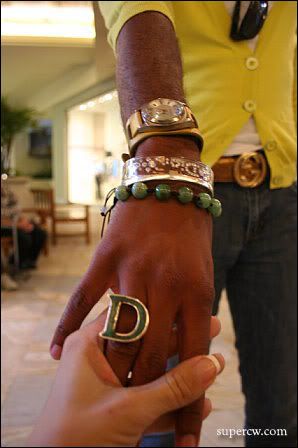 still outside taking breather with mikey. happened upon ara. ps: the loft got it's liquor license!
back inside. very cool book, man. i remember the stray dogs when i lived in naples. they were like 7th generation stray. would like travel in packs. street dogs.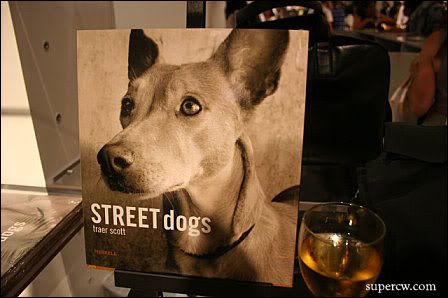 frida made it. she always does.
shana and crystal made it. cause. fab.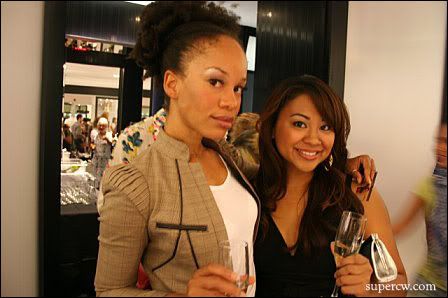 massimo too. cause. fab.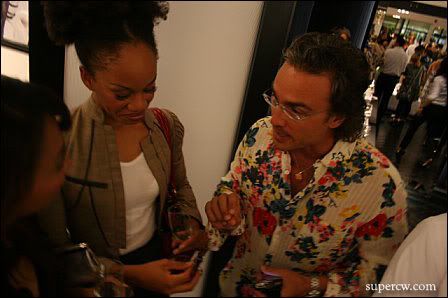 HiFi was representing too. cause. fab.
so i totally want these. except i'm a total goofball in heels.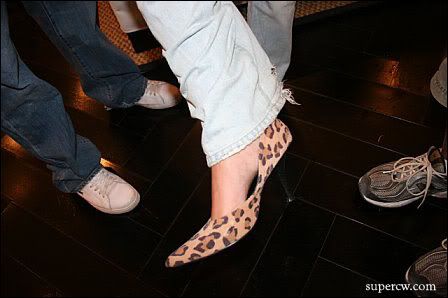 but if you're someone like hugette it's no biggie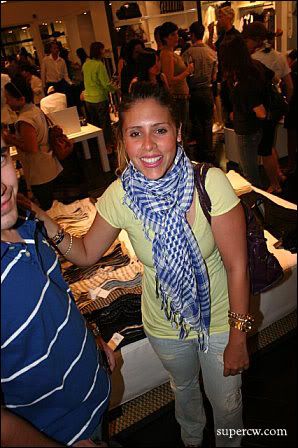 ps: hugette ! making my wish come true to have a severely hip publication on the streets in honolulu.
crystal is so funny. goes out with her own photog the way matt grimm used to do.
oh you.
more uber PR darlings. pua and monica. blowing it up fashion wise.
speaking of darlings. it's wednesday! oh man! totally know where to go for the club monaco after party…
…brought alyson with me. she was just as star-struck as i. together we were a couple of wine drinking googlie-eyed "woah is this band from EARTH?! we love them we love them we love them!" ladies.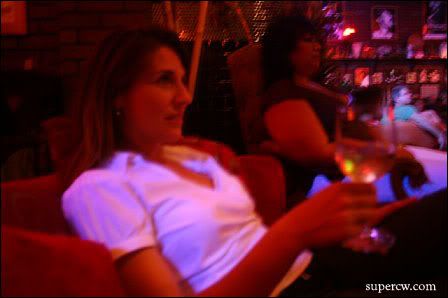 ethan is sooooooo laid back and "whatevs, man. whatevs"
then he sits there and just seriously tears it UP. i was drooling.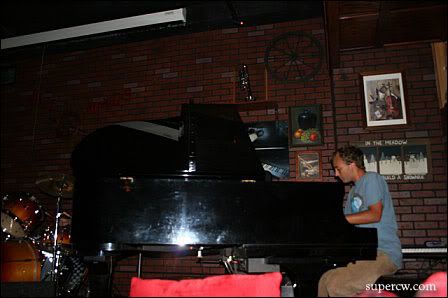 didn't get the best pic but had a very lovely view of the second set. a.k.a. when things get totally nuts.
oh man! i have a feeling i'm going to be doing nothing but this every wednesday for a while.
does anyone remember lost at sea? and how i used to joke that i wanted it to be possible to make the entire band my boyfriend? well! if it was possible, then i'm going to have to call that one off. the deadbeats is totally my new boyfriend. i mean, unless of course micah is already dating someone.
harumi and that bass guy too.
and this one. just. wow! consider me blown away.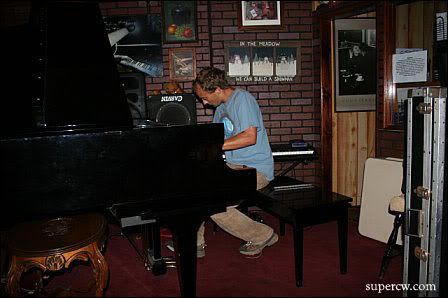 oh wait. NOW consider me blown away. i'm pretty sure ethan is at musical genius level.
best. night. ever.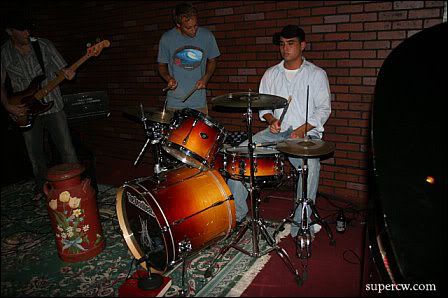 oh WAIT! juan even gets up there. jeez wednesday night was hiding the best kept secret ever at jazz minds.
dave just moved here frmo texas. he's a chef somewhere. can't really remember that part. something about somewhere. i do remember he was wearing his sunglasses inside for a while tho.
ya. it was pretty chill. or wait. the opposite of chill.
gotta get up early. anyone who is just as shocked and saddened as i am about our dear friend please come to kaimana beach sat at 7am. there may be comfort. and we will have each other.