so last week i had the funniest comment from someone that wouldn't tell me who they are. they said anyone that knows anything would be at level 4 and because i anticipated that it would be a cluttery hell of ick that i don't know anything. hm. i wonder what they would say now. cause, i know all i been hearing is …. well let's just say that someone who commented may have been proven wrong. don't get me wrong– that place has a LOT of promise. i'm just thinking some organization just needs to enter the equation.
but eh! i'm not here to preach. i'm here to show you how lucky i am that i get to see andrew sato, former american idol hopeful, every single day.

ooo and how's his new hair! just in time for his debut as a vip host at the biggest media head game of '08.
thursday i intercepted shana peete's post work tunnel vision.

cause i was having nobu withdrawls

depending on what day of the week or what week of the month it is [ahem, third thursday] nobu is so so so fantastic! special martinis that are priced extremely reasonable [ahem, free] and a special menu of their famous food that i can actually afford. not sure why leslie and shana care if it's that special thursday tho. i'm sure they both can handle this place any night.

chris hughes is like a celebrity AND he moved here from los angeles. so i'm sure he can handle too. not just on the nights where i corner him in the hall and say "HEY! you're GOING with me to nobu. NOW!"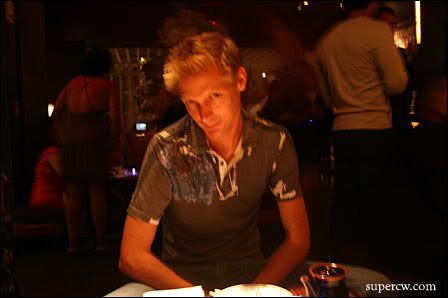 shana and i have equally overstuffed [or what i would like to call fat] wallets. most of my stuff is discount cards. hers is probably cash. lol!

speaking of hot ballah ballah. got to see jonahface. with a ridiculously cute chick as usual. this is moani.

north shore jimmy moved to town! BIANCA! north shore jimmy! remember him!?! circa '03?

their signature dish. we all got one. it was yum.

so if you're looking for the mod lux girls i'll just tell you: they're at nobu

oh! and congrats to you buddy moore! new publisher.

jade batteling it out with moani.

i was going to all this trouble to do the math and cursing out my mobi phone because the calculator has like this "permanent error" and even though figuring a tip only involves moving a decimal point or something i still have major trouble working out the amount, ok? but then i realized. they totally just include it for you. cause they're that hot. i actually loved this. LOVED it.

love these faces

haha i love chris hughes's "forced" smile. he really did have fun. i think? ugh.

oh you! can you make my pau hana experience ANY better? jeez! move here from new york and totally figure out how to make things work why don't you!
friday's pau hana experience was kind of the best ever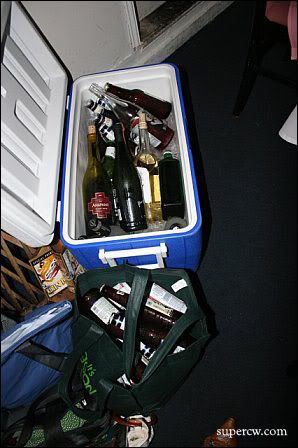 there's a really yummy thai place on beritania st. and a lot of people were there drinking and eating
but there was a reason besides pau hana. cutie pie randy face is leaving. back to long beach.
jasmine and thomas knew how to counteract that decision
so i was like "sure! i'll have a beer" and couldn't open it so randy opened his wallet. i was like "woah! you can open a beer with your credit card? wicked!" and he handed me this. ohhhhhh!
there was some spicy food ordering happening. that's drew's tahi-hot face.
and that's everyone's "how randy eats with a fork" impersonation.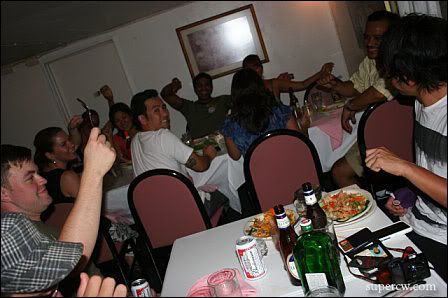 and that's randy's thai hot face.
thai hot is supposed to be the hottest hot hot you can possibly go. i was impressed with my ability to eat it. but you do see the milk there. it wasn't easy.
this kid is all proud of his thai hot eating ability. i'm wondering when the after effects set in. there's got to be some. right?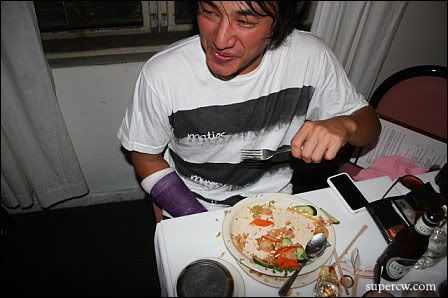 more of this.
willie is randy's brother boyfriend bff here on oahu. his little speech was too cute. he was like "randy what can i say. i've known you for two months and we've been arrested together three times."
the cuteness was too cute. but i had to get over to the design center. the ground up was at the cupola! and holy woah how is this spread! those nails belong to christina, by the way.
ooo and how's the cupola! so versatile. i love the full sensory overload of a ground up event. this place fits their aesthetic perfectly.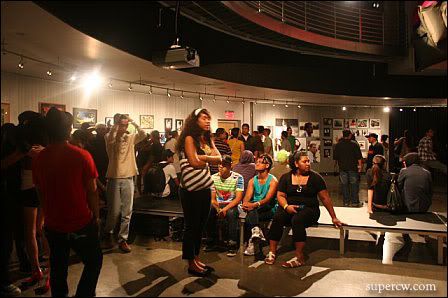 hi!
ooo juando! you know her? INTRODUCE!
hi sweetheart! remember me?
ooo juando you know her? INTRODUCE!
i love the jps school always donating their time for shows like this
and i love krista for being so hot donating her time for shows like this
hi!
this show was different from the usual ground up shows only in that it only displayed photography.
this face was kind of the main reason i came through tonight.
she's no joke.
i was kind of over dosing on the hotness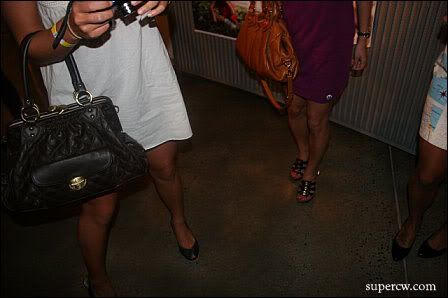 but ya, that's kera the new superduperhotfemale vertical junkie and alana with brooke.
and please excuse me for a minute while i continue to o.d. on the hotness of these girls. they seriously rule, but i was intimidated to take photos of such a talented young photographer.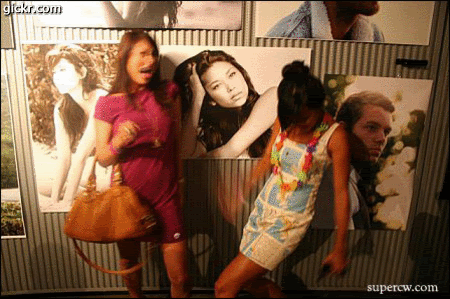 i mean. LOOK at this watch. totally my style, girlfriend.
aaron martin came through. hey! did i tell you i'm going to seattle this weekend? yup. i was saying to someone that i haven't even left yet and i already miss hawaii. heh.
hugette and her lucky husband were outside wining at amuse. i wish you could see what she had on. it was like this perfect carrie bradshaw ensemble with all different colors and prints. only like 5 people on earth can have that sort of personal style.
juando! you know her! INTRODUCE! nah nah nah, it's christina! exclusive what!
juando! you know angela keen? I KNOW ANGELA KEEN!
nicole came through with payne-in-pain. i think he's just kidding here. photo face.
aaron face.
juando! you dj??! nah nah nah…
he actually tears it up.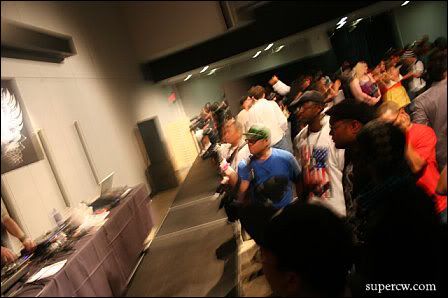 on the sneak-out i was bumping in to all the honolulu faces on their way in. one day i'm going to actually show up fashionably late to something. never mind. ! omg. my heart actually started beating faster just typing it out in a blog.
shana peete and johnny on their way in too. god! this right here almost made me go right back in. i was so tired tho.
saturday was an early morning. sergio's memorial. it was THE most beautiful experience. nobody could have wished for a better send off. i saw some photos and even a report on channel 8. it wasn't easy at first but i'm sure everyone there was able to find some peace. at least i hope so.
saturday night i showed up to level 4 at the time they told me to.
right on time
it was only a mild frenzy at that point
but i got to witness the blessing
and the pre show
and the media blitz
and the uberness of miss kellie peterson
and matty liu
alvin was like: 'sup lion! no table? wait over there.
just kidding!
but ya. the waiting. it's the hardest part.
was briefly distracted by vince face. VINCE! holy shit kid it's been what, 30 years? I MISS YOU!
the crowd continued to grow, and i continued to wait. until it got too hot. and i got too squished. it was cool to see everyone but after a while i started to get a bit claustrophobic.
holly said i was golden and glowey. i think she meant sweaty and aggravated . but golden and glowey sounds nicer.
but OH! look at drew! talk about an uber vip host. we were all so proud to see our famous co-worker there on the red carpet. not letting anyone in.
so i'm sorry everyone. i just couldn't play their game and wait forever. there was no special treatment for anyone, which at least was fair. i would have run away crying if they just let a few people in and kept us standing there. at least we ALL were stuck outside like that. even the people with tables.
but ya. i have a hard time buying into this sort of manufactured hype. it's way more fun to be hyped on hype than get tricked in to hype. a scene like this does nothing for me. it will definitely do something for tourists when they're here tho. hmmmm… maybe level 4 should just employ "line standers" to act as people waiting to get in all night? $20/hour to make it uber. oooooo!
speaking of deliciously welcoming nightlife people. skyline was literally thirty steps away.
chris hughes face!
omg. cedric even came over. and you all know cedric duarte hardly ever goes out anymore. it's all about chilling for this guy now. so seeing him at skyline and not youknowwhere for the youknowwhat is definitely telling me i was right about the clutterly hell of ick.
spent some qt with my old friend graham. got outed by blaze on twitter about it. he was asked to go n unusually early, like at 10:30 or something. but oh my god…
…as soon as he did people were essentially, how you say: dancing their asses off
i made more rounds. elaine!
kiesha! er, kiesha's glitterchest!
security!
derin had his table but i didn't see derin.
oh wait! here he is! fashionably a bit early for derin too. awwwwwwwwwww.
lukeface lukehair!
flash was like "wait, hang on"
"okay now!"
then he was like "wait! get this"
"me and graham funke"
i turned around and totally thought this was john cho. hey, it was dark in there!
it started to get kinda nuts after that
did a cameraattack tour around the room. accidentally zoomed in on rocko tho.
lg attack!
alex attack!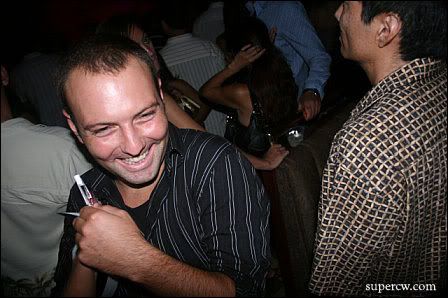 goldenchild attack!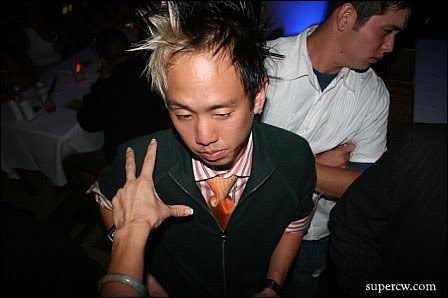 juaquin attack!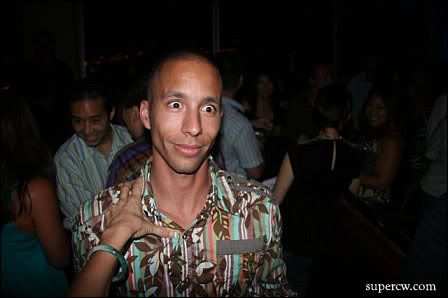 omg. so no shameless sponsor plugs or anything, but rob just got here with a large size red bull. i gotta take a break from this for now. stay tuned!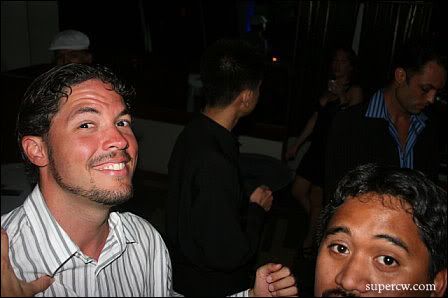 oh wait. you don't even notice if i take a break. never mind! but i'm back! that was a pretty epic mixed plate monday night. omg. next week's blog is gonna be dirty!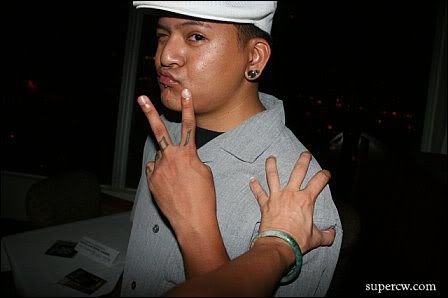 meanwhile. ara and aly came to skyline! upping the coolness factor by about a thousand.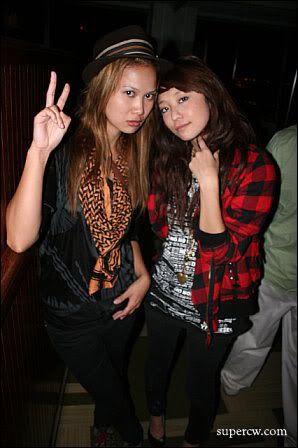 speaking of upping the coolness factor. i HAd to get to strangefruit! my boyfriend the deadbeats were playing at mercury. their first time?
i sat back waiting for the chinatown people to start falling in love
and yup. they did.
saw mish from cherry blossom cabaret and brett shimabuku aka biku aka the rising melody.
and aw ryan!
so mercury. you been there? i been bummed cause they have no happy hour but i can't stop loving them because it's just one of the best places in chinatown. i love that i still have to tell people where it is too.
also– this is the first time the deadbeats played here. the stage was WAY too small for them but it actually worked really good. the show was hella intimate. exactly what you want with these guys. !
thanks for booking them shelly! i feel like it was like some favor personally for me. i mean, i know it's not but that's what it felt like. smilie face.
so tried to do my trademark sneak-out but it didn't work out so well because i couldn't find my keys. realized they were in my ignition. in my haste and anticipation to see the deadbeats i jumped out of my car and locked it. gina stole borrowed mark's truck to come to the rescue.
all that coffee at the hanohano room made this possible. ps: we're at the living room and it's 2:30am.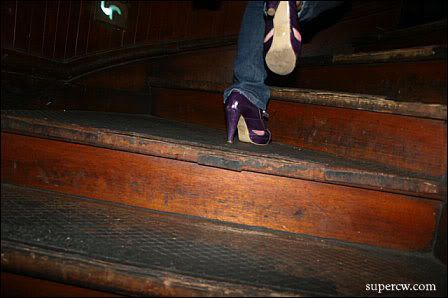 but aw look! ryan and ara made it over.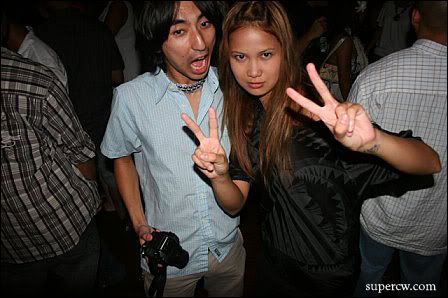 swagger saturdays! it's free to drink here if you come at like 9pm.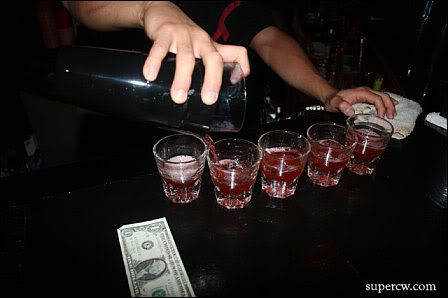 just kidding about that shot. we were straight water and red bull.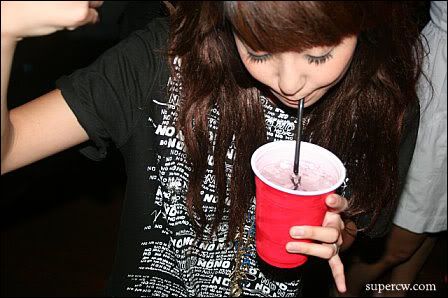 it keeps the energy up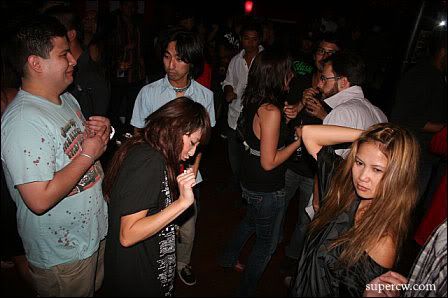 i couldn't reach jami to give him a kiss hello so i kissed his hand. i think i made his girlfriend mad. jami's girlfriend, if you're reading this i'm sorry! sorry sorry sorry.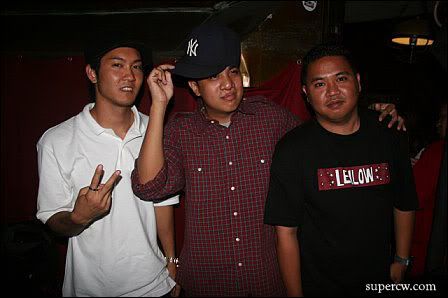 it's so weird to be out this late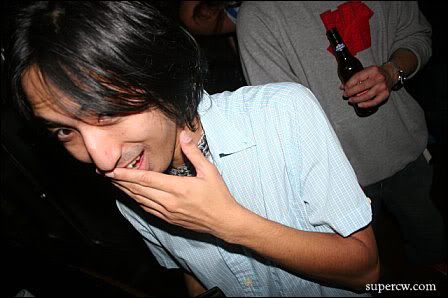 cause. i mean. when i was ara's age it was this late at least 3 times a week. i realized i actually don't really like drunk people in a room anymore. fun people in a room is ok tho. so there's a really fine line.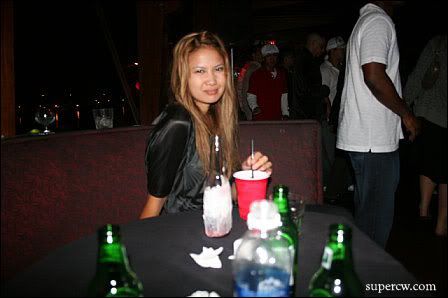 didn't make sunday morning so easy.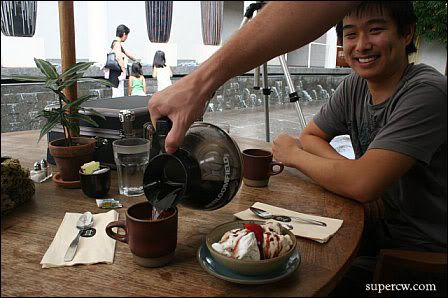 but mikey helped. he told me all about the dark night. . he's a really smart articulate kid, you guys.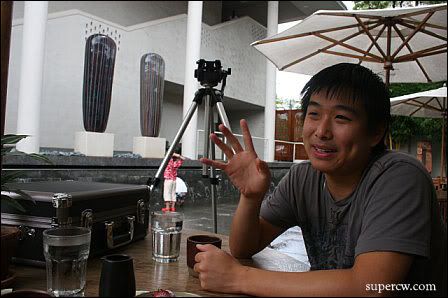 remember how i just mentioned that the academy all said goodbye to randy? well today was really his last day.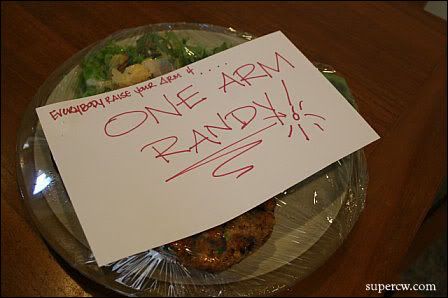 i have a feeling they do this after work every sunday. but this one felt special. for randy!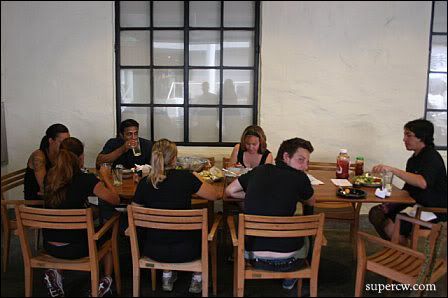 thomas wanted me to get a photo of this clown, but i kinda blew it.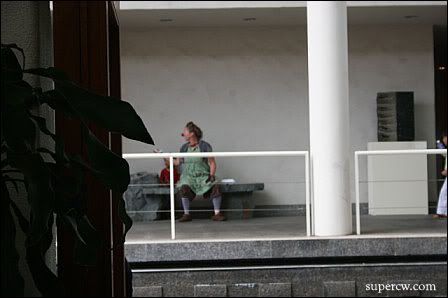 this reminded me of groundup. baby groundup!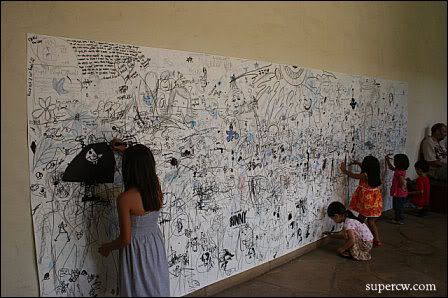 monday morning water cooler was all about the hypemachine saturday night. ritchie aqui even gave the VJs a detailed presentation on the layout. those seats that retract back to reveal a dancefloor? go back about 10 feet.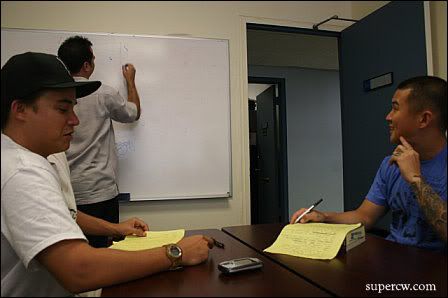 anyway. gotta run! oh wait! wanna go to seattle with me this weekend? yes? ok cool! get packed, we leave thursday.