so you're been asking me how my weekend was. aw! well, i'll tell you. i been feeling closer and closer to this chick that harumi the hymn routinely posts. it's meant as a joke about what people who miss their wednesday shows are morphing in to. what's sad? i'm totally that! without the lovely companionship of a cat! i'm serious. i barely left my house last week. i haven't been up to much. here, you want proof? this long update isn't so long. i'll give you what i have though.



so ya. the coral ballroom. and yes, ma'am. i'm SUPPOSED to be here tonight. oh yes! check that! i'm there. see my name? i'm so totally invited tonight.
thanks to joe for the invite. i'm totally at neil abercrombie's huge birthday bash.
yup. it was a sea of aloha shirts in the pre dinner holding area. my eyes were actually starting to go aloha shirt buggie then this lovely siren appeared out of nowhere. miss kaleihikina akaka! hi hi hi hi hi hi hi!

happy birthday congressman! woooooo!
"hey, christa! i thought you try to stay away from political stuff on your website?"
why, yes. that is usually the case. but come on. it's the guy's birthday. and hello! he gave all of us energy efficient light bulbs!
and he's the most tech savvy politician around. who cares if his namesake is all homonymy with a blown college co-ed lifestyle clothing brand? tech savvy+energy efficient light bulbs=lots of love from me
i mean come on! the guy live streams!
andy bumatai was totally new to it.
and haw haw! how cute is he standing next to the mayor! my irrational mind took over at this point and was kind of hoping neil would jump on mufi's shoulders and they would run around the stage saying "crush you! we'll crush you!"
i hear there was a cw appearance on the live stream.
say goodnight, chocolate cake.
oh wait! obama was totally there too. via video message. he was like "i can't wait to see you bench press your age now, sucka!!" or something like that. it was wicked cool. we were dying.
i mean, come on. obama's a busy guy. and he totally made time to record a funny ass message for neil's birthday.
so this isn't the same night. even though it's the same place. this is actually lunch the next day. holy CUTE! how's that cookie! naomi had them all made for us. our table was the *only* table that had custom yummy hokulani bake shop goodies. pacific edge rules.
but ya, i know right! TWO days in a row at the coral ballroom. i wish they had like a punchcard thingie for the parking there. five events you get one free. ooo, i also want a punchcard thingie for Willie K. see him 3 times in one week get one free.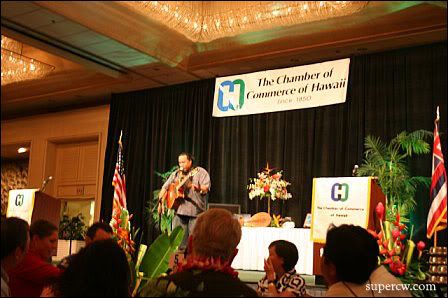 they only had two giveaways. and OUR client won! talk about the best lunch ever. she's totally gonna get styled out at turtle bay now. yay val!
for some reason i missed the photo op. but daniel inouye gave the best 4 minute speech i've ever heard a politician give. i love him. is that ok?
and poor chris hughes. he's been working triple duty as our night jock on the zone AND the IT director guy. we're kinda just now getting on an internal network just now. i totally feel your pain man.
thursday night, and the rest of the weekend actually, i was ms lame mclamerson. case in point? i watched my friends play rockstar via the internet. ps: angela keen does a mean clash!
friday morning i was like "jose! where did you get that SHIRT!!"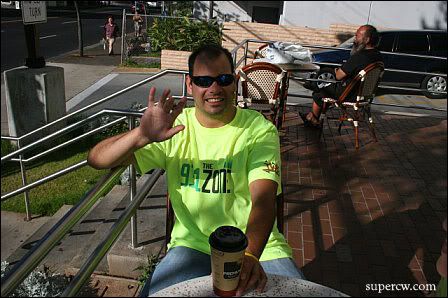 and he was like "dude. go make a donation to ronald mcdonald house and augie will give you one". yep. augies had ZONE shirts made on his own. just to do it! for charity! i love augie.
speaking of charity. i was on a for the greater good mission all last week. thursday was the finale for kincaids Women In Need promotion.
and since Mary Scott Lau is a former radio geek like me i was beyond stoked for an opportunity to meet her and help out. hi ladies!
i got out of there when i saw this though. the most ONO pupu on this island, i swear. macadamia nut encrusted baked brie with honey-basalmic vinegar drizzle and apples. oh god. i can't even look at this photo. *drool*
it was easier to look at this anyway.
hahah rob. who knows what's going on yet? how about that red bull cola picture on his facebook! everyone was like "???????AL:SDKJFLSKAJGDJGEIUOIAFU#" yup. it's happening.
local motion tommy was all stoked. his son keanu just won the junior nationals in cali! aw. baby surfer.
rob!! TRAITOR AHHHHH"ALKDJ"U#()J#"GJG:J:SDGJK!!!!!! (juaaaas kiddn)
maka might be salty cause i have yet to make it to his mix plate monday event at the newold king st cafe. i see the line around the corner in the photos and am like "way to go. success! you don't need me in there" but he's like "um, yes you better come." but promoters say that to EVERYONE right?
i'm totally going to the next one. seriously. lady on couch with cat i am no more! that's just a time-of-the-month thing, i promise.
so we're all here to see taylor steele's new surf movie, by the way. stranger than fiction! and say goodbye to next door for july. stranger than fiction
they are gonna work on sound proofing the spot and stuff to stop getting complaints. i already told you about that. there's a scary guy that tries to sell me drugs whenever i stop my car for too long on maunakea street. i wonder if the LC take those kinds of complaints?
but ya. the film was epic. and it was nice to be here for their very last night for a while.
outside i caught suzy celebrating her birthday.
ooops. shit. i blew this shot. sorry suzy. happy birthday tho. we love you/the sheraton/rum fire/hanohano room! love it love it love you love you.
rice took me up the hill later. to a cute little house party. thank god she let me drive. cause. i don't' think i would have made it on a bike.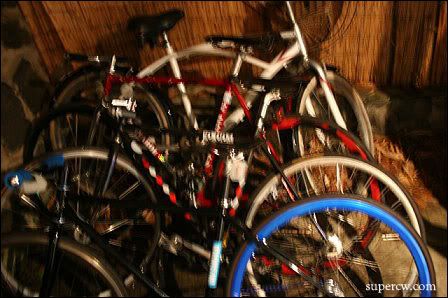 you might not know that vince is an amazing photographer. he's obviously a zillion times more low key than me. he's messing around here. camera battling.
with me AND lyan rau. all my shots from this house party are totally out of focus tho. beat.
so scooped.
all my photos from this party look like this.
or this. not so good. sorry sorry sorry. there were really fun toys and really fun people there though.
i know for a fact this cutie pie had some amazing shots.
and shit. travis even got VIDEO.
yup. i was pretty much the only one that blew it.
but! it was mike and nick AND hoku's birthday so. party! hahah how cute is the cake. they had made two cause they were going to form it into the shape of a bike somehow. it didn't work out. so they just put "bike cake" on it. it works!
friday we said hello at the loft and saw the new stuff from the Honolulu Art Collective. it was a ghost town first friday. kind of the opposite of what we thought it would be.
but ara made me two hot dogs. it was a total success, man. i love the loft.
4th of july in honolulu. my first one at ala moana beach part. it was beyond epic.
so many people there. i was stoked. organik ed brought his friend matt from kona out. they were like two jersey-gone-kona boy peas in a pod. er, if ed could hold still.
i heard that people got their spots like days before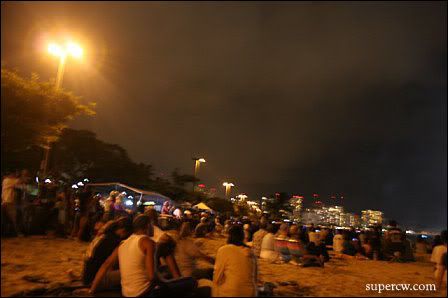 it was worth it. i mean. i was trying to catch up with vince and jeannie at the ilikai marina but decided to just park it on the beach. the show rocked.
saturday morning i had to work. but it's fun work. i got to see willie k for the third time (one more and i get a free one?) and listen to frank mispronounce everything. lol, he reminds me so much of colonel.
i also got to get all chicken skinnnnnnnd listening to these kids sing seasons of love from rent. ya, RENT! it's only playing til the 20th.
sunday was like this. i didn't bring my camera. typical sunday at kaimanas tho. sunday routine infinity. missed dodgeball but won't next time.
not gonna say sorry again for being so low key. i just needed a quick rest. this week is already going NUTS! you'll see.
love you, cw