this weekend will be pretty wow. jesus, first friday AND the 4th of july on the same night?!? what the! well, whatever you do i hope it's fun. if you're broke or just bored go ahead and check the open bar listing and see if there's anything worth hitting up. i think i'm gonna hit up jill for some scotch tasting. scotch is yum.
oh and here! i can share what the weekend was like last weekend. i think this was thursday or something when there was all this commotion at the station because the MMA fighters were here. that one in the pink is a GIRL fighter!


speaking of work. THIS is why i'm having no luck with this new cardio program that i've been meaning to start. don't get me wrong. it's so rad to get so much love from leonard's Masada's but guguguuggu.
speaking of work, part ii: my bomb bros finally got the suburban wrapped. we actually have a station car now. we're like a real radio station now!

celebrated later at the honolulu academy of arts
so who knows sara cunningham? huh? LUCKY! i cruised with her and baloaloa for a bit last week at that starbulletin thing at the midweek. she's like the human version of glitter.

so ya. art after dark. spent more time lurking than i did socializing. they were saying it's at a critical mass, which is so right. still super good though. so good that it's bad. but like, michael jackson bad. bad bad. like good.

nicholas was setting our mouths on fire with the potato skins. it was goodbad. more good than bad.

it was definitely a chore to even get me out walking around tonight. i was having more fun lurking.
randy found these somewhere. the gummy squid was so delicious. the rest kind of melted-smooshed in my hand though. strawberry.

woah greg! that's our intern. he's playing majong. i know it's hard to tell.

sat for a minute in the sexy courtyard. also spent some time in the walk in freezer. both times i blew it.

looks like she didn't

made it to soul clap after much wine. this shot and steve's thank-you e-mail and photo recap was pretty much the only way i'm certain i was at the anniversary party. congrats eskae!

saturday night had a lot of hip hop. that's dj bumblebee. he's back in town i guess? or did he ever leave? he's been on the bill all over town these past few weeks. such a cutie this one.

such a cutie THIS one! i'm atypical living's "official" girlfriend, by the way. jealous much! LOFA!!!

speaking of hip hop. nabahe was there. not as cute without the bunny hat.

kai omg i'm so sorry. this was supposed to be a better photo. i LOVE my real recognize real shirt tho. it's the illest material. i'm going to take a photo.

so that's it for jake the snake. this was "officially" his last show. i'm pissed. and sad. more sad than pissed though.

so bye jake. no more genuinehi in hi. now it's just hi.

the soul pacific played tonight. first time i seen them in a whole year. the last time i caught them i was drooling all over the place. can i just tell you again how bomb they are! and oooo i love their whole thing how they all say hi to each other when they get on stage. love it love it.

hip HAWP

so guys. when you playing next anyway? i'm so there.

hip HAWP.

oh what! see the camera? yup. aaron was there.

who's dating him! speak up! i KNOW honoluolu isn't so lucky to have a guy like banks on the market.

had to cool off. hip hop was HOT! like, temperature hot and hot hot. thought i could cool down next door at thirtyninehotel but NO WAY> violetta baretta was in the middle of a show.

how close have you ever gotten to her? i swear she smells sooooo good. like a dreamsicle cloud of sweet heaven. i actually had to ask her what she was wearing. it's usually either betsey johnson, marc jacobs or some apricot coconut thing by pien sud. i think it's the last one that i ususally smell. it's super sweet. like her everything.

so anyway. love this girl. she's so pro. go cherry blossom cabaret!

so ya, black square is back from their tour and having a little cd release party. this was like one of seven they had last week. they are still so fun.

if you promise not to laugh at how immature and ridiculous [and brunette] i was in '04 i'll link to the time i saw them in the battle of the bands at the wave.

they have gotten so much better since then. and they were already amazing back then.

ska reminds me of being a kid. i can't help it. we used to sneak in to the most ruckus dark ass basement clubs in tacoma to hear bands like this.

i remember one was called the heinekin brewery. but i never saw heineken there. just underage kids, and a lot of cardigan sweaters.

fuck. i miss the 90s. guess friday i can relive it if i want…

back and forth so much tonight i swear that chick working the door at thirtyninehotel probably thought i was a drug dealer. i was just making sure i didn't miss anything hon. but ya, jake. can't tell you enough how sad/pissed i am to lose you. if seattle doesn't appreciate you for one second please just come back.

nicole is going to kill me. i accidentally deleted the other pic i had of her awesome hairdo. this is the one i meant to delete.

sorry i photoattacked you while you were trying to break down, banks. i was in love with you your shirt.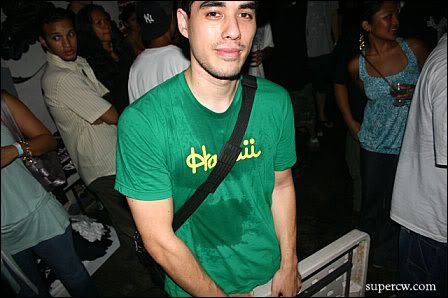 blue scholars

i just realized they had matching plaid. seriously been seeing a GRIP of plaid around town. that night i was out with rice? like SEVENTEEN people in plaid. i'm gonna dig through my old clothes tonight. wanna be in style too…

but ya. blue scholars killed it.

next door was stuffed to the ultimate max, a la exactly why weirdo people give it bad reviews on yelp. i didn't even dare go too far past the front door. i would have sweat my skin right off on to the floor. eew.

there's only two of them, by the way.

but yes. amazing show. fantastic show. retarded good show. and ps: people who give next door bad reviews on yelp are the same people that love pearl. so. there you go. to each his own right!

sunday got the hell out of town.

but only drove like 5 minutes up. contemporary museum.

so close to town yet so far away.

it was the member's brunch. but when i walked in the lady was like who are you this is invite only you had to rsvp. i was like i did rsvp. that's me right there christa wittmier. and when i pointed at her list she hid it from me. omg it was the funniest thing. i would have laughed if i didn't feel so embarrassed already. she obviously knew my sneak-in trick i used to do back in the day.

one of these days i'll fit in.

but it was nice to see the exhibit again. and show randy too, cause he's never been up there. and also eat. eating is rad. i never saw this summary thing before. we caught it when we were sneaking out the back. it was AWESOME! inger did you do this?? i love learning more about the people i'm already loving.

speaking of artists i love. visited the noguchi statue again.

we were the first ones to buy wine at flavors of honolulu. i guess, technically it was still breakfast, but i had already been up all morning so it felt like lunch…

saw the bodies again. couldn't not. it's soooooo oooooo! and ew. decompressed at the park.

where shane curtis was having a serious bbq.

shane curtis. filmmaker. actor. anti-add drug spokesperson. ben from LOST's hand twin. bbq master.

shane's bbq friends
parknap

willie!

parknap. zzzzzzzzz.

was woke up by an eerily overenthusiastic sonny.

oh ya. kickball today. he had told me that he was planning on taking it VERY seriously too. cooler. ronaldo intro. everything.

it was actually sonny AND germ that were going all out. it was gonna be a mad kickball war.

they even had warmups
i can't believe i was the only one that remembered that i got picked last the other time we played. it was probably for the better though. i played like one inning then fell out.
joe came by and twittered that he was there.
vince's fly ball
it was outta there
ha ha randy must have been melting in the sun with the cast. one time he caught a fly-ball and his shirt came all open. it was bliss. at least for the ladies.
sundays at the park forever infinity
i always get all salty when they set up on the beach tho. it's SO hot on the sand. but i love how all the bikes look piled up.
but after sunset it is glorious.
nicole bought all kinds of seasoning to go with her fish. damn. she's even hardcore when she bbqs.
hello friends. could you be the coolest most fun people i know? you just could!
you guys too.
best sunday ever. the end.
so shit! another three day weekend huh. radical. first friday has a grunge party and the loft "sorta" open. make sure you get some booze! and say hi to kalima if you see him! he's back! my guess is he won't be lurking around town this weekend but you really should grab one of the prints he made in SF before they're all gone. they are amazing.