oh whoops. i forgot to upload from the other little point and shoot. shoot!
welp. here's some from the wyland hotel a few weeks ago… art by keoki! watermark by the girl who still can't get it right! ahem. me!

so ya. the wyland hotel! remember that place? that opened a year or two ago? flash & matty had the party? um ya…. this is the first time i've been there since.
the place is delightfully simple and boutique hotelish
and hey woah! lots of people. nice fancy reception.
some guys were there. rob, dalton and ivan.
don't worry, this is the last vertical from my point and shoot. so no more watermark mistakes. til next time anyway. but ya, omg the CRAB cakes! they were really good and chunky inside. there is a kickass italian place in the wyland. with amazing…. crab cakes.

i was stoked to be here tonight. i saw people i hardly see anymore. like matty and kayce. sometimes when i'm looking for something i'll stumble on some old ass photos that get me all nostalgic for the wave days.
speaking of growing up. dalton insisted we do shots of the vanilla kahlua liquor they were debuting. i'll be the first to admit this is NOT the best way to enjoy kahlua. vanilla or otherwise.

saw this face that's visiting from LA a few times that week. ooohhh ricardo! i think the first question i asked him was whether he liked boys or girls. you probably know the answer already tho right? i mean look at this faaaaaaace. sorry, ladies.

there she is!!! the girl from the sandbar that was totally delish. there! in the sexy green dress. HI KAT!! she's the one that told me about the don quixote thing. hi hi hi!

speaking of sexy green dresses. damn kyle! introduce.

KEOKI! this is the face behind the surfboard art you guys. i know you've heard of surfboards by keoki by now. dude is everywhere. including… um…. here.

skip to last monday. organik ed was in town! martini emergency!

ahhhhhhhh bar 35 has martini madness now. same price, same glass. none of that leftover lunch buffet food though. ooo, maybe we can t alk them into giving out bite size pieces of their yummy pizza.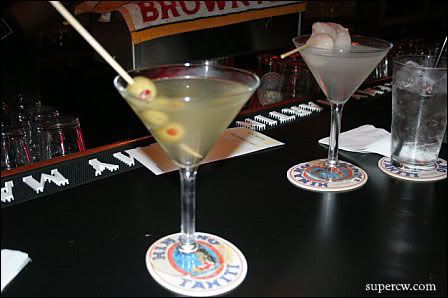 i'm down with amy's place too

skip to wednesday…

…wednesday with the crew at mercury

speaking of. VINCE AND JEANNIE ARE BACK! omg if you're friends with them [lucky!] you gotta gotta gotta ask vince to show you his photos from the trip. they are beyond epic. i'm talking top of the highest mountains treking in the snow to tiny little bhuddist exile cities to epic flatlands to crazy houseboat dinners to ridiculously odd looking tea drink thingies with leaves in them. just ask him, man.

speaking of. it looks like i left my camera unattended for a minute. nicolecam!

paynecam!

vincecam! oh, and tell me how funny sean payne's fake-sick act is. we get it all the time. i fall for it about 70% of the time.

meanwhile last thursday. wondering how to get the masses to waikiki after work? um. involving modern luxury wouldn't be a bad start.

it's bebe! a new one! in waikiki!

i used to go to bebe every wednesday to pick out tops and stuff to wear that weekend. man. twenties rule.

the door girl was obviously borrowed from the land of too-hot-for-life. miss kaleihikina akaka. who i read is wearing H&M

i wonder if keoki made these boards.

i couldn't figure out what i enjoyed seeing more… the gold and silver mannequins or the real life mannequins. ooooo how cool would it have been if the real life mannequins were wearing gold and silver body paint!! bebe? am i hired?

krista!

i told julie about all the good feedback i've been getting from the hnd segments on hawaii in style tv. you guys! that's HER show! it's online and airs every monday at 7:30 on oc16.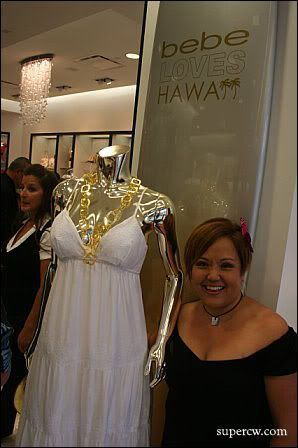 i forgot to ask if this was kristin wood. love it tho. only certain people can pull this off man. props.

found the christa section. uh oh. i'm in trouble now.

THIS dress! can i borrow that? kthanks!

oh! and can i have a goat cheese lemon tart cup thing? just one? kthanks!

guess who did the cookies. guess! it starts with a ho and ends with a kulani.

yasmin you're going to kill me, but the one of us together in my camera was totally un-bloggable. YOU my dear, are flawless… the girl with you was a hot mess.

genevive! GOLD BODY PAINT!! are you in?!

i'll even volunteer to get it on you guys.

silver too. oh man, i bet it would look so good.

anyway. i dug out of there kind of quickly. sorry i didn't stick around to see you, dare! it was so hot and i was so feeling waikiki. i had to wander around a little bit while i had a good [validated] parking spot.

had to get over to my favorite backyard later tho.

it's the last backyarding i was going to be able to do with art. like, ever. and in case you don't know, art is up there in the whole conversation thing. like, on the thirtyninehotel family's level. he can entertain us for hours.

everyone made it later on. it kind of turned in to a little rager. nobody wants to see art move to berlin. i got bad news too… he took shanelle with him. so bummed.

oh ps: algebra played maybe a total of 3 songs before HPD busted in with flashlights laughing at how loud it was.

but big props to the backyard party. we need to have more of these.

just not at art's house. cause um. he's gone now. SHIT.

later at work i was making kissy face noises to doug's new dog. aw look at that faaaaaace.

last friday was first friday. and i was the first one downtown. as usual.

first is seriously best. not too hot. not too crowded. i'm never going to complain about first friday tho. it's good [crowded] and will probably always be good [crowded]. so please keep going. if you gotta complain about anything, just adjust your thinking. or your arrival time.

cause first thing after work it's just you and the art hotties at the loft. drinking free vitamin energy.

this chair and table is handmade.

ps: the loft is open for first fridays until ara feels like closing it. on a good day, that can go well into the night. just saying.

ps again: they are working hard to get the loft open before the end of the summer. when they do i'm expecting to see all of you there paying cover and buying alcohol.

at least for a minute. at least to cover their a/c bill.

meanwhile at thirtynine. it's FINALLY HERE! carolyn and megan's deal! omg omg omg. just when you thought you've seen it all….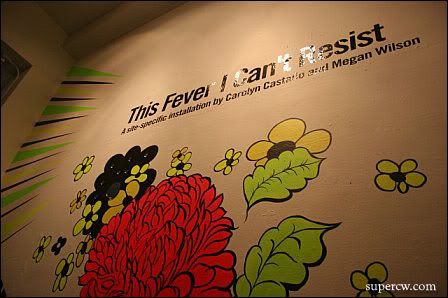 …you walk in to thirtyninehotel on a first friday and nearly fall back down the stairs from the EXPLOSION of HEAT!

ok ladies. woah like woah woah woah. good work, okay? thank GOD gelareh went to art school in SF back in the day. she has connections like OMG and is providing the great artists of the world with the best place to come vacation and do stuff.

i mean seriously. have you been in there in the past few days?

well anyway. a stop i been meaning to do finally got me this month.

using a tempo valley doggie treat

cause family style mostly isn't my thing

but not cause i hate families.

more like cause walking all the way to alakea isn't my thing

hi sam! at the HiSAM! get it? get it?

i wonder if you know about the hawaii state art museum's deal on first fridays. i sort of did but never really checked it out. man. they handed me a piece of paper with an itinerary of like 123431058393 things going on that night. there's a few different areas for shows. i was here to see tempo valley on the 2nd floor lanai.

cruised through real quick like to some of the more appealing stuffs on display around the art walk… these are from rich richardson. one of my fave local satirical artists

it's called "Books I Will Never Write"

oh what's this! looks like wall to wall is back in action.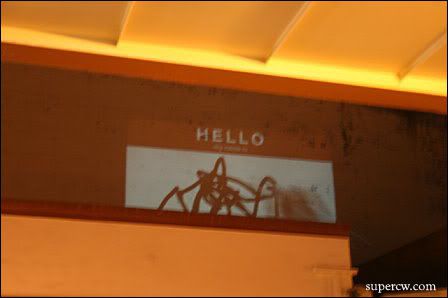 had to sneak up

oooo wait! the door is open at 2couture too!

hi stan!

omg. takeo and eric are so photoface here. and i'm so… the opposite of that. otherwise this would be so kickass!

oh wait! let's use someone else in the photo. PERFECTION!

i didn't get a piece of this. wanted to so bad….

…but i had to sneak in to wall to wall studios.

man. why are graphic design shops like the coolest places ever

with the coolest stuff ever

spent a long time trying to talk to people. didn't know anyone. decided to write it off. one day i'll make a friend at wall to wall. in the meantime i'll just sneak in to their parties.

back on the arta walka. jodi and kawika! what's upppppp.

art walked all the way to river street to see biku.

i was too early tho. DAMN!

leah evans!??! is that you!

art walk was fun. it usually is. i wasn't down for friday night chintown tho. really wanted to keep it mellow. not TOO mellow. like, house party mellow.

enter: JACY!! damn girl. thanks for quitting your job as editor at hawaii business mag to go back to law school then finish year one then have a big send off party before your summer in europe! and inviting me to come! thank you very much!

jacy's place is way nicer than you probably imagined. all grown up and stuff. with, like grown up furniture. and grown up floors. and a grown up city view. and TELL me this chip in her chip bowl doesn't look like an owl.

grown up crown.

grown up fruit trees. they don't mess around up there you guys. that's straight LYCHEE growing up there.

hi!

photofaces!

i had to have one. it's my girl!

hey guys!

heeeeeeeeey guys!

saturday i was back at the place i'm going to probably be at as much as possible the next few months until the "this fever i can't resist" instillation comes down…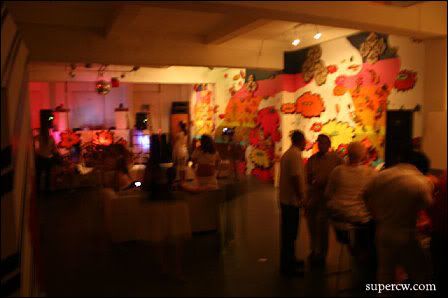 it just happened to be the lovely and talented tahiti's birthday too.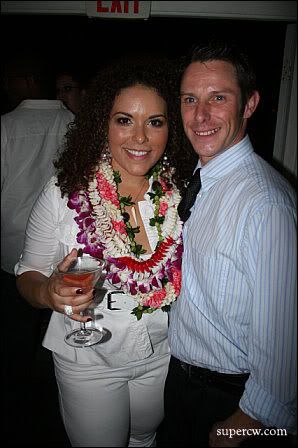 and she just happened to ask people to dress in the theme of white. a very popular choice! and sooooo easy for a girl to bounce from event to event.

germ what doing after? wanna check out skyline? cause… i mean… you can tonight!

grady and cyrina! what doing? wanna jet to the sheraton? you're dressed for it!

sorry, marc. you can't come.

but WAIT! marc! you frigging rule. stay right here. in fact, i'll stay with you.

lloyd said now i have more pictures of him than his family does. cw 1 lloyd's family 0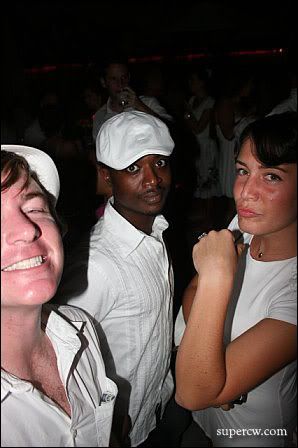 sonny never wears his contacts anymore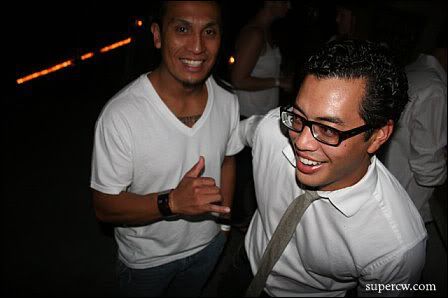 oh man kevin! get in to it why don't you! man, i really wish the skyline anniversary went til 4am tonight…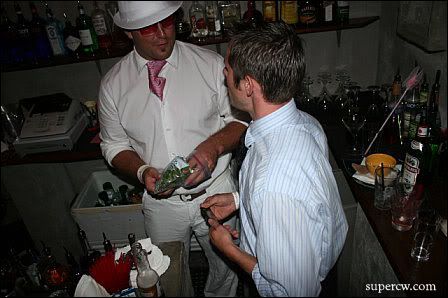 meanwhile tahiti was wowing the crap out of everyone inside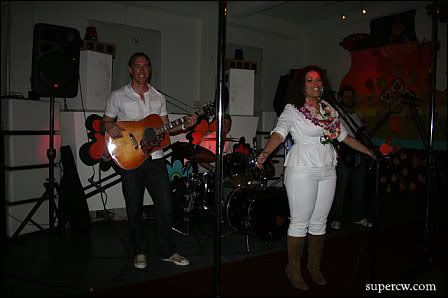 she sings at thirtyninehotel on fridays. very colbie caillat ish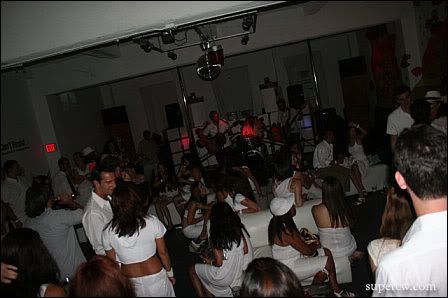 in fact i think that was some of her band playing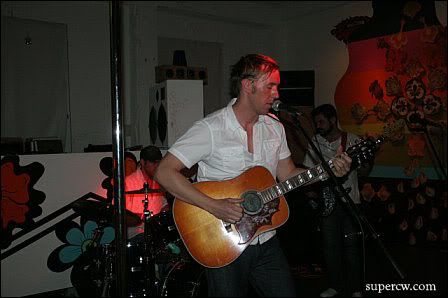 ps: it looked SO COOL to see all the people in white in the new thirtyninehotel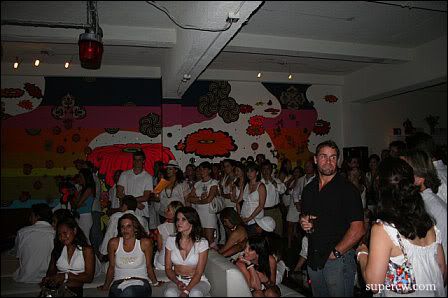 oh, and to see so many people downtown on a first saturday period. damn tahiti! you got a LOT of friends.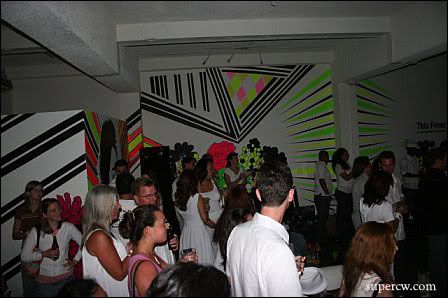 no wonder christain speaks so highly of you.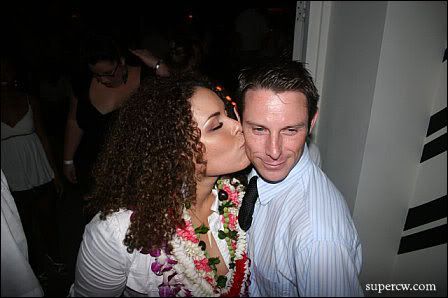 i had to do another one. i'm so close to learning how to animate photos tho. gickr is cool for now.

HI!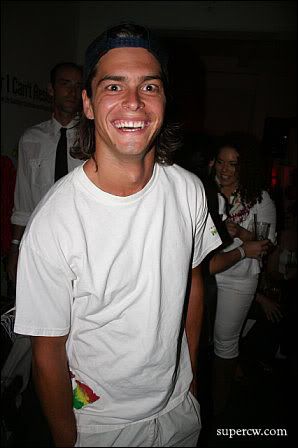 oooo love what you did with the theme. HI!

especially you!

haw haw sean payne finally fits in like crazy in his usual uniform.

and nicole has an excuse to wear a white pimp hat.

man tonight was fun

thanks to you ladies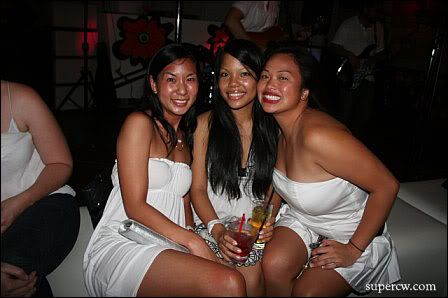 oh wait. nicole was that even your hat???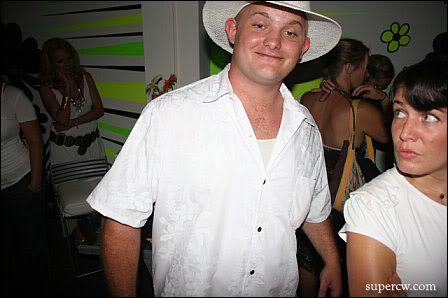 this guy Tim was swooning the crap out of everyone

tahiti too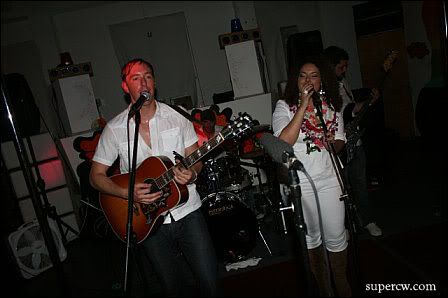 and just in case people like to be swooned. there was a bit of goddess pole dancing.

like crazy goddess pole dancing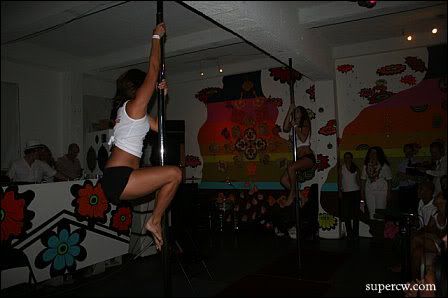 for the ladies

thank you!

woah.

ok ok ok. one more.

wait. one more after this.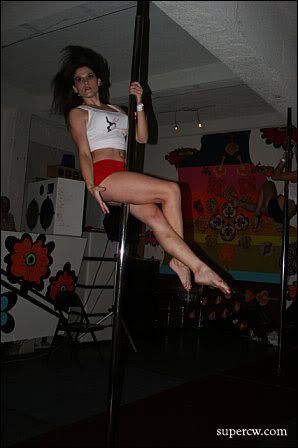 wait wait! after THIS.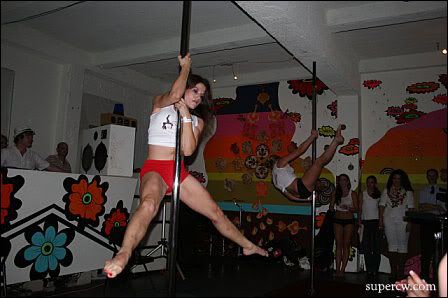 seriously. you had to be there. it was such kickass entertainment.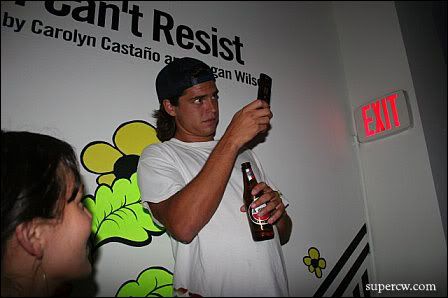 and tahiti pretty much had the best night ever.

actually, we were pretty much having the time of our lives.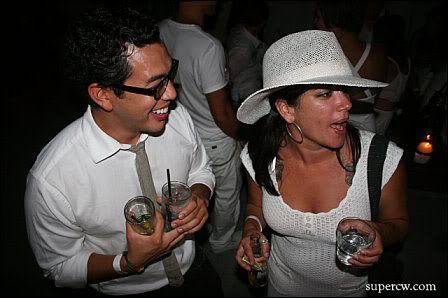 evidence…

…that someone is back in town

MARY!!!!!!!!!!!

damn. this girl has been gone so long that she was all asking me how long i've been BLONDE!

speaking of being gone for a while

jeannie's india-foot kind of trumped our kicks that night.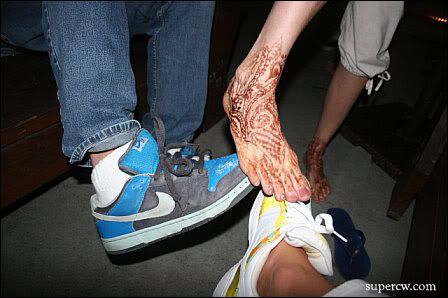 yup. we were kind of having the time of our lives.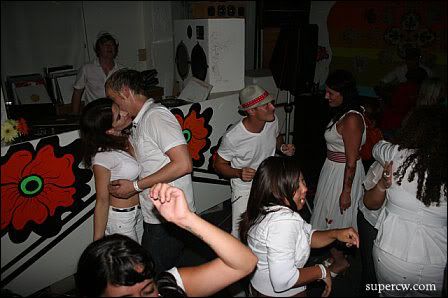 shit! thanks for making me totally miss flash's anniversary everyone. with all your fun-ness and whatnot. he's probably not gonna talk to me for a few weeks. i hope you're happy.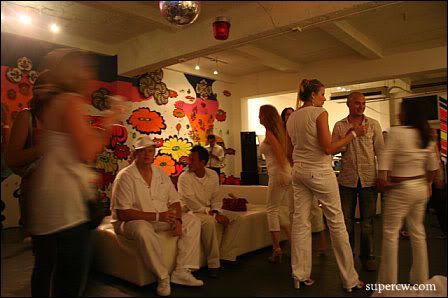 and YOU! thanks for being the most likable and talented lady i've met in a very long time. girlfriend. you know a LOT of people and the room was full of people i've never met! thanks for continuing to amaze and inspire me, honolulu.

speaking of! how's the other week! not one but TWO people we all know on the cover of the midweek in one week! congratulations noa and kevin! keep on keeping on.

sunday makaha-day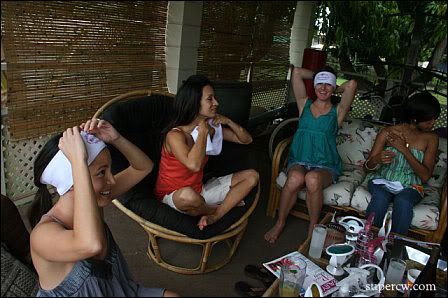 complete with the girls and facials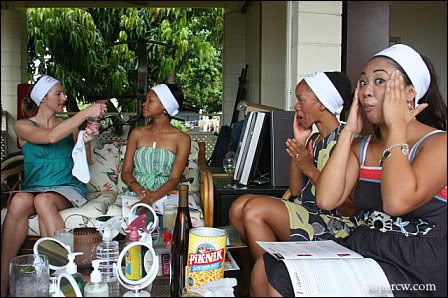 at shana peete's amazing makaha getaway. where she cooks in facial non-freedom.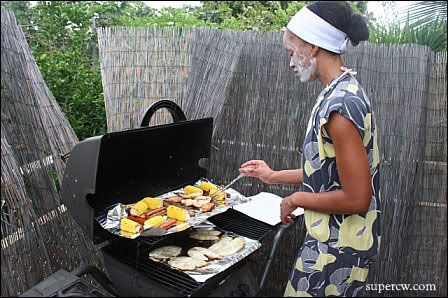 and has a mango tree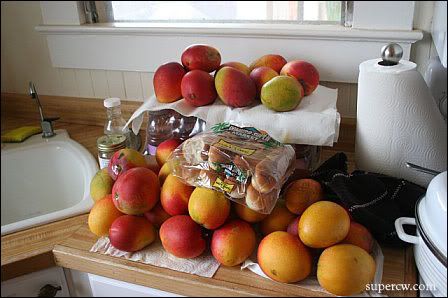 best. sunday. ever.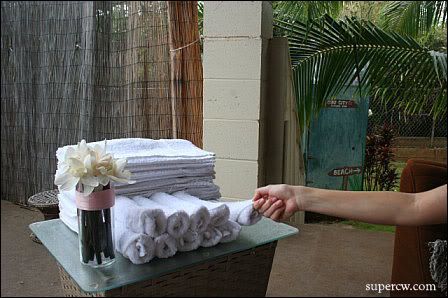 wait. THIS is my final shot. best. sunday. EVER!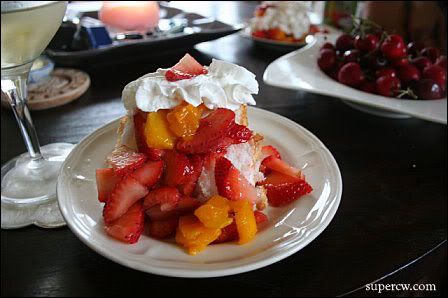 i can't say sorry enough for not getting to show you the original white party at the sheraton– skyline's 4 year anniversary. i was just having too much fun downtown. you ever get like that? where it's impossible to leave somewhere? hopefully you understand. i saw some pics online already on our station website and i'm sure you'll be getting the dealio on that from everyone else. thanks for all the cross-reference points at year 4 you guys. cause at years one, two and three we didn't have as much, that's for sure.
much love, CW