TOTALLY going to recap this week now before the weekend is over. otherwise you'll be scrolling infinity, haha. i have to start with monday. it was the last monday of the month which you may or may not remember is industry night at aiea bowl. it's no joke, man.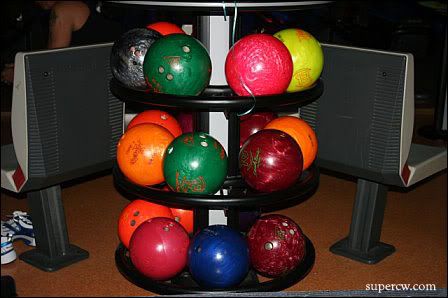 it's totally a who's who of honolulu.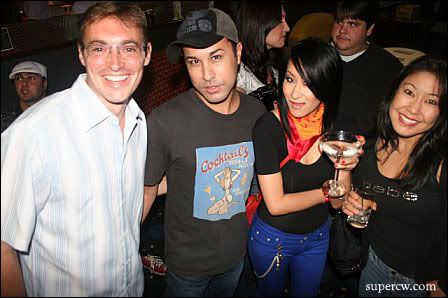 the OG heads even show up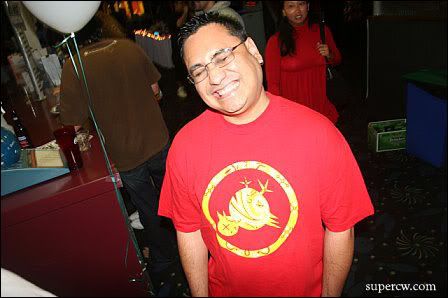 matty. haw haw matty totally outed his euro look in the latest U mag. even fully said he dresses with a "european influence" HAHAHRUH:R:WUIEW:FHA:H:f;shfha;iofha;hfa . did anyone see that.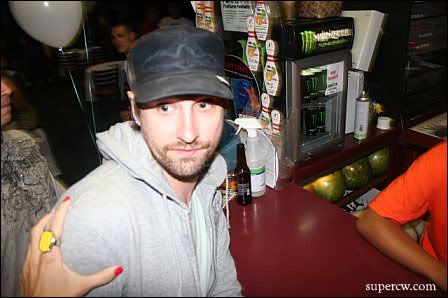 senior frog's in the house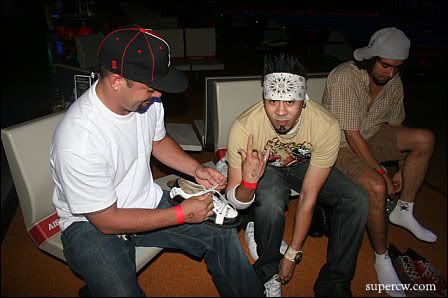 andrew sato is so in disguise. this is the most hip hop i've ever seen him. i'm in to it tho. drew can you pleaaaaase let us see what you look like in a new era hat?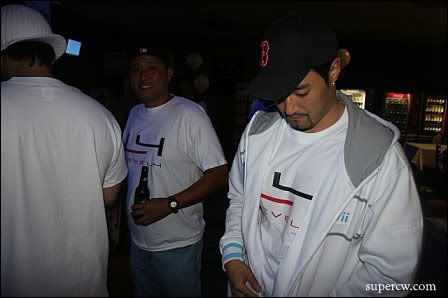 speaking of– level 4 is going to either be really crowded or never closed. they hired 5,000 people. i know, cause they were all here tonight. ps: got kamakoa even?! nice…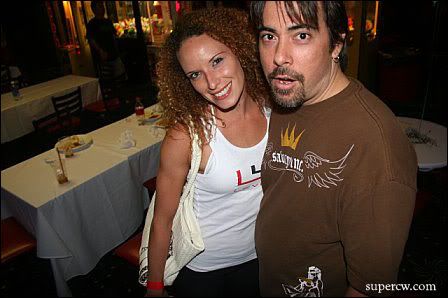 me and eskae weren't trippin. we were just in the flash vs. matty peanut gallery.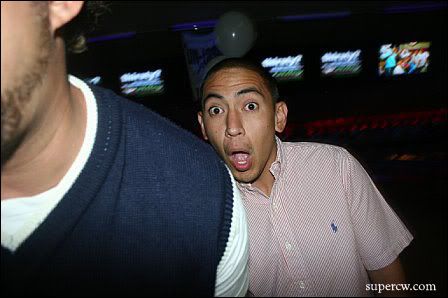 oh rick. what would all us industry people do on a monday if it wasn't for you.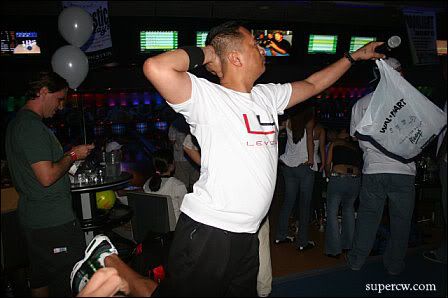 dare was like "i wish i had a dollar for every time someone says they recognize me from your BLOG." but he didn't say that he's already like filthy rich. no need to be greedy baby.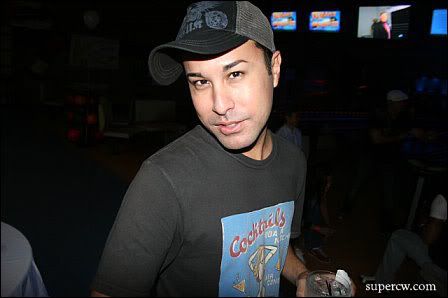 ps: rick rock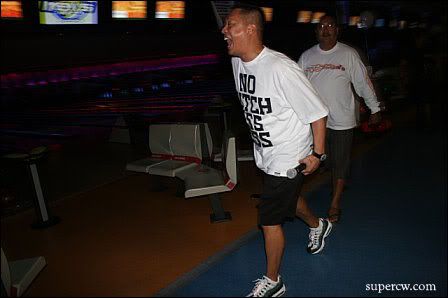 so it's like a normal night of bowling at aiea bowl on monday. except there's a DJ
talk about a who's who! kaui is like the closest thing to a socialite hawaii has for sure. and she totally styles out with delicious looking females as accessories. my kind of girl.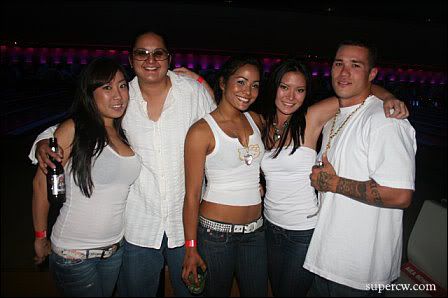 the skyline bitches team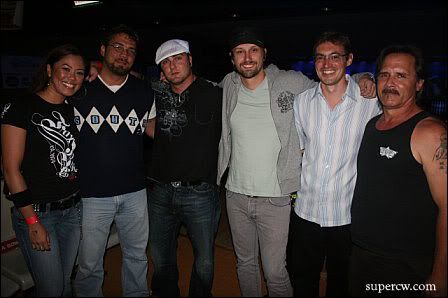 will and all in clothing was repping. who's in! who's in!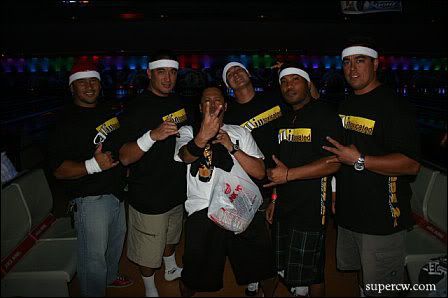 senior frog's and a few other nightclubs had some teams.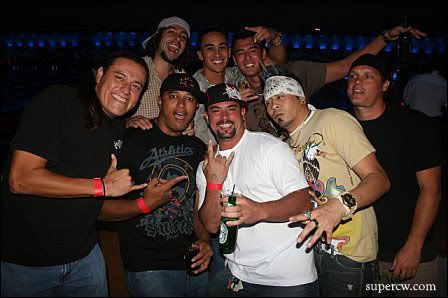 and level 4 took up like 6 lanes. there was literally hundreds of them there tonight.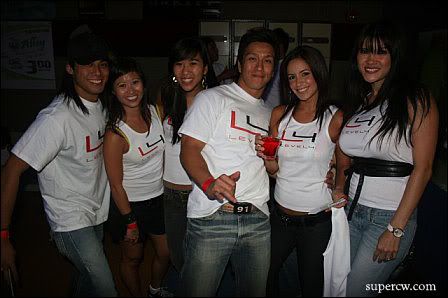 saw resham. yup. she's back. but you know she's been back for a month now so i don't know how i feel about this.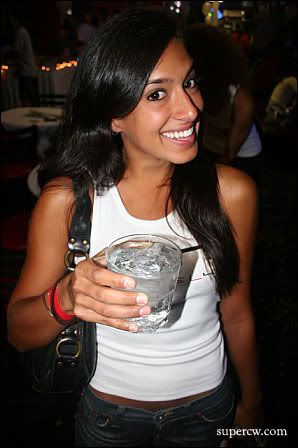 our non bowling crew. kinda defeating the purpose of attending bowling night, i know. but we're not lame.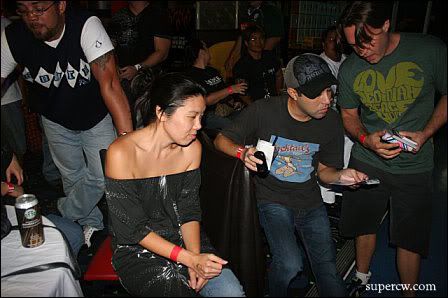 everyone totally felt at home
elaine said she's going to be me now. AWESOME! does that mean i get to be you? !!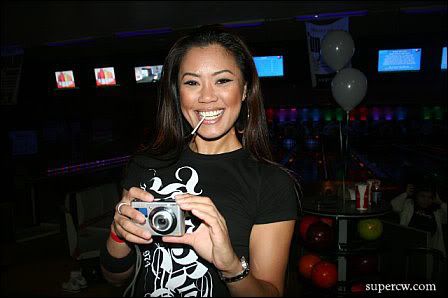 justin and shanteh. they are just kidding though, it was way fun.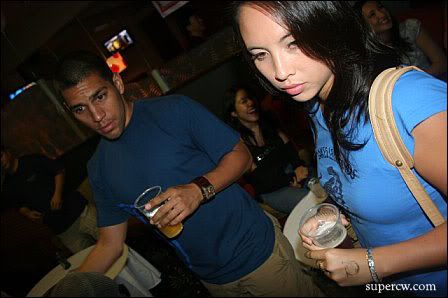 flash was like "be there at 8:30" then rolled through at 10.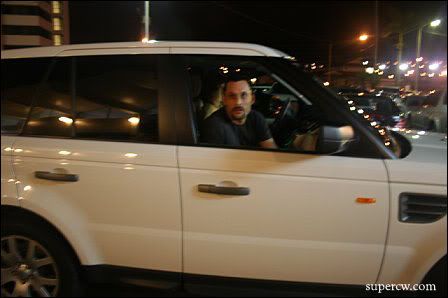 like anyone cares as long as he's here. happy birthday boo.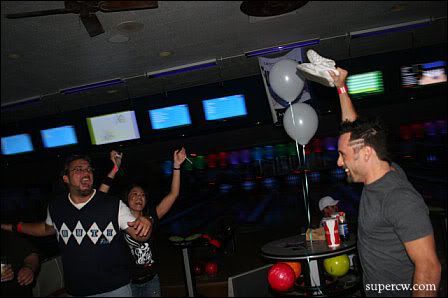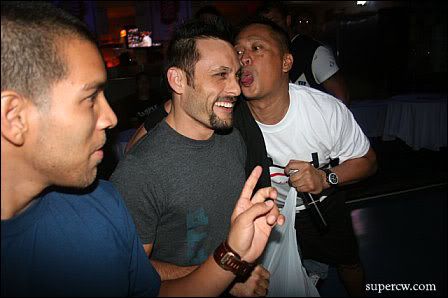 so ya, you know the drill. this isn't like bowling bowling. the lights do go down and it's all clubbie. club bowling.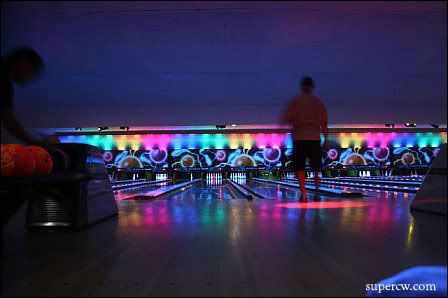 elaine got a strike.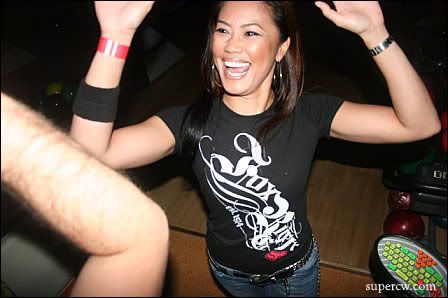 ali got a strike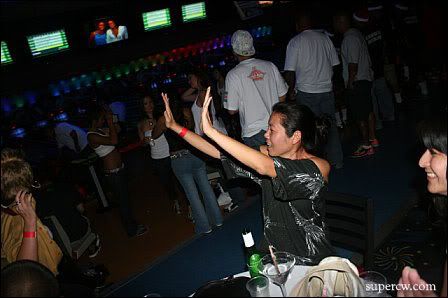 HI!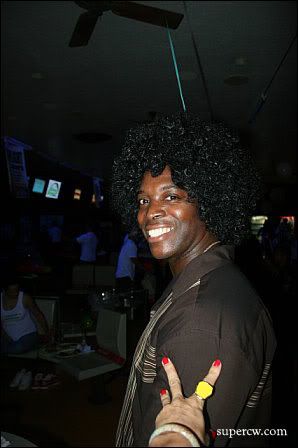 g spot and more level 4 people. there were level 4 people coming out of my ears tonight.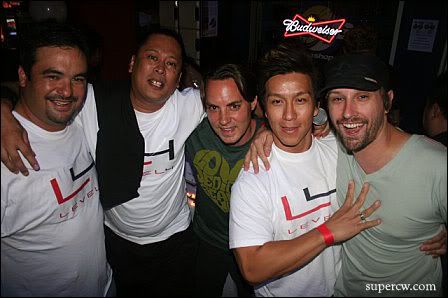 see? i told you justin and shanteh know how to have fun.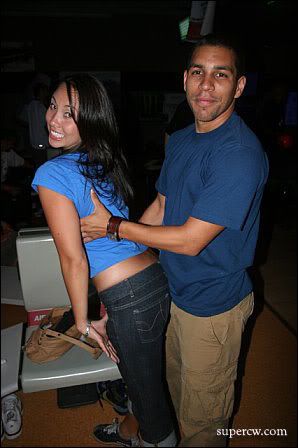 i'm kinda in to her right now.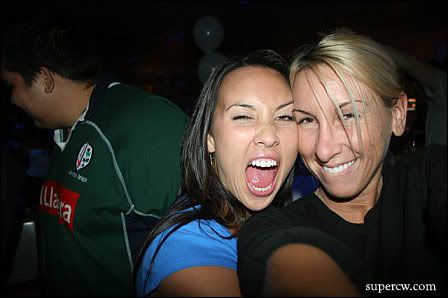 meanwhile at the office. mandy and frank have some awesome fans. wait. i'm just now seeing that "& staff" part. damn it! some of that pie was MINE!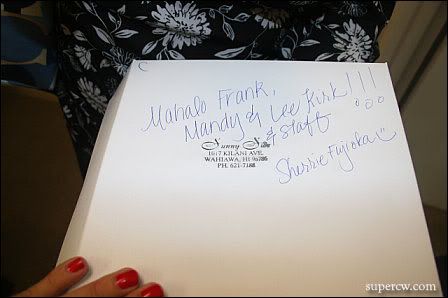 gimme gimme gimme!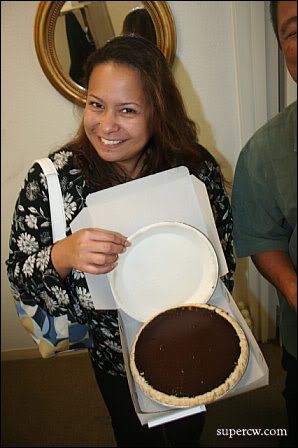 oooooo speaking of my area. what i meant to say was "hi guys! you work out? " but what i actually said was "you can put the vitamin water over there"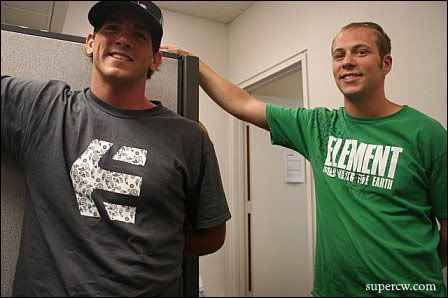 tuesday night was more random than ever.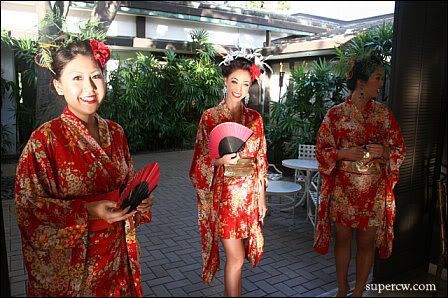 i was just sitting there at my desk and jose came over to see what i was up to. ah, nuthin. i said back. so he wisked me away to the pacific club.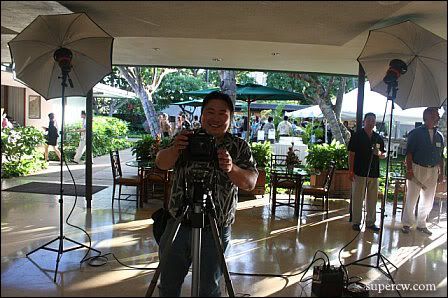 where there was food, drink, and wonderment.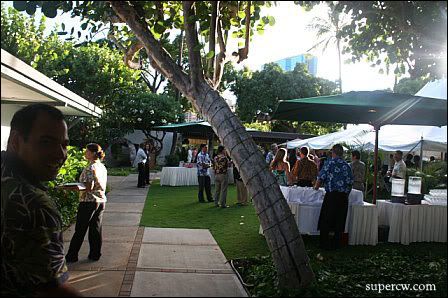 HELL YEA-UHHHHHH jose!!!!! right on man. by far my favorite papers too. shieeeeet!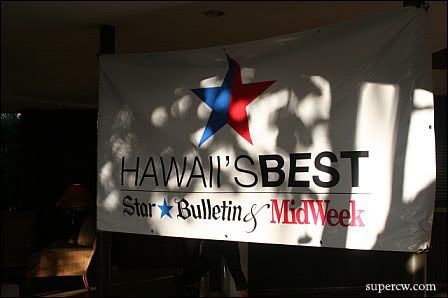 first thing we see when we walk in. i think we high-fived at this point.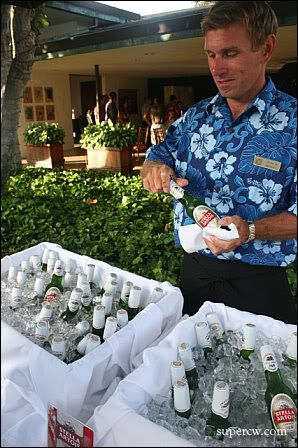 oh ya, haha it's tuesday. taco tuesday.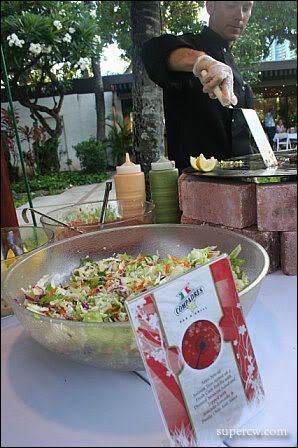 or fresh fish tuesday? i pick the second one. but i'll have to say i'm surprised compadre's still walked away with best mexican restaurant. i mean, they charge for their chips and salsa.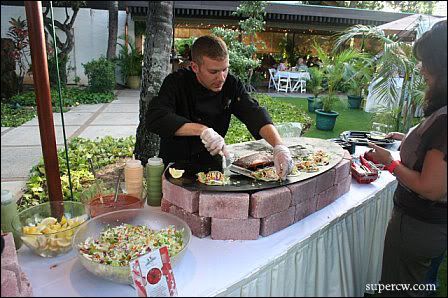 haven't seen much of the hanohano room menu since they stopped doing the listening party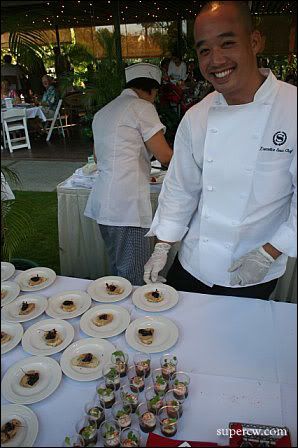 been seeing a lot of ryans tho. as always! congrats on winning best business lunch michael!
this ensemble was literally bringing me to tears. best sounds ever. the vibes the woodwinds the percussion. *sigh* ps: the vibe player guy looked like drew's twin.
special mini creations from the best of the best of hawaii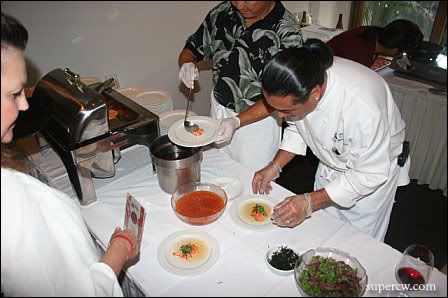 and ruth's chris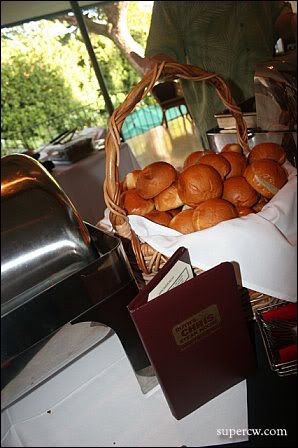 me and john berger were lurking the ruth's chris table. i'm sure it's not the only time he eats there but it's definitely the only time i do.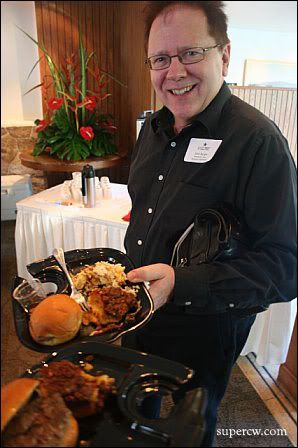 colin!!! too bad he was only doing desserts. you HAVE to try his inside out mousubi thingies.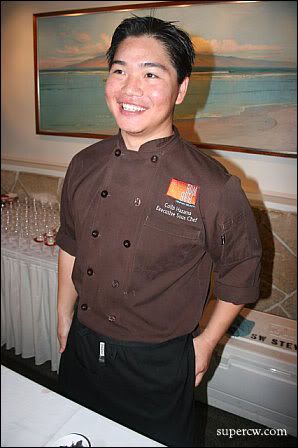 dessert is cool tho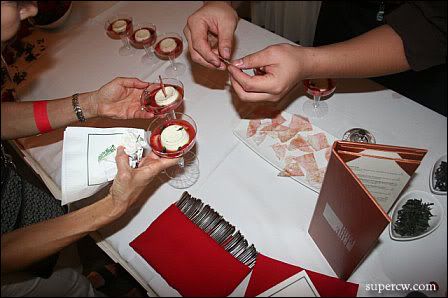 ladies and gentlemen. may i introduce the two mandudes responsible for my stella spots on the zone! baloaloa and figueras.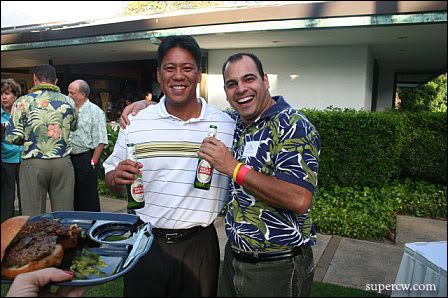 moka!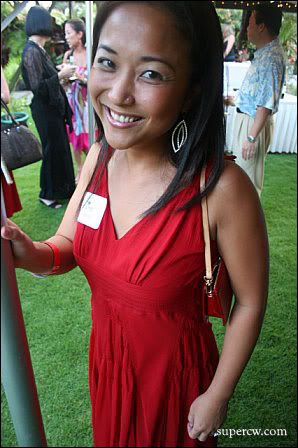 yu shing ting the media darling!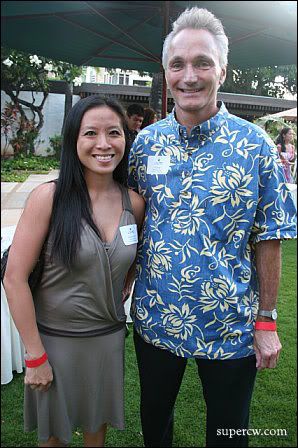 congrats everyone. you're the best!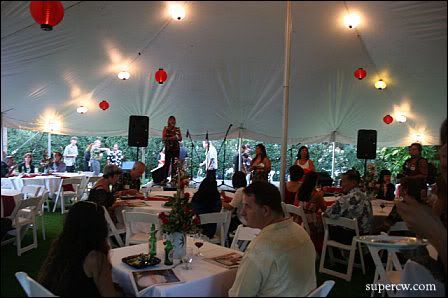 wait; one more stella shout out. i never see these guys. THANKA THANKA !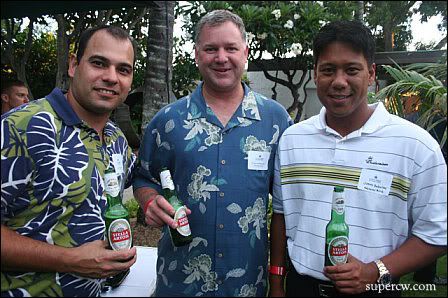 and thank YOU. side note: when are you going to rate hawaii's best blogs? cause dryfck should totally win that.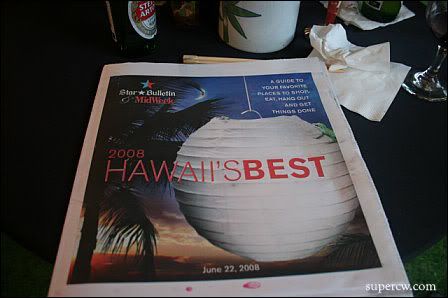 this one was my fave. that's fish with mashed potatoes. you'd never think they go well together until it's in a little dollop on your plate.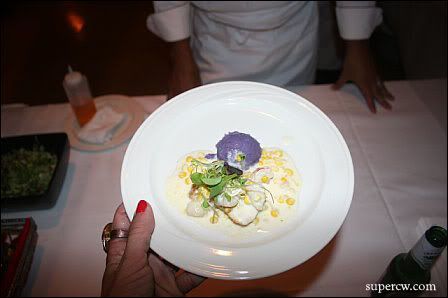 nevermind ladies! i'm sure you looked amazing in that shot.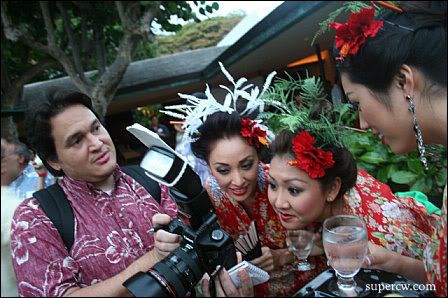 MOKA!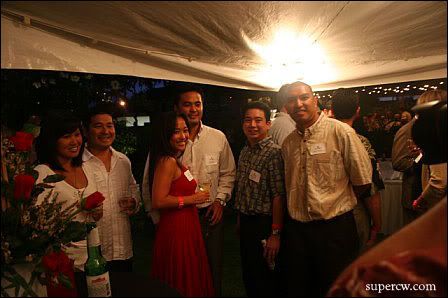 so terren came by the other day to borrow my 20d. i got his to use in the meanwhile. that's why some of these photos are better than usual, lol.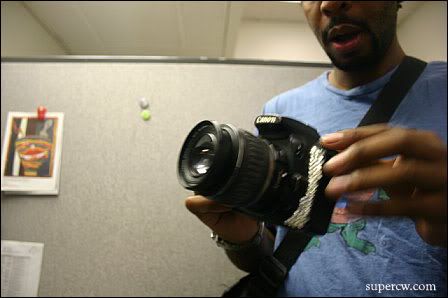 wednesday started innocently enough. i mean how innocent is wild hibiscus flowers in syrup.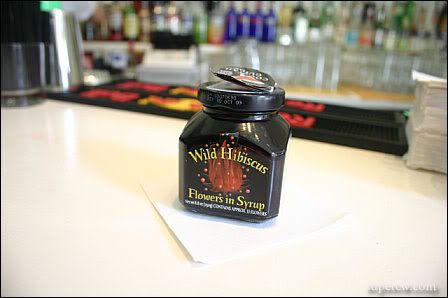 germ's innocent face is actually his superduperhyped face…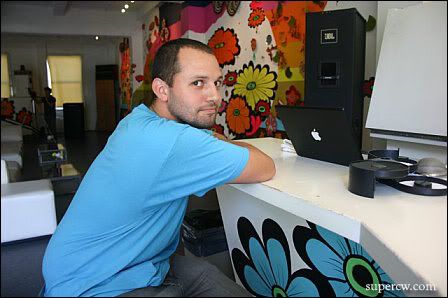 …cause he was all about his super fresh clean kicks.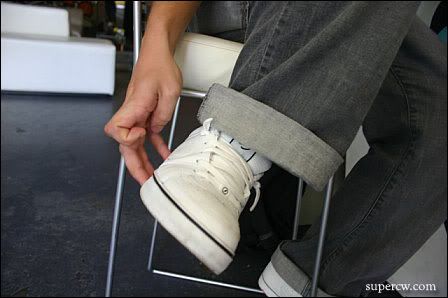 meanwhile christain was making those innocent little hibiscus flowers not so innocent.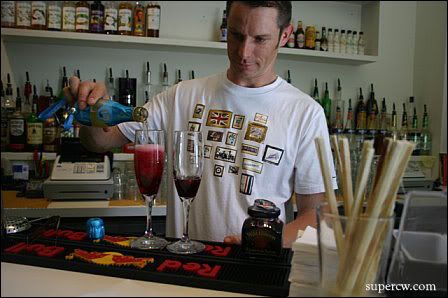 but oh so refreshing ahhahhhhhhhh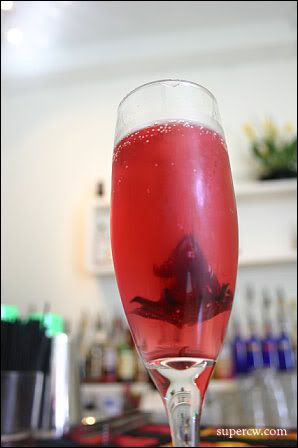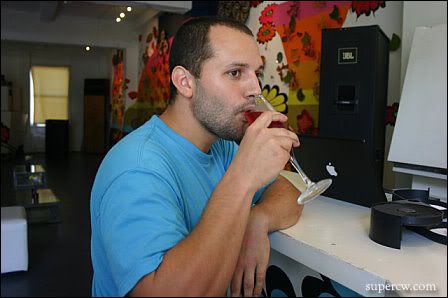 zana! i been missing our single days when she lived 5 minutes away. now i only get to see her in print.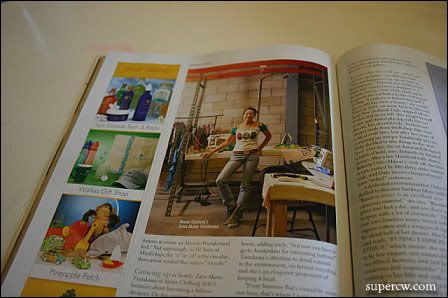 wednesday we saw art with art people.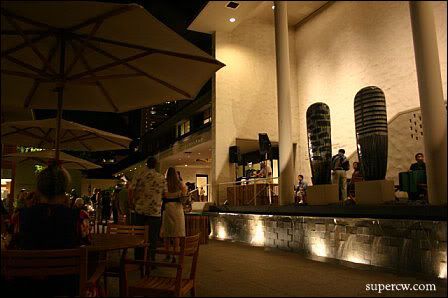 saw beau bassett too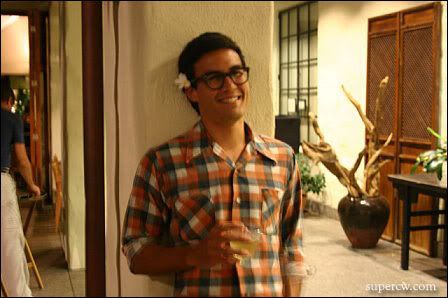 i know you can't see this but i'm just telling you now plaid and glasses was the look tonight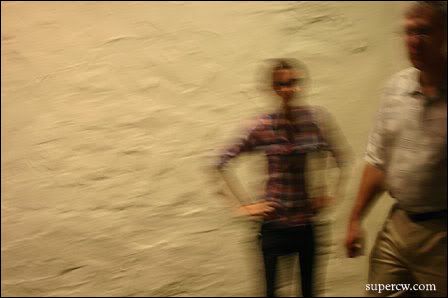 i didn't take pictures in the galleries. wasn't sure i was allowed. that's ok tho! cause other people did. this one was my favorite.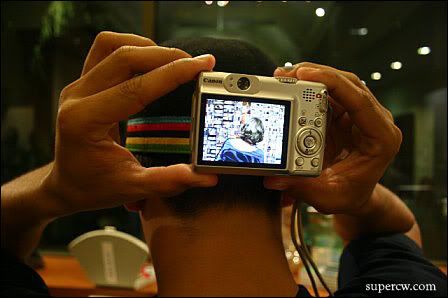 rice was feeling "eh" about the book forms in art. she would rather read them.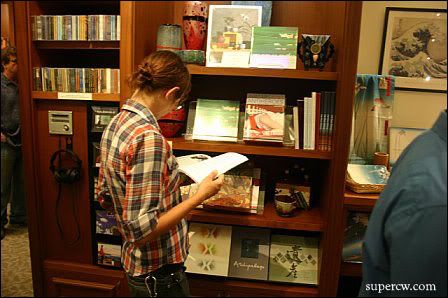 germ was killing it in the book shop, by the way.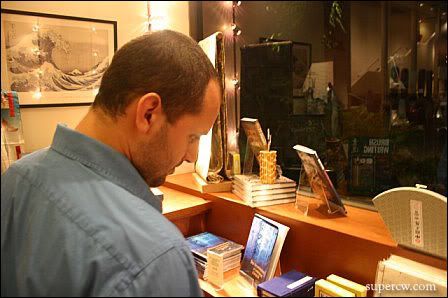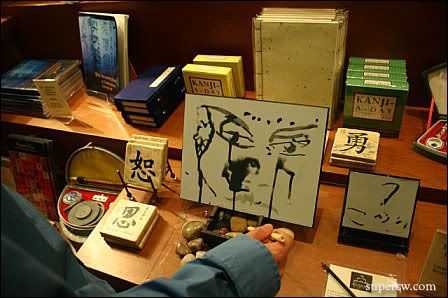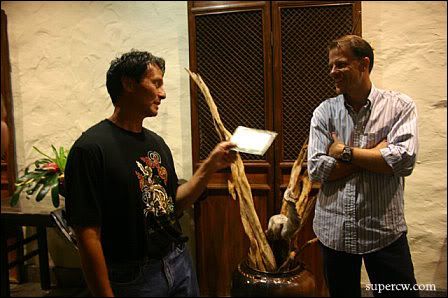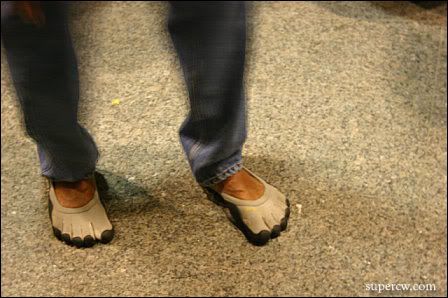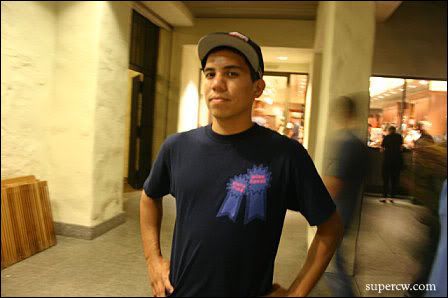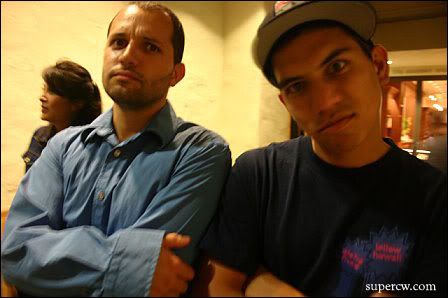 not sure about much else tonight. thank god there's pictures right?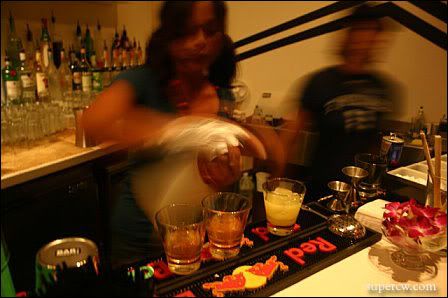 oh what! looks like we made it to big wednesdays. unless they all showed up to thirtyninehotel?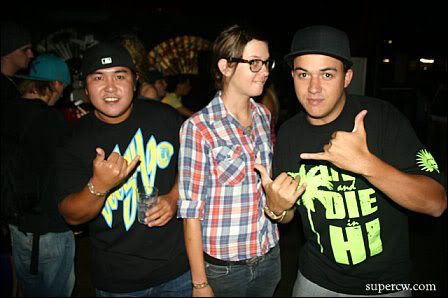 nah! totally big wednesdays. what up!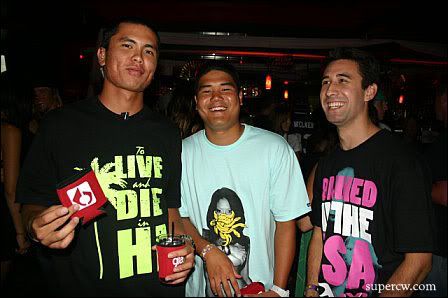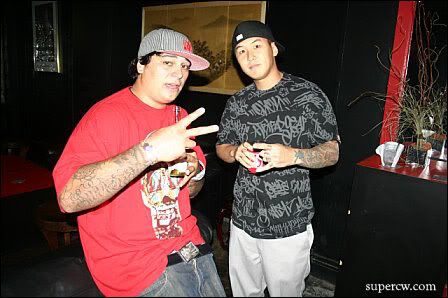 germ actually likes having pictures like this. i see him use them on his myspace all the time. it's so awful tho. i barely even want to post them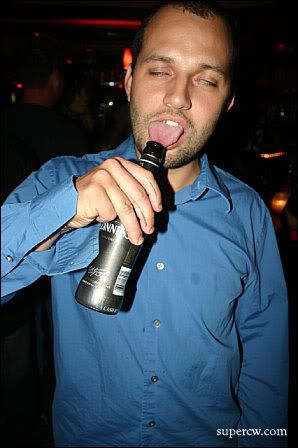 my only shot of kera. i'm bummed. this is the new hottie chick VJ you guys!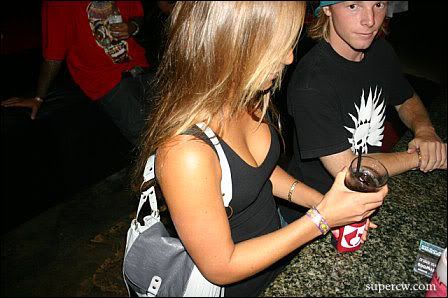 so it's fully summer now. the line is longer the bartenders are bitchier. and we couldn't be happier.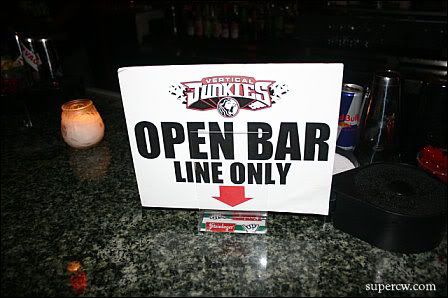 we were getting drinks then getting right back in line. just like everyone else.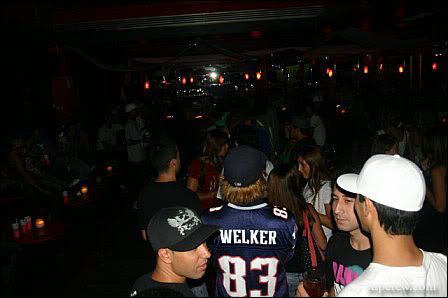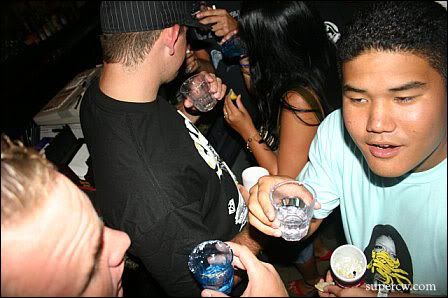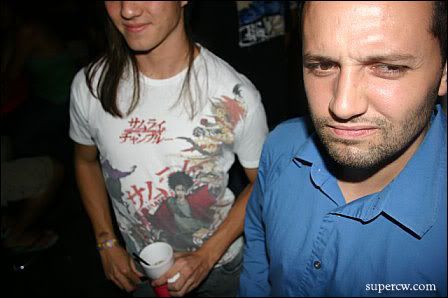 jack was our drink of choice tonight. jack. jaaaaaaaack.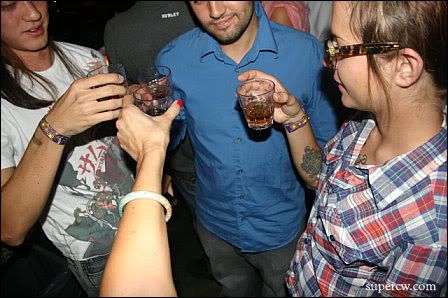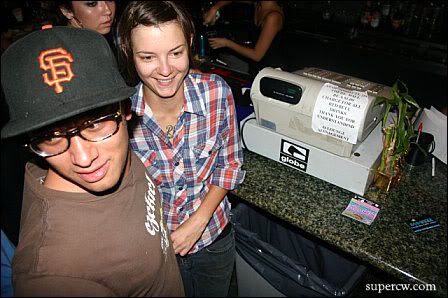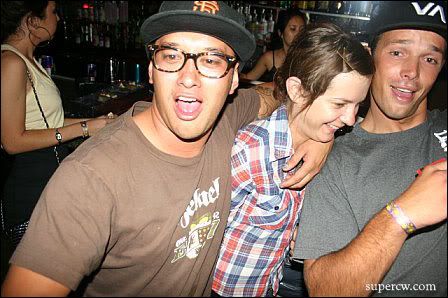 germ said this is the kid that's starring in chuck's new movie. radical.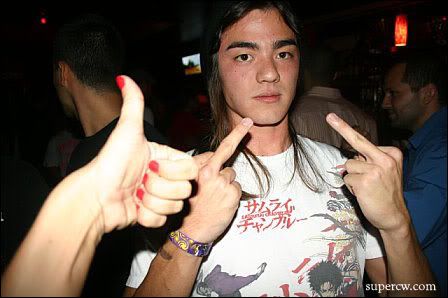 thanks o lounge! i'll never not love to get ruckus here.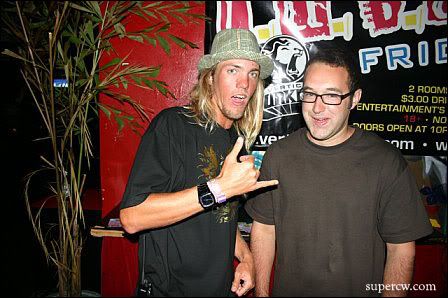 finally found randy. it's his BIRTHDAY! looks like we have some catching up to do. ps: thumbs up!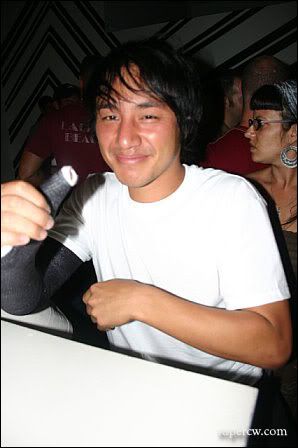 we attacked!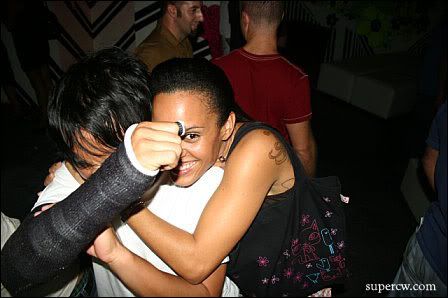 ps: someone must have been flashing too much. was it me?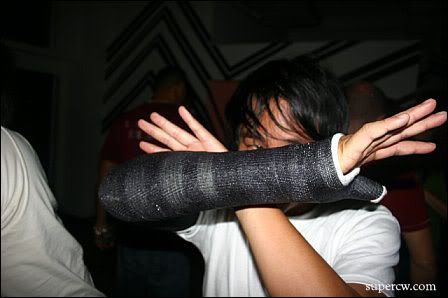 i'm not sure. cause. i know some of these are jasminecam. JASMINECAM!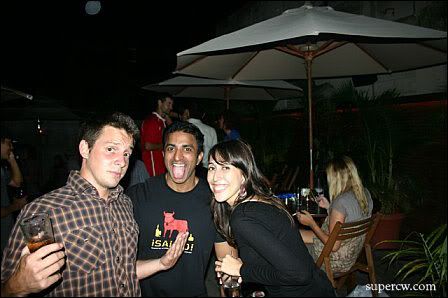 JASMINECAM!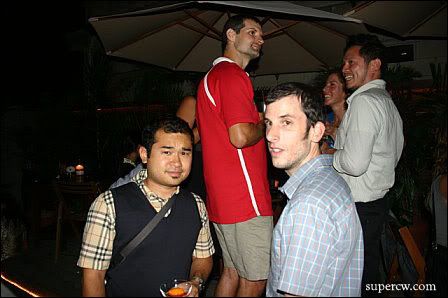 JASMINECAM! oooo this one my fave.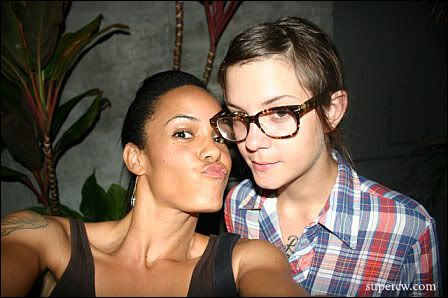 oooooo biku! nice work jas…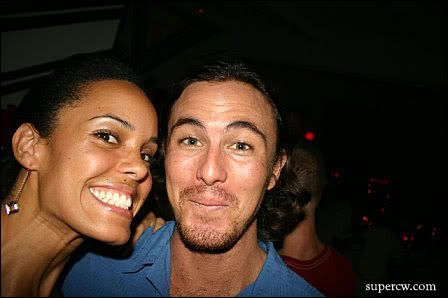 ps: wednesday night was rising melody. it almost looked like soul clap tho.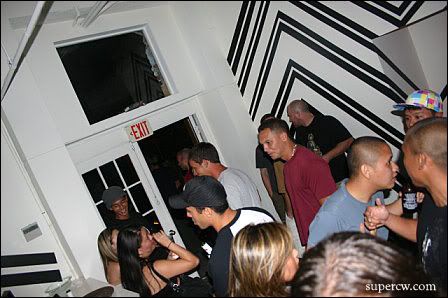 what!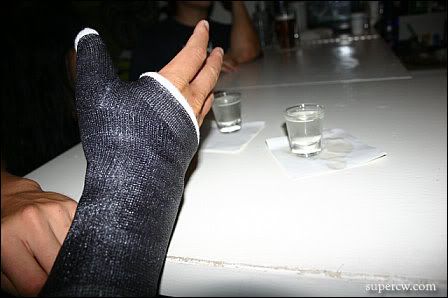 \
ok. i mean it IS your birthday. ps: i hate you, little glass.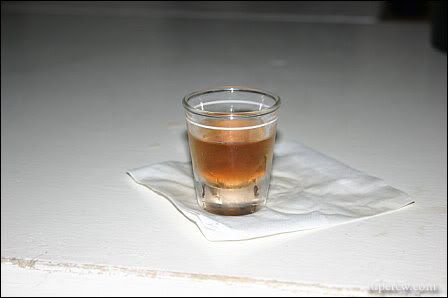 chris brown left before i had a chance to give him my new number. chris if you're reading this pls get at me.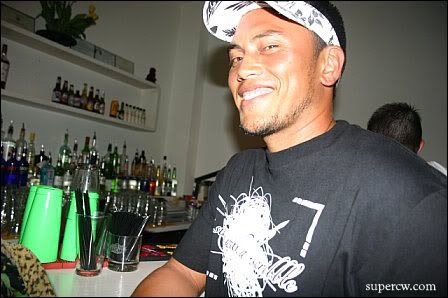 looks like willie made out like a bandit.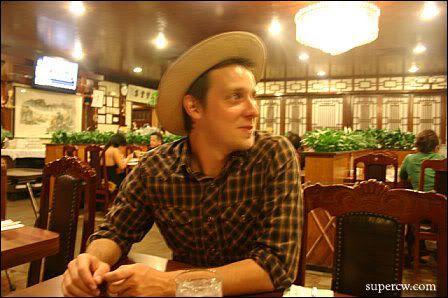 ooooo so did i. ps: never eating raw beef at 3am again. ps again: never staying up til 3am again ever. EVER.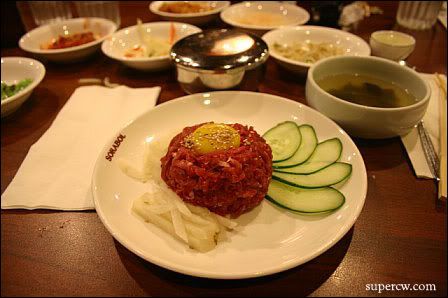 i'm getting too old for this.
see you at blue scholars tonight.