hi! wait. before i begin. let me say a few words:
1. i didn't do much last week. like really anything actually. i been on a crazy fun mellow tip these days. it's a beautiful thing. don't expect that to last tho!
2. to celebrate my successful move over to the temple that is media temple i am going to give you a weekly photo update of photos from places you've never seen on supercw.com before. like, ever. consider it my gift to you!
3. to the guy that commented that he can't see my website at work at the military place, i gotta tell you. i just spent the last HOUR trying to easily use this wordpress thingie to just upload all the photos here and drop them in. it's just not easy. and i can't be doing these one at a time. i sorry. i tried.
okay! so where were we… oh! i was telling you that i didn't do much last week. serious! in fact, this is what i was doing saturday night. watching the bachelor season finale online. ps: i'm glad he picked the one that loved him.

but wait! last thursday i did something. i totally did something i thought i would never do. and i TOTALLY loved it. that's right you guys. nobu!
i read somewhere that there is something all special like here so i went. more like i was the first one there.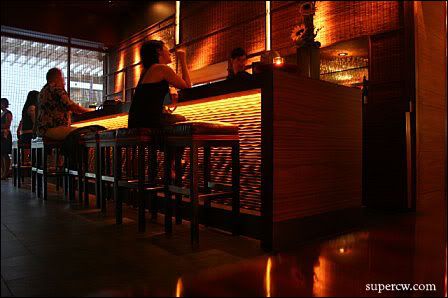 drank a giesha at giesha night. that's a frozen grape although right now i'm wishing it was an olive. side note? i'm dying, like dying for a dirty martini right now. i might just leave this til tomorrow. we'll see…
see that face right there? no? oh! SHIT! well hey! that's kenny! remember kenny? i think i first had my kenny experience at zanzabar with sondra barker. like centuries ago. ok it was only five years. it just feels like centuries.

he still has all his bad ass tattoos and still makes bad ass jewelery

and he let me try this amazing plate of spiced peppers drizzled with heaven. or something. i don't know what it was called actually, and i'm sure if i ordered it i wouldn't be able to pay my rent this month.

ya i'm all about nobu now though. look at me! so luxury!

nah, it's so down to earth i could die. i mean come on. who would have ever thought they could walk in to a place like NOBU and be surrounded by so many fun friendly faces. whoever doesn't think that obviously forgot this is HONOLULU. case in point? miss heather singleton and morgan childs. kauai what!

skipped out quick-like because there was something else NEW and SPECIAL and INTERESTING happening. that's right! guess what! the "scene" is still GOOD! don't believe me? how about bar 35 on a thursday?!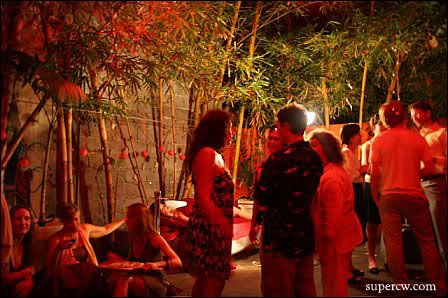 lots of nice people lots of nice decorations lots of nice music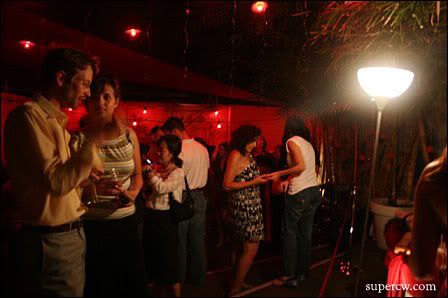 scooped!

ms stephanie is so awesome! she noticed i didn't get many photos from the HiFI fashion show at pearl. SHE READS ME! just for that i had to get her photo up STAT!

so ya, back to my original rant. YES there is still amazing interesting eye-pleasing things going on around here. you just have to be open. i mean hello! live nude portrait painting!

cyrina knows a thing or two about throwing good parties

jodi knows a thing or two about making some good garments

radha knows a thing or two about giving a nice hug

andi knows a thing or two about taking a good picture

jason knows a thing or two about promoting a big party

ps: i think this lesson might have been taught during a VJ era tho…

my favorite jonahface knows a thing or two about assembling a damn hot nightlifing crew

auriana knows a thing or two about just being hot in general…

…she gets two

carrie able knows a thing or two about paint

jason knows a thing or two about how to make a girl happy

radha again. because she is stunning. period. but wait! want to know her secret? she just like JUST finished the master cleanse. serious. that thing is amazing. i totally did it. i totally hated it. i totally loved it.

so ya. loving the live art taken to the next level tonight.

and WHAT! i won! I WON I WON! i wish i could enter the zone promo this week btw. but whatevs. i'll take a box of perfume!

they also gave away some pretty hot kicks shoes.

that's all. thursday was the only thing i really did last week. had family night a lot at thirtyninehotel but didn't really take a lot of photos. those nights are meant for relaxin. you know.

oh speaking of work! hahaha how cute is chanel not letting me take a picture of her. i was all hyped that she's wearing the hoodie that vitamin water gave me. can you see the back there? how hot is that! it's sex & the city CRAZY around here hahaa.

friday. all up in waikiki. digging the "vog" out here like crazy. it makes me miss the puget sound though. shit, some days you would wake up and not be able to see your hand in front of your face up there you guys. then it would just sort of slowly burn off throughout the day revealing the beautiful sound and mountains and trees and city. *SIGH* ok, i guess severe haze from volcano ash isn't as healthy or good but sorry…. i like it.

but ya. friday i was all up in the hyatt.

and the first one at spring palette

but eskae was setting up so it was ku.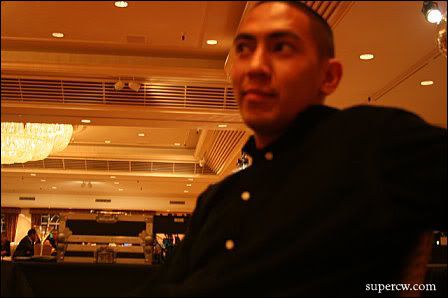 i was the second one at the martini bar

and the third one at the pasta bar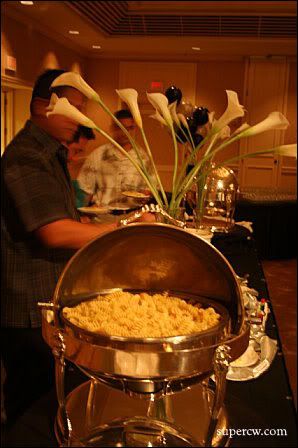 ps: the vodka was called three olives. THREE olives! you have no idea how bad i want a dirty martini right now. i know i'm almost through all these pics…. i'm gonna power through….. for….. martini.
crashing the backstage area. ooooo models!

omg! only the most fabulous models possible please? jessica, giselle and shana peete. my favorite honolulu socialites right here.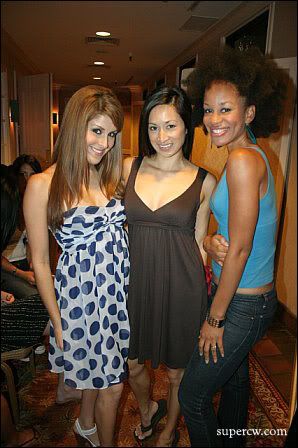 backstage crashing…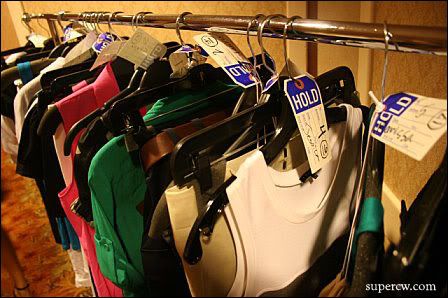 LOVE this look. i know it's like, intermediary or whatever. but how cute is that paper on a clip thing! it's soooo retro. i mean, my mom used to do this to me. ps: jessica hoffman totally looks like a doll. in person too. i have to touch her all the time to make sure she's real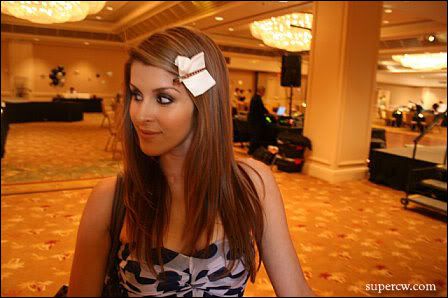 did a last-minute-fashion-show-MC-thingie. AGAIN! yes, if you're counting that's three in a month.

oh ps: people were there. HI!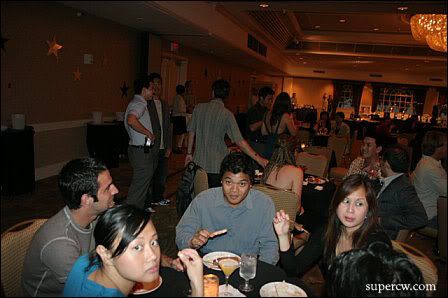 ad2 is actually a kickass group of young people. that get to try wine and stuff at their annual fundraiser.

and talk story over silent auctions

and be in the presence of fabulousness. proof? OK! douge lange from premiere models & talent and nicole santiago from ampy's day spa.

and these two. models! sorry, i didn't get your names. sad face. but HI!

and omg! heidi has new hair! and crystal pancipanci was on the rachael ray show this week!

here's another one. the fabulous not-just-a-model models with blaine the fashion show coordinator-extraordinairre-always-looks-perfect

oh ps: there were guys there! adam green and rob. HI!

so haha i was being a bit ridiculous. were you there? ya, sorry about that. i was sort of describing the ladies then setting the mic in my lap to take pictures.

but i had to try to catch some of the show…

….even though we both know my runway photo skills are sooooo sub standard. but it's a lot easier with HELLA good models!

i love them

THIS OUTFIT! blaine! this is the winner man. i love this look. so classy with the sergio rossi shoes. i would so wear this right now.

post show. still crashing backstage. i gotta!

that's shawna sokai right there. some of you might remember her from Armani or DKNY. well guess what! she's at theory now. my new favorite wearable high end luxury clothier. and they are soooo at ala moana.

ps: ad2 does a lot of pro bono work. and Ad 2 members—all no more than 32 years old—are either employed or interested in advertising and it's related fields. Members bring fresh ideas, new imagery and revolutionary concepts with their youth and creativity. i kinda just took that from their website. but they're cool!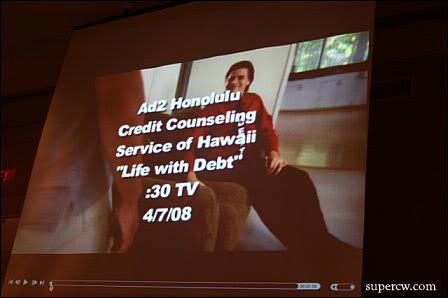 and HAW HAW! how's scott there playing the role of "debt"!!! scott, send me your acting resume. please? i want to copy it and change your name to mine and send it to LOST. haw!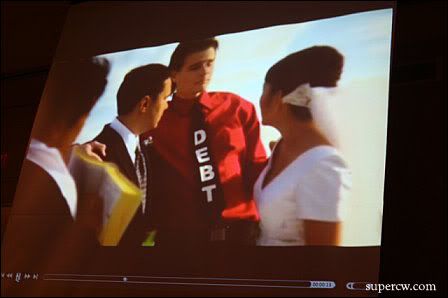 anyway. ya. this party was a lot of fun. thanks ad2!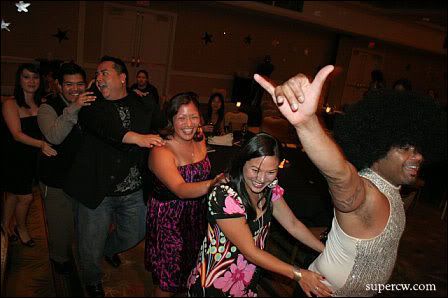 oh wait! a hello to joel a.k.a. dj rayne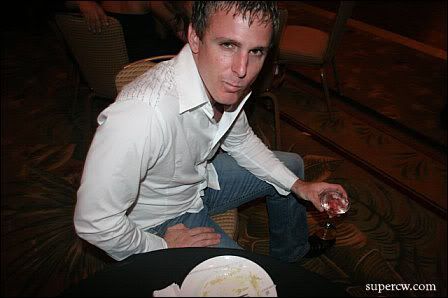 and of course dj eskae. i'm sorry you two. i know we were trying to have intelligent conversation but i made the mistake of trying one of each of those martinis. whatever i said i was just kidding k? JUAAAAAS KIDDIN!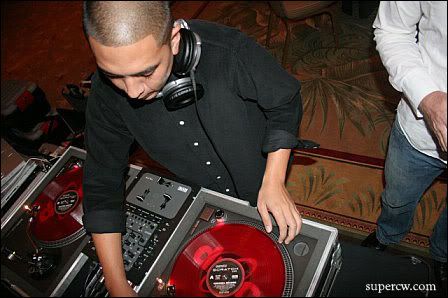 that's all you guys. i'm sorry. i know i missed an EPIC party at skyline. trust me, i heard all about it. the 80z all starz rocked the CRAP out of hawaii again and i was asleep. my bad. hahaha i even got the 4am bat call from flash. they carried on forever. i am SO pissed that i missed it but you know what? i'm feeling pretty good from that nice rest. watch out. this weekend it's on.
starting now. i'm meeting organik ed for some open bar at o lounge. stay tuned!
PS: andrew sato just came in and told me to say hi to him in my blog. BWAH! like you read me! well anyway. hi drew…. i miss sitting over in your area sometimes.