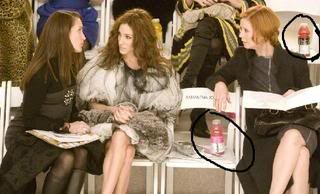 hi! so, you might have heard me talk about this Sex & the City promotion we're doing on The Zone this week but just in case, i'll mention it here.
Basically, we're helping Vitamin Water promote this fabulous movie with the most epic promotion ever. like, ever ever. i mean really… WHO eats at Nobu with their three girlfriends after spending the day at a spa? not me man. i'd like to. but come on… i have to dye my own hair and scrounge the $1 sushi in kaumuki 30 minutes before they close.
WHAT YOU WIN:
Dinner for you AND three girlfriends at Nobu Waikiki WITH free cosmos all night (a ridiculously ridiculous amount of $$$ value)
$200 spa packages from Heaven on Earth Spa Club & Cafe… for EACH of you
$100 Think Pink gift boxes from LUSH Handmade Cosmetics…. for EACH of you
$50 Gift Cards for In My Closet at Kahala Mall…. for EACH of you
Cases of Triple X Vitamin Water and goodie bags for EACH of you
So there. who says you can't have it all. the best part? ya you can listen to Augie in the morning for your chance to qualify and win….. but you can enter ONLINE instantly. like, right now. all you have to do is sign up for Lei Chic's free daily e-mails that are hella useful little tid-bits of information about stuff in Hawaii like shopping, events, stuff and BAM! you're in the mix to win this prize package. you might want to get in on it. enter here.

we're going to draw the grand prize winner on Thursday evening.
Good Luck everyone.