woah. hi! i just noticed that i should really clean my lens…

so i went to kauai over the weekend. it was bliss! here's the photos from the entire weekend:
yup. really need to get this lens clean. ick.
so they call kauai the garden isle. duh. you might think it looks an awful lot like oahu. with more chickens. maybe a little. but the mountains on the north shore are a lot more epic.
and the green is SO GREEN! no wonder we called the hifi event "GREEN STYLE on the garden isle". oh, and something about eco-friendly fashion too. heh!
where we stayed. totally the best property ever.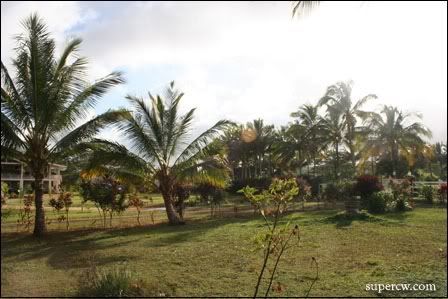 the goldbergs and the whites and the organiks stayed across the way at the bed and breakfast. i happened upon kat petting their cat snook.

he had a wicked person face thing going. made me miss toot.
but ya. b&b is a styled out way to go for sure. it's called lolo hale. haw! what's so lolo about lovely flowers and chocolates on your bed.
later that night it wasn't easy to find poipu. again! hahaha. thank god for mike's global locater thing on his iphone. it told us exactly where we were on the island. dope huh.
we were first ones at the point. well, second actually. davey shindig and eskae were there setting up.
don't order this! those aren't olives like i thought they would be. they are grapes. and they do not taste good on a pizza. unfortunately.
so it's a special HiFi edition of release tonight! at the point! yup! that's flash & matty's party out there. did you know they do that every friday?
they got a local girl to do the door now. actually the entire party kinda runs itself now. flash and matty don't even go out there most times. maybe once or twice a month. kauai be self sustaining!
we were pretty excited to have a special HiFi edition of Release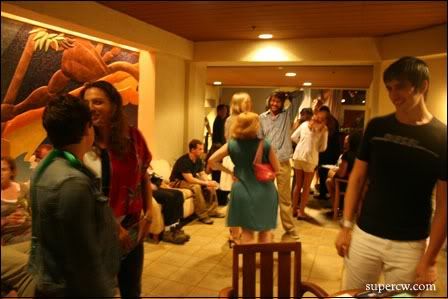 toby from tobyp fashions and an enthusiast that bought one of our awesome kealopiko HiFi shirts
ed fernandez from organik probably telling me i have street cred. YA!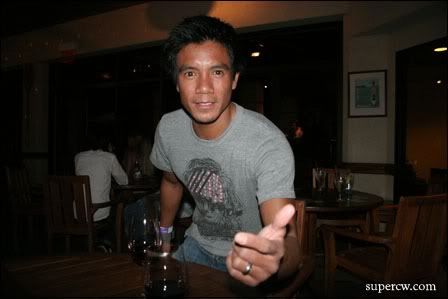 morgan's baby cousin who lives on kauai. the nicest guy on the island award.
julie is a release dancer! so THAT's what you get up to on Fridays. stalker status: *on*
that's katies finance' aaron. and john from herbandevelopment.
kauai people are funnnn
there was a hipster there! there's a hipster on kauai! i talked to him, he's totally down.
i got called up to the dj booth more times that i'd care to admit…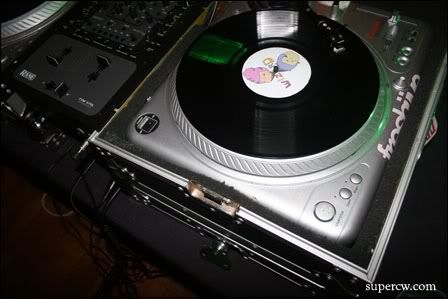 …mainly because amy was feeding eskae too many patron shots. had to do an emergency mc intercept for the fashion show. hahahahah steve!
damn our new HiFi shirts are BANGING! mahalo mahalo mahalo kealopiko.
amy and ed. they're like the same exact person sometimes. my favorite couple ever.
last minute fashion show preparedness
ps: a model that was snagged the day of. HAWT!
davey shindig's first sesh at release. hey davey! amy and ed said you played the best music ever. they love you.
fashion show time.
Handbag by Denise Tjarks, dress by tobyp
Hi State of Mind by Katie Bodnyk
Hi State of Mind by Bodnyk
tobyp tobyp!
the models were instructed to keep dancing after they came out… which wasn't hard to do at all.
amy's been running things on kauai for f&m, btw. she does a kick ass job too. handling snafus with security, making sure people pay, making sure eskae has patron shots, making sure it's tons of fun.
he eventually started filtering them to me.
it felt like we stayed til the bitter end. truth is, we left at midnight. midnight in kauai-years is actually 4am though.
this is denise. of denise tjarks handbags. she is the one who let all of us crash her house. possibly the kindest woman alive…
…never a better morning to wake up than at her place.
sauntered across the property to the lolo hale to see what was cookin for breakfast.
everyone was up pretty early.
so lolo hale is not so lolo after all. in fact, they are the nicest most awesome people i've met in a while. came out and talked story with us and made the most amazing…..
yup. waffles. like WOAH.
don't worry. we didn't waste them.
this is the b&b's cottage across the pool. quaint huh! they had an outdoor shower.
decided to roll with ed n amy today. kauai time!
katie and aaron and john went to find waves
so did we
it was kinda cloudy like this all day. sunday was a beaut tho.
to hanalei
ed wanted to check out pine trees
i saw this head and immediately recognized it
as we were parking i totally got the back scoop too. damn andy! been working out!
here's my lurk shot. i was just talking about this yesterday. but i don't sell photos. ever. and i'm way too shy to ask andy irons in his own break for a photo. waaaaaaay too chicken. would you have done it?
well anyway. the shore break looks like a fun little wave.
ps: ed parked right next to andy. i was still too embarrassed to ask for a photo.
but he was stoked beyond stoked. called up all his friends to tell them that he surfed with friggin A.I.
meanwhile, kauai.
later on at the tjarks's. getting ready for the private cocktail reception and panel discussion.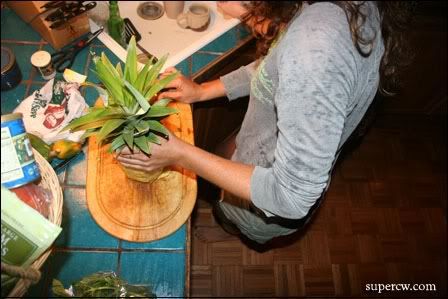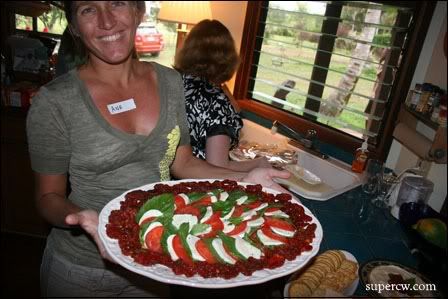 laurenz from Green Drinks flew out just for the day JUST to have a special kauai version of green drinks. how stoked were we!
he also helped us work out the projector issue for our presentation. stoked!
they are all looking at this ridiculously huge wasp. yup.
hey guys…
..watch THIS!
the infamous handbag studio
the yummy spread
the yummy organic tequila
some awesome sponsors for the evening. from 4 copas and malie
that's shanon hiramoto on the right. the designer from machinemachine!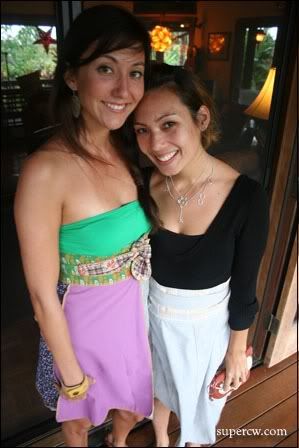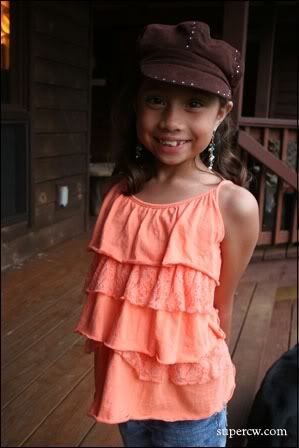 toby giving our little hifi talk
melissa giving our little hifi talk.
the panel discussion. it rocked!
last and final day. i'm sad.
now i'm happy! sheronita is seriously the coolest chick ever.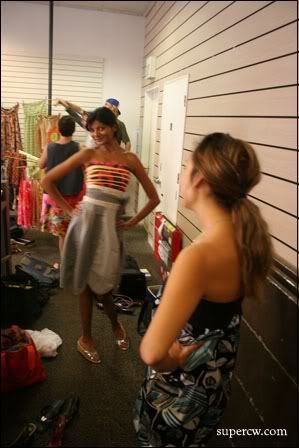 eco-nista market set up. good thing john is tall.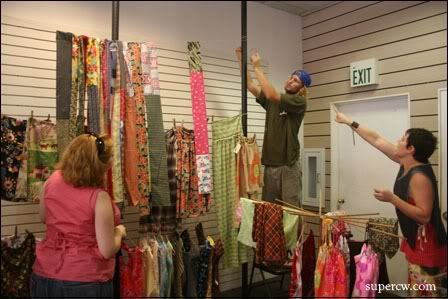 ps: herban development! all hemp products! hey, anyone from WA remember hempfest? that was fun.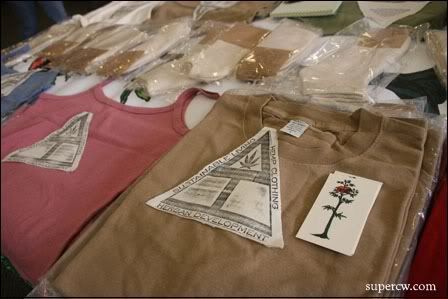 ps: sharonita!!!
kealopiko is the bomb. their fabrics are all recycled and give you the same feeling you get when you're laying next to a naked person. all comfy and the perfect temperature. i can't wait to get my hands on a HiFi shirt.
Zsusza B jewelry
Jodi Salmonson – Designer, KariJane Threads. HiFi member.
i got to watch the fashion show get planned right before my eyes. the models trickled in, saw the designers, got their clothing assignments, then hung them on this rack. it was like effortless. whoever has done a fashion show in the past would seriously be jealous at how nicely this pulled together.
ps: AW!
mahalos to aveda at waipouli resort on kauai for the hair and makeup.
i met a friend!!!
this is laurie michael. of laurie michael photography. omg! CALL her if you're on kauai! she wants to shoot you.
fashion show ruled. models ruled.
i LOVED this girl. they found her in one of the shops and asked her to model. her smile reminded me of blossom but when she was modeling it was like WOAH. so hot. loved you, model.
i loved all of you, actually. especially you.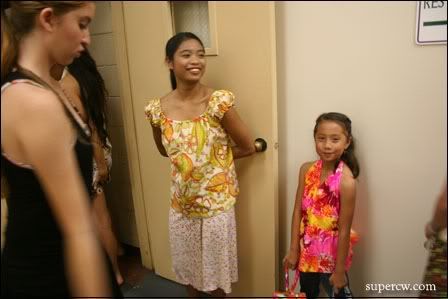 lurking backstage. trying to stay out of the way.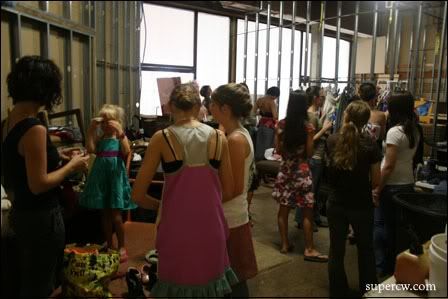 AW!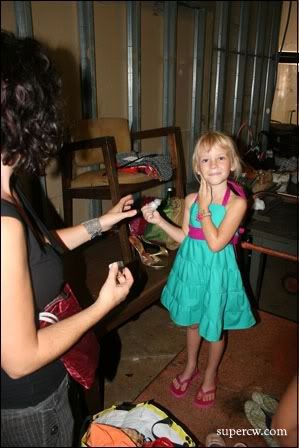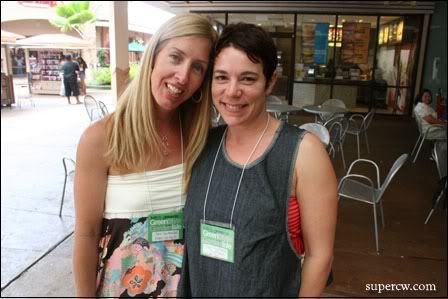 shows on. i don't do runway shots that well. i bet hifi will have some online soon. here's one or two…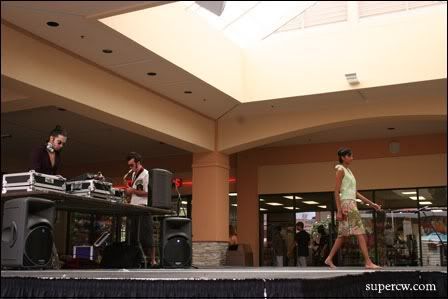 ps: nice talent on kauai!! that's cameron accompanying dj micah. they were hella pro.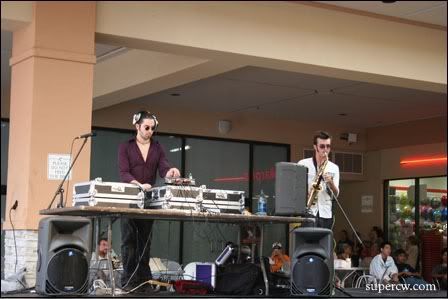 organik fall hoodie with a denise tjarks handbag!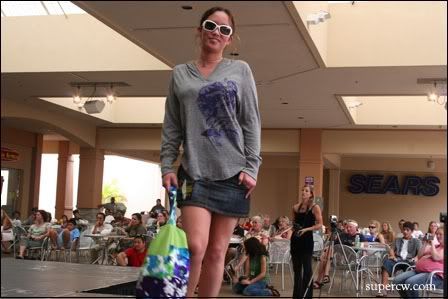 organik tee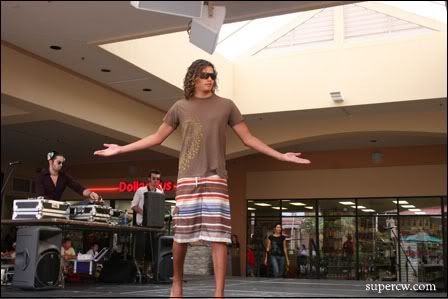 woot!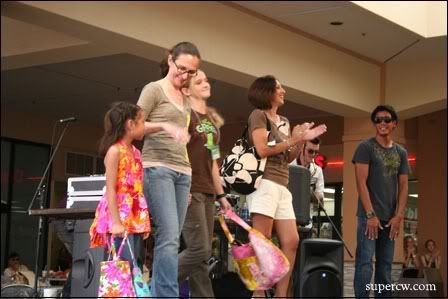 katie bodnyk's Hi State of Mind collection. all vintage scarves. woooo.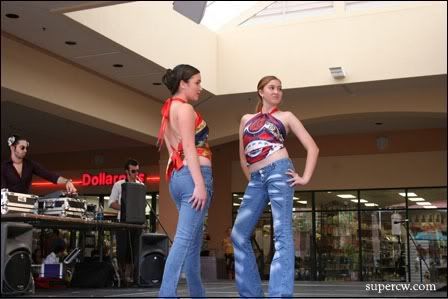 hot huh!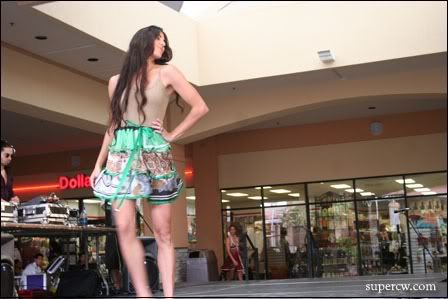 hahah this guy was the banger. totally danced down the runway.
had one last drink before i left. noticed the duke at dukes is a bit smaller. but just as important.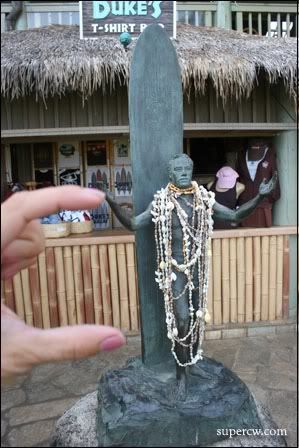 sergio got the cover. KILLER! probably one of the best i've ever seen on hana hou too. congrats dude!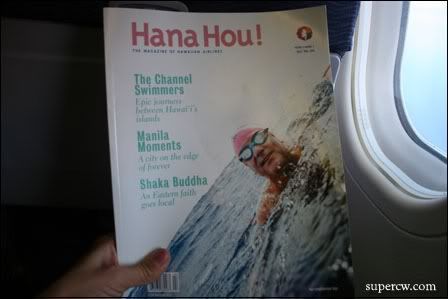 thank you kauai for the best weekend ever.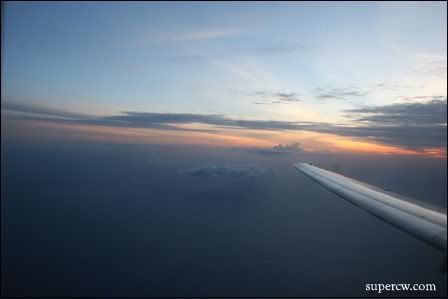 sorry. in a hurry. too much happening this week. gotta go! and if you listen to the zone sorry the stella spot is like 3 weeks old. i'm going in to voice it now.