gah! uploading these i'm like "ya ya ya picture picture picture MATT COSTA!!!! ya ya ya picture picture whatever." I can't help it. nothing beats that show. wait. exaggeration. but barely. the show ruled. so let me rush through everything else from last week so i can get to those. this is actually two weeks ago. mat tai bar for pau hana. who doesn't love mai tai bar for pau hana? dirty sensor out of focus shot or not!

wait. what did i just say? nothing beats that matt costa show? NO! wrong again! nothing beats a li hing mui martini at 6:15pm.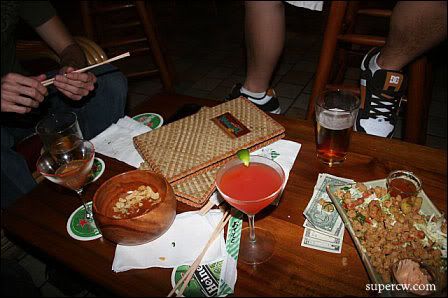 ps: was with the jocks. chris hughes.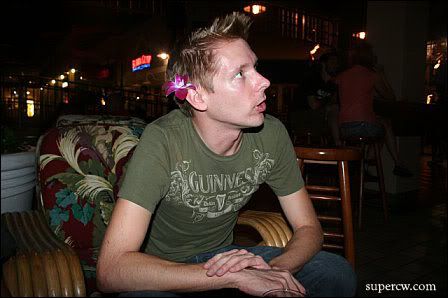 shawn ho and dave hisaka too. and greg our intern. they call him punahou. like greg is the first person ever to work at vre from there or something. wait. is he? judges?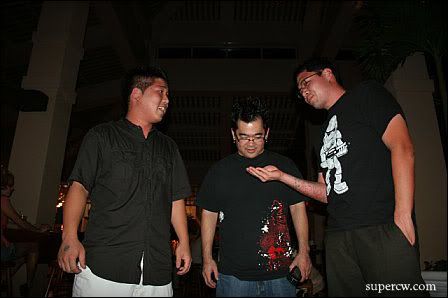 what else. oh! saw landon rock out at the plain white t's after party thing at next door too later that night. man, this was like two or three weeks ago actually. hello! backlog.
you're going to be mad at me when you see how long it just took to download all these images. then see that a lot of them are just people's faces. sorry! it looks like i ran in to party-G spot though. party-G spot only comes out into the night in the wee hours. tonight i think it was like 9:30.
there was a lot that went on tonight but ya ya ya. can i just show this lovely group shot of landon and the plain white t's that i lurked from someone else and move on? if you want a dopo cross reference you got it.
oh wait, shout outs to kaleidoscope tuesdays. weeknights never been better than now.
a week or so later. matt costa. at the same spot. ps: we spend a lot of time at next door.
oh man. i was here and the show was amazing but no. no no no i didn't lurk. it was too crowded. you know. you were there too. anyway, how about more cross references for that show? easy peasy.
meanwhile in my area. i could hear these guys from all the way down the hall so i had to do studio crash. funny huh! blaine looks innocent and quiet enough…
skip to last wednesday. or thursday? i dunno. but i got the bat call to meet my friends germ and sean reilly at shokudo for a beer.
shooting 151 now, bbq at mokuleia later. this evening actually was quite nice. it was someone's very special birthday celebration where i got to see lots of fun people i don't see that often. i'm not allowed to say more but i bet there are gonna be internet shots somewhere soon. i saw people with cameras.
oh wait. before that i made a pit stop to be silent for VA tech.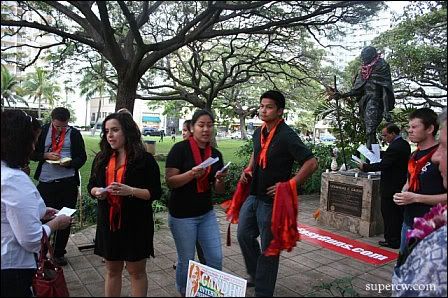 woah. already to last thursday now. GOOD! this is what i've been all excited to show you. i was in kalihi.
so was ara
and retna. and revok.
michael keany might not be showing it but i bet he was pissing his pants. retna and revok and ben horton are pretty next level*

*eskae, can i use your catch phrase of the week this week?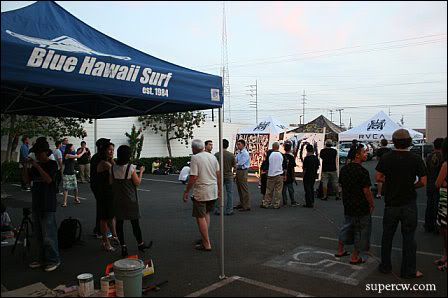 oh, this is ben horton.
and THIS is the new blue hawaii. in kalihi. so if you're keeping track that's location three.
krista is not only a super model folks! she's the buyer and manager of blue hawaii. and has the same kickass obey sunglasses necklace that i do.
ps: thank you to the sponsors tonight. this would be pink vodka.
of note: royal hawaiian pool service. i was lucky enough to spend some time basking in their greatness.
.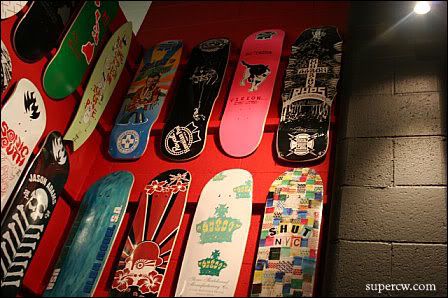 how's the mini pool ashtray!
how's jesse's apple badge! he just got back from mountain view you guys. TOTAL geek. see why i have so much love for atypical living now?!?!
i was noticing a photo of dyson back there
then noticing dyson shooting a photo of people back there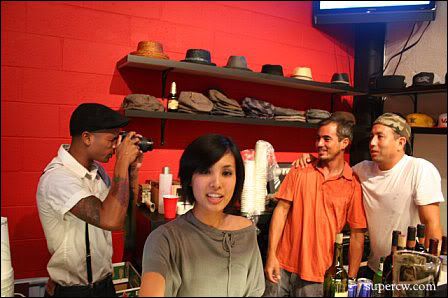 ryan chun seriously. what do i have to do to see you more than once per quarter? and please don't say "move to mililani".
revok sequence:
think dubs got that too
meanwhile ben horton
MEANWHILE supermodels. TWO of them! genevive and krista. you've seen em!
meanwhile LOFA!
meanwhile SOMEONE! ("someone" is someone you have seen but i don't want to be the one to have told you. but it's dope.)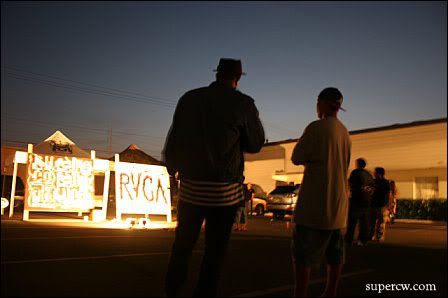 retna's piece. can you read those letters?
revok's piece. i can read this one.
this is rod. we call him blue hawaii rod. so i guess some congratulations are in order.
that's kenny.
i thought michael and genevive looked a lot alike. i made them get together and pose for a photo about it. this was after i switched from nice red wine to dirty pink vodka. i still think they look alike though. same facial structure. don't you think? hum. it might be easier to tell if they were making the same face.
dirty pink vodka. i have no excuse really. the bottle looked so cute. who says no to a cute pink bottle? not me damn it. ps: note the incredibly stylish wesc top! i saw that at exclusive and wanted it so bad but could not get the style rocked properly.
that's eskae. i'm pretty sure he's wincing because i'm doing something ridiculous. pink vodka.

woah. got crowded.
pink vodka and i can do anything. asking people for a photo? sure! getting revok to sign a paper plate for colonel? no probs!
hey mark! woah! when did you come in? wait! here… try the pink vodka! it's magic!
wait, here's better. that's mark hunter! he's a huge deal in la. he goes by the cobrasnake and has a little photo website thing that i think probably pays all his bills and even sends him around the world. and the dude hasn't even hit 25 yet. ya, blunt, you damn well better shake his hand.
that's ed fernandez from organik. it's pretty cool cause he had just styled me out with more gear on kauai and it showed up on the cobrasnake. nice coverage! oh, if you ever see mark (and you'll know you see him. nobody dresses like him in the world.) ask him for a sticker and prepare to be wow'd.
or, if you can't find mark you can just look for monica ivy. she is wow too. wow wow wow. wowowowoowowowoow.
ooo i see philip which means matt costa's here which means it's showtime.
oh man! can tonight get any better you guys?!?!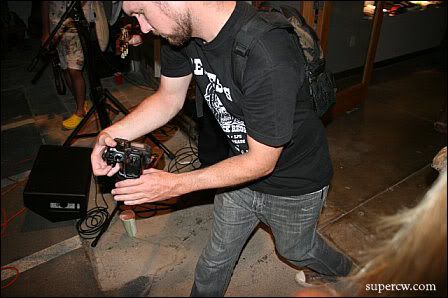 oh ya. totally tried to snake back the snake just then but it's impossible to beat his candidattack. well, at least without a flash. props man! cross reference is here.
anyway. back to our little private show.
one of these ladies just happened to be visiting and got to lurk the party. nice vacation!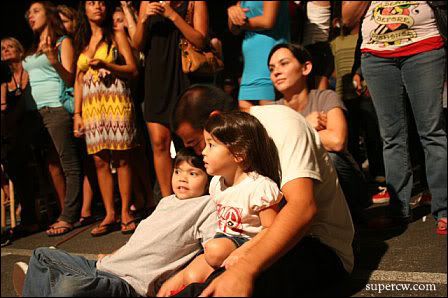 i thought this girl was pretty epic. i remember her from gym class heroes so i asked for her photo instead of matt's. the last time matt and i took a photo together i looked slightly in pain so i figured she would up my streed cred. mark actually sent me this photo. the lurkmaster!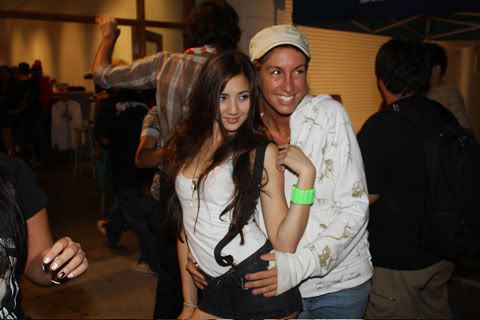 [photo by cobrasnake]
he's a lovable guy
i'm trying to figure out what's got more streed cred here: being in a photo with matt costa or having the cobrasnake take your photo with matt costa.
see? what's going on here. why am i wincing. why do i have to be so greasy. where did my neck go. that's it. i officially give up on getting photos with people.
later that night! applenuts is looking a bit hyperactive. and little bryan wyland is all growns up! that's right people. twenty one. believe it! man, i feel old now. what's next. kaikea i guess. damn!
ok ok i get it you guys. you're all old and grown up now. i hope you realized it's hotel st social club at next door though. you only gotta be 18 son.
jordan deoliveria is back in town! he totally works at girl in california now. kinda owning it over there too. larry calls him bumbaclotlordamercy. i call him the guy that saved my ass not once but twice.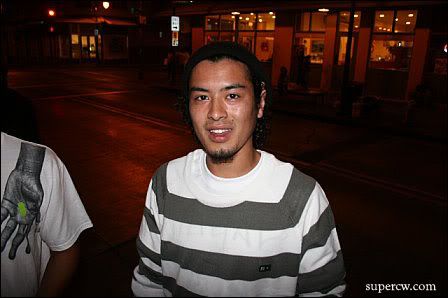 oh hey! there's the stuff they painted on tuesday. ha ha i remember we tried to come over here to see but it was way too stuffed to do that. ok, bamp? let's get a bigger venue for matt next time. or maybe two shows again. it's worth the risk no?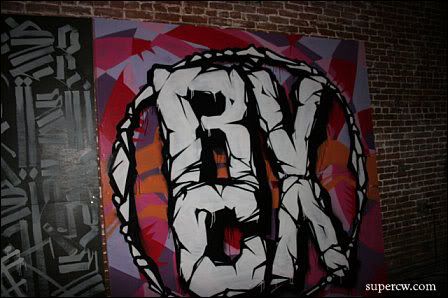 but back to thursday. i hate hate hate drink tickets. love, christa.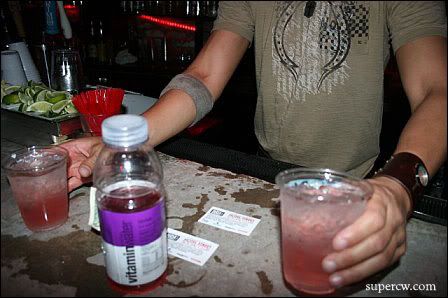 the latest i've ever stayed for a hotel street social club though. two drinks will do this.
aw. everyone is all growns up now.
aaron and i stay the same age though. haw!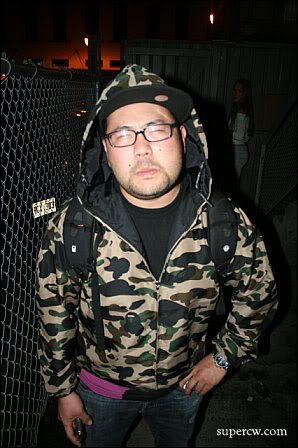 cano's guns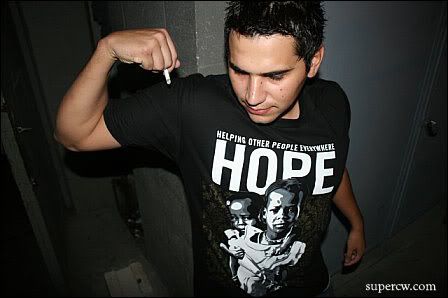 948 buzz shot sequence: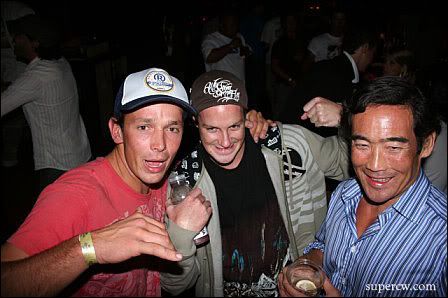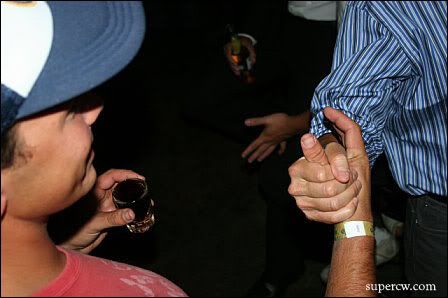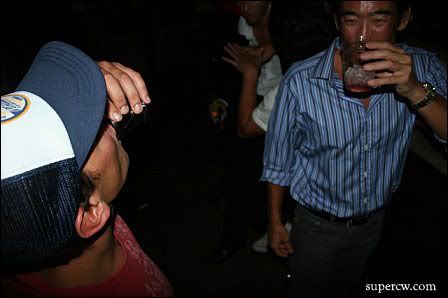 so upstairs too. there was a little hipster party going. i'm not sure if shave ice burn's name was officially attached or not because i can't find the flier now. i remember they pushed out art for it though. wasn't bad up there. in fact, i'll go ahead and say it was damn fun. and that was only two drinks.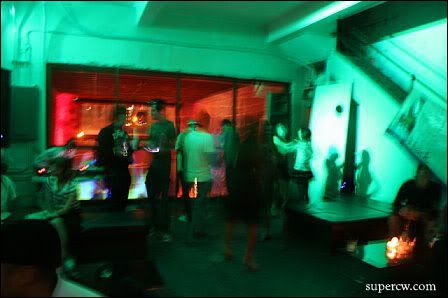 hi!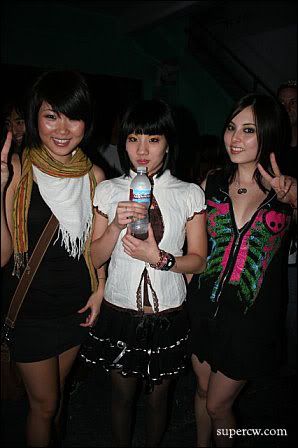 kalima has me beat forever infinity. film and his brain will do that.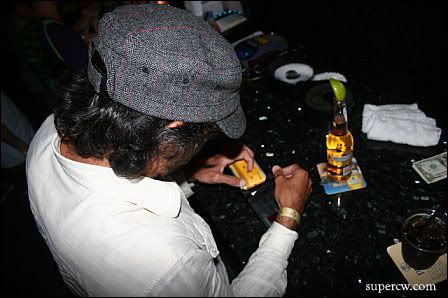 dan can get away with digital because the indies look so damn good on digital. i want to see more beach stuff dan. we know you go. can we get leah, aly, and ara in bikinis? please?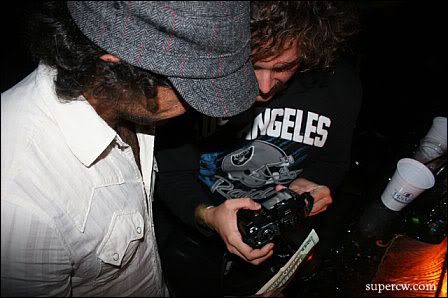 ps: brought ed out tonight. all he does is laugh. what's up with that?!?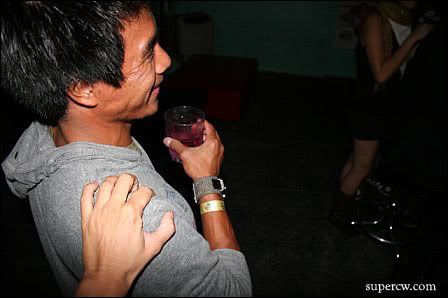 kahunahana. of the next door kahunahanas. he's just kidding i swear. we're friends we're friends! that's not a glare i think i just startled him.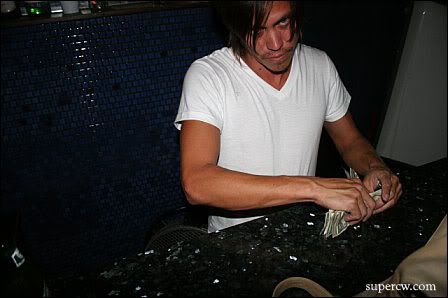 hiya dan! takin pictures!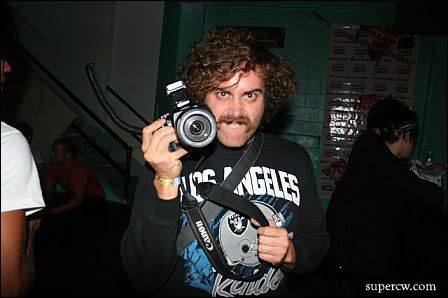 hiya nadia! gettin overexposed!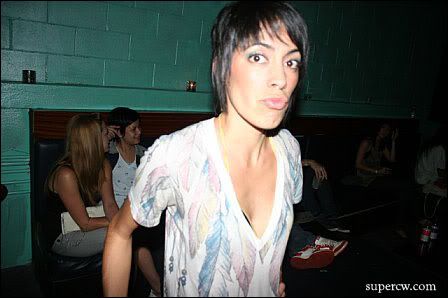 yo ross! with a new haircut!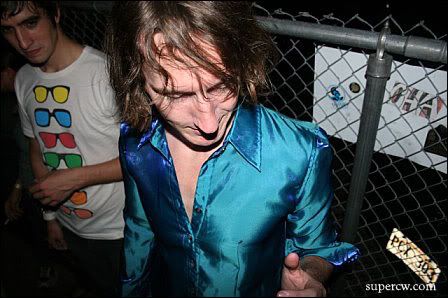 hiya josh! listening to dan!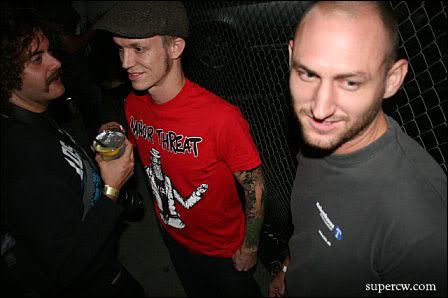 hey you two! getting some digits!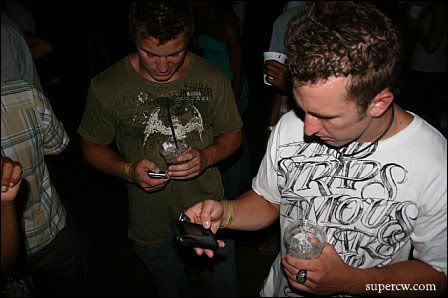 oh retna. still don't know these letters. wait. i think i see an "R"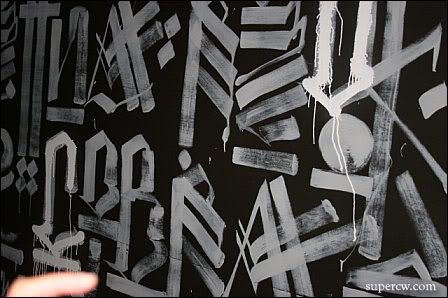 ps: kalima said i was a dancypants tonight. two drinks and dancypants. WAIT! oh wait. this was the same night as blue hawaii. and PINK vodka! oh oh oh. ok. so ya i am still in dirty pink vodka mode.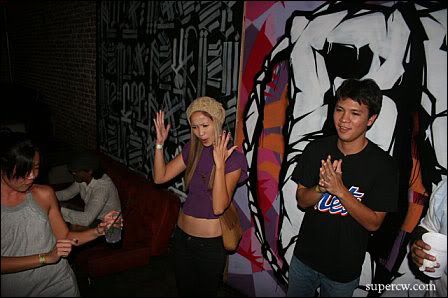 well good thing i wasn't the only one.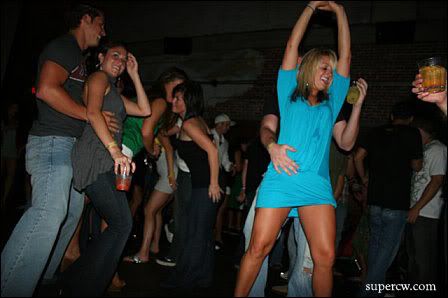 you again! wait! i'm scared. can i see some id? other than that i love you.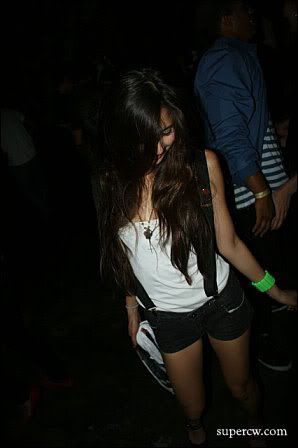 wait guys! watch out! the art…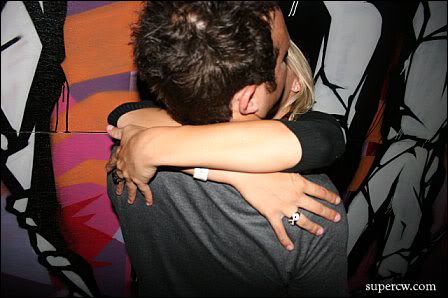 oh god. yup. totally pink vodka'd. i can hear myself telling little bryan wyland…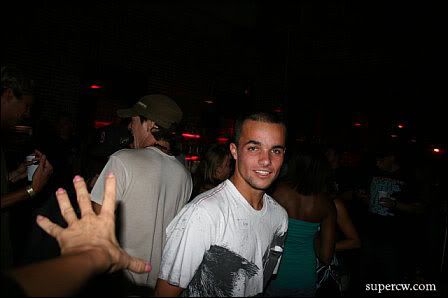 …that he's all growns up cause he's all growns up cause he's all growns up.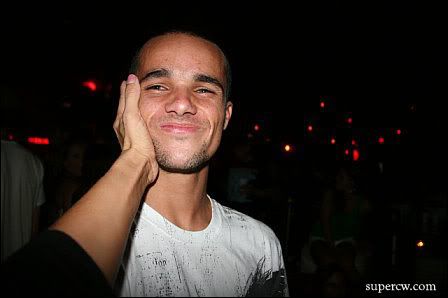 ara is just kidding. she's the nicest girl ever. see? she's making sarah laugh too. she's hard but she ain't hard.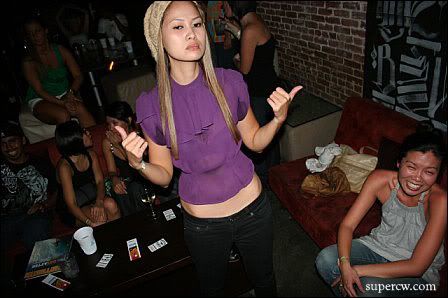 these people? shit! they're hard but they're not too hard to smile. i love this town.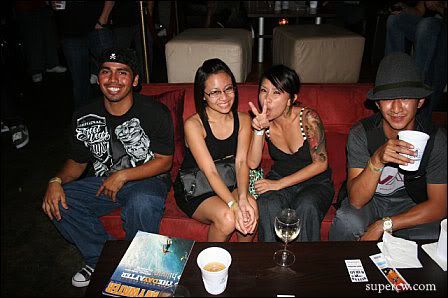 or do i just love pink vodka mixed with college party?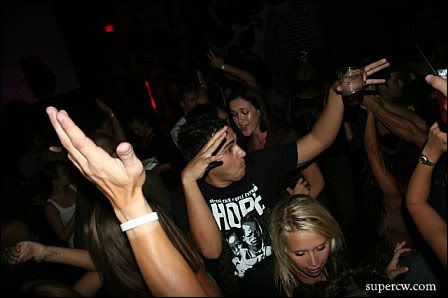 it's really hard to say. but i know tonight was a damn good night. crew mesh like woah. i mean look, see the scarf! in the same frame as a striped collared shirt! now that's good enough to make you sit through a thousand photos saying so. at least i hope it is. anyway, there's more than one take on tonight. look here too.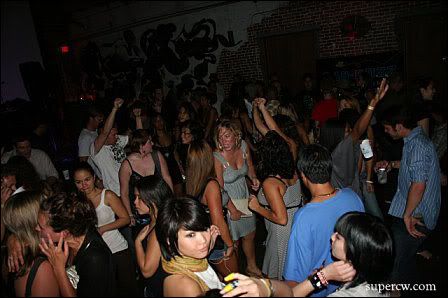 i'll move on anyway. there's nothing like having the best thursday night out ever (and that included the redda fire anniversary at living room after, of which i took zero photos) to wake up and crawl in to work and have a chocolate cupcake and late birthday gift from lacy sitting there on my desk. luckiest girl alive? MAYBE!!
[it would be a definitely if i had a manicure…]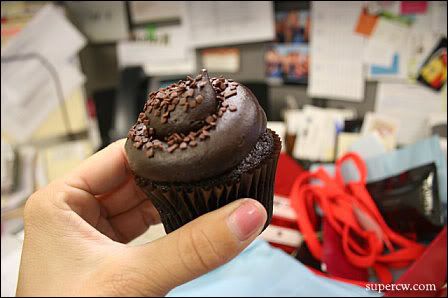 had some visitors in my area. this time it's comedy couple from LA! with matching ray bans. love it.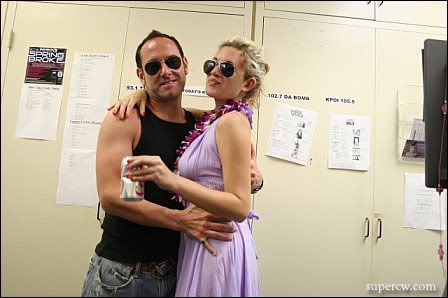 later it was red stripe vs stella at airspace workshop.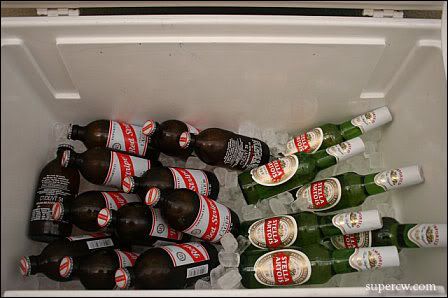 i hope this doesn't sound too gross… but i want to figure out a painless way…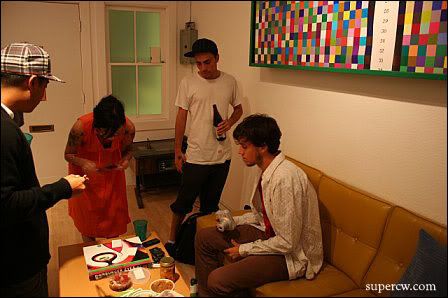 …to pop open the skull of everyone that walks into this room…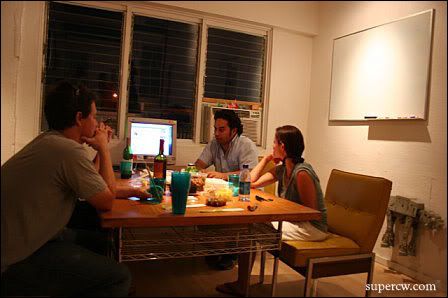 …and scoop out a little bit of their brain…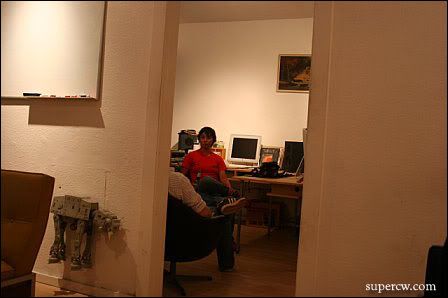 …and mush it into one totally, utterly, universally brilliant brain.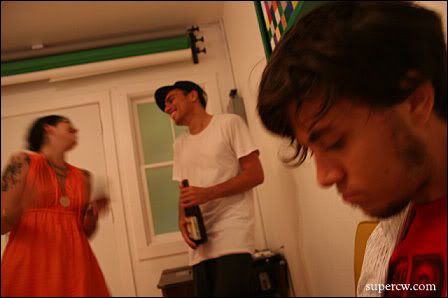 and have babies with it.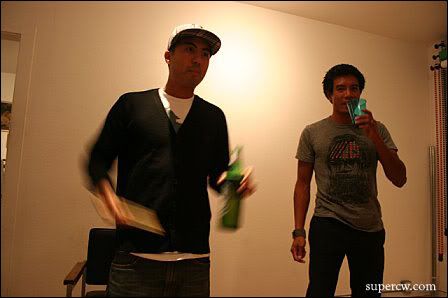 you're right. yuck. ok, i'll just hang out with them as much as possible instead.
saturday got the hell out of town with colonel. straight to payne's backyard.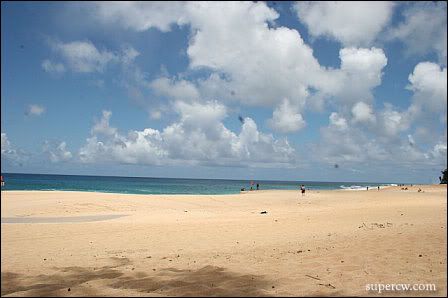 i have a hard time getting in the surf after that waimea thing. i'll tell you about it later.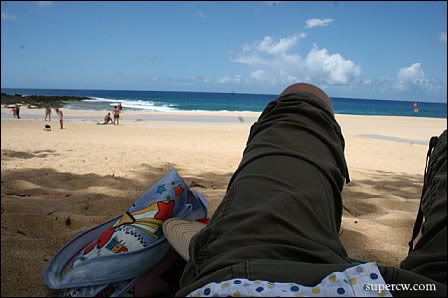 and today was ridiculously crazy. nuts even. i can't believe they were all playing in that shore break. it looked brutal. i stayed about this far away most of the morning. lol.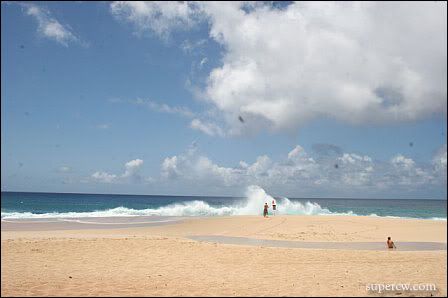 we made the voyage down to kualoa ranch after. rain or shine we were already up there we weren't missing it. damn it.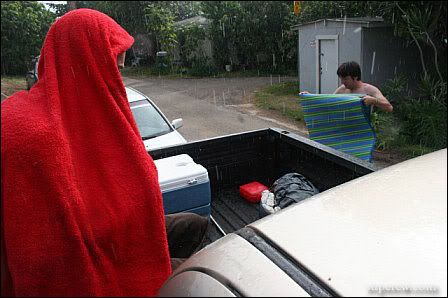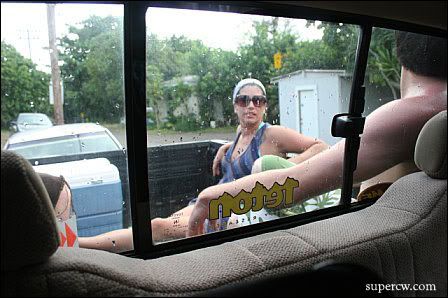 with the obvious poke pit stop.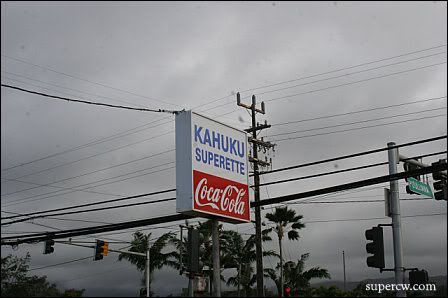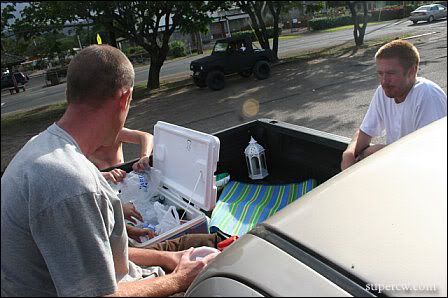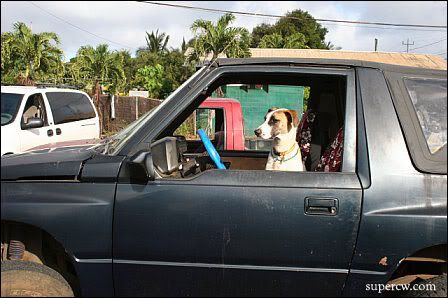 shringy's dad was camping. kind of reserved all the lots for a big earth day party. they were saying "rave" but it was more like camping. camping with a huge dome tent thing and music all night.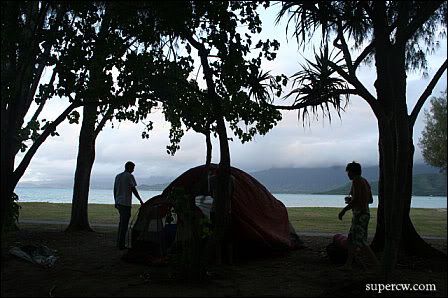 nicole is seriously so hard core. she is down for anything, anywhere, anytime. she wasn't even scared at keiki when the shore break was slamming down heavy ass elephant looking barrels of water. hello! my new best friend.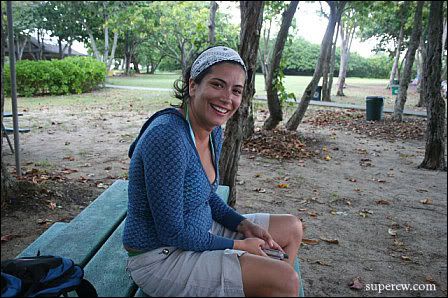 payne found this tent at goodwill like two days earlier for $8. it turned out to be an epic 6-person house.
i refused to get out. it was too nice inside.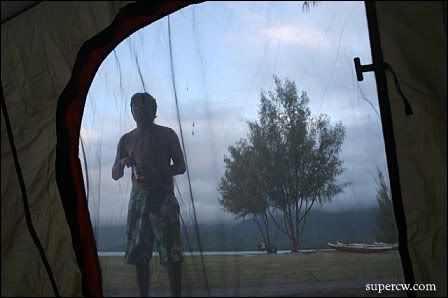 i mean, what's camping anyway? aren't you supposed to be in a tent?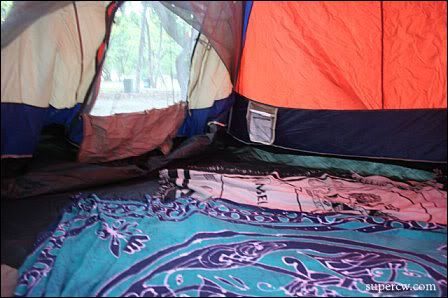 besides. it was raining.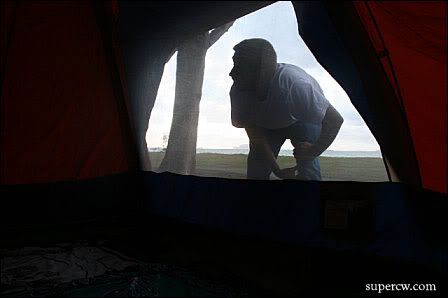 kidding! kidding, kidding. i'm from washington for pete's sake. i didn't stay in the tent the whole time.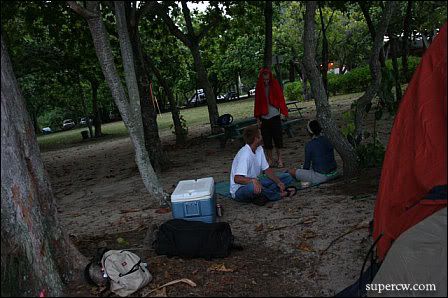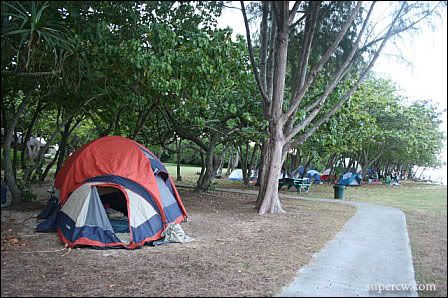 jamal the kilowatt mongoose was our tent neighbor. he had the living room styles going. he said next time they're kicking it up a notch and will be doing a tent-off. everyone has to bring it. best styled out tent area wins.
if the people who own this tent-dome thing come to the next thing, they have a good chance of winning…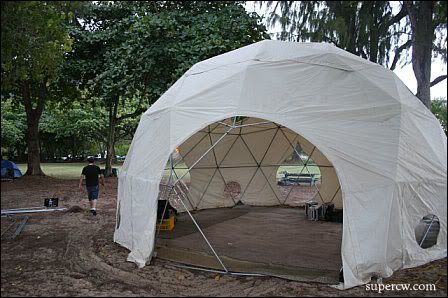 it was kinda crazy big. looked like it took forever to set up too.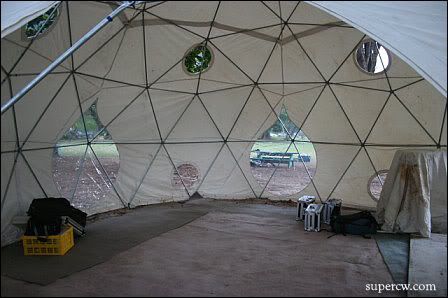 skip ahead 6 hours. it was going off. i actually had napped after dinner to wake up to darkness and crazy music. and TONS of people. woah! who came out?! did i see you? sorry, it was dark…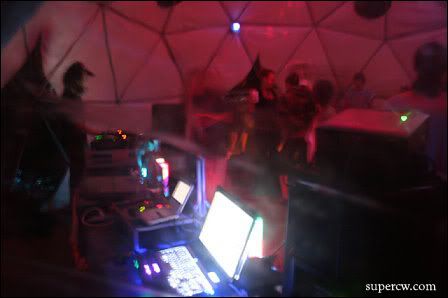 i saw the fire dancer tho.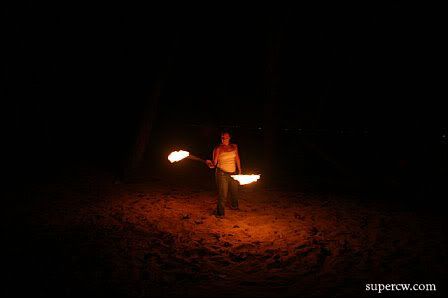 and caught nicole wide awake in a hammock. hard core!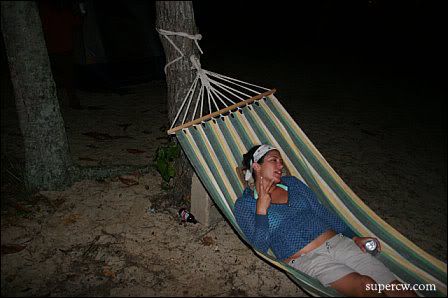 i don't know.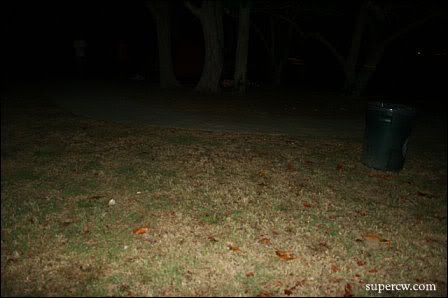 ah! tent! i was in the tent. this is payne saying "goodnight, i'm going to black out now"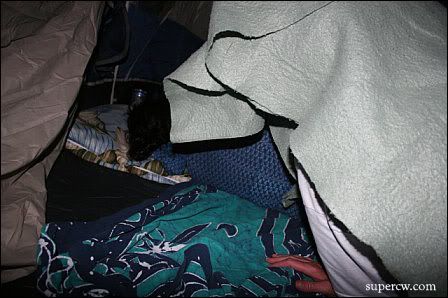 sunday was special too.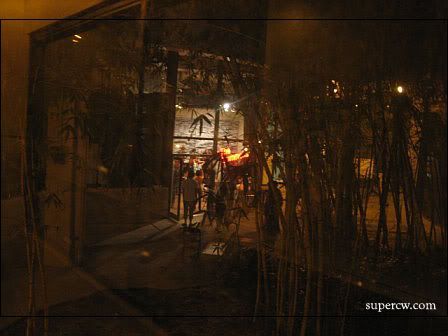 got to watch some fixedys play bike polo.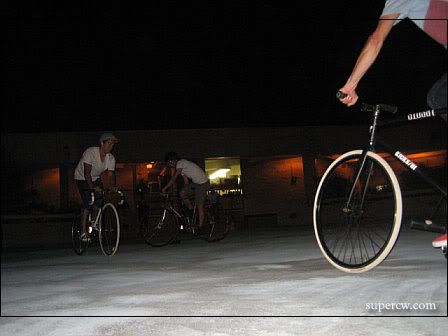 woah. what's wrong with my watermark. omg. seriousy. how long does it take a person to learn photoshop?!?!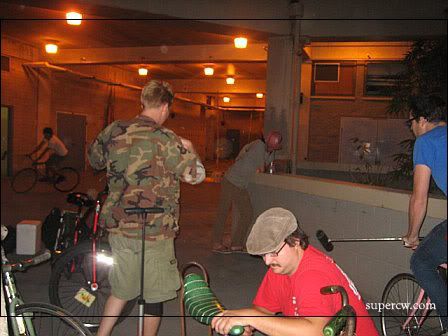 well anyway. that's nicole getting sean ready for rice's birthday party. polka dots were required.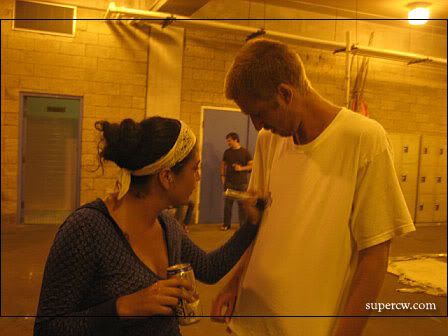 happy birthday rice. a.k.a. the girl the entire world has a secret crush on. you amaze us all. live on!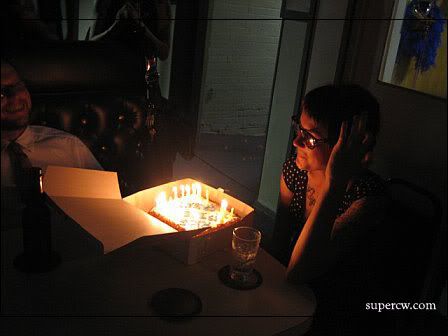 that's all. promise. my wrists are numb. sorry there's not more of how fun camping was. and i can't find any photos from the geek bbq that i went to sunday. ah well i think this many is your limit anyway. right?
til next time.
cw