ah, mall parties. does it get any better? yes? WHAT! you better be telling me where. i'm so there.
meanwhile i was lurking lifehouse at work last week. WHAT! what's going on here. great. it looks like i don't know how to watermark images from my point and shoot. crap. can you bear with me just on this one and i'll fix that next time? omg! thank you so much!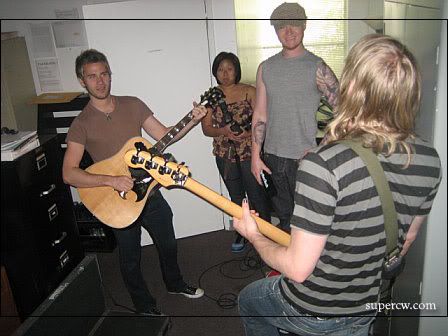 i think anyone who reads me knows by now that i got to be on LOST last week. i spend most of the day munching snacks and sneaking pictures in the tent with the other members of the "international press"

and lunch was beyond exceptional. three bowls full exceptional.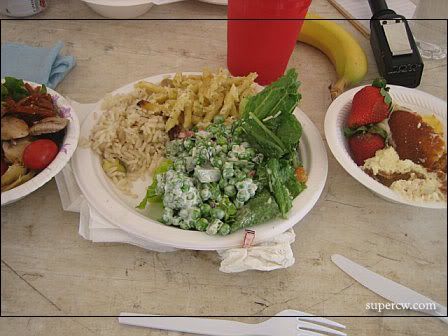 torry is the shit! not only is he one of the masterminds behind showdown in chinatown, he is a cameraman on LOST! he totally rounded up all the cameramen for me to get a nice photo. i was dying.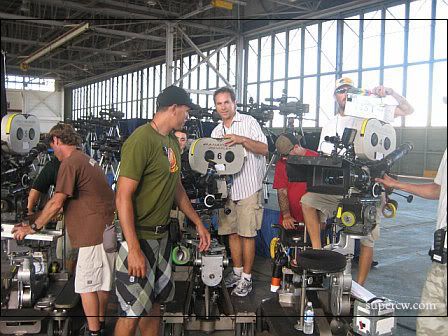 i did die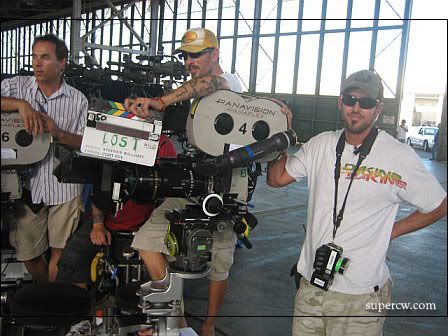 i'm dead! too bad my watermark is all off size. or this would rule. i might fix this.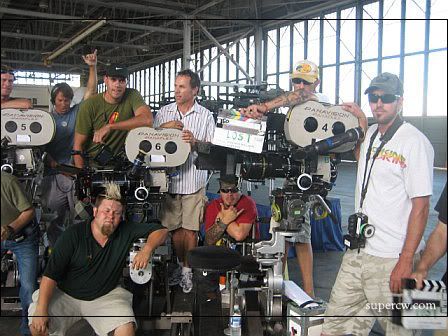 i would tell you more but that non disclosure thing they make you sign is super scary. i really would rather not get sued by a real life network television studio. maybe after the episode airs i'll show/tell more.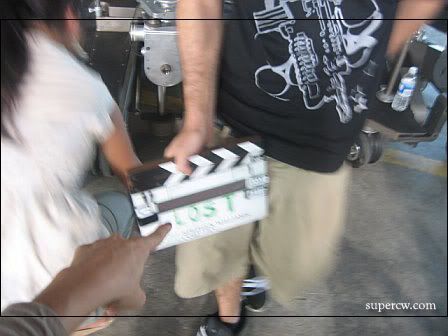 ok ok ok. ONE will-probably-get-me-in-trouble sneak attack shot. for the ladies. because if i have to go down, going down for posting a photo like this would be a kind of kickass way to do it.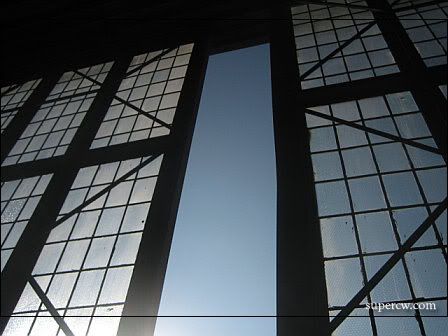 later on last week, i was using my proper camera. party at the mall!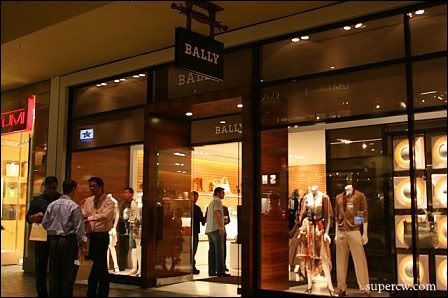 bally's new ready to wear collection was looking hella appealing. i realized this is the same designer that was making the hell out of some hot animal shoes.
there was wine too. but woah. grey goose La Poire.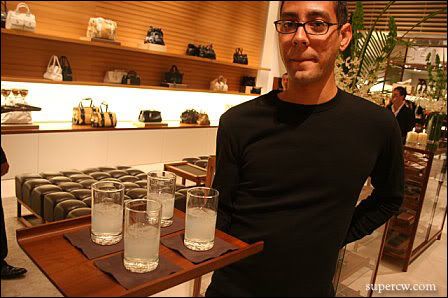 and prosciutto wrapped asparagus. oooo fancy!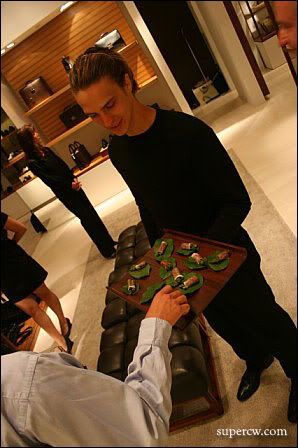 francesco! what doing! what about Bar35?? those thin little pizzas you can eat in one bite? oh what! you do fine food catering as well? excuse me please, *chomp chomp chomp*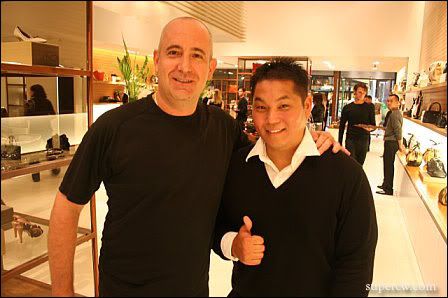 modern luxury still fascinates the hell out of me. i mean. how they can take things i do, read, buy, and am interested in and make them seem sooooo luxury and sophisticated! wait. does that mean that I'm luxury and just didn't know it? or … that they are just damn good writers. i think it might be the second one.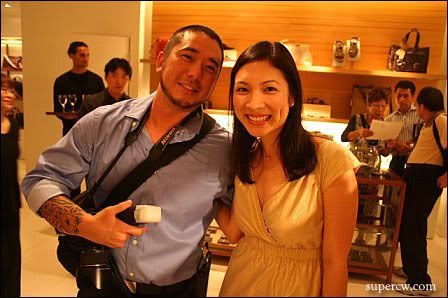 hiro? he's just 100% luxury. hello! hermes vest much!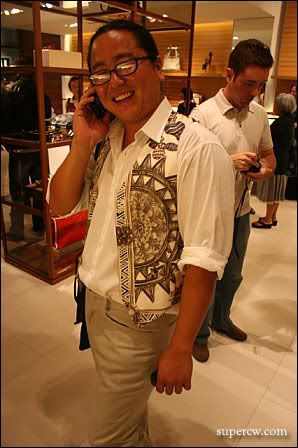 the blackwells with Predrag Uncanin, a.k.a. PJ the GM of bally.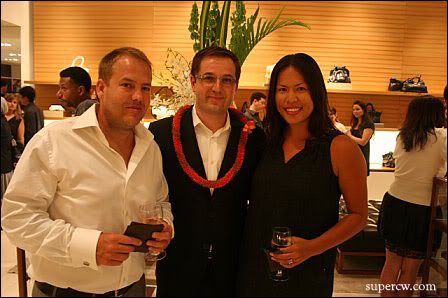 oh wait! how about the blackwells with hiro! talk about classy.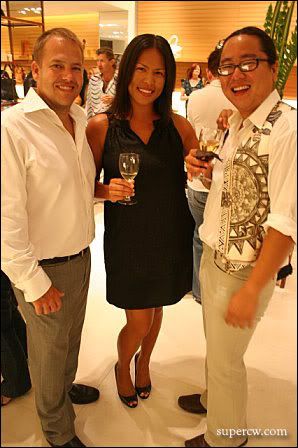 blaine looks effortless in any situation– but has a particular knack for bougie parties. blaine! how do you know to hold your clutch and wine glass just so!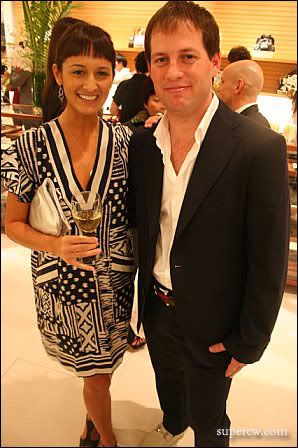 oh look over yonder. i was JUST asked about the two faces of supercw.com circa 2006 last week.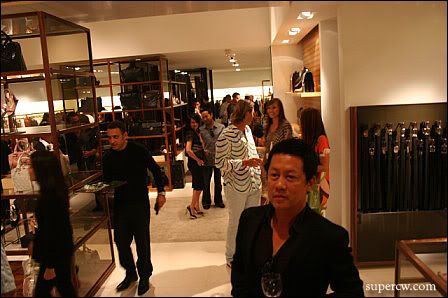 ah there! funny how the universe works. i mean, i was literally just asked "how come we don't see as much kalei and derin!" by a visiting alex tabas. here you go girlfriend. they are still working it.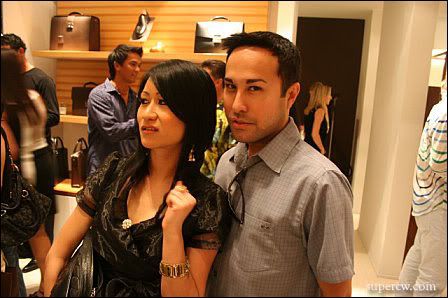 pualani from the contemporary museum made a fashionably late appearance. but it was cool– we got to entertain hiro until she came.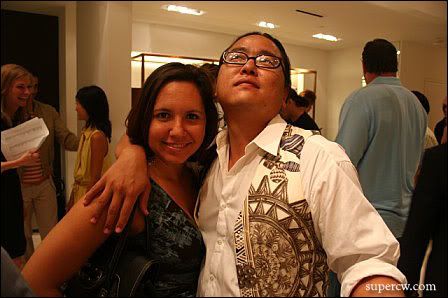 speaking of fashionable. how's that dress! i really love it. i also know that if i tried to wear something like this i would look a bit clownish. damn you, high luxury fashion!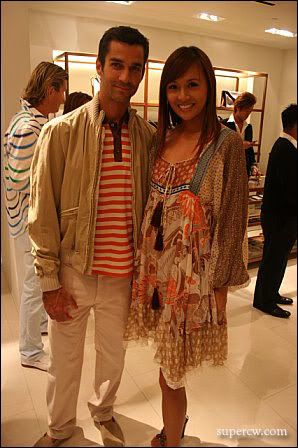 so yay! this party was A+. it was so nice getting a real honest to goodness invitation in the mail this time. you know, as opposed to having to sneak in. i'm really moving up in the world!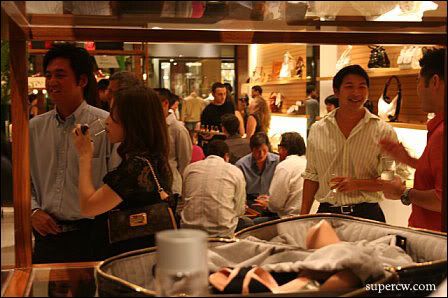 speaking of moving up in the world. it's hip hop hilton!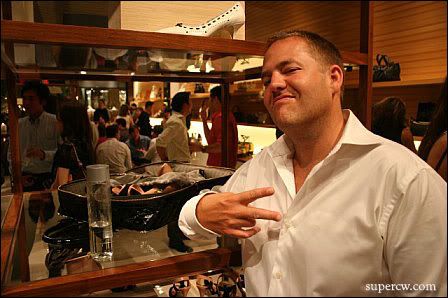 mall was hopping last week. there was also a special social wahines event with the hawaii fashion incubator at the new lululemon store.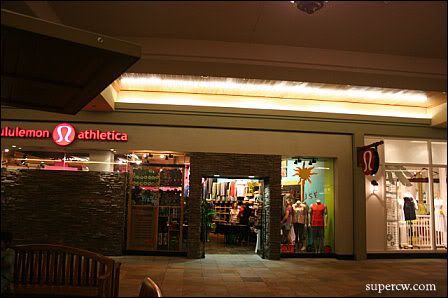 Katie and Stephanie. making it pretty hard to get too far beyond the door with their radiant selves.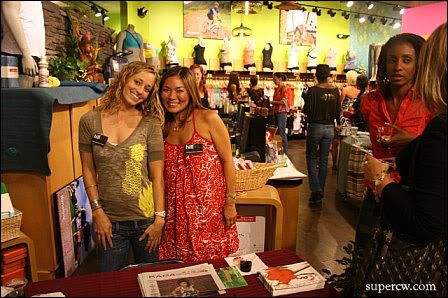 Hawaii In Style TV was in the house! omg you guys!!! i just voiced over all my segments. yes. SEGMENTS! honolulu's nightlife diaries is totally going live, man. next season will begin in the next few weeks. on tv. a la epicly laterd! only trade out skaters for out-and-about-honolulu! don't worry– i'll post the vids here when they're ready.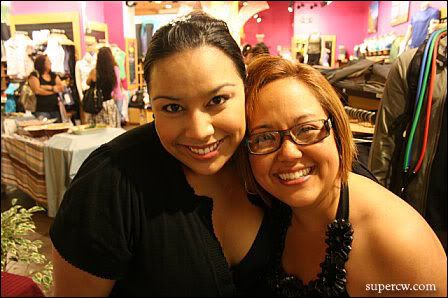 the fashionista's market was also part of the event. look! alyssa has new hair!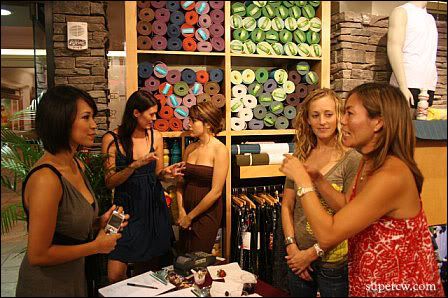 having social wahines vs pacific edge vs hifi vs fashionistas market = the most fabulous women possible.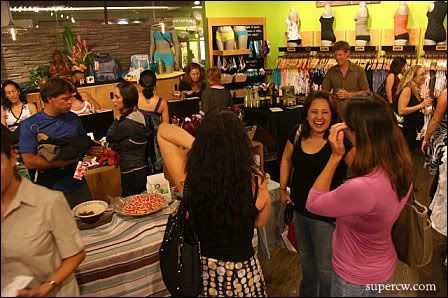 omg. the COOKIES.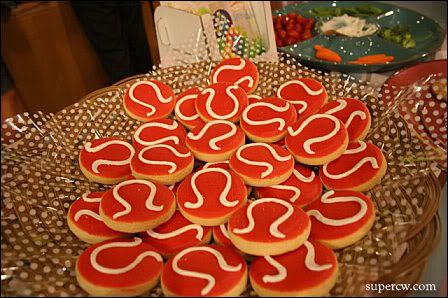 ps: lululemon is the funnest store ever. they have all this interactive stuff that makes you forget that you're actually supposed to be shopping.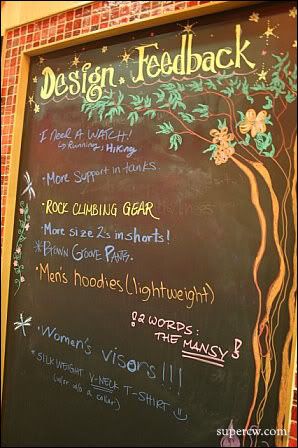 lush was in the house giving out goodies too. omg. LUSH! i still have a tub of their $87 moisturizer that i only wanted because it was $87. it does wonders like woah. at least, i think it does? it could be a gimmick. but i totally fell for it.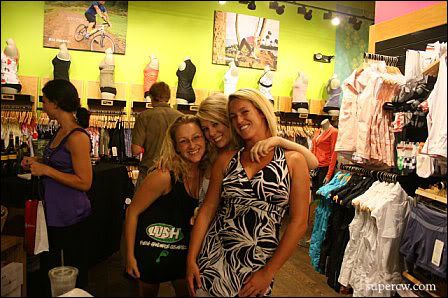 this stuff was cool too. but it's no $87 moisturizer that's for sure.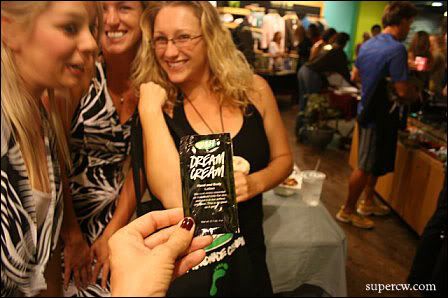 yup! organic wine!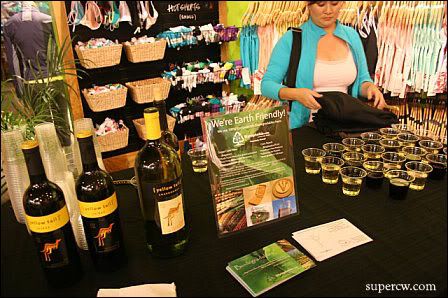 i loved the people that work at lululemon. it's like not even a job for them!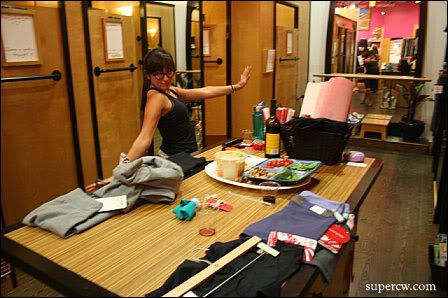 they each have their own personal profile on the wall. nice touch. i bet this took maybe an hour or two of extra time to do, but look how happy it makes the employees. world: take note!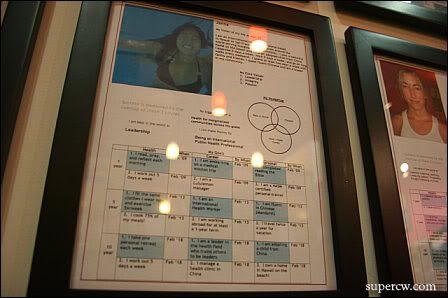 checking in on coop. it's been a while!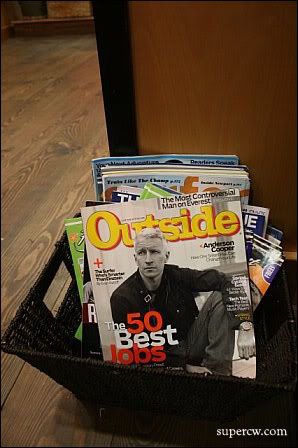 see? i told you!!! funnest store ever!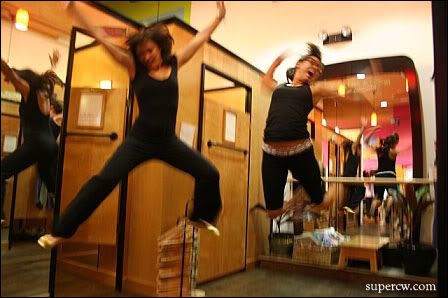 meanwhile it's the last friday of the month. art after dark!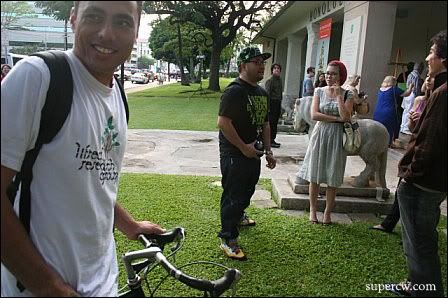 aaron from honozooloo had his lens baby in effect. aaron! e-mail me those portraits? i've never been more excited to see a picture of my face before…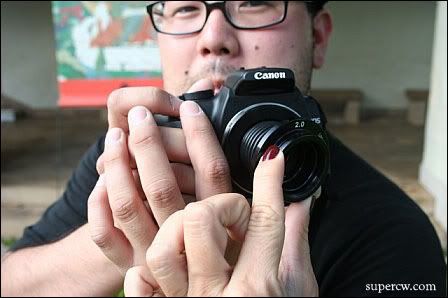 WHAT! the bio dome? AGAIN!?! omg. two weekends in a row. that thing is FOLLOWING ME!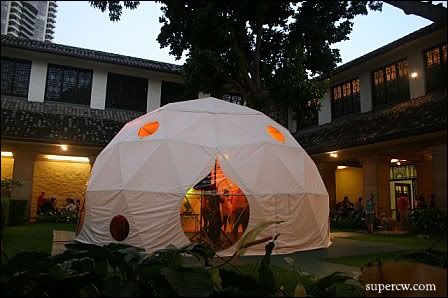 nah nah nah. it's all good. esp when it comes with some of the more interesting people that were at kualoa last weekend. like chad! the artist that just up and moved here from new york two weeks ago. hi!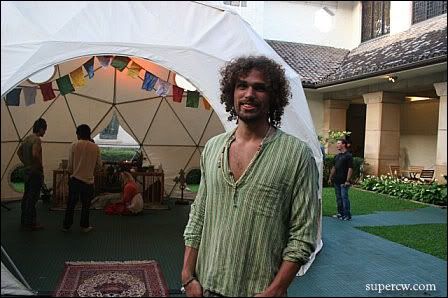 ground up pirates going to work in the back courtyard.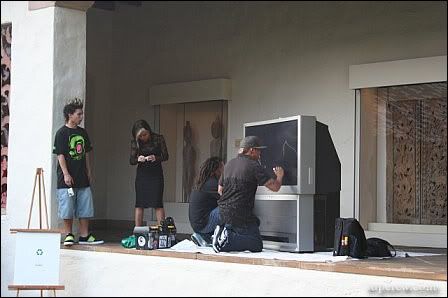 jake the snake made it over. he was there right at 6pm like me. i'm so proud! i'm telling you. show up on time to a place. see how cool it is.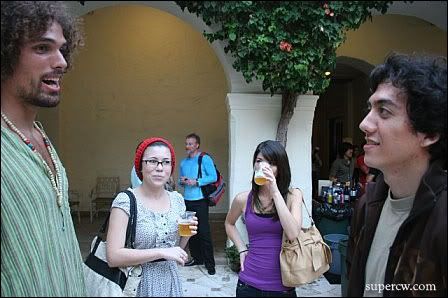 e&o came up with a KILLER menu this time. like they been doing every month. this time it was sweet sticky gooey rice in a bamboo stick for $3. DOPE huh?!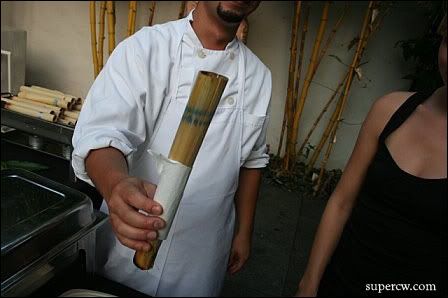 selena and anne told me they were singing with the shimabukus tonight. WHAT! i didn't even know you two sing?!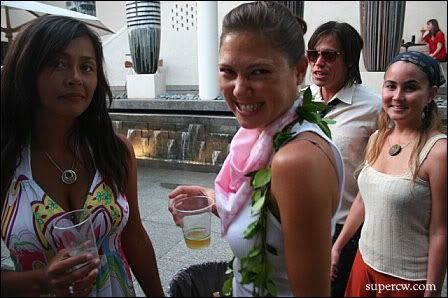 arm-off. who wins? i'm not sure actually– were they comparing tans? judges?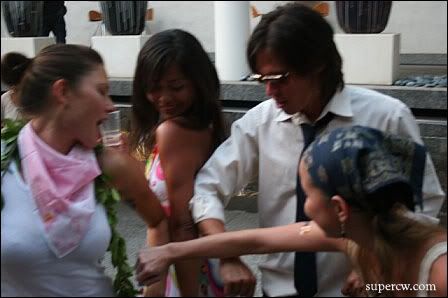 kahunahana and pa'ahana. two of the greatest minds we got. how about their latest drop!! kinda revolutionizing the way events are promoted in hawaii but whatever.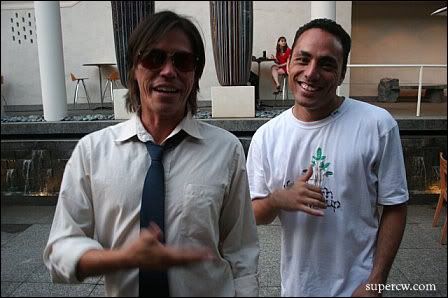 checking in on the pirates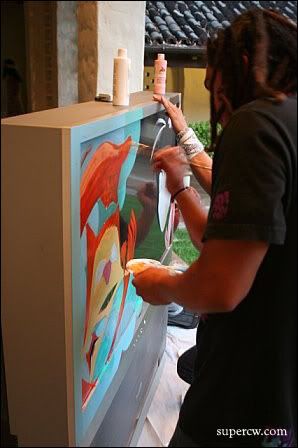 isidra and her lovely friends. i used to joke that you had to look good to enter the academy on the last friday of the month. i was totally kidding but damn. it's almost true huh!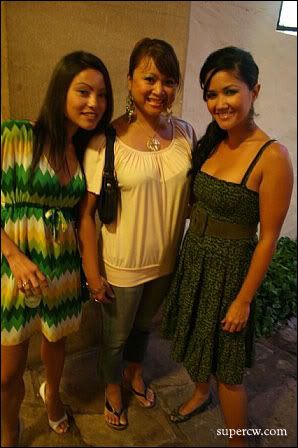 even for the males!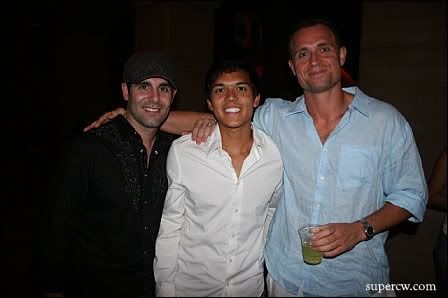 Richard Earl Leong Yu Ralya. did you know he does the showdown in chinatown website? and the dope ass thirtyninehotel website? and paints? and dances and sings? and is gonna marry cyrina?? i know right!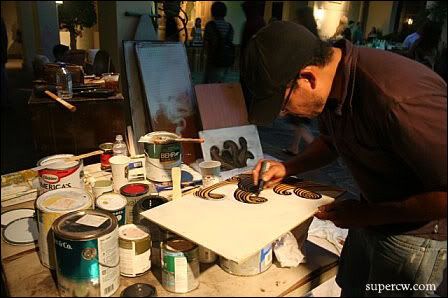 the girls didn't let us down. their singing was radical.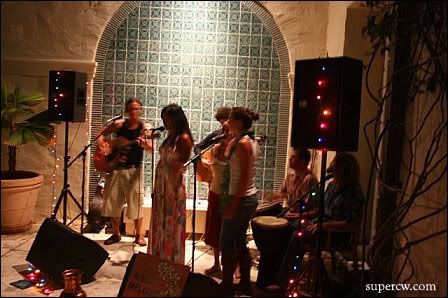 it was in the courtyard that i usually accidentally forget to hang out in over on the diamond head side.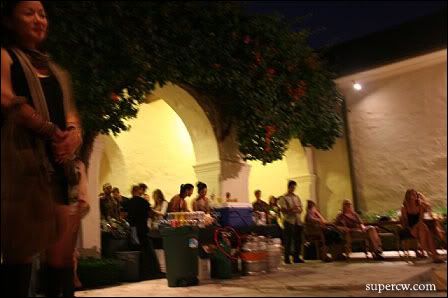 and WOAH selena was totally going off on the harmonica. it was the sexiest thing i've ever seen in my life ever.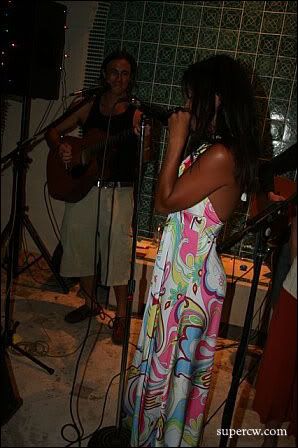 checking back on the pirates.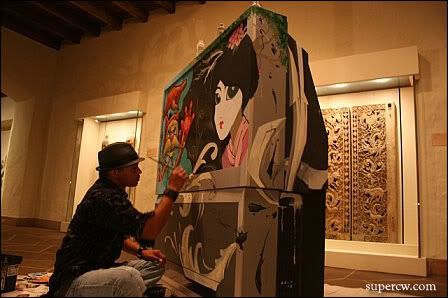 that guy shaun!? what happened bro? getting ready for your big saturday show or?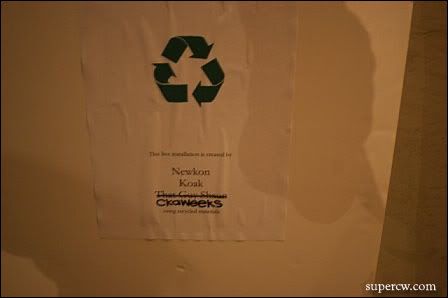 john berger was afloat in the population control room of the back courtyard. flanked by beautiful intelligent women as usual. he always says i'm lucky because i get to post pictures of and write whatever i want. ya it's pretty nice. fuck! shit! fuckshit! nah, just kidding. heh.
aaron and juan p chilling in the back sexy courtyard. i got a better shot than this but i really like the way this looks.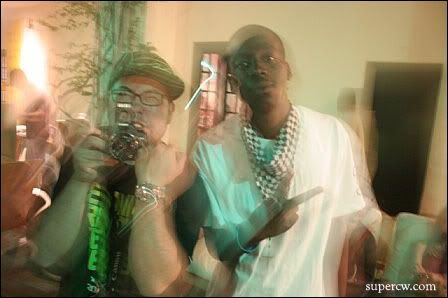 warded off the evil spirits later with the homeys and this refreshingly delicious tequila drink at a'ala park.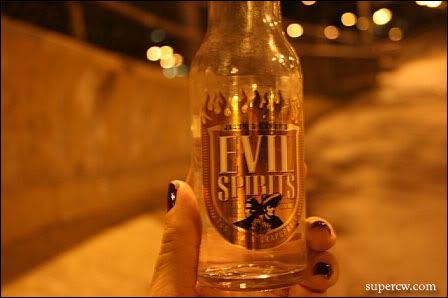 was having too much fun outside soul clap taking out-of-focus photos of some of honolulu's nightlife faces. eskae and terrin.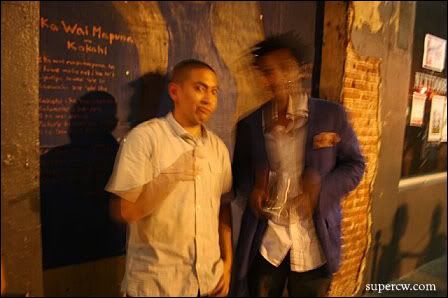 LOST STARS with eskae right here!!!!! shaun was totally killed on the last episode when he was carrying wood and shane on the other end was ben's piano playing hand twin. terrin, of course, was last season's 'other' extraordinare.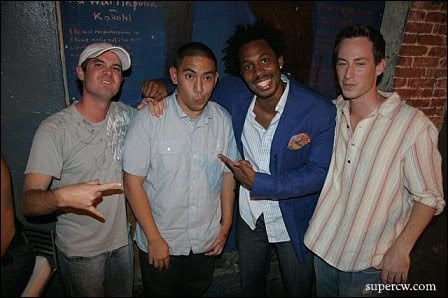 meanwhile in the parking lot. flash is sticking to basics. because if you stick to them, you never have to go back to them. other promoters take note!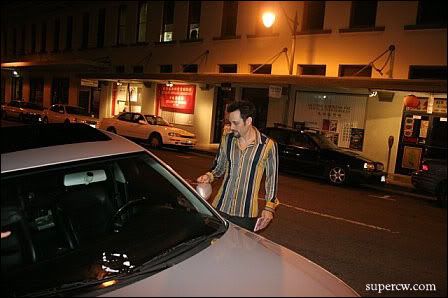 there's a reason why you always hear his name. he works his ass off to make sure people have a good time. it's an honor to call this man my friend.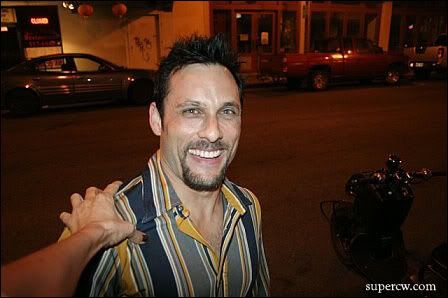 the next night i was pouting over my camera not working. it worked just long enough to create a horrific drunk driving episode with the z-trip fliers tho…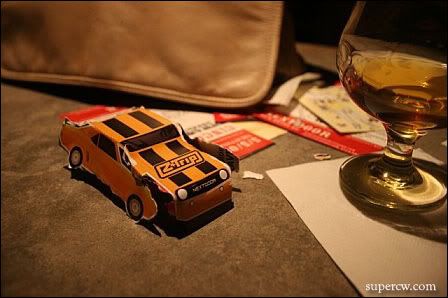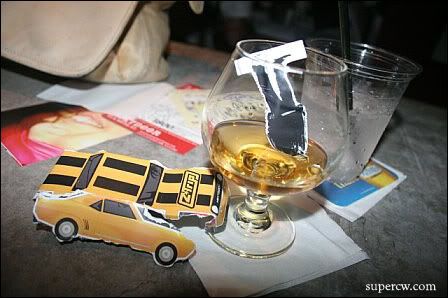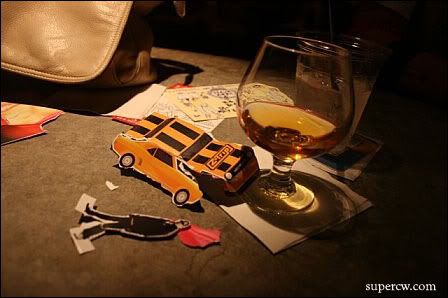 sunday i got the hell out of town. again. going to the north shore is seriously like going off-island. since summer is upon us we will probably be doing this more often.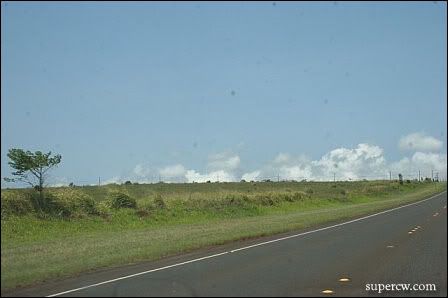 we are so lucky we live here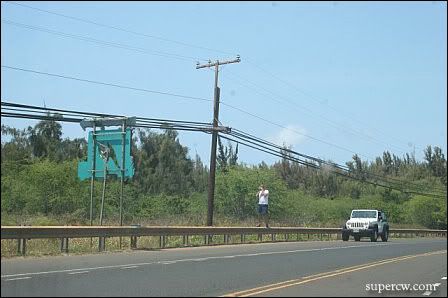 kicked it at payne's with nicole. my city girl that lives country for some reason. i'm still not completely cool with that. we need her in tooooown.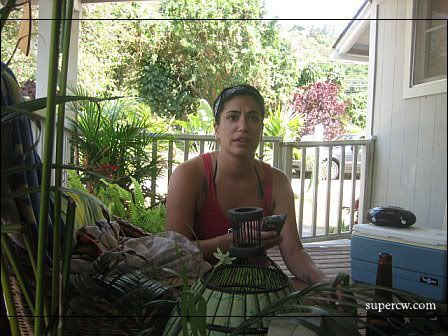 check out this bolex we found at the kalihi goodwill before we came up. kyle was messing with it and totally knew how to make it work. triple swoon!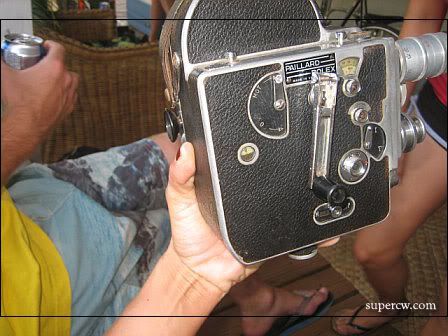 me? ya i might need some assistance.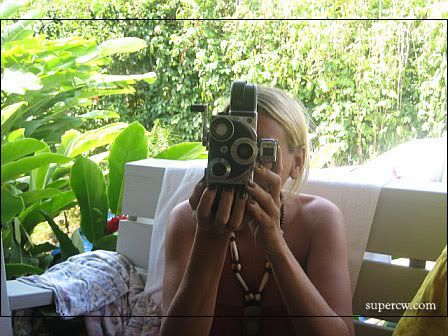 everyone came up. town in the country!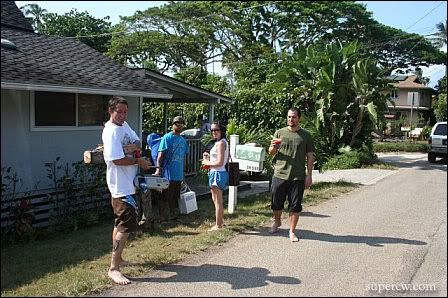 talk about the perfect sunday beach day drink germ!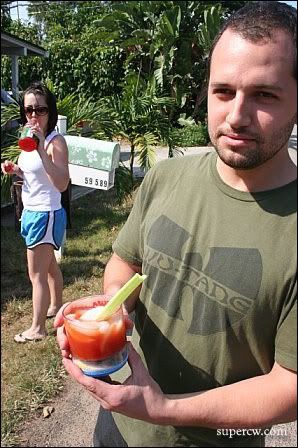 chad's new apb shirts say "don't blog me bro". even tho they all get blogged. what can i say. it's the homeys.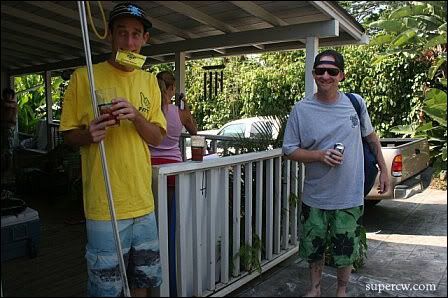 north shore summer beach days mean one thing. my FAVORITE thing! the skaters of honolulu 2008 calendar!
these two are actually the most non-embarrassing. in case sean reilly ever wants to run for president.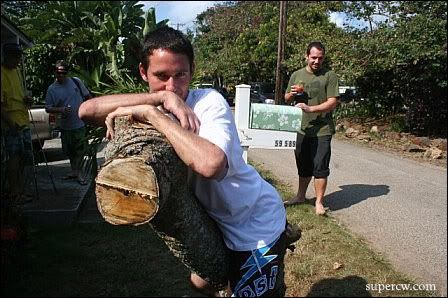 ps: we are such townies.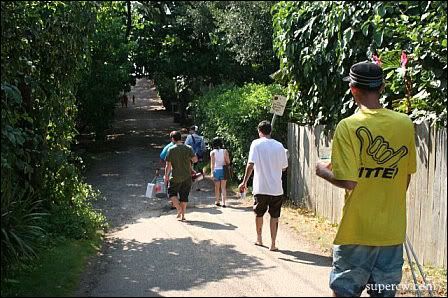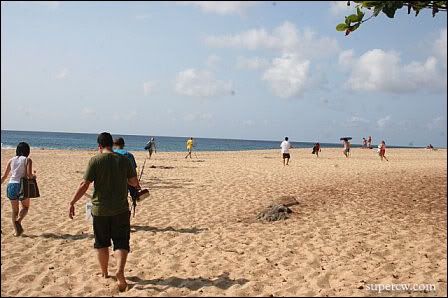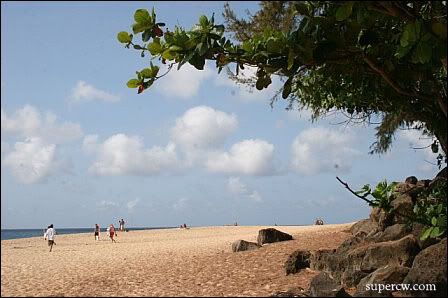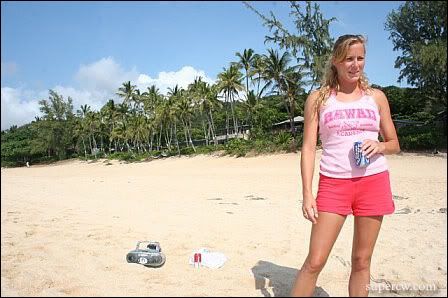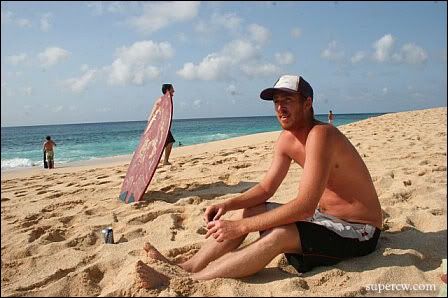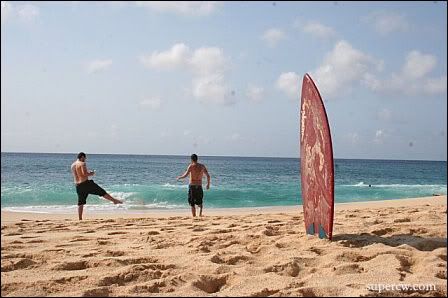 woah how's the shore break. i'm scared.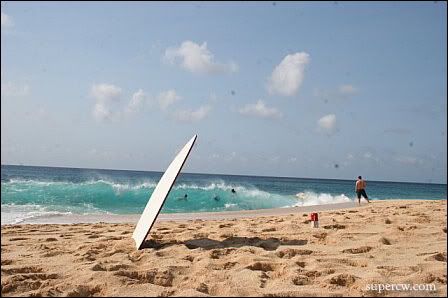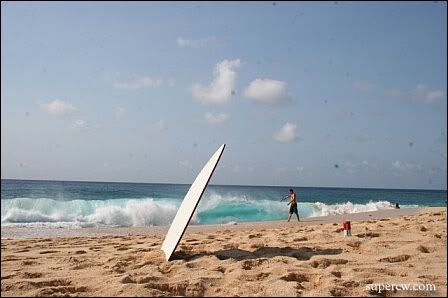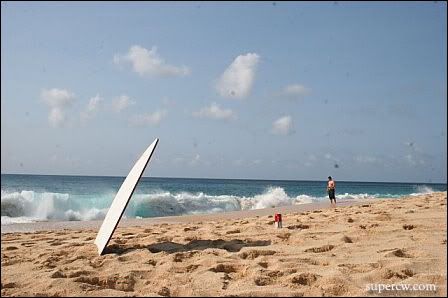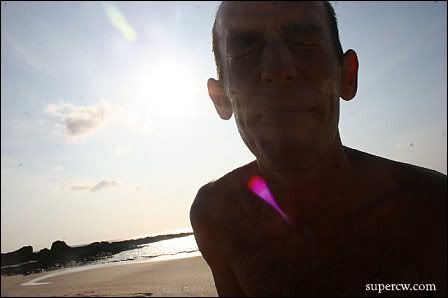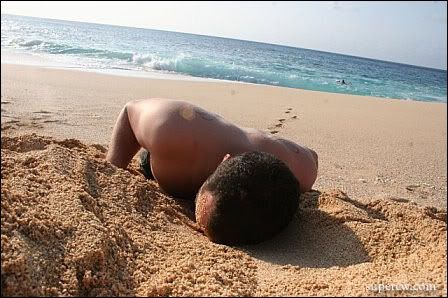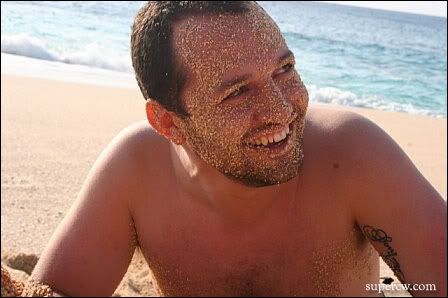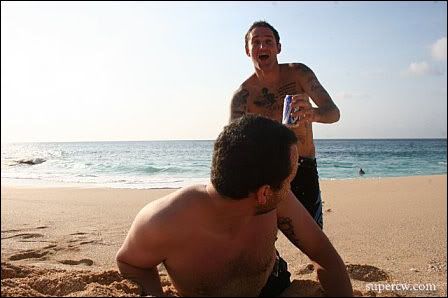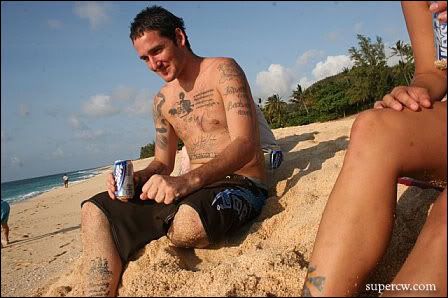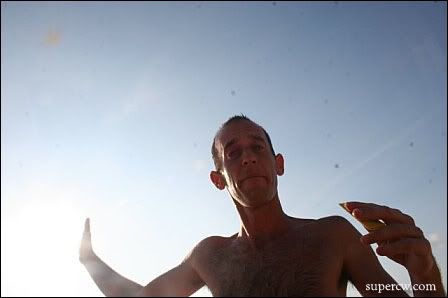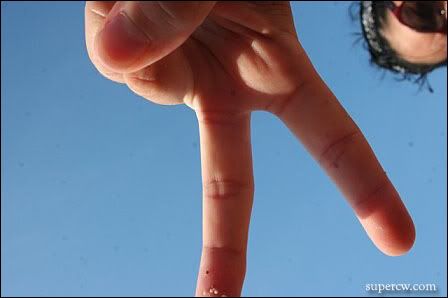 best. weekend. ever.
how was rum fire? how was the next movement? i didn't get photos but know they all rocked. let's get some good cross references going. and i'll see you at first friday. woooo.
ps: if you haven't signed up to get the lovely collecion of free booze finds in honolulu then don't talk to me! ever! *
*juaaaaas kiddn