how many times have you been sold on a gimmick? me? oh. you seriously don't want to know. let's just say i have a timeshare somewhere out there in credit land that's never even been used.
so i totally fell for the vj's creative wording about their wednesday party. i was already in to the secret society, but what had me there this past wednesday was the 'idea' that katch one was going to be in the house.
ok so it wasn't him per se. more like some selections of his work. ok. fine. i'm here now tho, might as well kick it. saw some of the homeys as well.
so you know when kays isn't being all CIA as a VJ on wednesdays that he's a pro for natural koncepts?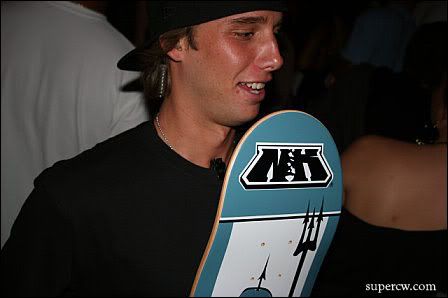 totally pro. as in, really professional. see? there's his deck. with MY CAR on it! aw.
andrew look! katch is there……
charlie has finally gotten on the blog wagon. i'm so excited. he is always always at the hottest young thing parties too. so if you're in to that, make sure you lurk his site.
watch battling with this dude. does tag beat big square? i'm actually not sure on this one. judges?

russ guys in the secret room. it's fun back there.
i bumped in to vince and trav earlier at mercury about to get in a fight in the alley with some dude. vince is the nicest guy i know i really don't understand why that always happens. anyway, i told him to come to o and it appears he made it. yea-UH.
we celebrated.
ehreaahaarrrhonnnnnn!
oh ya, they showed the new NK vid too. it's called dysfunctional family. funny that! sean reilly. whatcha doin there!
chris hughes made it out. right before his big california trip. i think i'm trying to be a bad influence here. not sure. celebrating.
hi blaine!
bike look is seriously hot these days. everyone i know all in to it is looking right. trav, vince, lau, rice, art, joe, etc. you guys all got this uber hot don't care just being practical look about you. i'm in to it. ps: vince and payne and colonel actually rode their bikes around the entire island over the weekend. i'm not even kidding. hardcore!
stepped out of the secret room to say hello to the barely legals. i couldn't not! HI!
ps: i got a text from ara tonight. she said she wanted to booty dance. i was like GIRL! i know just the place!
eskae in the house. my flash is kinda bright. i feel bad about that a lot, since it takes about seventeen flashes to get a shot off.
we booty danced our little hearts out. at least i did for 5 minutes.
kalaaaaaaaaaaaaaaaaaaaa
vincecam. booooooty.
vincecam. gwen!
alex. i think he might be a regular at big wednesdays.
cory has GOT to be. it's the perfect pre party for their weekly meetings at acid wash.
maka v all growns up
eskae making it a lot more fun
germ playing it cool.
ps: germ's hat.
chris i'm trying to figure out why you had that deck with you most of the night.
nina i'm trying to figure out why you and all of your crew aren't getting scouted to go do a cover in paris or something
hi! wait… where am i
ah! next door. looks like we made it to acid wash. wooooo.
saw echo! echo echo echo!
thursday at lunch i made it over to harbor court
lunch 2.0!
but here in hawaii we call it lunch 5-0. you know, like hawaii 5-0. cute! nah, it's serious though. we all meet for lunch and talk about how much we love computers and the internet. then the hosting company gets to show us their demo. kind of a wonderful thing.
ryan ozawa knows all about the internet. and lost! i love his blog. and his license plate!!
thanks for the free lunch, ilovephotos.com !
sid! i see you.
matt! i see you.
had dessert after with keany to talk about their recent cover. i was a bit perturbed, thinking my lovelies at hokus were the best. he proved me wrong. with the chocolate anyway. but hokulani still owns the custom cookies, so it's not all bad. and hello! their cupcakes are AMAZING! so it's ok. i guess there's room for two. and thank god mike is still my friend after i fired off all over his space about it. he even brought me one. aw!
later in my area. i was bunny attacked by the gm's grand daughter. AW!
later later i was saying hello to reilly and yelling at him for missing his OWN video screening at big wednesday.
nah, i was just stuck super late in the office. we kinda share our parking with the church. they kinda stuffed the church and blocked us all in. it was kinda really annoying.
so annoying, in fact, that jose thought it might be nice to bleep his alarm every 5 minutes.
still made it to nobu tho. thank god! my first time there too. damn. it's nice! not sure i'll be a regular with the $23590285276028493284 sashimi and such, but a girl can dream can't she?
neve liked it tho. we decided to go say hello at thirtynine after. i know you can't tell, but kalei akaka was there. she really liked neve. who doesn't!
next door was 18 n up tonight.
kevin cotton and maleko were out making the rounds. celebrating their newold website all over the place. guess what honolulu? you will always know what's going on. always. can i get a what what!
tonight is another hotel street social club. first hour open bar. i am usually the only person taking people up on this idea. it still escapes me why it takes everyone so damn long to come out at night, lol.
saw these guys. what! are you jocks or are you surfers or are you indie kids? i'm so confused. and hyped! MIX it all up why don't ya! i'm loving the new gen!
rita blais was making rounds as well. in a hat! wooooooooo…
the next morning. in my area. sam the muthafkn MAN comes strolling in the sales room. SAM THE MAN. as in sam the man. all asking when he's gonna get a photo on my site. YA RIGHT! like you read me. do you? sam? SAM THE MAN READS ME!?!?!? woah. well anyway. here's your photo sam. you're the man :)
friday i visited the ghost town that is UH.
to crash party shuffle with davey shindig
it's the best time ever! he plays the best music ever. HOT CHIP! i'm so in to them right now. and that CSS too. wooooooooo. davey you rule forever infinity. if you leave us and join the peace corps i swear i'll slit my wrists.
every friday from noon to 3!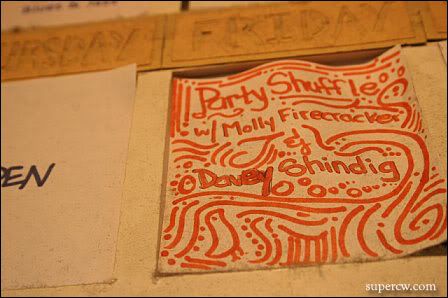 oh. hey nocturna!
hey jake!
hey nick!
later i was being inspired by fellow blogger nalani at red pineapple. talk about being a hostess with everything including the mostest! this apron has SEQUINS! i'm dying. i did die. i'm dead. SO cute. where's amy. this is SO cute show material.
later later i snuck into the vip at incubus. so worth it! saw cristina and maria. HI!
omg hudson– julian is TOO cute, i love this.
snuck up to catch the silversun pickups show. they are seriously SO good live, man.
i finally got a legit pass from the homeys but still managed to get us all kicked out of this area. i'm so sorry rod and whoever else was back here! my bad!
i didn't even get anything good from here anyway. sorry sorry.
were you there tho? killer show! nadine got a DOPE video of an entire song if you didn't make it. but i'm pretty sure you did. the entire shell was packed.
this is all i got. sorry sorry sorry.
i had better luck getting photos of actual people who were actually there. like the rvca crew! what up! BJ PENN! how's fights!
berger liked my art project. stoked! oh hey! buy a saab you guys!
i'd like to thank my sponsor….
timmy curran band's band. i think they're kidding, they seemed to be having a good time.
jason ryan who i see never and tamra porter who i see once a quarter. miss you guys!
kevin cotton who i been seeing much of lately. making more hnlnow rounds. wooooo.
i think i'm trying to say 'thanks for making it on time flash!' or something, but i'm not even wearing a watch tonight. nice one.
ah there! hi friends!!
davey hisaka is so sweet. we were waiting in line for the bathroom and he totally let this poor girl who had too much to drink and couldn't stand lean on him. aw.
i wanted to take her picture, she even knew who i was and asked me to. but i didn't feel right exploiting her vulnerable state. it's just not right.
HAHAHHAHAHAHAH nice hat!!! i been seeing these pop up around once in a while i would say long live phelony but it's totally more about the memories at this point.
saw sean d!
so the waikiki shell on a beautiful night with the moon and tons of you and a really nice concert. it was a really nice evening. thanks bamp!
after partied at the enterprise
neve kind of swooped down in to my life like some sort of angel from the get-the-hell-over-it-already heavens. you might be seeing more of him. if i don't blow it.
RACE! so race was totally serious when he said i was lagging a few weeks ago. and i probably was. he said he takes it back now tho. good! cause man, i'm tired.
jeff sanner band!
daey shindig and aaron van b.
aly had a show tonight and i MISSED it. why why whyyyyyyy. it's all new stuff too like hip hoppy dance stuff. ALY! you better tell me when your next show is or….. or….
…or i'll tickle you! to DEATH!
man. not even done. hopped back to thirtynine to catch the spacifics. bumped in to honozoolu aaron.
now it's saturday.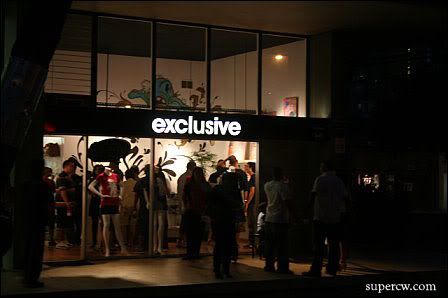 pancho art!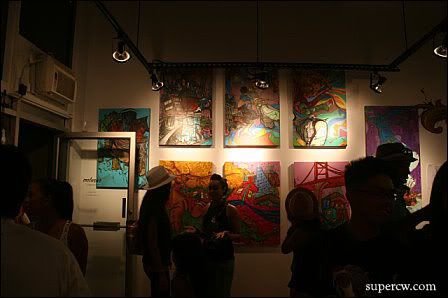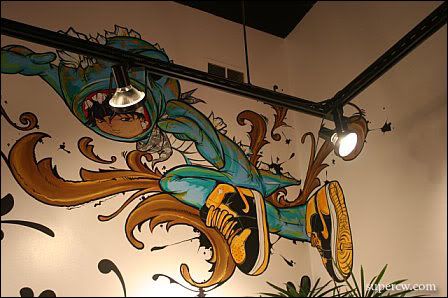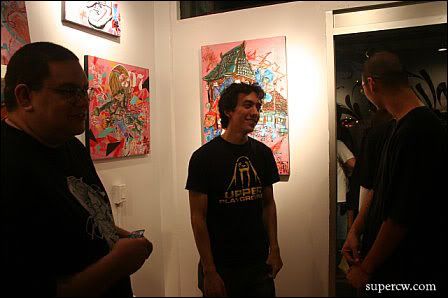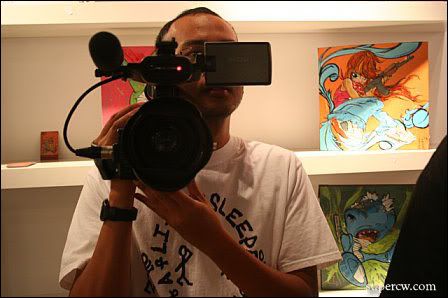 these are all sold.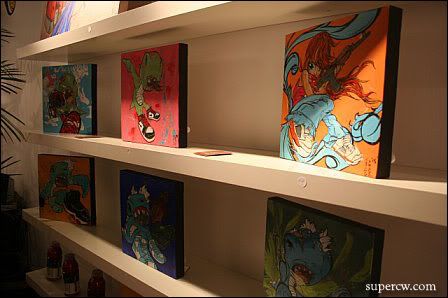 pancho's baby girl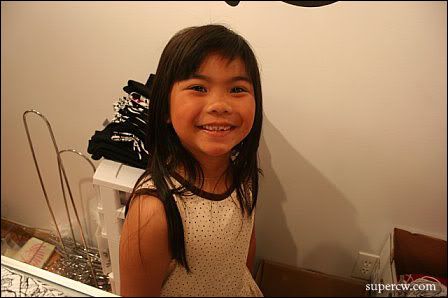 christina trying to find me an xl. no mas. i blew it!!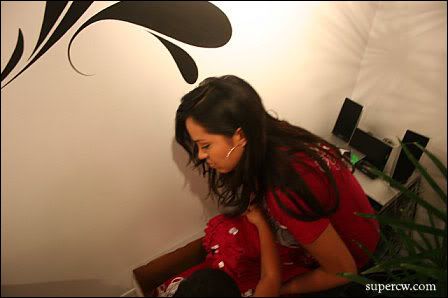 noah is back from the mainland. jesse is wearing a prototype. i want one homey. save me an xl or aaahhhhhhhhh!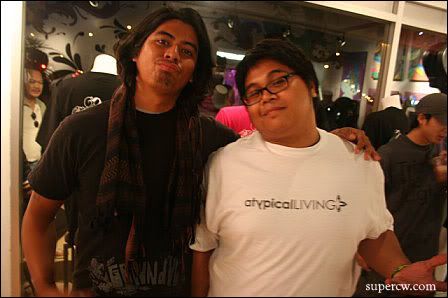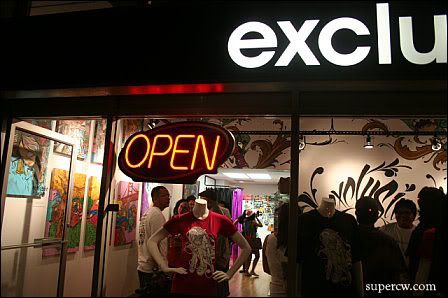 pancho! lurk lurk lurk…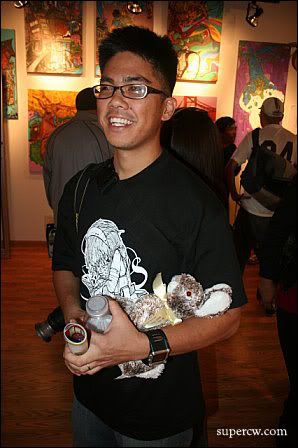 this is what the art show looked like from my private helicopter.
kidding! i'm across the street at hula girl julie's spring break party now. heh.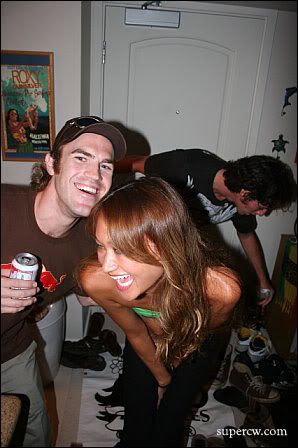 julie and i used to live in the most epic house over on laukahi. i used to call her the hawaiian paris hilton and would beg her to practice hula while i sun bathed on the patio. oh, and this was waaaaay before paris got all trampy and started going to jail and stuff. this was like when people still loved her. anyway. i always loved julie. HOT HOT HOT!
camera battling with keoki. see the muscles? ya. i lost.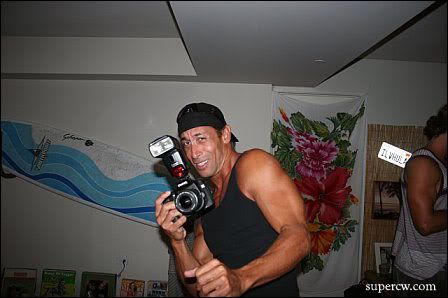 damn the view from up here. damn. what's up waikiki. and kapiolani. and mccully.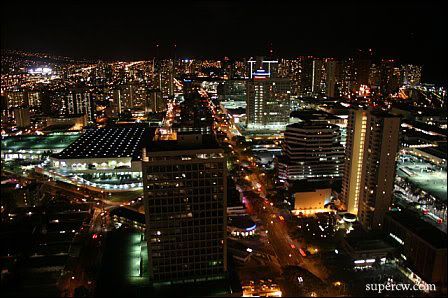 i was like OOOOO! cupcakes!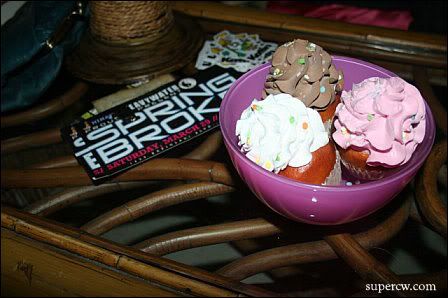 then realized they are not real. WHAT! who has a bowl of not real cupcakes! they HAVE to be real.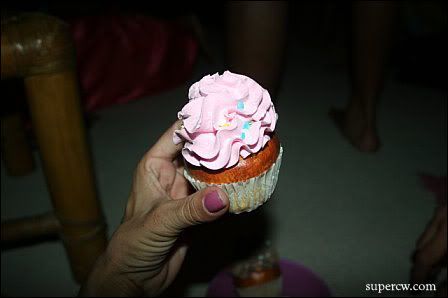 nope. not real. haw!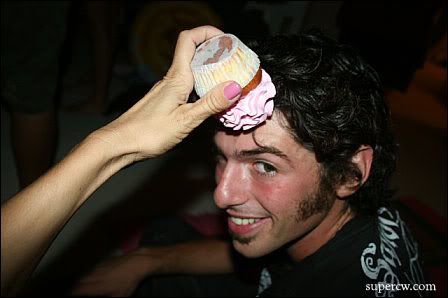 we all got to see the moon come up over the mountain. it was so frigging beautiful. and huge and red. man.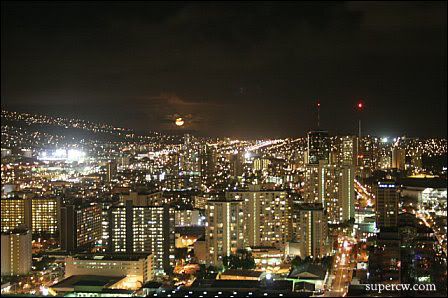 haw haw julie came out with the most hilarious jello shots. it was dark and i couldn't tell what was in them, i thought they had like gummy bears and stuff but it was just sprinkes and melted whip cream.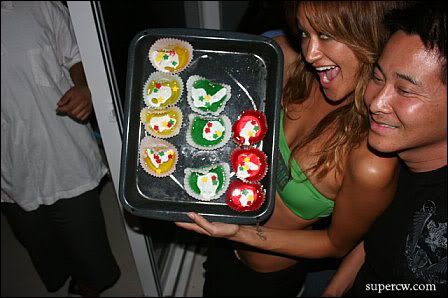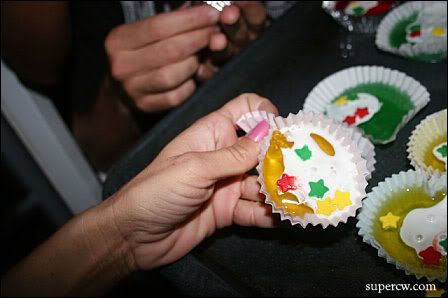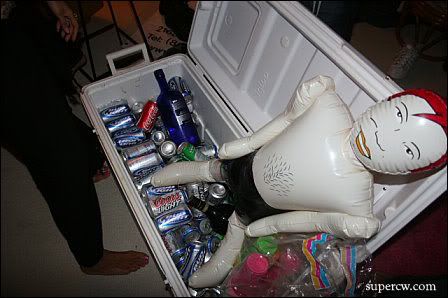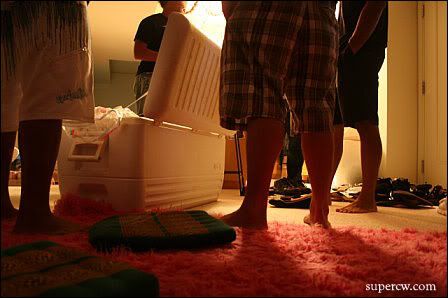 Denise made it. woah hot overload.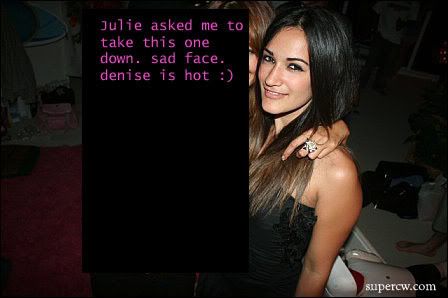 sorry about the keeping face time to a minimum. esp when i know this blog probably took 10 minutes to load, if it didn't crash your browser. i have to exploit julie for a bit. i never see her anymore. and she's so damn hot. you're ok with it right? please be ok with it.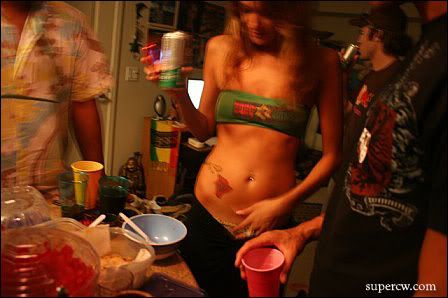 just one more!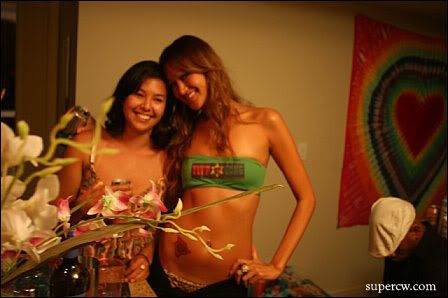 ok two more. ok ok ok ! i'm moving on now. promise.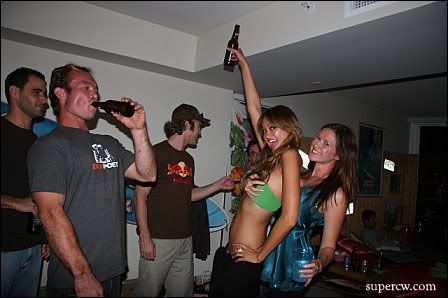 44 floors…..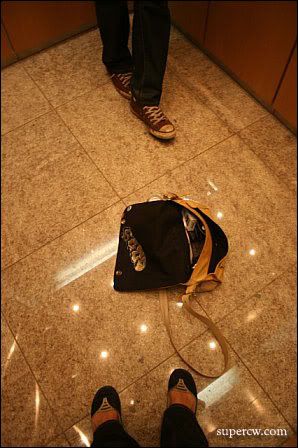 pre partied before living room at satura cakes. my new favorite place in case you didn't notice.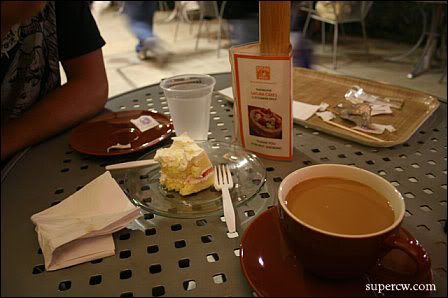 we were the first ones there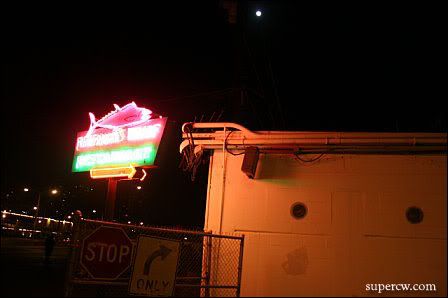 but so were aaron and aly and andrew and ara. WOAH. did all the people we met there all have names that started with A.? i think so! woah woah.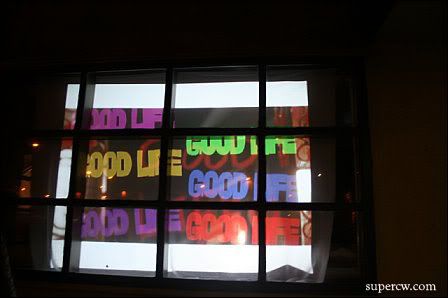 oooo the living room has had a bit of a makeover since i was here last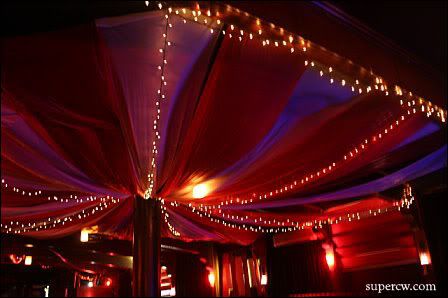 J! vests are s.h.r.n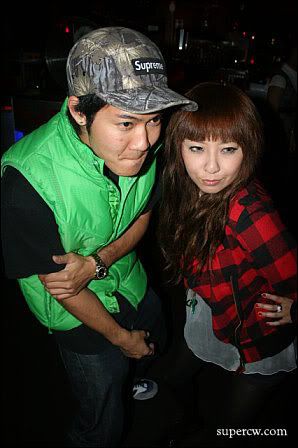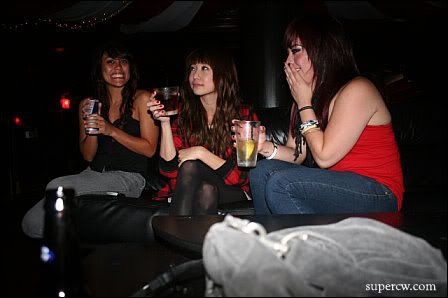 ara's hot feet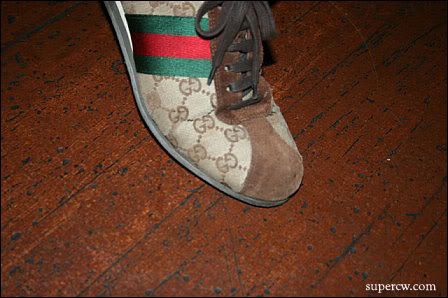 sarah's hot feet.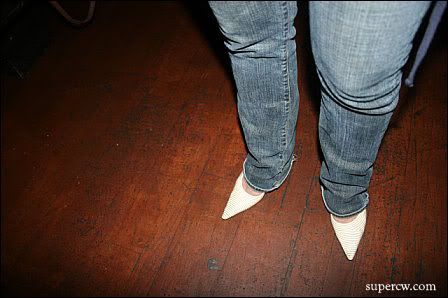 sarah and ara's hot faces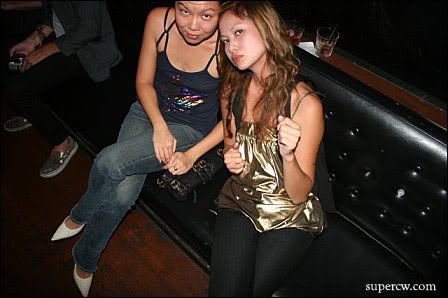 camera battling aly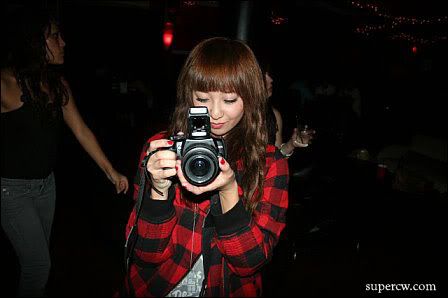 getting ready for jami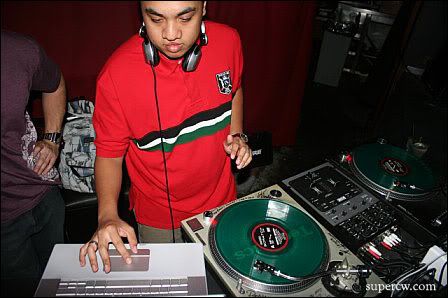 bumped in to my old living room soldier friends. MISS you guys! woah! ross and jenny and winnie. HI!!!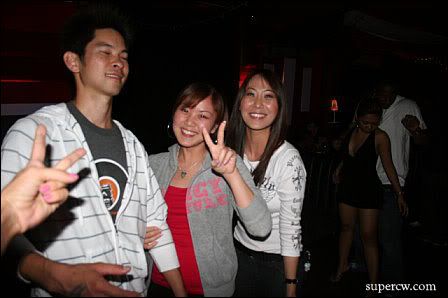 omg. GOOBS! i missed your face!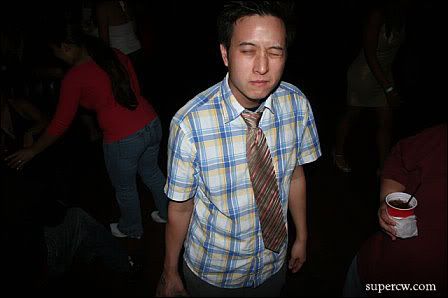 love these guys for real. they're still tearing it up at the living room i see. it never fails! go here, see the crew.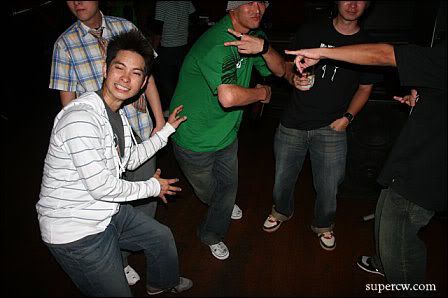 we were the first ones there. it got way packed later.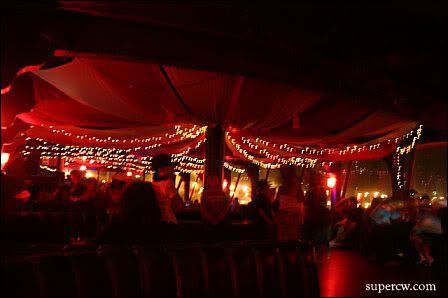 saw alex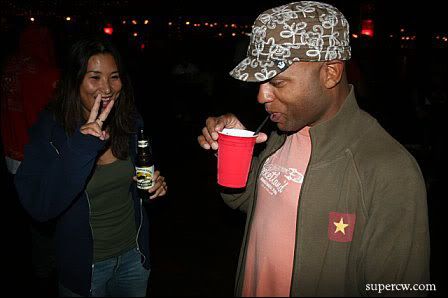 love the new food setup.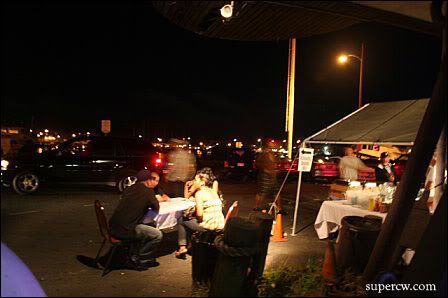 love that eskae is drinking a stella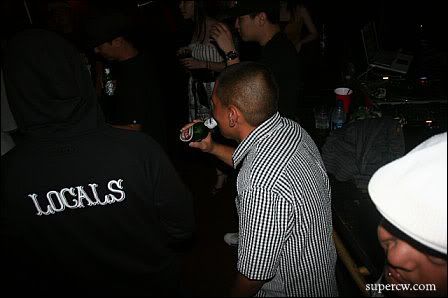 loved this guy, i think his name was JP? JT? shit! oh, sorry my flash is so bright.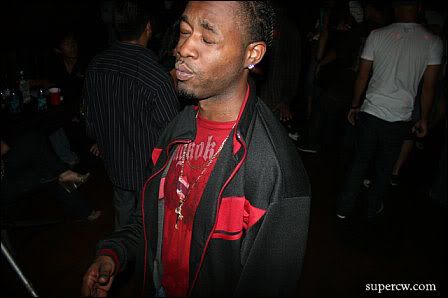 saw zebra.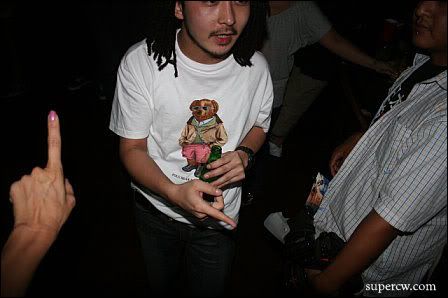 ZEBRA! how was lotus!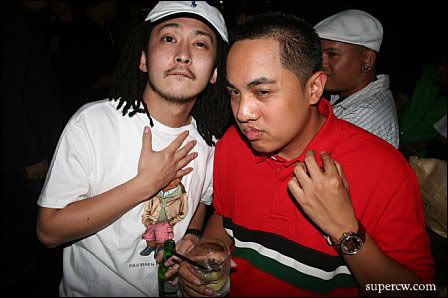 the dance floor got SO fun by the way! they were even having friendly dance off things. i was so in love with this night. for real cuz.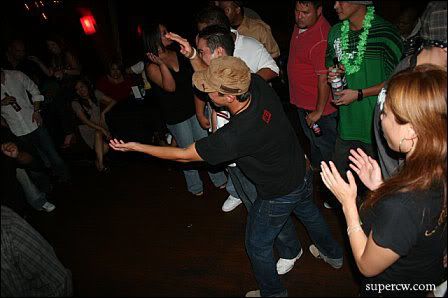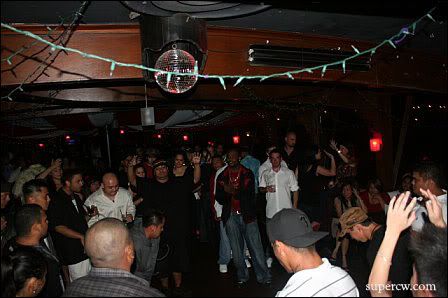 jeff sanner was even there! stuff was HAWT.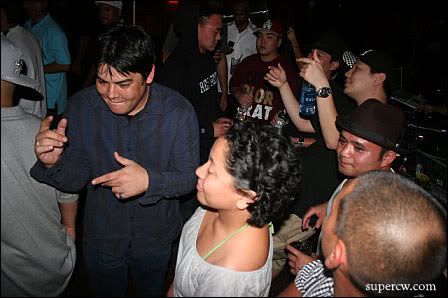 ha ha stan still had just come from a boto party. i almost didn't realize it was him. this is twice now that i've randomly seen stan in the club running circles around everyone in the style department. damn. keep it up!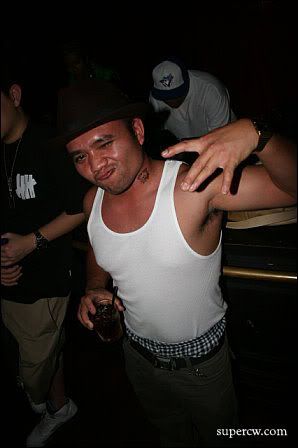 why do i friggin adore the nocturnal sound krew? jesus, let me count the ways! it starts with these two tho.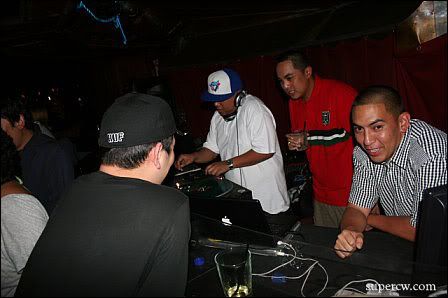 these two. you might not know them. but if this was japan i'd be so hot right now for having their photo. trust!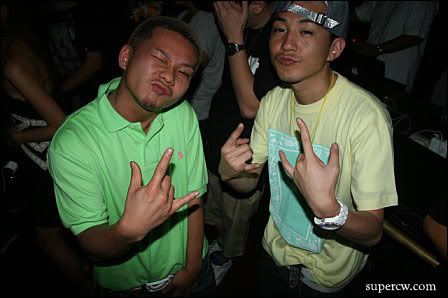 that's all. or would you like more? just think about it! cause i got about 760 more photos that you DIDN'T see!
now tell me something. cause this took forever to make.