let me get these out so i can dish about the weekend. that will be tomorrow or the day after. for now, i wanted to mention how lovely the HIFF fund raiser was last sunday at the halekulani. the oscars!

sniped by the sniper! the most readable fashion blog i know, and it's local. what!
as previously revealed, i was indeed fashionably late. but managed to catch the most stunning stunners…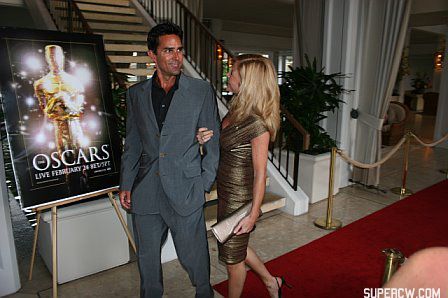 christina simpkins is with her good friend and brett wagner, brilliant writer. look for Chief's screening at Hiff in october.
so HIFF's oscar party is like you're totally at the oscars. people even clap when things are awarded. and everyone's all dressed in black tie. and there is plenty of wine and food. the only thing that makes it better is the actual oscars is that it's in hawaii.
did you watch? OMGLOLWTF YUM! harrison ford WHEN are you going to ever grow too old to date me.
lance rae. you realize he is always photographed like this because his specs create a reflection when photographed? well that's why. i wanted him to understand that i turned mine off and be the ONLY person ever to have a photo of lance with his glasses all the way on. sigh. next time mabye.
ok, forget harrison ford for a minute. WHAT is going on with colin farrell? was he always this sexy? damn.
the menu selections were exquisite. probably better than the real oscars.
you can get jackets like this on sale at queens right now. i JUST tried one on the other day!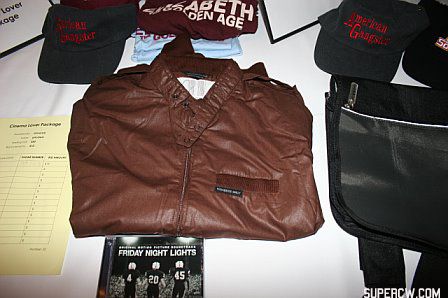 tilda. YA! i loved you in the beach. how after all that you were willing to just shoot richard in the face in front of everyone to preserve your community. very moving performance. i didn't see michael clayton [yet] but i'm guessing you were great in that too. obviously.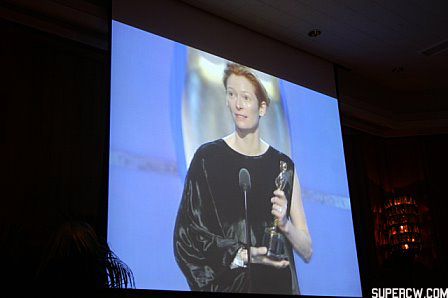 elliot takane was sniping for modluxe! oooo they have the best parties.

WHAT! is this what it's like to be at the real oscars? hi….
HI HI!
every morsel of every thing put in front of me was consumed this time. it was a lovely evening.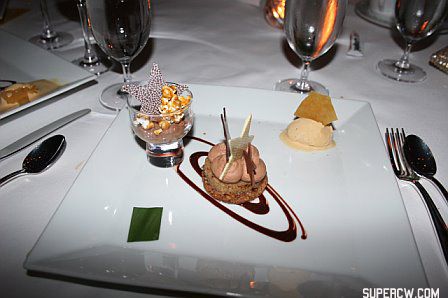 speaking of oscars. what's up with the wire getting snubbed at the Emmy's? only the best show i've seen in ever. and i've been lucky enough to have a friend that records it so i can catch up. holy CRAP it's so good this season with the whole newspaper storyline. i mean, when they include and sort of organization whether it be the government, the police force or the drug world, it's always extremely thorough. i feel like i work at the paper now. i mean, i totally know what you go through now.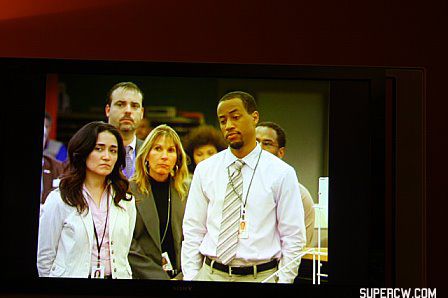 lunch at the academy last week. can't get enough bhutan.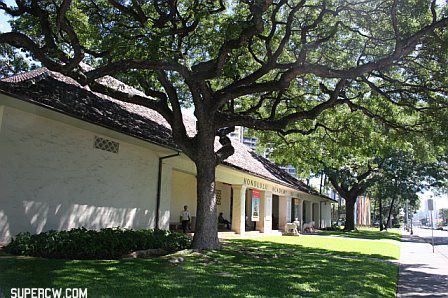 don't order the soba noodle salad unless you like it with a lot of sauce
DO order the dessert and try the coffee. it never ceases to amaze me how they get their coffee to taste so exotic. museums rule.
two accidental zoom-ins two blogs in a row.
sorry about that. i love rick rock's dog.

pre soul clap meeting with eskae at planet hollywood meant milkshakes with bananas and liquor. is that wrong?
ricuardo queso is still visiting hawaii so we took him to our special supercrew place.

i was the first one there. in my usual fashion.
just thought i'd add one of these in here. it's been a while since my site has seen much sleaze. this was actually a nod to richard cheese tho. i had animal print shoes and ring, ali had bag and bra. it was quite complimentary.
i heart gyu kaku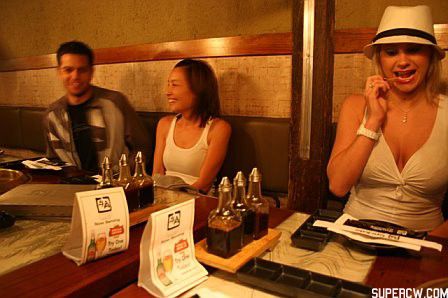 kaveeka and jodi! FOUND!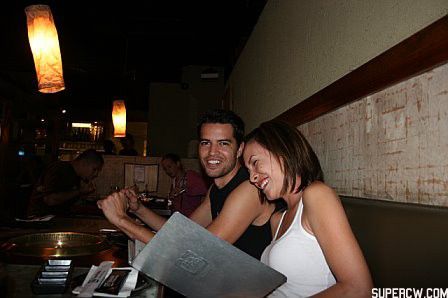 oh wait. FLASHCAM:

christa cam. yum!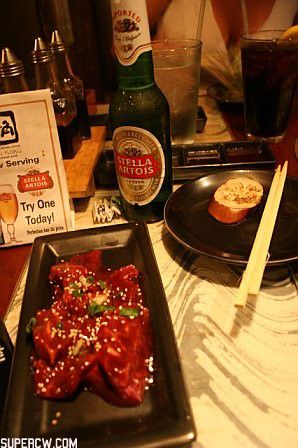 cooking your own food is like one of the last things i even like about gyu kaku. that's seriously a gimmick that i'm not really in to. it's their food man. their food is SO ono. the steaks are marinated such that you don't even have to know what you're doing, it will taste good no matter what.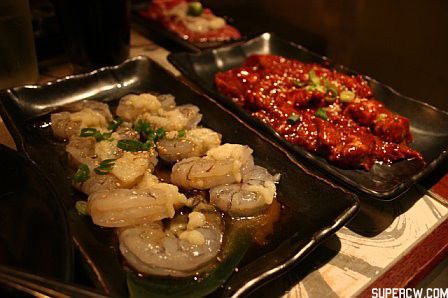 the veggies might need to be handled by someone who is better at paying attention tho.
aw derin face! aw aw aw .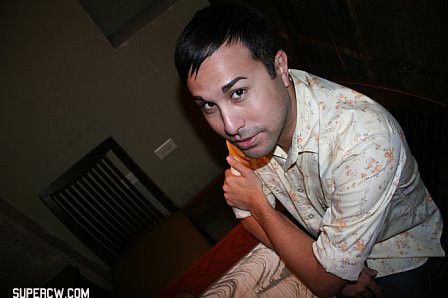 airspace workshop. they have the best stuff ever always. forever infinity.
spent the rest of the night discovering mercury and waikiki. such a great time that i blew it on all shots. it happens.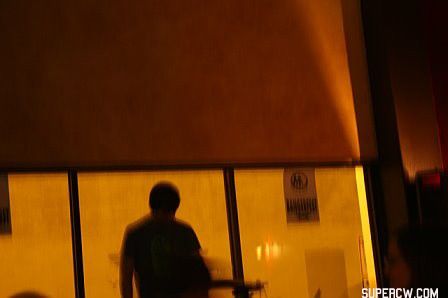 guess who didn't blow it.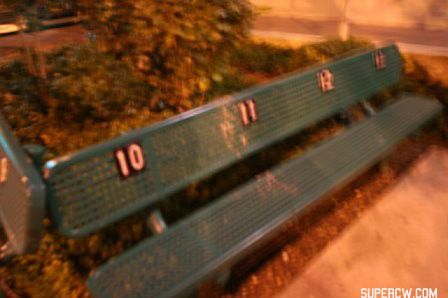 it's kind of fun lurking waikiki from big kahunas at 3am on a random wednesday tho. i recommend it.
this kid just turned 21. and he was still standing at 3:30am. and not even really that obnoxious. i was impressed.
ps: tiana dibell. FOUND!
pigging out with the cheese thursday. not, like WITH cheese. but with THE cheese. and yes, that's fried lasagna at planet hollywood.
and peanut butter and jelly sandwiches. YUP.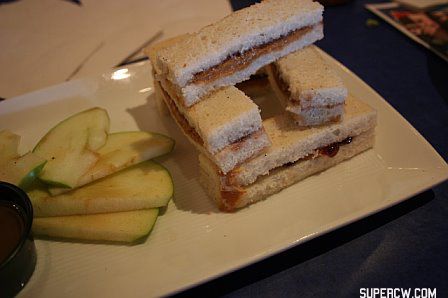 i HAD to see him in the animal print booth. it's so you man.
spent thursday afternoon dressing our new night guy chris hughes…
kap koon ka! it was fun here. this is at marilyn's masquerade, btw. a little secret a lot of people know about it for renting costumes.
ah! there.
thursday night picnicking at the design center.
amuse wine bar! it's been a damn long time since i did this. i love that the wine i like is only 1.29 an ounce too.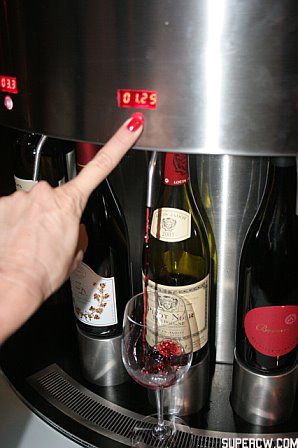 PS: the strawberry shortcake at amuse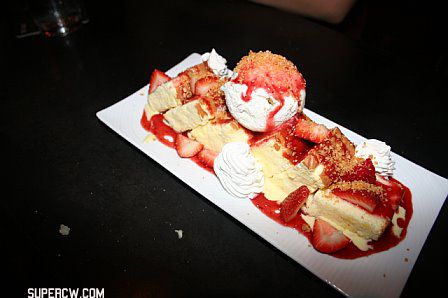 friday morning. earlier than early. early early early. in fact, i was a little late.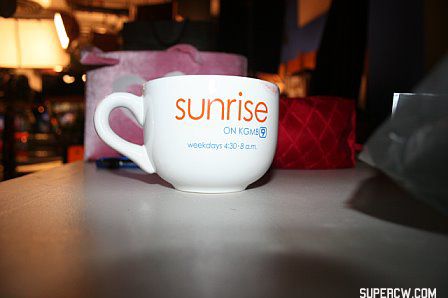 margie and marilyn were VERY bright [eyed] and bushy [tailed] for 6am. it was admirable. i was tired. and late. twice in one week i don't know what's going on with me man.
news show hopping with selena and chris hughes.
olena works here somewhere….. OLENA!!!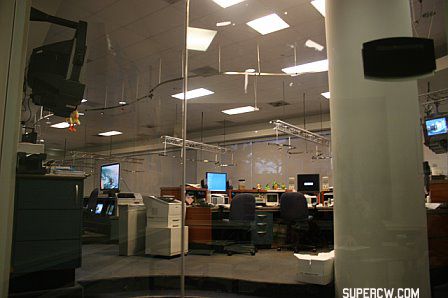 ps: I was in disguise

andrew was with his family and friends later that night having the time of his life despite not feeling too well. sadly he passed away the following morning, but not without making a huge impact on the entire state and even having a state holiday named for him.
aloha andrew
kathy muneno is SUGH a delight. it's the first time i've ever met an anchor in person that was even more lovable than when they are on tv. i'm not even kidding! if you've met her then you know. such a warm and friendly woman.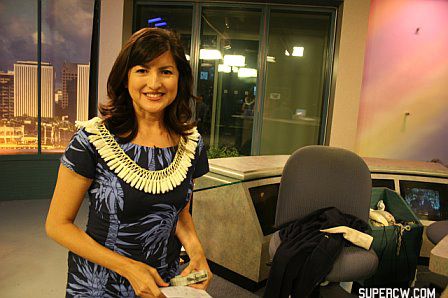 i will continue into friday night and the rest of the weekend tomorrow. there's more! so much more! everything i got to experience was epic tho. soul clap? WENT OFF!! art after dark? did you even get in?? the line was around the corner most of the evening. who wants to help me petition them to do that event weekly?! rum fire? woah. saturday afternoon bbq at queens? OK! skyline? you blew it if you weren't there. you picked the wrong one to sit out– the two out of towner djs were so ridiculously hot. like, HOT hot. you'll see.
anyway. more soon.