hi. so how do you react to tragedy? just wondering. i'm sure we all have our own methods. i'll be honest with you for one sec then it's back to my bubble, promise. i. am. sad. very sad. friday was komo's service and there should have been a bit of closure there but seeing all of you and hearing stories about his life made things even harder.
lemme just say my heart truly goes out to his loved ones.
so here i am. hi! it was a nice day for lunch with glaceau rob last week. he takes super good care of me now. and when i say good care i mean picking me up and taking me to lunch at town good care. that's pretty much the best care. all this for me just doing 'what i do'. can't beat it. can't beat town either. even the after-2pm-limited-kitchen menu items are the best possible eats.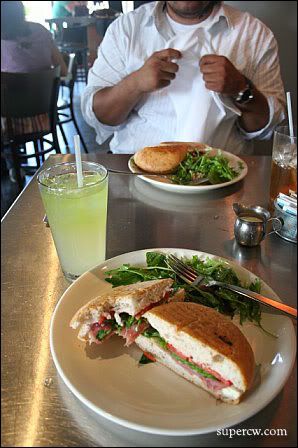 have you been trying to book a meeting with rob? sorry, he's been busy. his boss came in to town unexpectedly. it's a good thing tho. like, i mean, they got to have mai tais at la marina. pretty much the best spot ever to do so.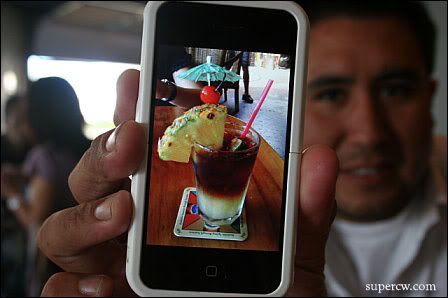 and since we're talking about rob. here's his new baby girl. lani! tell me she's not the cutest thing everrrr.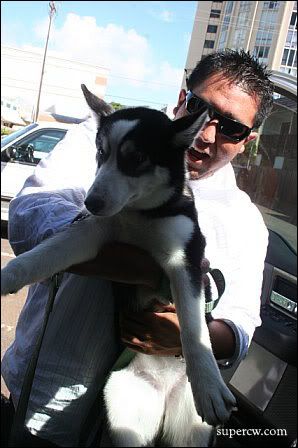 got back from vitamin water goodies to see stella goodies at my desk. wow. good week for schwag!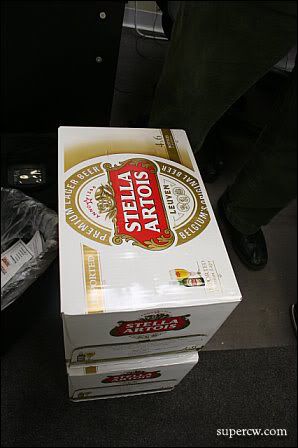 thursday after work i drove straight mauka for 5 minutes to here.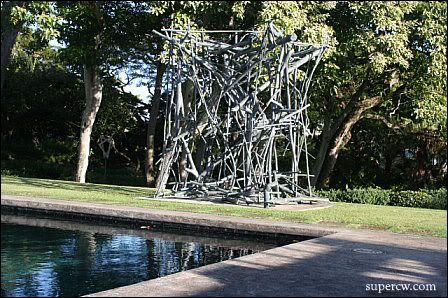 know where 'here' is? i'll give you a hint!!! paul morrison!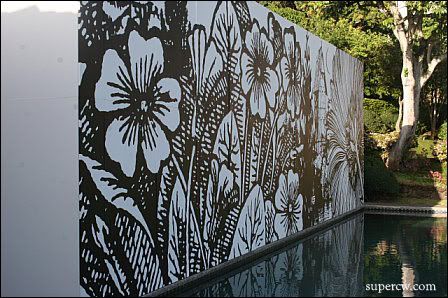 ok ok ok. i'm back at makiki heights. it's the biennal! of hawaii artists! hawaii artists! and they're all, like, MY AGE! this is eli baxter. yes, the eli baxter that's from seattle but lives here now. represent homegirl!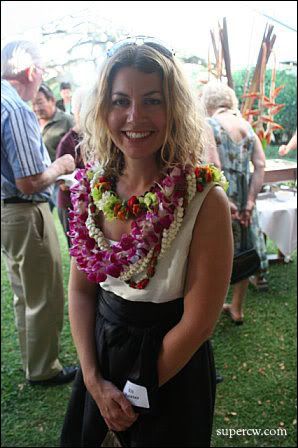 and this is cade roster. ok i'm lying it's me. cade roster is taking the photo. he's shy. i don't blame him. he would have been on this blog and all over the internet if he allowed the shot. not good for shy people.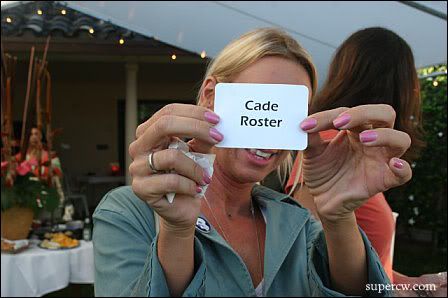 ps: it's the member's preview reception up here. if you join the museum you would know about such things.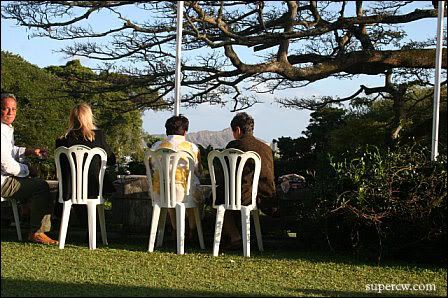 sorry, i kinda messed up this shot.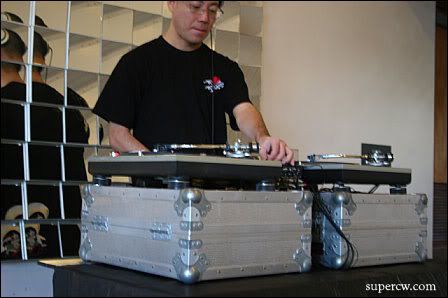 hiro wins best dressed. check the belt wouldya! exquisite taste right here people. i was scared to stand too close since i was drinking red wine.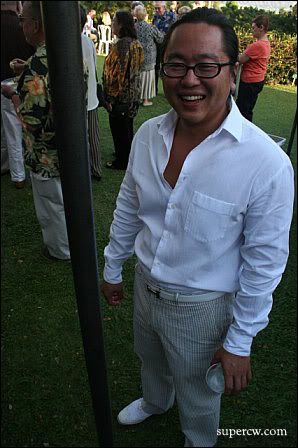 four of the seven artists. the rest came too.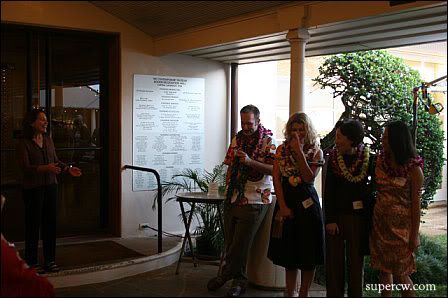 the opening reception is required for me, since i have a lot to learn about contemporary art. i will be looking at something and completely confused and/or intrigued. like now for instance. how great that i was able to just turn my head and ask wayne here, who just happened to make it.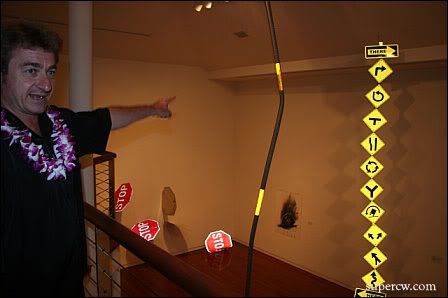 can you guess which one is the real one?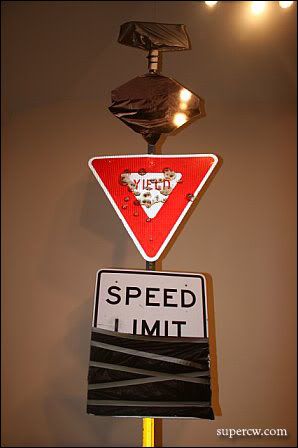 hint!!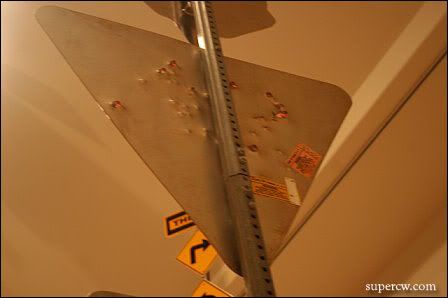 ps: i love the title. It might be a very long journey ahead and quite possibly dangerous but I can't really tell you all the details just yet. he did it on purpose to have a ridiculously long ridiculous title on the name plate. love it!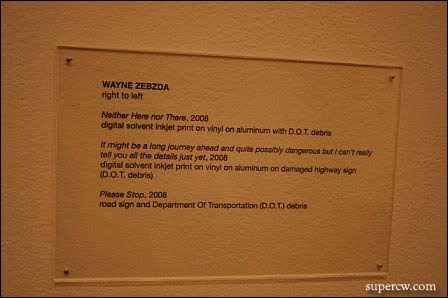 i spent more time with the two other artists the following sunday. i'll tell you more about that in a second. for now, wayne? you are a delight!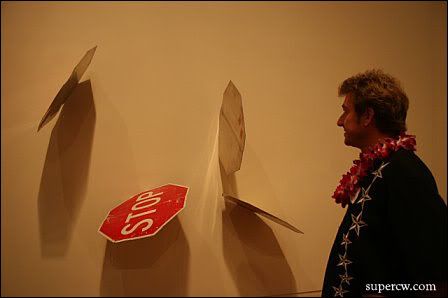 thursday pau hana at airspace workshop. wait. something seems to be missing here.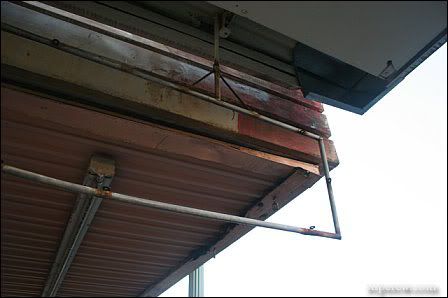 mandatory product placement. it doesn't help that i actually love drinking it. and wait, it's not so mandatory to do this. i just sort of do. but thanks for the case, james!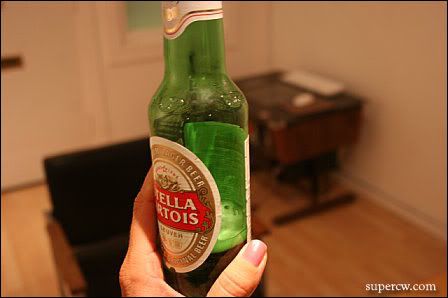 if this thing doesn't scream best after hours activity ever then i just don't know what does.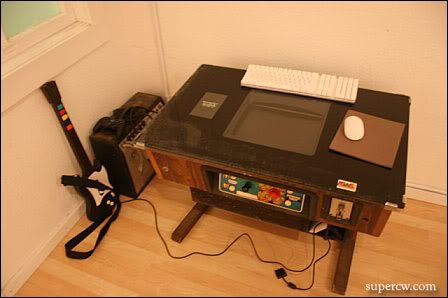 but alas. we had to check out room 203.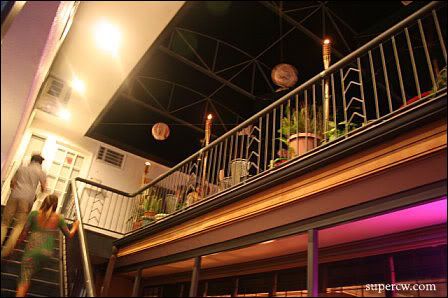 oops, i mean room 204.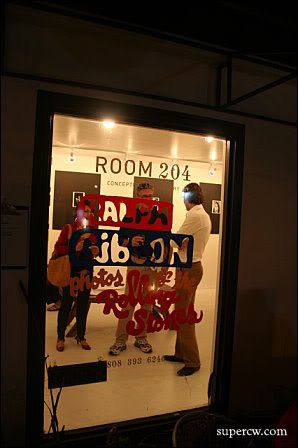 i peeked through all his newton books. the gibson photos were up. very intimate shots of mick jagger in his prime. cool to see.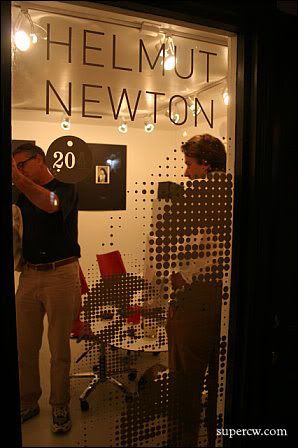 ps: so who's been to this space before? do you know it? it's the one just off waialae. upstairs. very quaint.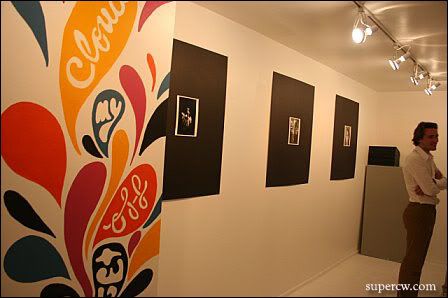 the courtyard was lovely and it fit my mood like a glove. horrifically quiet. outrageously subtle.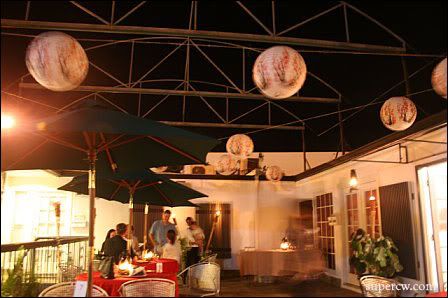 i really want to come back here in the daytime and play princess in their gazebo.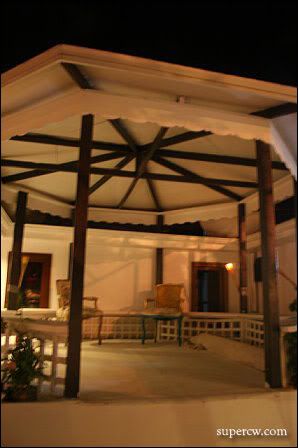 ps: i was with crystal!! north shore princess from afar. allllllllllll the way in town. what's up girlfriend!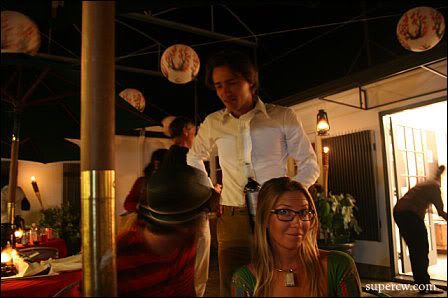 gaylord, i think, might have gotten tired of coming over to refill our crew. he eventually just left the bottle for us.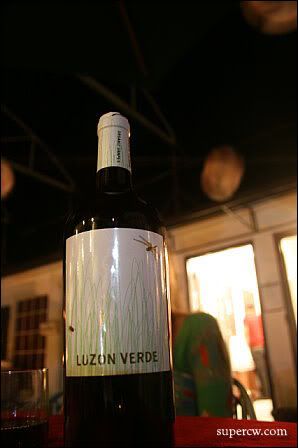 saw andrew. sorry i didn't really get the shot. how's mercury!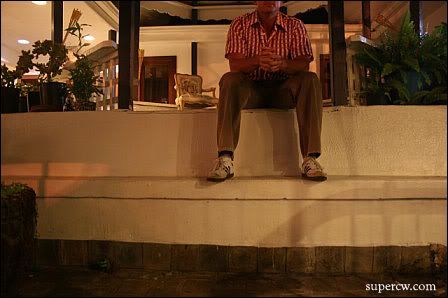 ps: all kinds of fab made it over.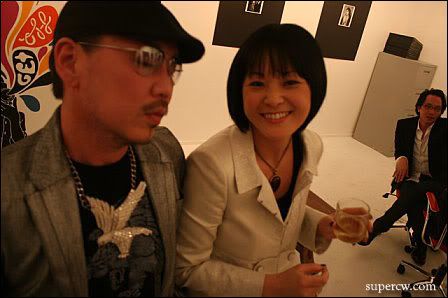 after party with this bowl of fries at town.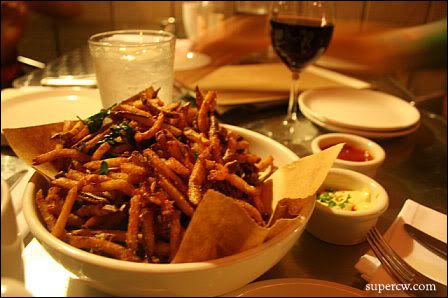 ps: that's not all we ate.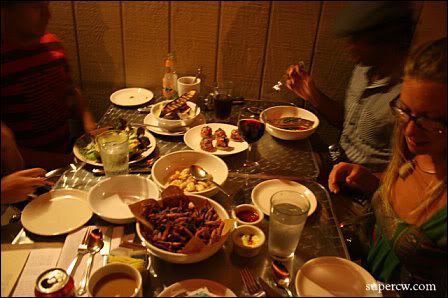 walking back i found the best nail place in the world.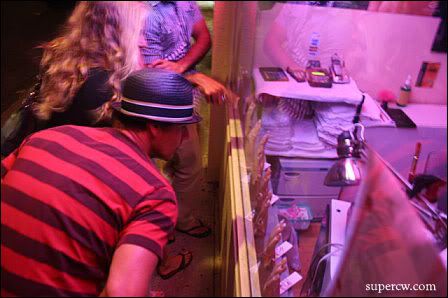 oh, i'll be back for you this week!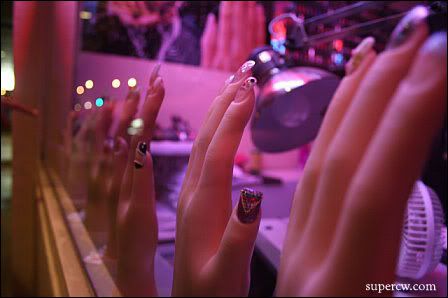 friday i'll admit i had to drag myself out. definitely wasn't the first one in the door at art after dark tonight.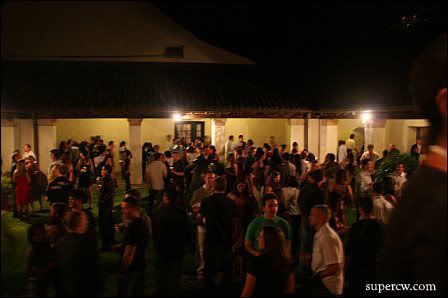 first face i saw was was michael keany. that helped a little. he gave me his last $2 to contribute to capturing the moment forever. with selena as the cherry on top.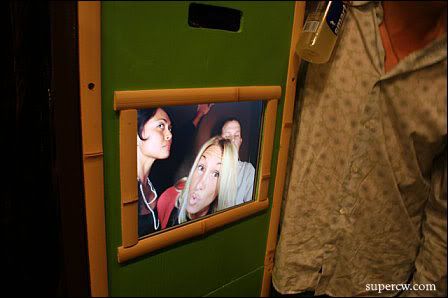 it definitely helped.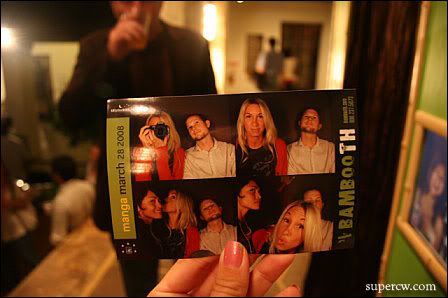 jimmy beach. THIS ONE! i swear i bump in to him randomly every other year. i need to stay on him. they're still sailing and it's whale season again.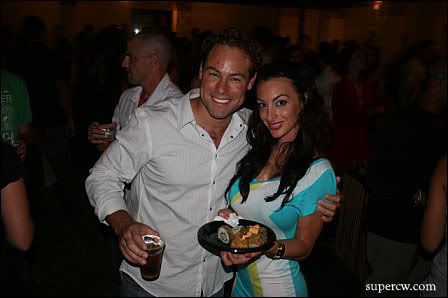 saw echo aoki in the cutest outfit ever but i didn't get the whole thing. CRAP!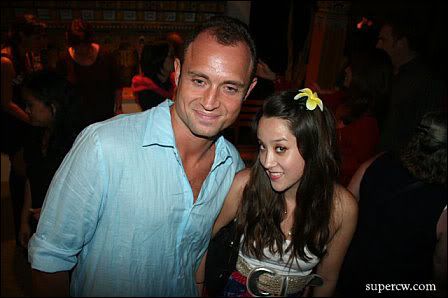 ok maybe you can see more of it in this shot. adam insisted getting a photo of us. aw! we kind of grabbed nicholas too. e&o what!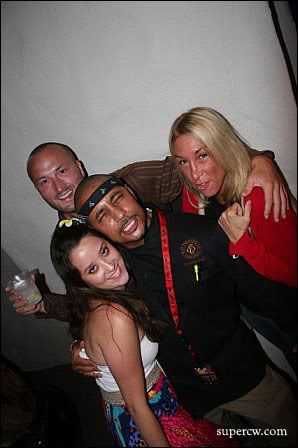 i saw inae but forgot to ask her about the Polaroid thing. i'm sure she's sad though. her shots are by far my most favorite. well, her and molinar.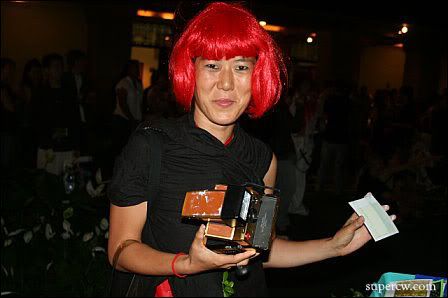 saw shane curtis. he told me about his hand twin shoot the other day but i can't remember who he was a stunt double for. was it michael emerson? the guy that plays ben? shane? wait, am i spoiling anything by saying that? SPOILER ALERT! if you watch lost, ben plays the piano in a future episode.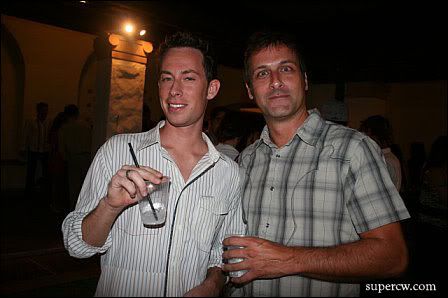 maleko slipped me some 50 cent tickets at komo's funeral. bittersweet right? well, i couldn't not go after that.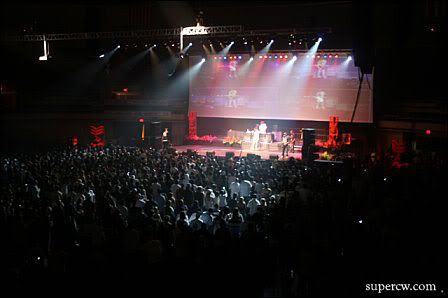 the show was actually really good. i didn't realize how many of his tracks i knew. the entire blaisdell was on weed though. i hope i don't have a drug test coming up because i'm positive that i got some sort of contact high being in there.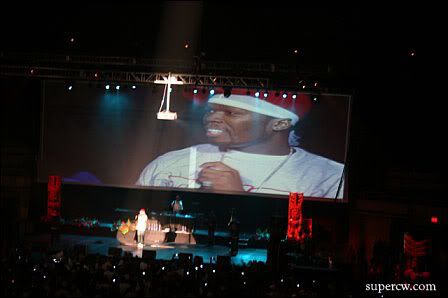 after party with the more mature crowd at zanzabar. yes, zanzabar.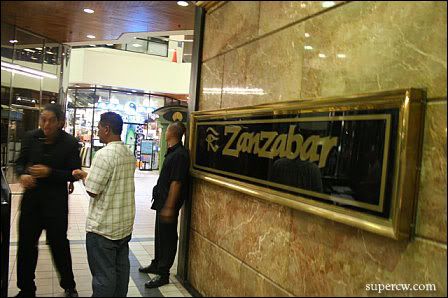 mature crowd.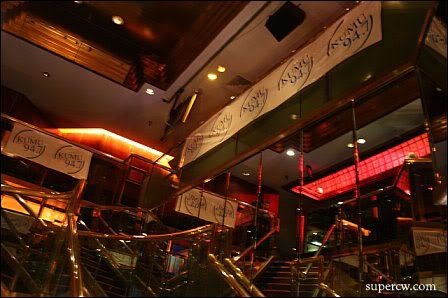 we got zane. in the brain! we got zane we got zane. i'm so hyped. LOVE working with this one.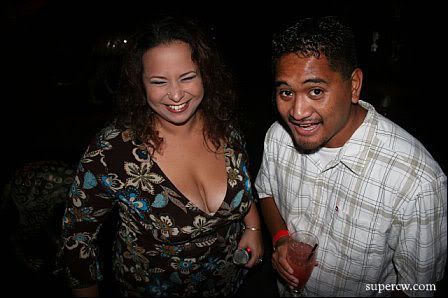 YES zanzabar. gosh!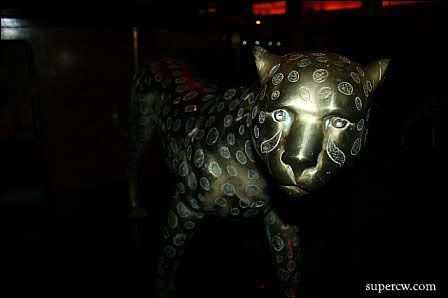 saw chris smith. it's been a while. i'm surprised he even recognized me. saw nicholas trelawney tonight too. talk about a blast from the past. that was like seven lifetimes ago.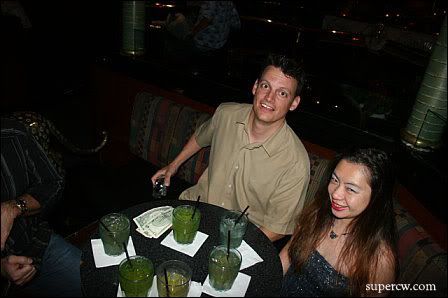 petey pablo was around with some agn crew. DAMN his hair is so soft! have you ever touched it? i need to know what be goin up in that dome of yours peter.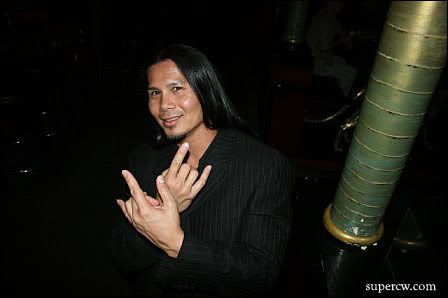 snuck away to check in on soul clap. saw race. RACE! the shot of all 4 of you didn't turn out. i suck, sorry.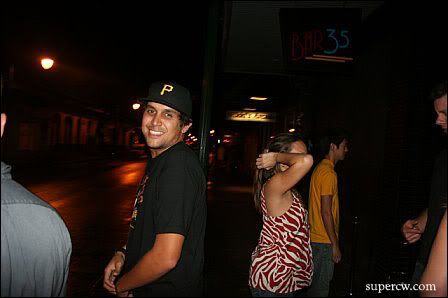 plus 5. PLUS 5?!?!?!?! man. i love you guys.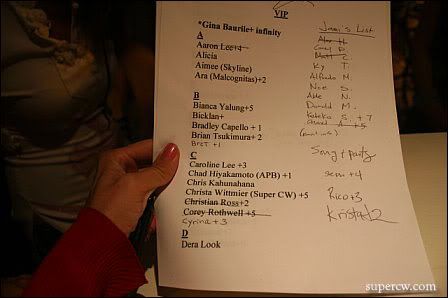 got there just in time. nocturnal sound krew!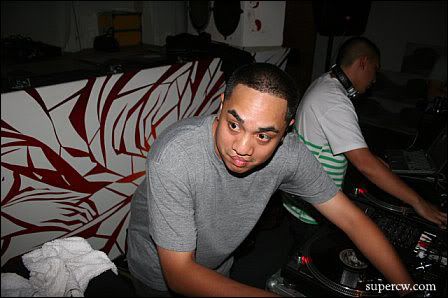 saw lance holcomb. he meant to be flipping off blair. blair alley. do you still even read me? holler.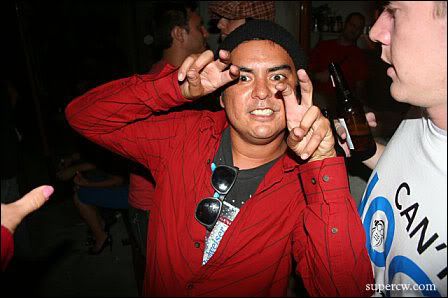 saw germ. didn't really get enough to prove it tho.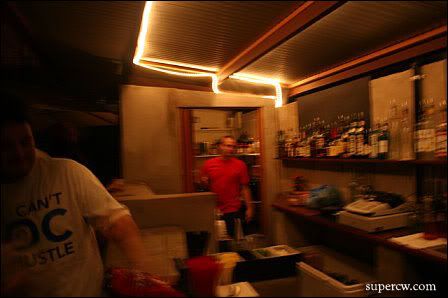 the dst crew was representing mad love for the krew. i was very impressed. there were like 5 of these shirts on the lanai.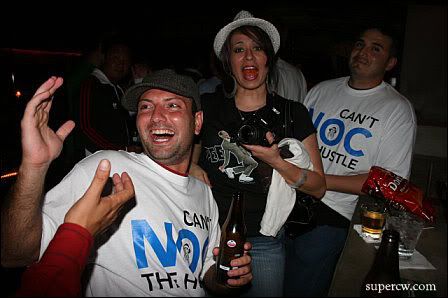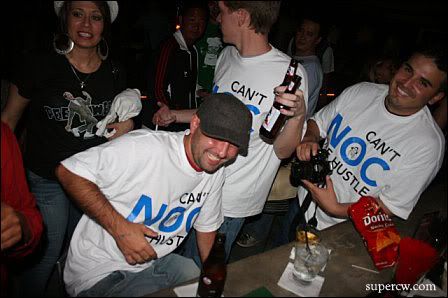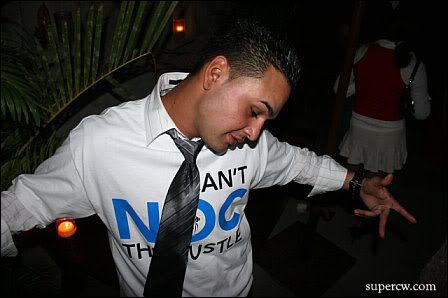 said hello at the loft too.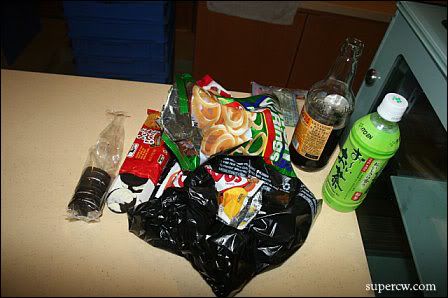 there was a pretty ridiculously epic last performance going on by the scary areolas. ara just told me it was their last one. ever. i noticed way after the fact that it was lucky that was singing. WHAT! and now i missed it forever? no more? but but but. i'm kind of sad now.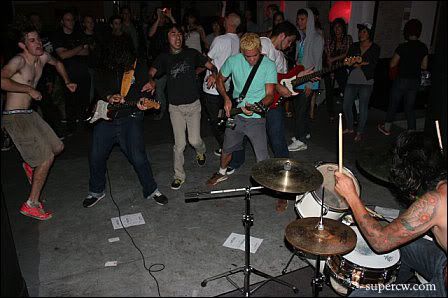 check out shelly catwings's new tat. it's not done yet. cherry blossoms!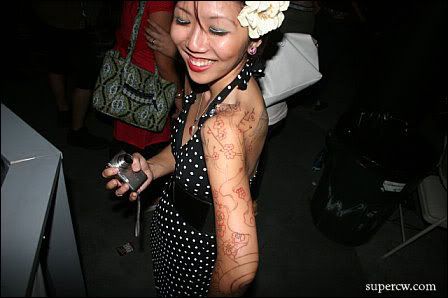 vivian and cyrina came through. they weren't scared of a little screaming and thrashing. shieeeet, they o.g. like a mutha dog. speaking of: i'm not gonna lie, i watched surf girls!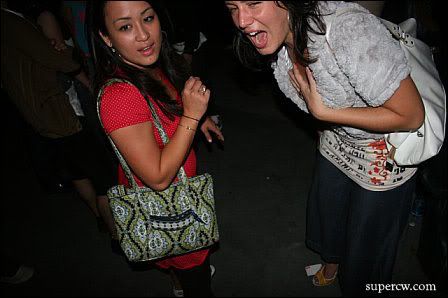 last ever show. unless there's a reunion down the road? pretty please?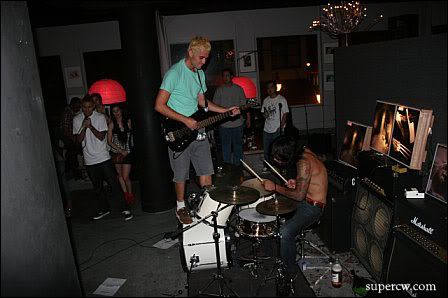 jamie! whatchoooo drinkin there!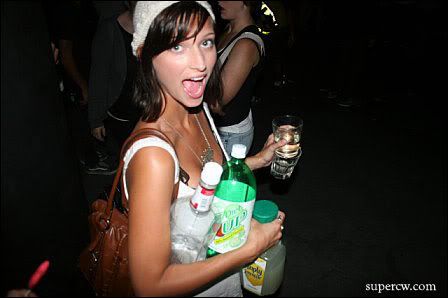 it was somehow comforting to sit here and watch them freak out. i've never really enjoyed this music at all until this evening. it was weird.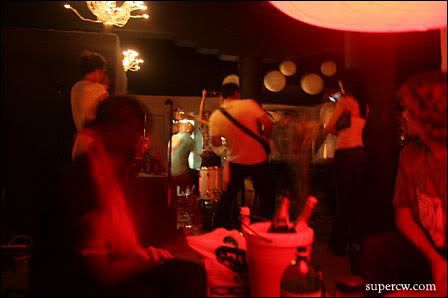 i had a little aly gator sleeping in my lap too. well, resting anyway. like anyone within a 5 block radius could sleep to them.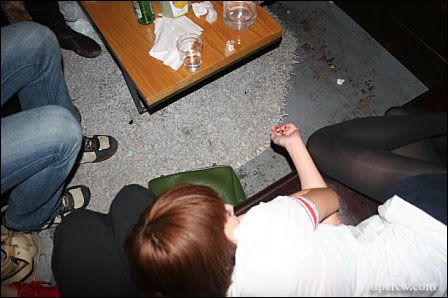 dan doing his thing.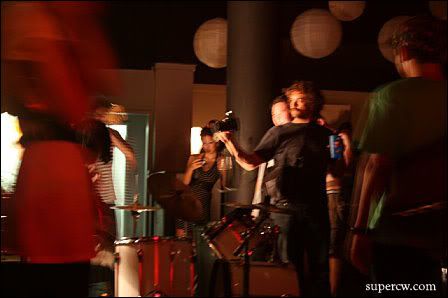 ps: thankyou thank you thankyou thank you thanksyuofouuduafdfdfjdf for leaving cw-shots out if they suck. which most often they do. i ain't the most photogenic of types. but i will never hide from you again when i see you. *smile*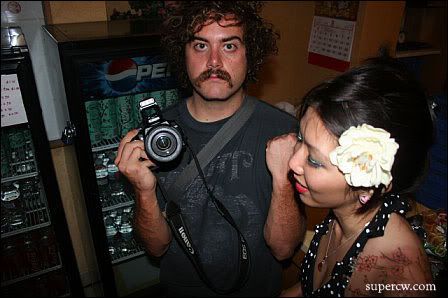 saturday i was done. time to get the hell out of town for a minute.
the north shore is seriously like another world anyway. a welcome break.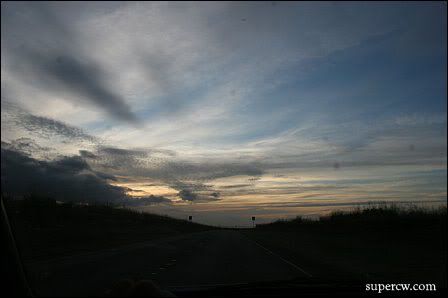 a 32 year old took this shot…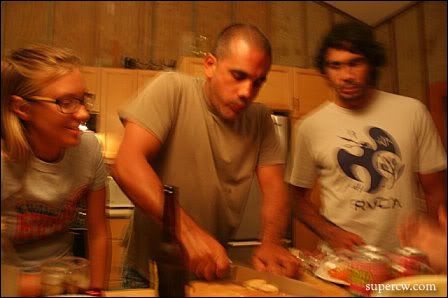 …and a 4 year old took this one. totally serious!
HEY! did you turn out your lights for an hour on saturday? we did. dinner in the dark. it was the most fun i've had in a while. lovely people lovely everything. and we saved the world too!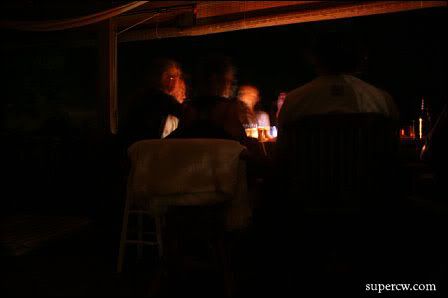 bonfire on keiki beach followed. but camera was safe from the chaos in my car. nicole said she'll send some which will be good. because the scene at the beach was pretty wicked fun. again, nice to get away.
sunday spent more me time…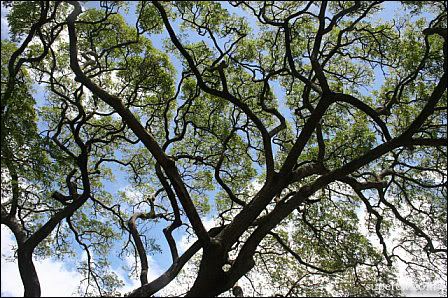 …at my favorite place on oahu.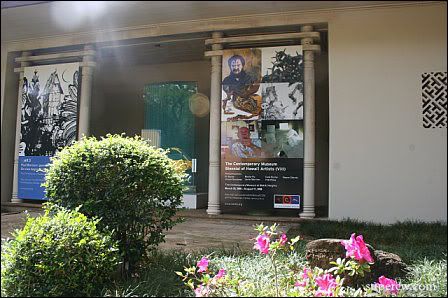 member's morning! i tried some of the bread pudding stuff. yum.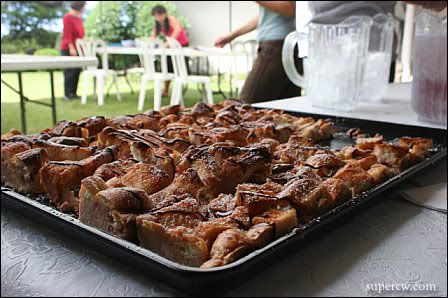 got to see how eli baxter made some of her delicate inquiry into mixed emotions parts. and woah hey! the installation is made of recycled bicycle tubes. the black is so black and the shapes are so sharp. the friggin room is seriously woah. go up there and see it i dare you.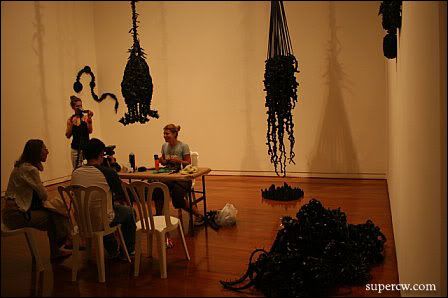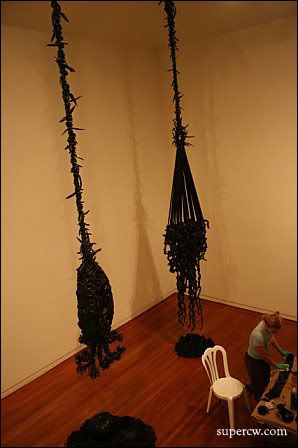 got to hear some of cade roster's methodology behind his amusingly sweet comic inspired drawings too.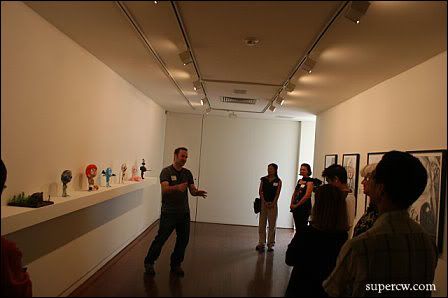 love it!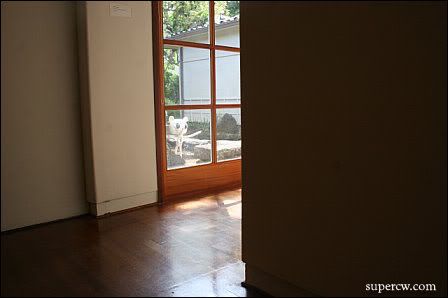 you have to see his collection of bear sculptures too. it's totally a nod to the whole toy craze and japanese manga but keeps with his bear theme of inner him. you'll see what i mean when you see all of them. but! you won't be able to see this unless cade is there…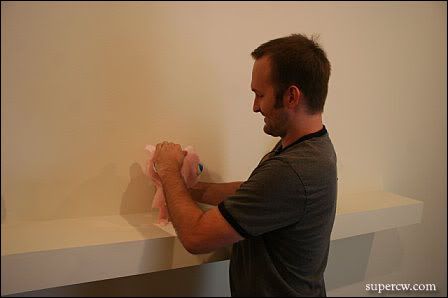 cause…. don't touch!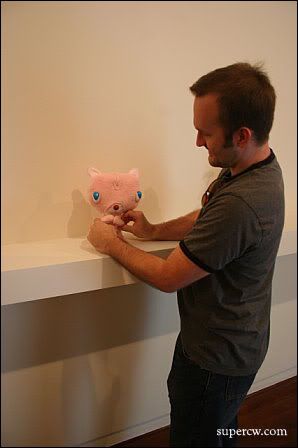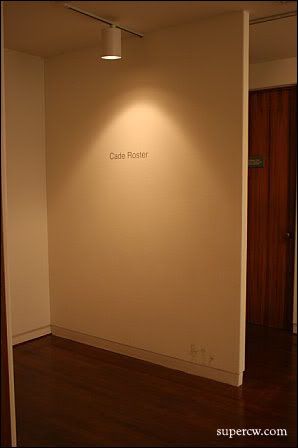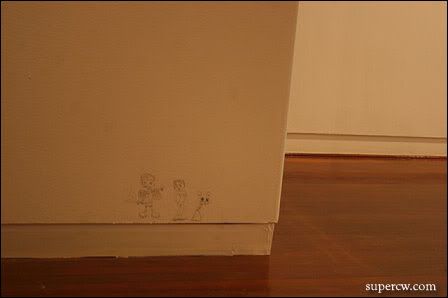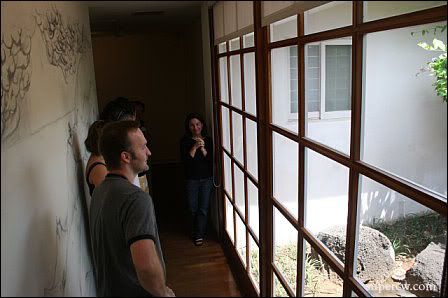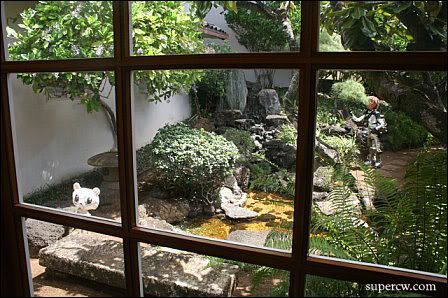 museum day. yay.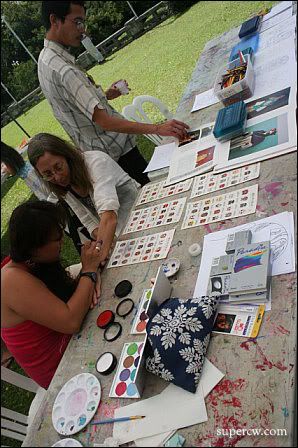 lunch at the cafe after.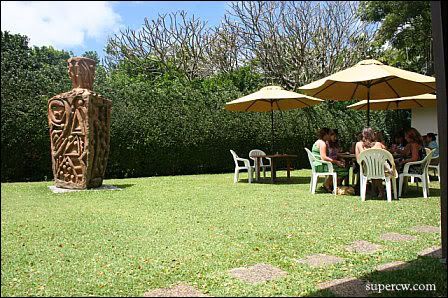 was yum.
spent some time with the youtube star. also known as the hawaii in style tv genius.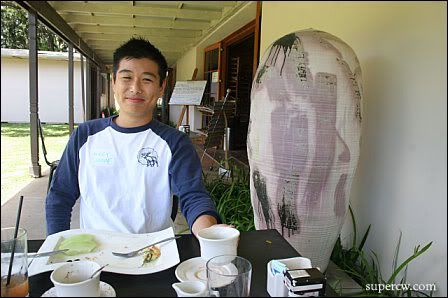 watched the rest of the wire after. i'm so sad. i can't believe it's over. gonna put off watching the finale until i can come to terms with the fact that it's over. sad face.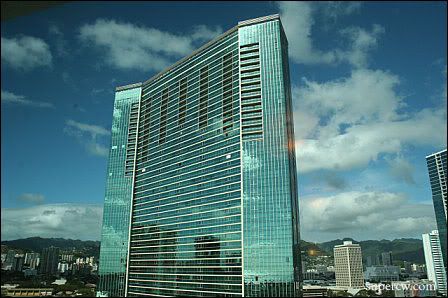 made it to kaimana's later.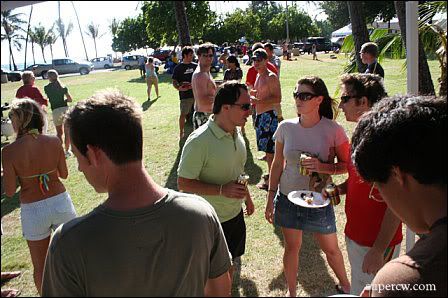 shane and mike. film geniuses.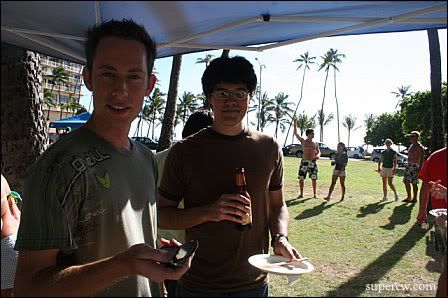 keiki. sean d's baby girl. we stood there and totally watched her climb a tree and i'm not even kidding.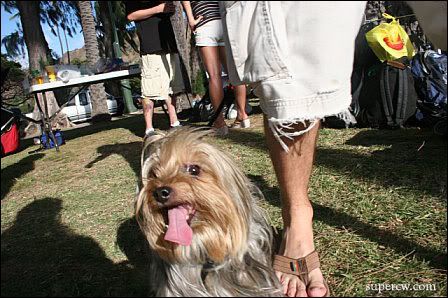 more terren! here he is! terren!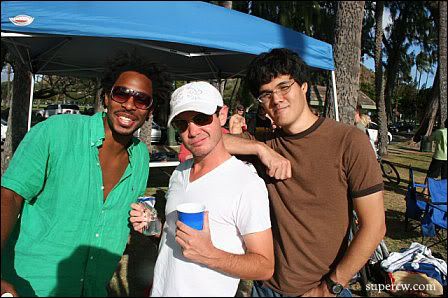 bbq. was yum.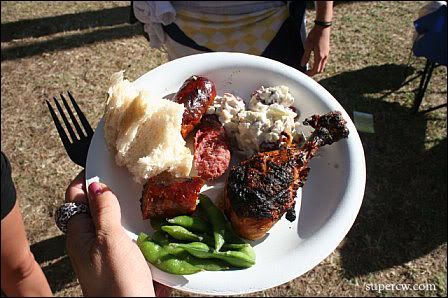 saw julia!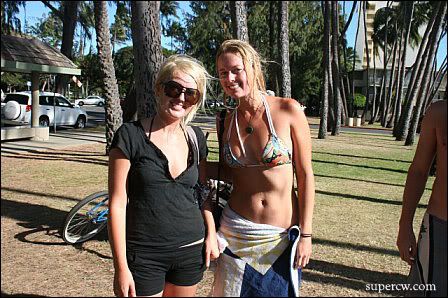 men.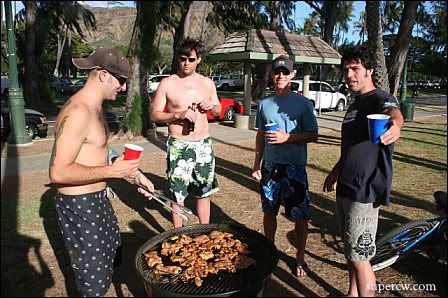 woah pommy! been working out!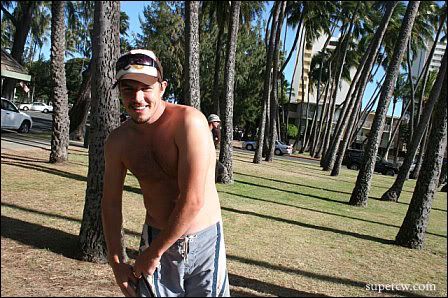 oh– that's it. mellow weekend. sorry cano sorry jake sorry ara sorry honolulu. i didn't mean to bag the nightlife world sat night. just trust me you don't want me in the room if i'm not feeling it. the future is better i know. so see you soon?
xoxoxox.