hi! what doing? got time for a hundred pics? it will be fun, promise. wait, fun if 'fun' means 'something that just occupied you for 8 minutes of your life' … that could be fun tho.
so here's the first OOPS! in my selection of fine photographs. i accidentally set all the image sizes too small in the auto uploader. it's life is trying to tell me to NEVER try to automate this process. if you guys only knew what i do for this process. you would cringe then laugh. well anyway, last wednesday i was at bar 35 enjoying the vision that is lucy lu.

also enjoying the vision that is george's surprise quick-drink creations.
what i was really doing was having an argument with our new night jock on the zone. chris hughes! whatchoo talking about mister "i just moved here from LA and am having a hard time adjusting". i love that you didn't realize just WHO you were uttering those words to.
cedric found his way over! as well as mister elusive fellow nightlife observer genegabus.
corey from dosomethingtonight was having a birthday the same night as acid wash's 2 year anniversary.
it was worth celebratin. watch out for these guys in '08.
rick rock?! are you LOST! nah nah nah.
ryan lau was giving me shit for not linking to aloha fixed or ever talking about it. WHAT! you just totally got busted ryan. thanks for never reading my site!

god these images are ridiculously small. i'm so sorry! can we still be friends? and oooo lookie here! the reintroduction of miss kaleihikina akaka to my little bubble.
good time for chris hughes to be introduced to some sceneage if you ask me.
jonah knows!

heeeeeeey. keoki!
annaface looking better than ever
rick is just kidding here. we're totally friends.
another OOPS. always accidentally zoomed in i am. sorry sarah!
ok ok ok i'll stop. wait! ONE MORE! G spot! HI!
kalei has been missing from my bubble for TOO long. she gets four:
in keeping with ARMS UP!
WHAT! steve kanemoto aka ESKAE's shoes were pretty much the best thing that happened to me on wednesday night.
oh ya RIGHT! like i could even try to get up on that. yet there i am tryin. thanks for the quick-drinks george….
nocturnal sound krew jami and eskae. will they ever live down WORLD CHAMP status? doubt it, not with all the killing it they been doing around town.
ha ha alex what was your friend's name again? he was fun.
my new quick-drink escape method: one sip then pass. i have learned that pretty much anyone standing around you is down to finish a shot.
cheers tho! sip sip.
actually i think it was blaze that obliged this time. muah.
arms up! part three.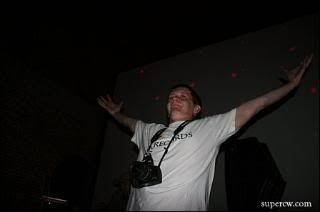 i know acid wash is 80s night. every wednesday at next door. always free. always crowded. what doesn't always happen is nocturnal sound krew.

but when that happens there's usually a bit of bboy.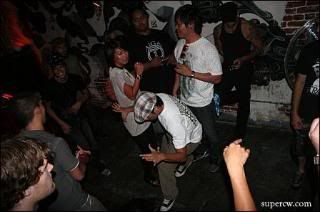 stan !! remember stan?!?! dude's got all kinds of styles popping tonight. ps: that's daniel there. years older but still with the baby face.

lunch thursday was at the new fat greek place in kaimuki. have you tried it??

capers on anything makes it taste like it's from heaven to me.
thursday evening in manoa. before sunset! man, i am the earliest person alive i think. you know, i was born 4 days early. did i ever mention that? well anyway, manoa valley theater is popping…
…mini bottles of champagne!
hey! didn't i just see you? hi!
modern luxury created a little 'do in conjunction with the newest production on stage at manoa valley theater right now. it's called "i love you, you're perfect, now change". it's the funniest musical about dating that i've ever seen. about 30 mini-numbers all brimming with sarcasm about how ridiculous love and relationships can be. aw!
dane forsberg, artistic genius. meet jennifer vo, artistic genius. ! ps: congratulations on your BOOK dana!!! and congratulations on getting MARRIED Jen Ungacta!!
i really liked the odd couple on stage. i didn't realize they did that here! manoa valley theater? consider yourself lurked from this point on!
ps: LOVED the show. these people were so funny and versatile. never not spending a random thursday watching musical comedys again!
later that night was beyond random.
but fun! anna's. did you know carsten from audible empire also plays the drums? sorry if you can't tell here. i was obviously sniping these shots. my bad!
i saw you right!
friday aloha lunch with the jocks…
…i should be so lucky…. ps: dave hisaka pouts like this every time a camera comes near him. except when it's for something work-related. like this. HAW!
first friday. best parking. best time. 6:30 sharp!
upstairs to ong king to see what these live roosters are all about.
woah. they didn't even look real. until you got too close and they turned towards you. then it was scary.
the only way i was thinking i could prove that they were real. but it's way over exposed so you can't tell… but that's rooster youknowwhat
meanwhile on the thirtyninehotel lanai… germ's back into the digital world. he used to KILL it in our camera battles.
gelareh has TOTALLY revamped the thirtyninehotel happy hour!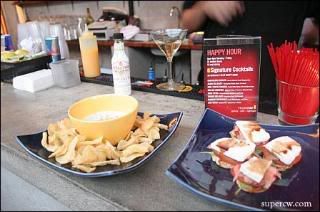 and omg! it's soooo nice. i got a drink, 5 salmon mozzarella crostinis, and a huge plate of cucubmer dill dip with chips for19 dollars. NINETEEN DOLLARS! and i'll just say that my drink was a bellini with fresh peach puree and bitters. not, like, a beer. before nineteen dollars would get me one kebab, tip included.
and she does all the cooking! yum. there's still kebabs just a scaled down version. a salad too. oh man! oh gelareh. thank you for bringing back the happy happy happy hour that i can actually afford. thank you thank you. expect to see me regularly twice a week forever infinity.
checked out the glass blowing at arts at marks later on. it was hot. like, HOT. melted glass could be as hot as lava…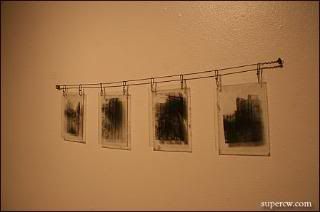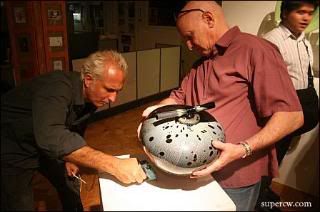 haw haw kevin! LOVE the new design of your catering van.
sunday we tried to get up early to beat the traffic. almost did it.
it was worth the drive. north shore, k!
payne took us up to see waimea. we saw whales.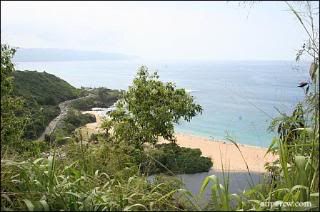 i need to go home to my hi res version of this shot so you can see. the whale is actually about two specs to the right of the tree on the left. i.e. about 30 feet from waimea rock. crazy! i never knew they came in that close. ps: this is about as close as we got to the water, lol.
we had more exploring to do.
these looked better in the big versions. sorry!

hi!

the view from the top. we sort of didn't really know pupukea well enough to be 100% confidant that the trail we were walking on would ever wind up back at the beginning. esp after the marker thingie said "mile 18".
then i remembered that i had taken a photo of the trail map before we went in. can you believe it. canon actually saved the day.
needed much rest after. three hours trail blazing means the rest of the day NOTHING!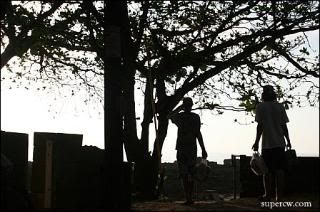 nothing at keiki beach tho.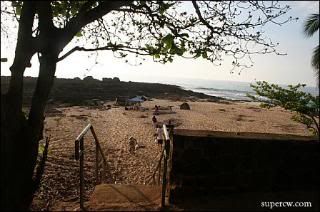 fitted guys already had the setup set up.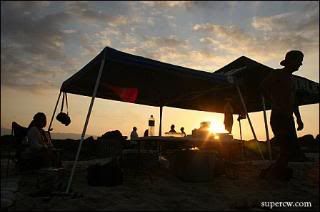 best end of day ever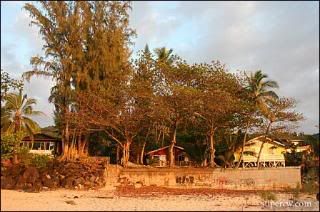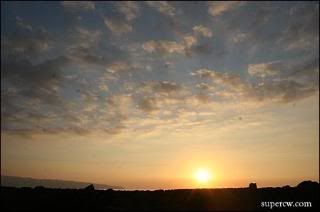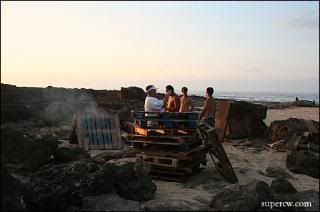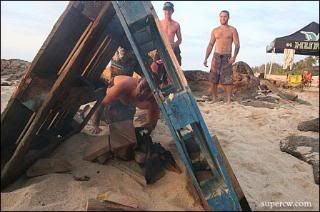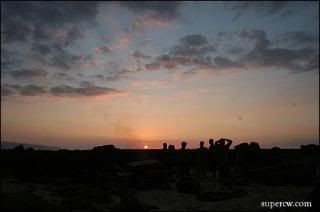 payne said this dog is always at keiki beach. he usually has a soccer ball that he wants everyone to play fetch with. if he doesn't have it, use like a water bottle or something because his alternative is a huge boulder-like rock that looks like it hurts.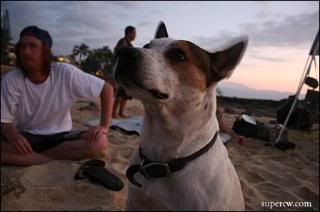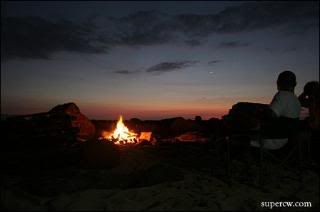 the kalbi was so ono. shoots rene!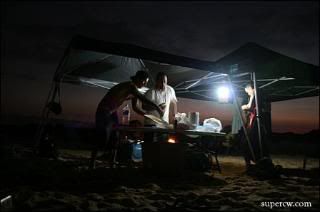 using my legs as tripod. the big one looks cool. this one? eh.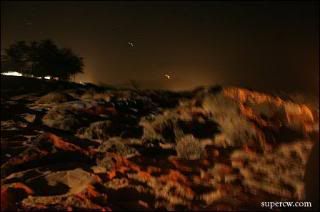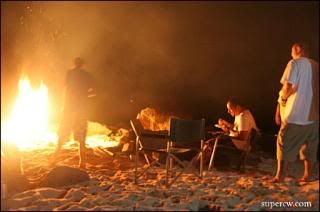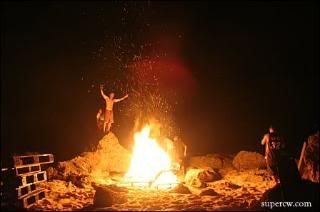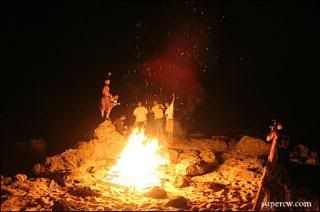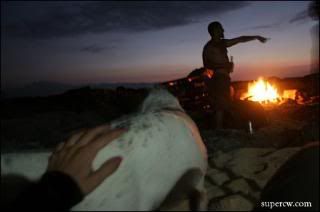 best saturday in a long time.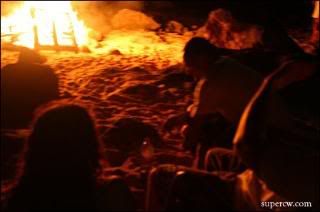 so there! enjoy your week. look forward to stuff. go to happy hour. see a play. be nice. etc. k, thanks!