waikiki woah! i spent more time in waikiki than anywhere else last week.

back at rum fire. my new favorite place until further notice. special rum tasting with a pretty fun motley crew of media darlings
the view this time of day is very contemplatable. ask sarah honda.
i was contemplating too. contemplating this drink. so alex mentioned rum fire which i mentioned i liked which made alex mention me. but yes, he's right. the deconstructed pina colada is the one, man. THE one.

shawnee hammer and julie from hawaii in style tv were there. i can't believe this is the first time i met shawnee, by the way. i have seriously been living under a rock.
remember depece mode 101? one of my favorite cd sets for about 12 years. well, that's how i remembered how many different rums they have at rum fire. there's 101. more than anywhere.
tasting them was nice.

we tried three selections. i dubbed them easy, hard and no way. my favorite was the hard. it was a sipper.
ah yes! from antigua. i had to do this so i would remember. this is officially my drink. 5 year old english harbor. it's yum.
ha ha julie. shot one of three of boots.
ps: the sunset
colin hazama is the executive sous chef. he has added a local flavor to some mean dishes, man….
…like the mousubi. oh MAN! the ahi one just melts in your mouth. and you remember me mentioning the fillet one. with the rice cracker crunchies? delish.
ps: the butterfish. to die for. that's an endemame paste. i can't tell you enough how tasty this dish is. so i won't tell you at all.

ha ha the lychee that came with the triple threat of crème brûlée reminded me of indiana jones and the temple of doom. when they were eating all those crazy dishes and they brought out the chilled monkey brains. obviously fresh lychee's are a thousand times more yummy… and don't get me started on the ginger burnt creme. i can eat seven of them.
due to high demand, here is another photo of the manager grace choy

shot two of three of boots

friday i camera attacked shanelle at the loft…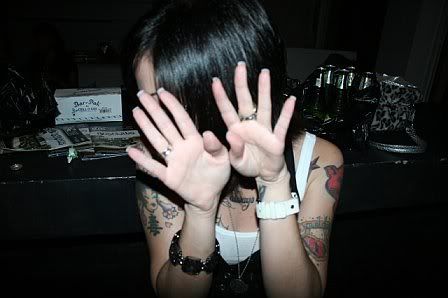 …and congratulated davey shindig on his much deserved press

definitely checked out soul clap, which was going off…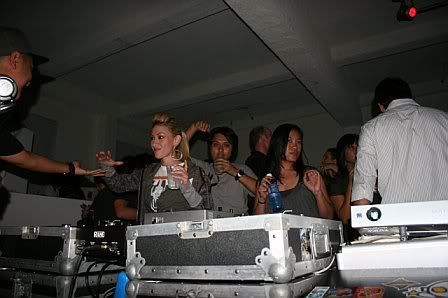 …like i knew it would be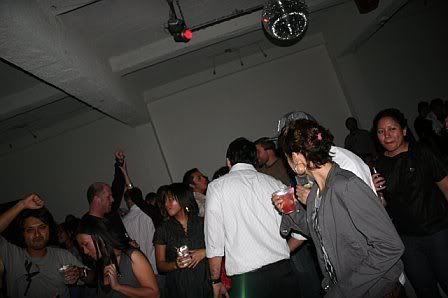 shanelle and jeannie model faces…
…and shot three of three of boots

ps: germ's shirt. that's an apb shirt. it's one of my favorites

congratulations steve. your parties rule.
DAMN! i was trying to get the fafi slide. next time.
ha ha kyle found this book on our way back to the loft. nonverbal communication in human interaction. it was right outside next door. it became our secondary entertainment for the rest of the night.
the loft is still byob. so we had to also byogoi (glass of ice). thank god for shanelle's bag.
loft friday. the enterprise! still tons of fun here.
why my site is nc-17.
saturday was special for aaron martin a.k.a. angry woebot… special limited edition collabs with split obsession over at koko marina. we HAD to get our hands on some.
i love love LOVE the tank. their large actually fits me. that happens close to never. i'm going to wear it every weekend until further notice. my new uniform.

hi!
they have a futura toy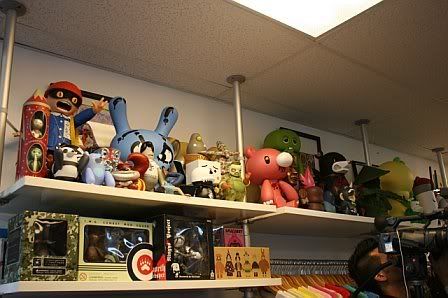 haw! love it.
lofa says lofa says!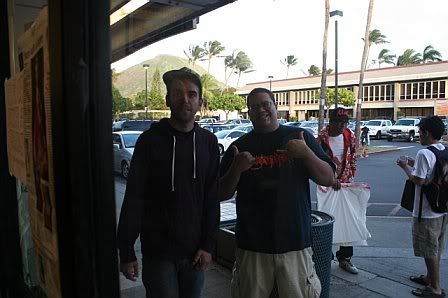 angry lofabot
hi!
congratulations aaron. ps: he's over at 808tattoos right now as well. get some art that lasts forever infinity!

ps: a lensbaby!

i got kyle something

shanelle got art the same something.

i saw something i wanted on the drive home
saturday night was the most epic film i've seen in a while at the academy. the bollywood film festival is going on now, by the way. i was surprisingly delighted with the 'loves of a prince' … every sentence in the 3 hour film was poetry. we really needed that walk around the block during the intermission, but i'm telling you… the movie flew by. very good. serious! funny, sweet, romantic. best date movie ever :)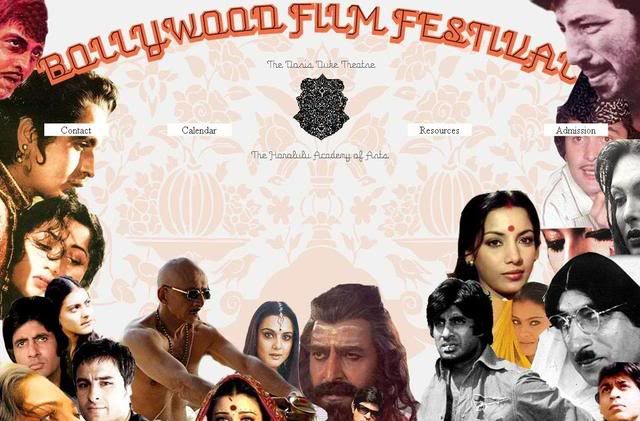 sunday art day …with art
we saw misrach
and went on a hike…
…well, a mini hike. on the contempoary grounds.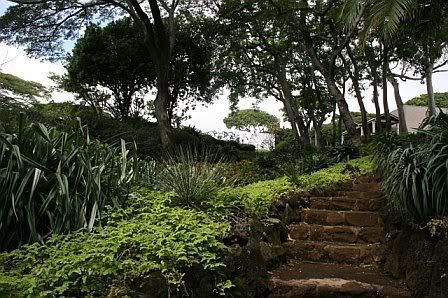 that's about as much hiking as i wanted to do anyway
and we found this amazingly amazing air plant! i kept saying "air plant! AIR RAID you freshmen bitch-es!"
diego's with post-surf vince and jean
i have to remember that SOME burrito shops think 'carne asada' means… just carne asada. booo.
ps: vince
store-attacked queens after. QUEEEEEEEEEEEEENS!!! i don't think i've store-attacked since like 2005, by the way. *google* oh, YUP! december 05 to be exact. 808 skate . it was funnnn.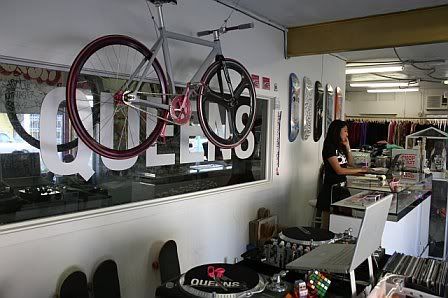 tiffany tanaka. she's On it! case in point. hot pink nails! remember when i said how much i'm in to hot pink nails? no? look, i am. hot pink nails for life! until further notice…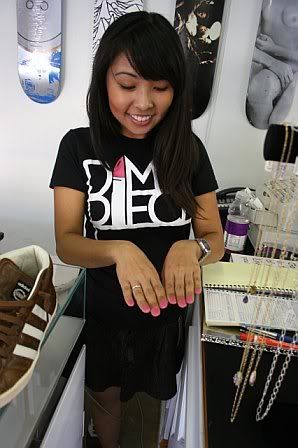 she let me use her krink ink pens to write on the back wall. *swoon*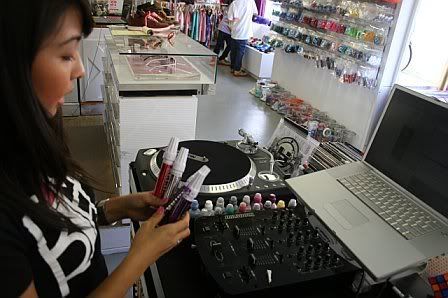 i don't have a real tag or anything so i made one up. no, you can't see it.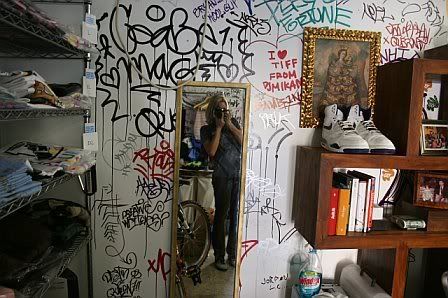 first wayne sighting of 2008.
so the DIY stuff is slowing down because the designers are all back in session this semester, but i saw a damn nice collection of little slinky sexy la pistil dresses in there. i'm more of a t shirt girl. woah this!

later that day in my closet. just kidding!

there's a secret room at queens. with the dopest boom box i've ever seen. the funniest part were the old old old radio stickers.

the bike collection is ok too.
little homey has it made. why?
..um, because tiffany has a wii in the store
and plenty of ways to make a mess. yup. best spot ever! i heart queens! i heart queens!
later that day. random sighting. a future photo…
…of the kakaako siloh
random sighting…
…of the 'waterfront'
ps: NEVER get a bloody mary at the chart house

waikiki. the end.
so that's what i got. what choo got?