oh hi! this would have been done about an hour earlier but webb has decided to both turn 21 and make photo blogs so i've been busy lurking his shots. and you know what? i was literally JUST wondering whether or not my activities are becoming less interesting because i'm kind of getting older. i mean, these used to be nothing but sleaze. well, good natured sleaze. now that i'm more in to professional networking and geek meetups the bounce rate might be up there. i even saw my own boss scrolling fast then stopping when he saw shots of the hot women. enter barely legals with cameras! thanks jarold. can't wait for the next update.
meanwhile, in my totally sleazy life of sluts and mayhem… i was peeping the manoa innovation center!
ha ha, ya totally! i was here at the new home of ChipIn for the debut of Lunch 2.0 in Honolulu. Oh, what. you haven't heard about lunch 2.0? that's totally a bay area thing. it's actually called lunch 5-0 here… you know, since it's hawaii. woooooo.
all of the usual suspects were lurking. it actually got a bit nuts, brah. i saw two sandwiches fly and at least three drinks. no kidding! we're craaaaaazy in hawaii.
manoa huh! friday huh! never been a more convenient time to crash ktuh.
YEAHHHH davey shindig! his party shuffle show is so bomb. whenever i stop by there are tons of people calling in like "yo, WHAT was that track you just played? sweet show man"
too late. you missed it. but here, i was really just trying to give you a virtual tour of the studio. some major talents have come through and left their mark:
oh, and davey sits here and totally does this computer thing…
…where he mixes the songs and stuff. transitions . man i need to take a class in broadcasting.
he lets me do guest dj sets a lot but when i get in this room i go a bit apeshit and can't decide on anything and wind up picking up the same peter gabriel and sam cooke albums. i'm really bad at, like, records.
and i just found out the song on that entry that i loved so much by kalima wasn't even the eurythmics. i was going to play it for you dude.
instead colonel got quiet town. one of my favorites that i can't stop listening to right now. ya, i'm one of those types. the same 6 artists over and over again for 8 years or so.
get back to the office to YAY! oh wait. ok, totally not having a baby, but thanks for the birthday delivery ma! ha ha the front office almost believed that i had a baby girl over the 4-day weekend.
now friday evening. prepare to be rum fired all over the place. i was up in the piece from the beginning to end.
the grand opening was a benefit for the sex abuse treatment center.
kumu did a live broadcast from there too. lee kirk!
and THIS is the new rumfire! ooooo. spicy. we haven't been here since the esprit lounge closed. and before that, never.
the bar i think was originally going to be a real fire wall. but that's just not practical in hawaii. it's never cold enough here for a real fire wall.
but the fire pits outside are real. and they are gonna be blazing. it's going to be kind of epic.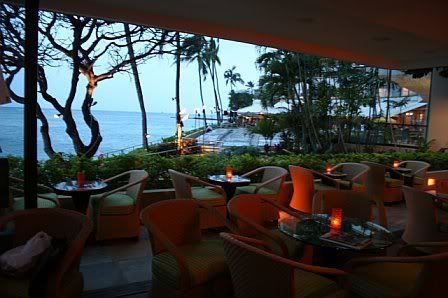 jose dynamite-o disco robato.
the food at this place is unreal. i didn't see any pricing because, ahhh, it was free, but i'm definitely ordering the fillet mignon musoubi next time i'm at the sheraton.
oh that? that's the ahi taco. i wonder if they did miniature versions of everything just for tonight, or if this is what you can get. i'm cool either way. i love miniature stuffs. oh man. remember chicken littles!?
the color of the sunset was brilliant. but of course i didn't get the shot. oh and that security guy? used to be a big deal for uh football. but of course i didn't the shot.
there was like this shot glass of lemon butter sauce to pour over or shoot after you ate these gargantuan shrimp. oh man.
and don't get me started on the scallops!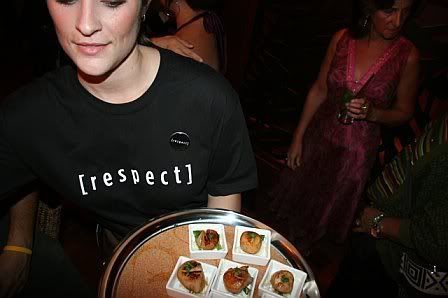 jason soeda! hows films!!! theresa right? hows films!!!
julie! the aragakis! how's tv! watch out new york. move over los angeles. HAWAII is in style :)
who remembers mikey! he's editing the show now. HawaiiINstyleTV. he also made aly gator's DOPE video for 'i love you too much'. oh mikey. i love you too much.
we tried on of every specialty drink. just sips tho. the 1944 mai tai was to die for. obviously the mojitos could do no wrong either. there was also this watermelon thing. man. i need to go back there. like, now. they are taking their mixology very seriously there. kind of hired a world famous guy too. francesco lafranconi. know em!
blaze! how's nightlife!
well. i can actually go ahead and answer that question for you. i mean, now that jason is adding video to his site i know all and see all. *excellent* work man. i loved the oxy interview.
speaking of media darlings. why don't i just get a shot of all of you….
…and notice that yu shing ting and i were boot twins. i really felt stylish after this. couldn't walk the next day but hey…. stylish.
RumFIRE!!! congratulations you guys….
the view from the fire pits outside. once we came out here we didn't go back in the rest of the night. i really liked it here.
getting everything completed on time for the scheduled grand opening must have been a major headache. i hear the only snag was getting the fire pits. they aren't really done just yet. but i bet if you go, like, tomorrow there will be huge fires in these.
back inside for a few more drinks …
aw.

oh. oooooo! cyndi lauper. elliot and i lurked here for quite a while to see her come down. this is my very first ever from the bushes papazzo shot ever. but i actually grew up listening to her tape and wanted to be her as a 9 year old so i have every right to, right? CYNDIIII!!!!!!
i have a million shots of her too but they are all blurry and make me look very creepy. how about i just lurk yu shing's official shot instead.
trust me i wasn't the only one. CYNDI LAUPER!!!
meanwhile, let's talk about that fillet mignon musoubi. oh man. and the little crunchies! mmmmmmm.
that's candice over there with julie. she does pr for starwood. candice!!!
jason, by the way, is an excellent photographer.
WHAT?
OH! hahaa. the grass outside. we were all like obsessed with it.
we realized after a while that it wasn't real. it looked SO green. even at night. and felt awesome. i wanted to lay down and nap there.
instead we sat outside talking story for evs. it was really fun.
bumped in to naomi and jamie on my way out. HAPPY NEW YEAR! good news. we went to print! yessss. can't wait to see the new issue.
chinatown after chinatown after. LADIES!
hi hi hi hih hi. i would have taken more but i was late for soul clap.
mary jane wasn't! chittom! woah dude i never noticed how pretty your eyes are. happy new year you guys.
germ!
will i ever get tired of your new finger tattoos?
PROBABLY NOT! wooo.
ps the new barback at thirtyninehotel. hi!
please never take down the holiday lights you guys. i LOVE the way this looks right now.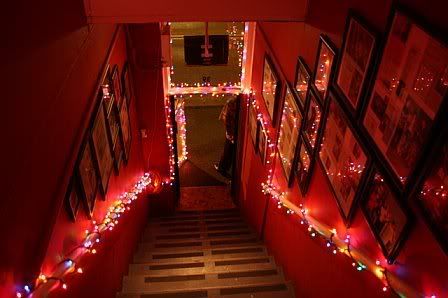 over to loft to dance dance dance. lucy knows.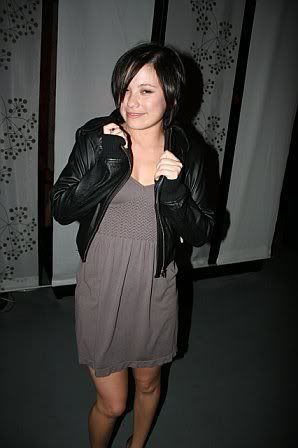 CONGRATULATIONS DAVEY! your cds are epic like we knew they would be. can't wait to see what else is up your sleeve. dude. you're brilliant.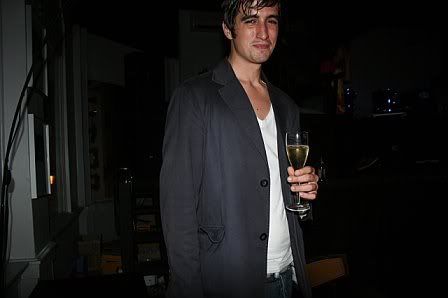 checked back in at soul clap. banging!
ha ha one of the first people i saw was matty. MATTY?! at thirtynine on a friday???!?! RAAAAAD! oh and there's the camera, flash must not be far…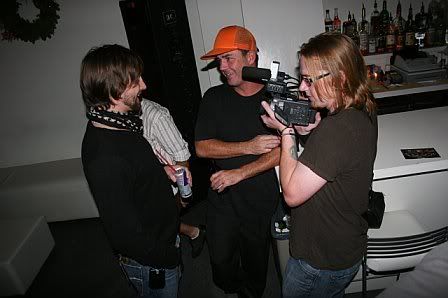 hi anne. hi hi hi.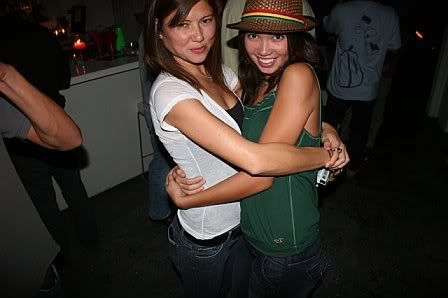 race. i saw you right! i saw you right! drinking stella right! stella right!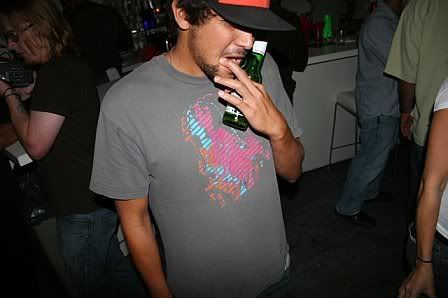 flash! i saw you right! i saw you right!
awwwww look at that face. aw aw. OH WHAT! hahaa look at derin back there. "i KNOW right!"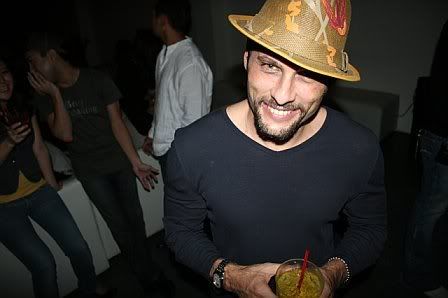 oh, hey keoki. so what am i going to see you all the time now? partyface keoki now? because i mean, i'm cool with that.
back to dancedancedance to the brilliant mind of mister shindig wilkie. i just remembered i was with kyle this entire night. i know right! CLUB hopping. like that ever happens. it actually was kind of fun tho. art danced! webb also has an entry somewhere with his take if you want to see more.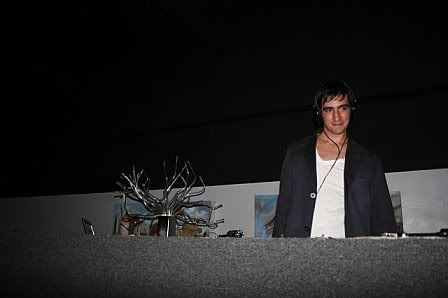 saturday totally disappeared from my camera. i have no idea what happened to saturday. i have no idea what happened ON saturday. OH WAIT!!!! i know. it was the premiere of the struggle. that apb video i was talking about forever. i went out without the battery for my camera. but it's cool man. jarold had that shit handled. he even got the epic parade to rRed elephant from a'ala park that kyle told me about. very cool. and VERY good video. totally pro. i can't wait to buy it. i have the cash sitting right here saved for the drop day. chad? when is that day again? CHAD??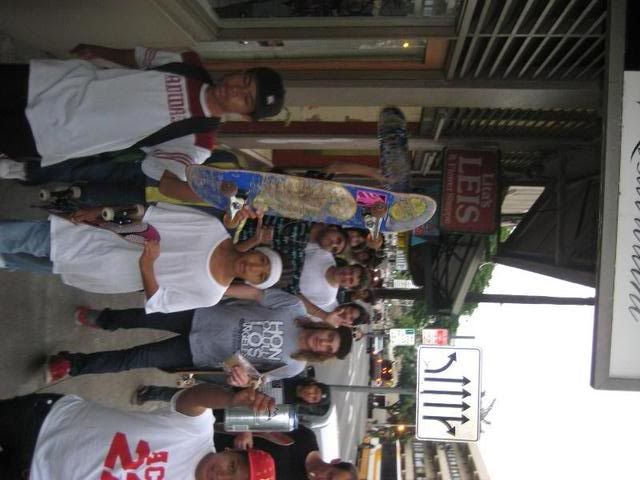 [jarold webb photo.]
so ok. skip to sunday then.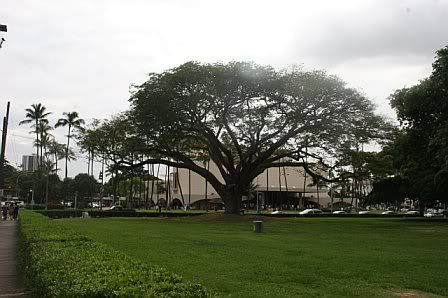 sunday beethoven day.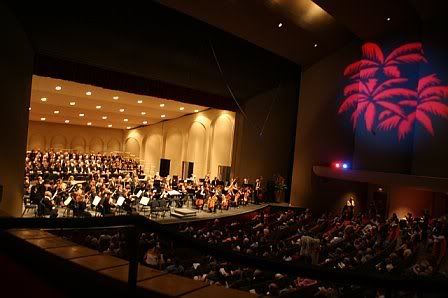 eric got me AMAZING seats in the front row of the balcony for fucking beethoven's 9th symphony. uh, YA that's the one where he finally discovered the damn french horn. epicness ensues and well… i pretty much sat here paralyzed through the most PERFECT performance of this piece i've ever heard. i remember LOOOOVING to play this on our symphony retreats because the tympani part is gnarly but we could never get those silent measures right. and the chorale consisted of about 25 people not a hundred. and the soloists weren't some pros from mexico. *sigh* i can't describe this really. just trust me. it was amazing. ammmmmmmmmaaazingggg.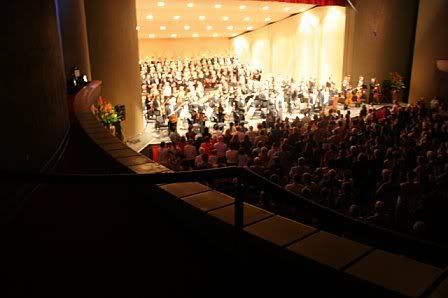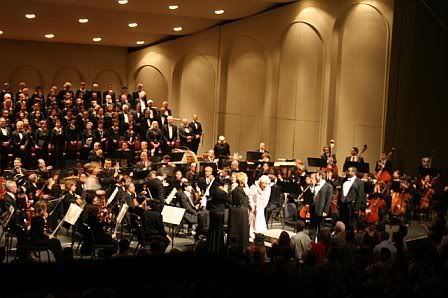 grilled up some fish with kyle after. ha ha we told kenny that we caught these ourselves but it wasn't as funny as we thought it would be because he was like "dude, you gotta clean them" and neither one of us knew how the hell to do that.
speaking of elusive friends. spent new year's evening with my closest ones.
art this totally looks like a mirror shot! except what would be the flash and is instead the light from inside is in the wrong place. but dude. this needs to be your new myspace pic. oh wait. you aren't on myspace. nevermind.
i decided being around friends and family for new year's eve is why i love it here so much. well, one of the main reasons.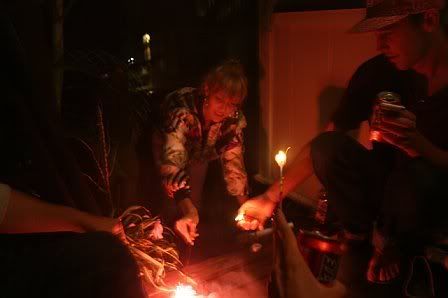 SOMEONE wrote their name on jeannie's porch with their sparkler. i'm not gonna say who…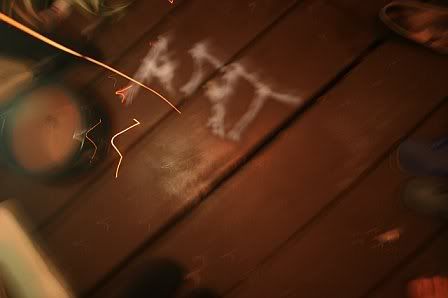 of COURSE i went to waikiki for a little while tho. how could i not peep the crazycrazycrazy…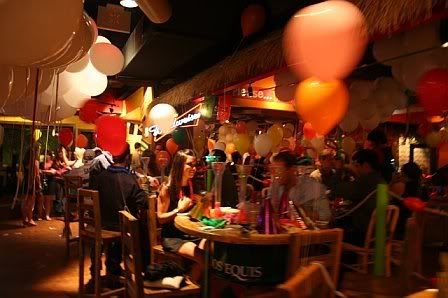 HAPPY NEW YEAR!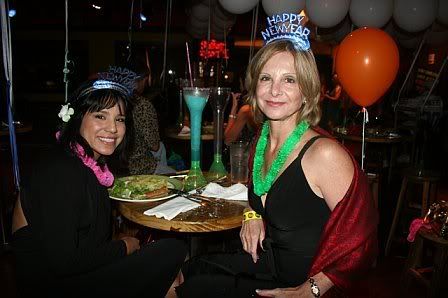 happy new year!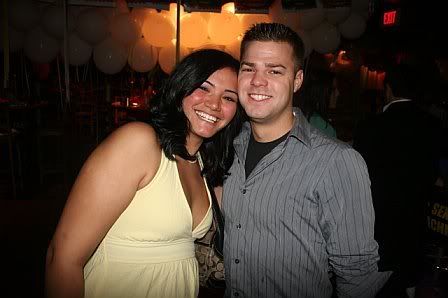 the food looked so yummy. we didn't get to eat it but i was dying. i almost asked her to look OVER THERE! for a sec so i could just grab a rib.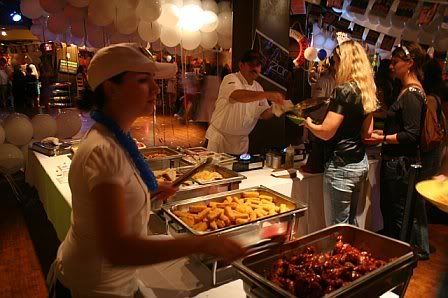 you knew it would be crazy fun at senor frog's. it always is. so that's a given. woooooo. happy new year!
spent the final moments with colonel which was nice.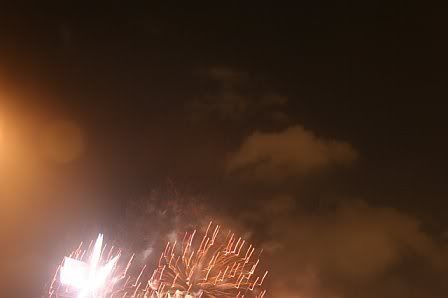 except what the hell was i thinking.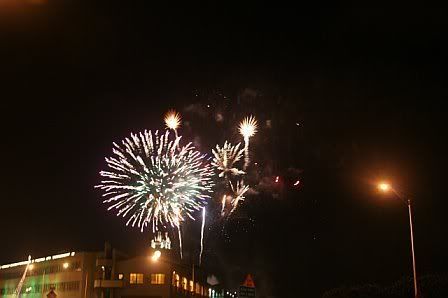 who knows. but it's fine. can't wait to see what happens next!