sorry it's been a while. haven't been feeling so well. stuff is busy as well. you know the deal. maybe you don't? well, never mind. WOAH! look who's visiting my area this time! jason and cano! looks like jason's got stuffs in the works, in addition to heavywater magazine, of course. and cano is joining him. well, guys. we're all ears!

marilyn saved my ass that following friday…
…with a benihana all special like. special media like.
so special that we even had a surprise pro, like, TOTAL pro joining…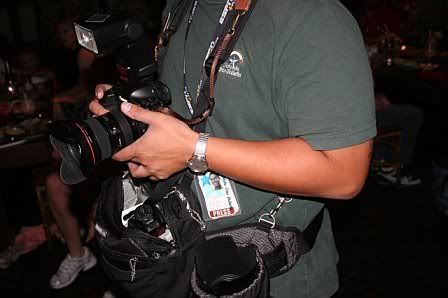 yup! jamm aquino! what the! i was fanning out.
so here's the deal. like THE deal. Aya Yamamoto. the first female teppanyaki chef to cook in the world famous benihana. trust me. it's a big deal.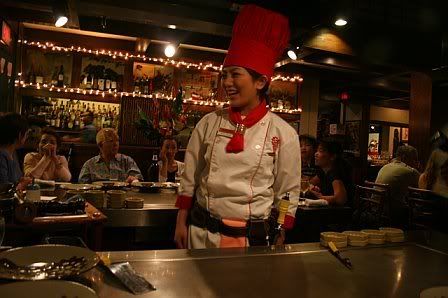 she was the cutest ever too. and definitely getting tons of attention during this momentous event….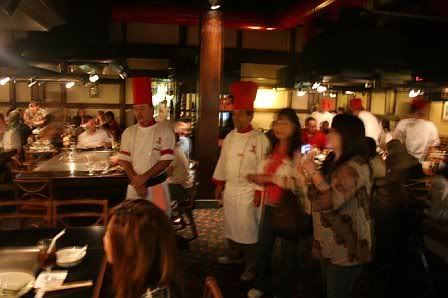 this is her father Jiro. he was so proud….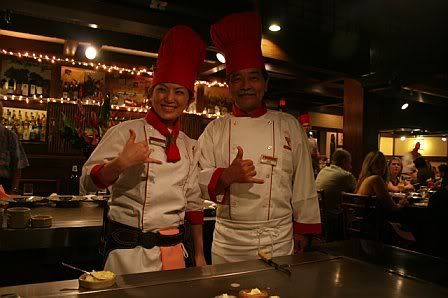 …stood there watching her work it the entire time. all smiles. it was very endearing. made me mist up a bit.
oh, and don't think we didn't eat like royalty…
…i mean, it IS benihana.
shooooooooooots!
i missed the best part of this– when she karate chopped the egg for the fried rice while simultaneously extinguishing the fire. man. are you bummed you miss this yet? she ruled!
i always jell out at people who write for a living. until i think about it for a second and remember that i do a lot of writing for my job too. so never mind. but ooooo! shorthand!

omg. we heart you too aya

nice friday. nice drinks. nicer food and nicest chef. ahhhh.

ps: nice flan too

ok ok ok what else. oh! i love these people. keith chanel and greg. we had so much fun saturday morning. zone stuffs. woo.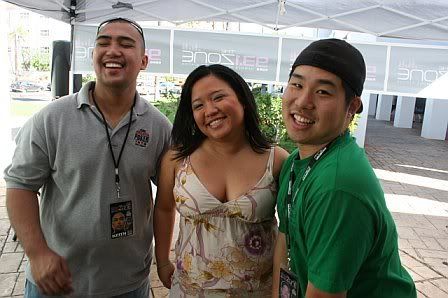 and i had so much fun saturday night.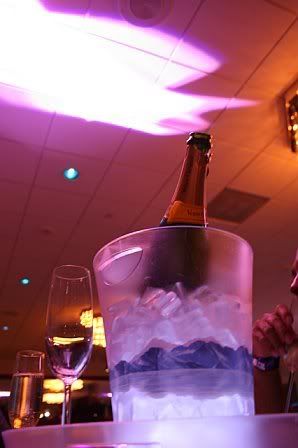 with sakara blackwell and her tremendous shoes that i absolutely didn't get a good shot of.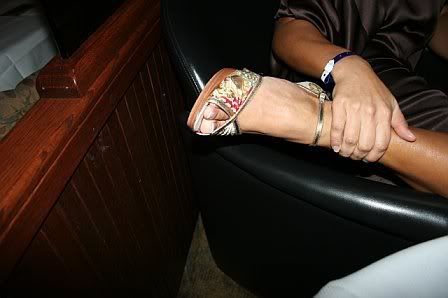 but hi friends! let's saturday.

ha ha dave. your fliers are so bangin. the models are all fly hanging out on the vip tables at skyline. it's like this totally rad infiltration. crew mesh!

talk about crew mesh. the guy that's everywhere! steve kanemoto a.k.a. eskae. did you know that skyline is his regular gig? yup! that's why you usually wind up dancing before the night is over at these things.
i meant to mention how i loved dave's pimp ass bomb diggity fly girl revolution motor sports fliers to flash but he was mega turbo busy tonight.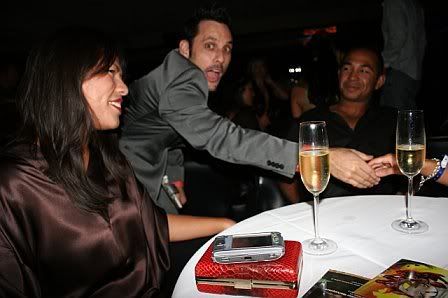 so i said hello to zak and kekoa instead.

hi!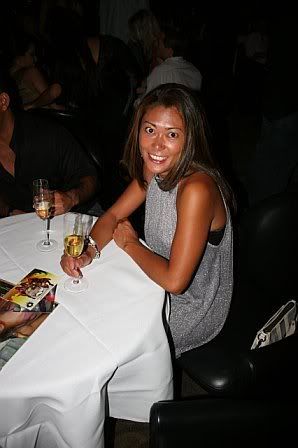 oh ya– talk about crew mesh….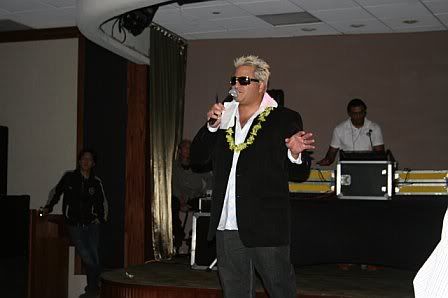 …the cherry blossom cabaret did another show!

i mean, just in case any of these people never make it to chinatown. or know where mercury is.

i LOVE seeing this happen here tho. oh, sorry i had a hard time getting anything good of these ladies.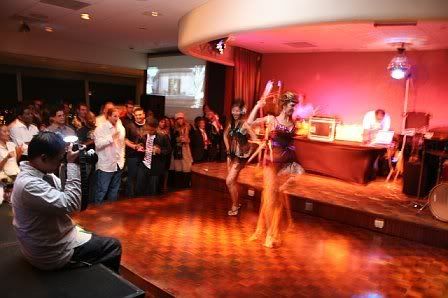 you know brandon did though.

i can always get elaine tho. she doesn't mind my flash. or rather, it's like my flash loves her.

TURK CAZIMERO! i saw your boy. what the! i love seeing him at skyline. keep bringing him please. for the ladies.

i remember when you used to pull up to sandys and kekoa would be out of the van and already in the lineup before you could crack your first heineken with us

yay skyline

rob's new girl is from california. she's a perfect fit for his busy fabulous lifestyle. yay love.
yay skyline.

yay shelly and the gang. ps: i think she is still driving the chevy blazer i bought and had for 4 days before it broke down on me. she has VERY good car-luck this one.

this is graham. the scotsman. yet another photog around these parts that i'll be subscribing to and lurking on the daily. don't let me down! ps: i like the one he got of me here. christacameraface.
eskae. sub zero. yay skyline.

yay maleko.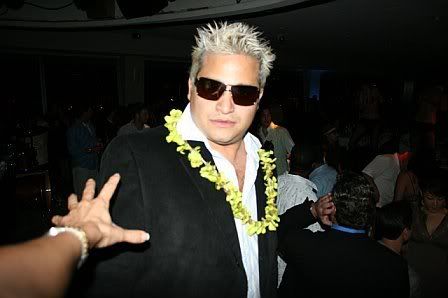 yay kitty chow! more burlesque time.

and sorry guys, i got ZERO shots of her too. but here. maybe you can photoshop these into something.

woooo

WOOOOO.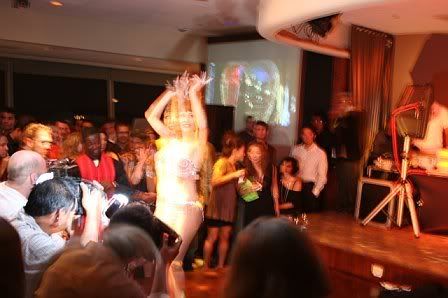 wooo. wooo.

were you there? did you see violetta beretta's "o so quiet" thing? oh MAN. i know the guys around me were drolling to pieces. it was amazing. and of course, i got nuthin. NADA! apologies, honolulu. maybe i should think about a hobby in something besides taking pictures, haw haw.

ps: oh man. it was GOOD.

the first time i ever seen her get this bare. oh man. gooooooooooood. i suggest the next time you see "cherry blossom cabaret" on the bill you go. GO. and bring an external flash.

haw haw justin was in to it.

i was expecting this to be animal print vice basic black satin man
la cutie and her man were prowlin the dance floor. apparently, i was too.
guess who guess who!

i'll give you a hint…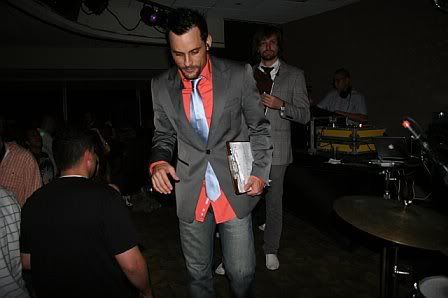 aw.

matty liu's got some stuffs up his sleeve you guys. watch out for what he's going to be doing with, ahem, three 6 mafia and nightlife in february. or check him out on imdb. both are a treat.

sarah honda and i just sat together at a rum fire rum tasting last night. it was the second time i've seen her all year. this was the first. LOVE this guuuurl.

sakara! she knew james.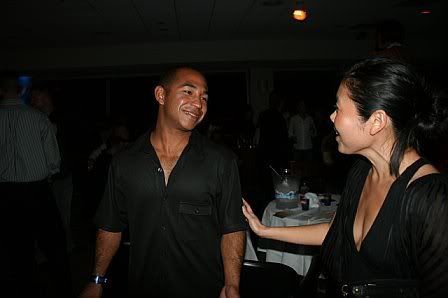 and i know violetta beretta!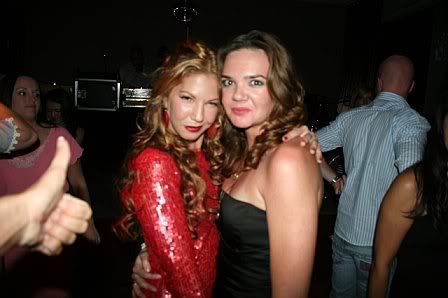 hahah jonah face

justin face

randall face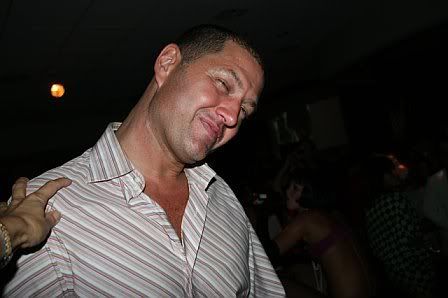 hottie face

jonah laugh

jonah everything! i love this kid.

skyline crew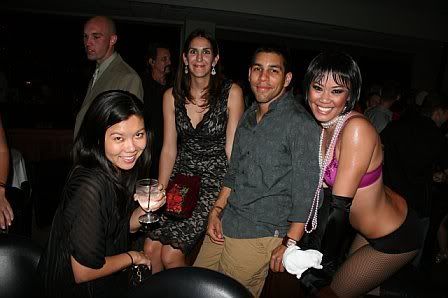 oooo i guess i'm a part of that. shoots!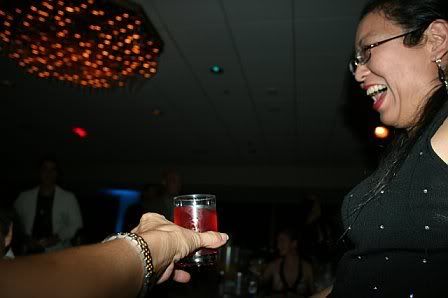 oh wait. i'm dancing now.

hi!

yup. dancing.

eskae told me later it was pretty much the first time he'd ever seen that from me.
that's because it pretty much never happens. but! when you do bottle service at skyline you have the option of getting 2 bottles of veuve instead of vodka. veuve. 2 bottles. we partook. it definitely puts you in a happy mood.
veronica's here! it's been a while since i stayed up this long :)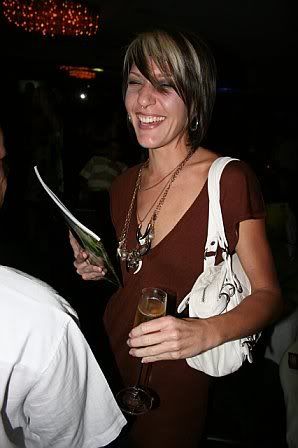 yay lounge

yay lounge

wait. that's me! who has the camera? FLASHCAM?!?!?! YAY! it's been a while!
hahah mike

thank you, mrs blackwell, for coordinating the efforts of vipness. tonight ruled.
vince krause sighting. raze gear, man.
making my way out. apparently i was snapping photos all along the way. champagne.

hi ladies! thank you for everything you do.

yup. i highly recommending having a veuve night. it works.

so ya. that's all for now. these are pretty old. i have new stuff. in my head. i've been in the habit of not having my camera with me which is the opposite of me. i'll work on that. omg! like TODAY tho! saw the guy that worked on the pc vs mac campaign with the two guys give a nice talk about how they came up with that campaign at the haf conference today. saw the uk and japanese versions of the spot. soooo funny. and hearing how the guy came up with it. it was incredible! rox was there. dare was there. everyone was there. i was there. and! no camera. boooooo.
like i said tho. i'll work on that.