welp. here's a photo blog. of what i did. cause i do these. regularly. infinity.
i mentioned david lynch was at uh to do a lecture on transcedental medidtion. i didn't mention HOW he would be there, which was apparently via teleconference. oops.

bumped into shane curtis again. which is becoming a regular thing to do. not so regular at UH tho, seeing as neither one of us go there. no
complaints!

ps: there really were refreshments at the lecture. proof!

it was a video of what a lot of us were probably expecting. david lynch speaking at a college with a rad q&a session before his talk. that's cool. i would have been too embarrased to ask my questions anyway. better to watch it… on video.

wandered around campus after to the art building. it's all cave like! loved it.

found shane curtis again! doing a mockumentary funny enough. it WAS funny.

it was about ADD.

jules is back in town too. doing test shots. JULES!

hi guys! how do i look?

you will never believe this… FLASH picked me up tuesday! i know right? it's been too long.

starting now if you got flash you get red. the reality show cameraman. wooo!

and if you got christa you get sunset shots. sometimes.

podcast time! it's been forever. maleko and flash have done like 33 episodes now. crazy! we should totally have a 50th party somewhere and do it live. with the drink of the day. for free. for everyone!

so ya it takes about 3 hours to podcast one show. the first half hour is everyone's untimely arrival, of course. the second half hour is the sound effect preps… which are all done beforehand. and there IS one called bitch slap!

flash and maleko. the podcast version of lucy and ethel. i know you listen to these right? you should. it's the perfect gym accompaniment.

ps: flash is totally being reality tv'd. it's not a joke! the show is called "life in the FLASH lane" and if you know him then you know that's the PERFECT title.

flashcam! christa filming flash podcasting photographing for my blog. meta!

next up. another holiday party!

at the new heaven on earth mother ship. ko'olani RIGHT by ala moana. i can literally walk there from work like it ain't no thing. it's so nice.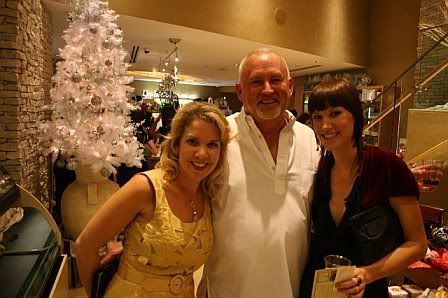 ben costa. spa director.

sakara blackwell of the blackwell empire chats with notable writer actor and scenster lance rae.
ps: this caption is berger style as a nod to lance rae's old nightlife column in the star bulletin. about the scene. remember THAT!

local celebrity and american idol hopeful andrew sato of 102.7 Da Bomb with his girlfriend ashley.
ps: ooo i like captioning like this!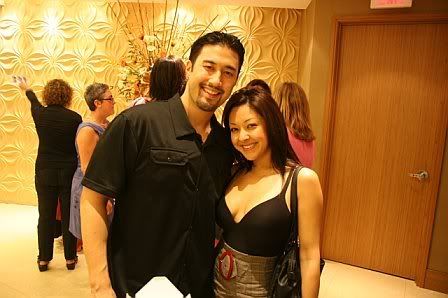 we got to sample all the gourmet food. the 'cafe' part of the 'spa club and cafe'. it's to die for. i ate three of these and didn't gain a pound!

what up! where's your shots! can i google you?

meanwhile at the office. two boxes of coco-puffs getting dropped off means….

Portuguese eating contest starring greg and charlieboy.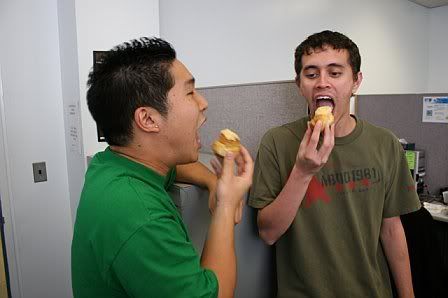 it was close. but yes, both of them can eat it in one chomp. *chomp* hooray!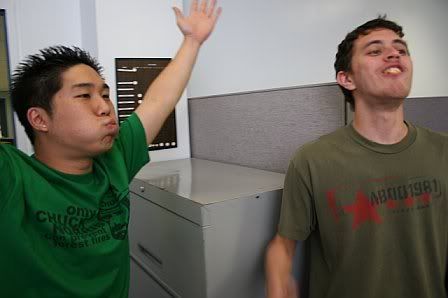 meanwhile, at club pearl. the hawaii association of broadcasters! that's, like, everyone in radio AND tv. and they ALL go waaaaaay back.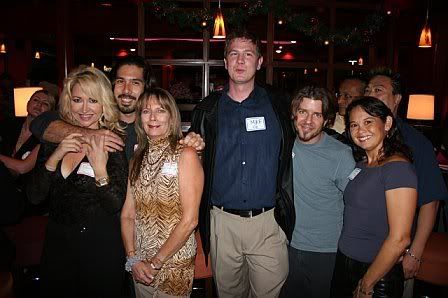 drink tickets.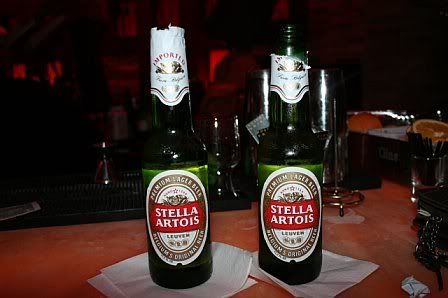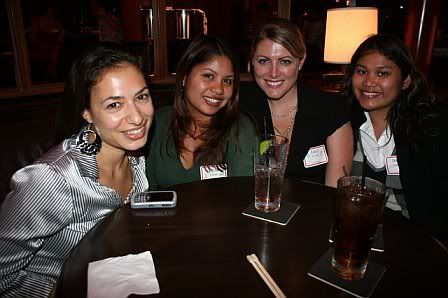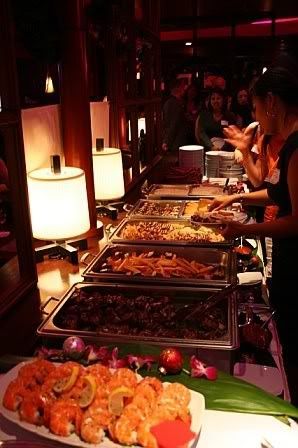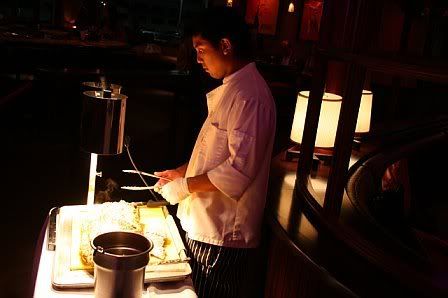 clear channel!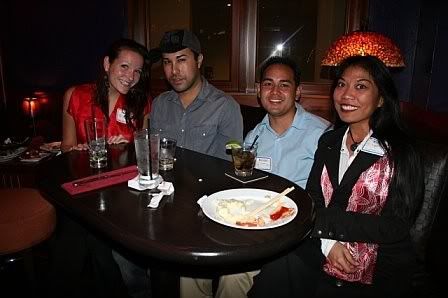 clear channel jesse. clear channel hazmatt.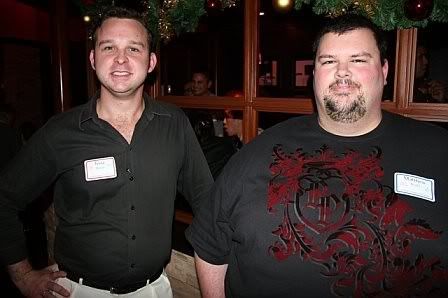 visionary cedric. you all know him tho! we are so hyped to have ced.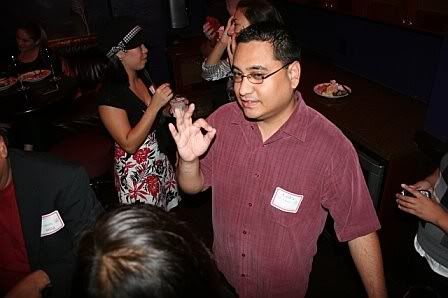 ok, i took this photo of brandon and lexi….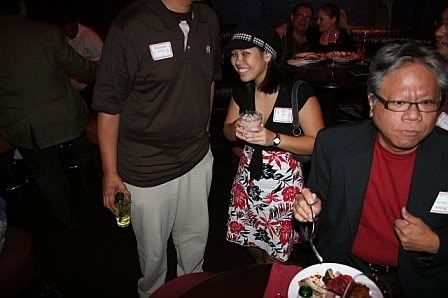 …like, SEVEN times. and i'm not kidding. i never DID get his face. he is seriously seven feet tall.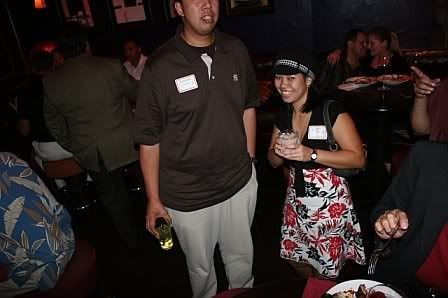 see brandon. you gotta bend down like jose dynamite. and i see a cotton! KEVIN! how's websites!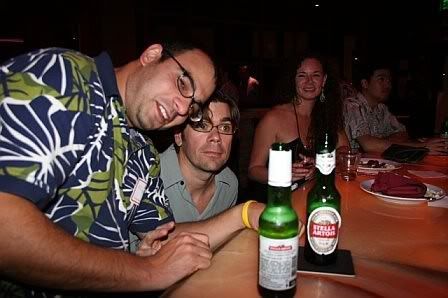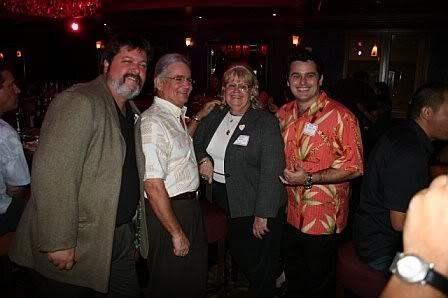 i was fanning out on the KIKI guys. K SMOOTH!! i love your work.

this was a fun party.

thursday at the time of this photo i had no idea how hyped i was going to be…

i still don't know, but i have a better idea…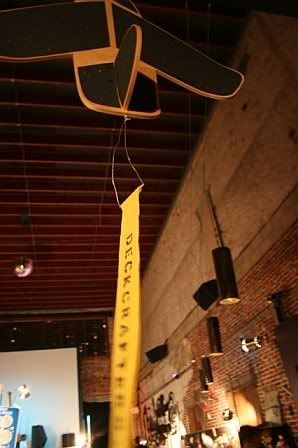 POOL RULES! the traveling hurley art show featuring works from hardcore bad asses like duane peters and tony alva. AND local guys like jef hartsel, christain hosoi, and shogo kubo. it was crazy! crazyamazing!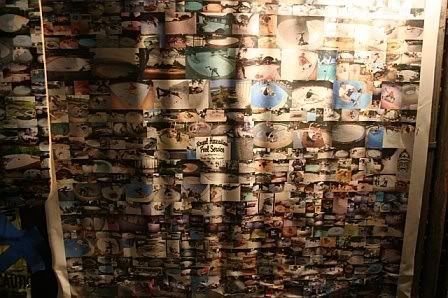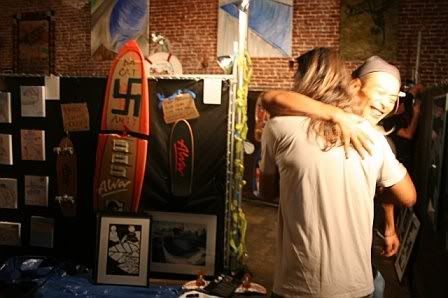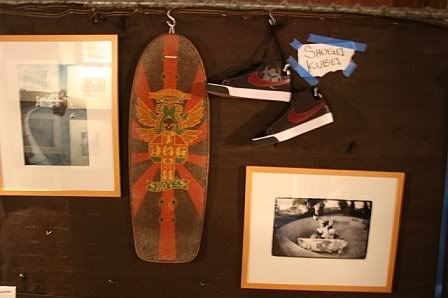 so THIS!!!! i stood here for most of the night. it was dope. see the signature there? the date? WHAT! so rad.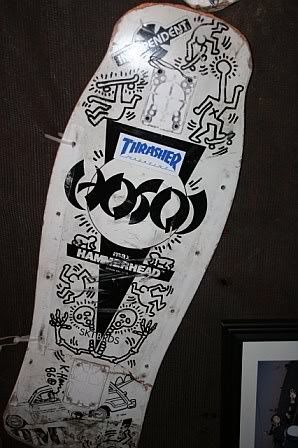 CHRISTAIN?! i was like woah. he was like "ya. i had my deck and was at his studio so he doodled on it". i was trying to figure out who was fanning out over who in that scenario. then drooled a little. then turned around and stared some more. keith haring! christain hosoi! very cool.

i was fanning out so hard that i totally blew it getting this shot. i was too shy to ask for another one. here you go folks! christain with his haring deck. sort of.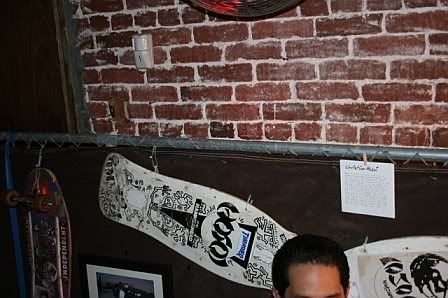 tony alva was there in spirit.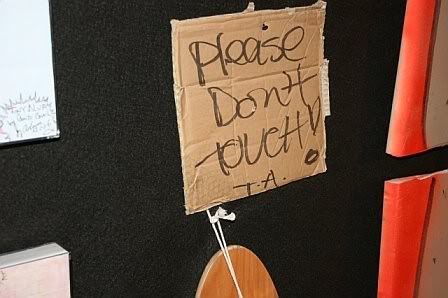 jen the supermodel was jen the skater before she was jen the supermodel. that's right! and yamasato was back in town. nick!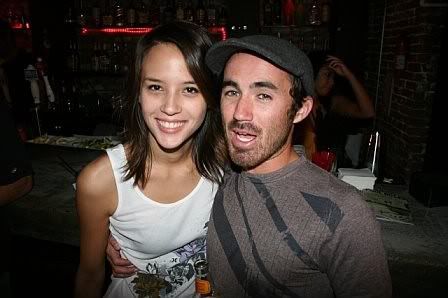 vince krause was back in town out too. VINCE!!!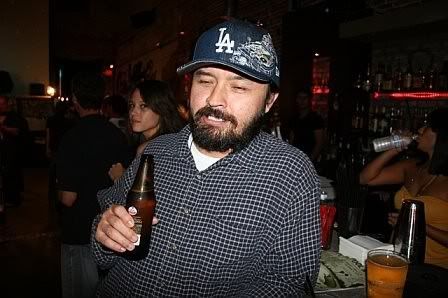 the result of a lap around the room. i TOLD you tonight ruled.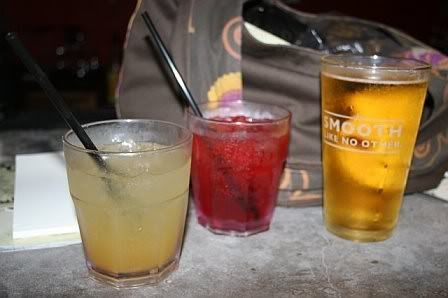 hang on…

ok there! i was too close. matty liu! jason cutinella! speaking of, the heavywater magazine christmas party is this thursday at o lounge. save the date!

finally met zak noyle in person. i been lurking his work for years.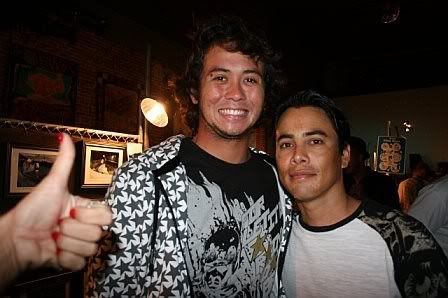 wives of sk-artists. sai ozaki and eri hartsel.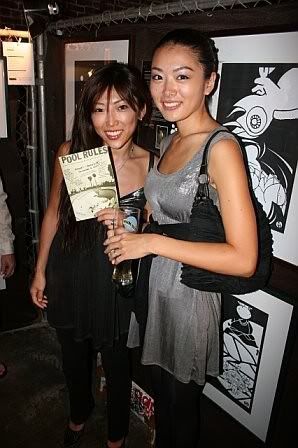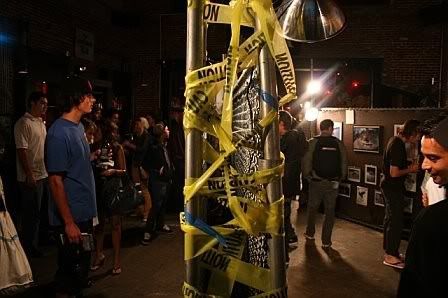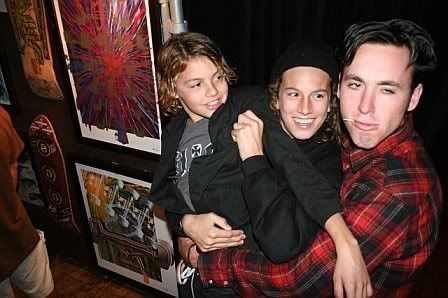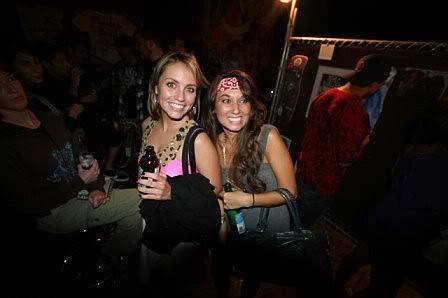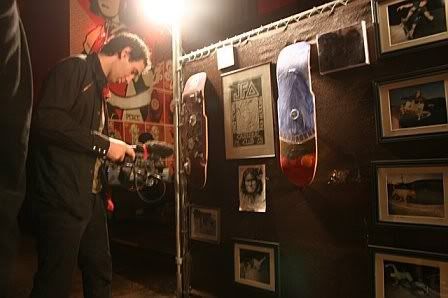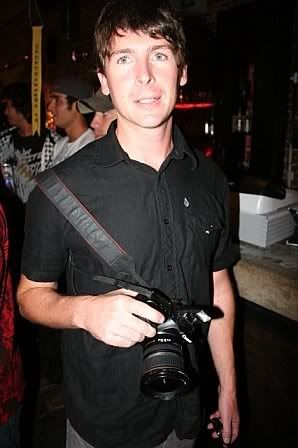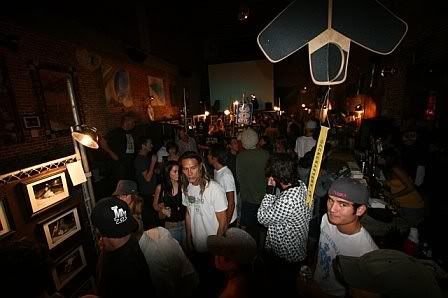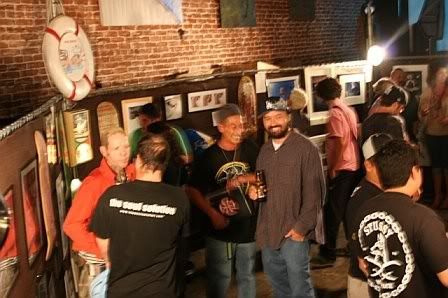 art's shoes had BEEPERS on them. ya i told you tonight ruled.

see? moustaching. and it happened all of a sudden. like, i was in a conversation then looked around, then moustaches EVERYWHERE. i told you tonight ruled.

hi. we're skateboarding legends. but whatever.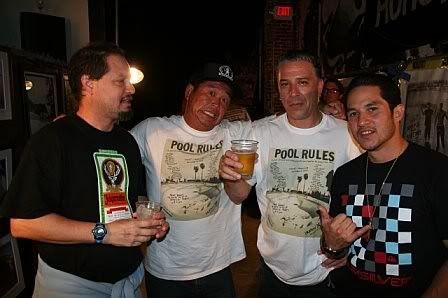 add duane peters. repeat.

so colonel is in ex overload mode right now. work AND play. timing is ridiculous. but ya, i told you tonight ruled.

and THIS! just woah.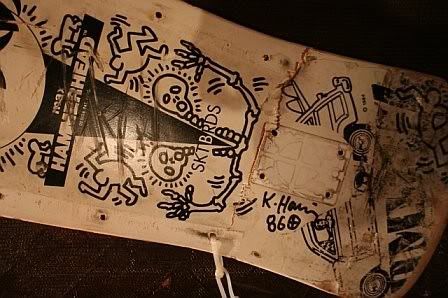 we after partied at frida's. kyle disappears for hours in the book room.

the perfect place for chelsea skye to cruise tho.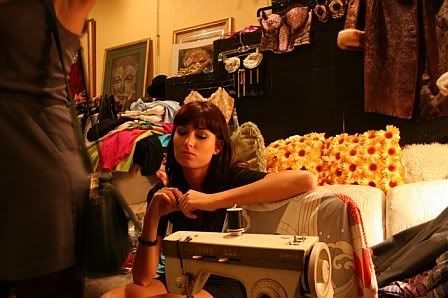 caught the showdown in chinatown BEST OF 2007 edition on saturday. this was the BEST of the best.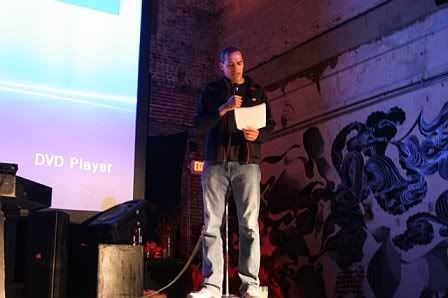 which meant all the best of the best sic film makers were in attendance. the legg brothers.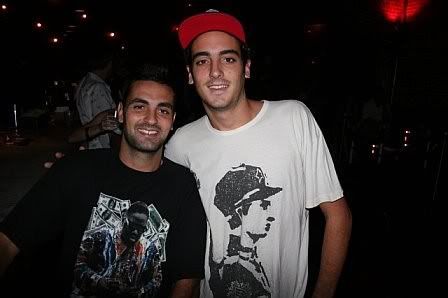 the wadalife brothers.

i had to watch battle with them JUST to lose tho. very cool guys.

mister romano.

selena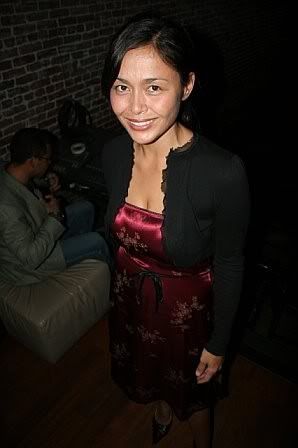 aaron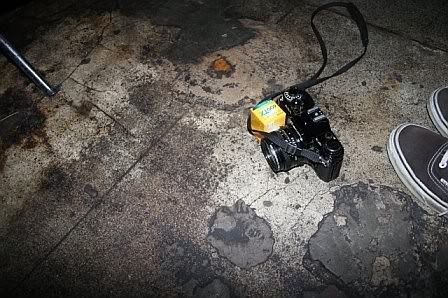 junkpartygator! wait no… vankuni! wait… OOO! aaronishi!. yup. they were there :)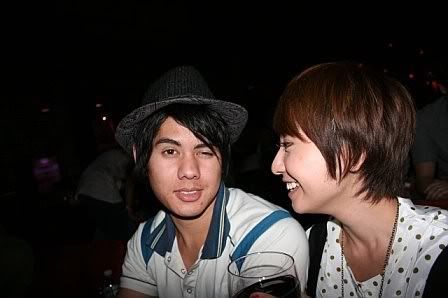 that's all. and the world spins madly on.