hi. so, i'm getting a lot of feedback out there on the street. it's a bit confusing with this new format, huh? well. i mean. basically, the daily updates [like, a short attention span version with random events happening and whatnot] will be here on the far left side and the weekly updates [like what you used to see on the ghetto 'undergroundish' supercw.com] will be over there –> in the far right column. with a bunch of jibberish like links and categories in the middle. ya you know what? it IS a bit confusing. but look! it's the future of websiting. wordpress. it HAS to be right. it's all of us that needs to change. right? haha i dunno, but it's like this now so it's all consolidated and clean, so just try it out and let me know…. ok?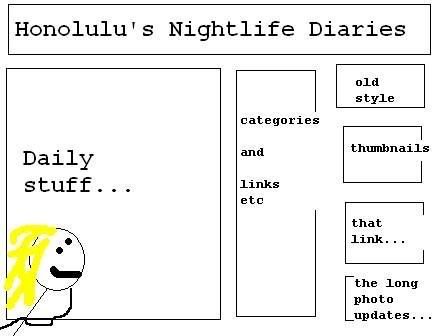 meanwhile i'll keep showing you random images of stuff like toasting a marsh mellow at guy kaku, my favorite restaurant in the world. the WORLD!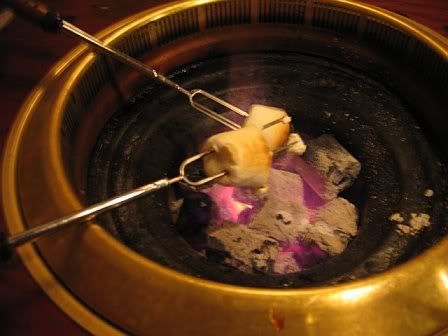 and random :10 creative sessions with josh and chris between meetings.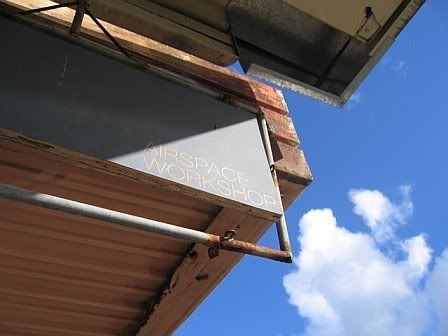 [click 'read more' to see the rest… ]
…and super fun social wahine meetups in the heart of downtown's arts and cultural district.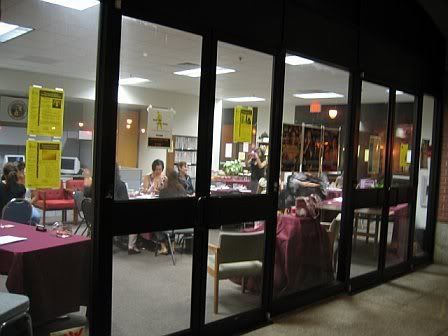 with…. [*pant pant*] yummy treats!!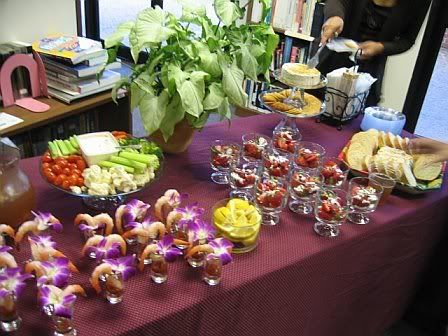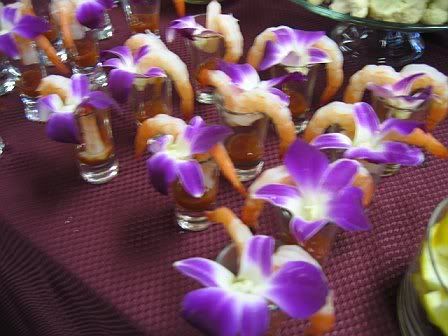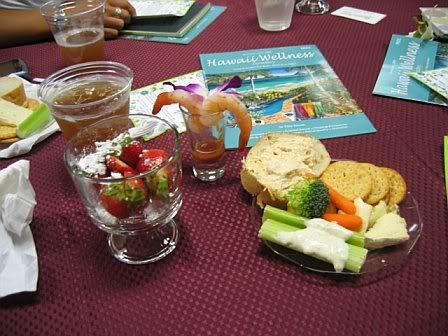 holy what the! TELL ME you saw that sunset? like, i don't know maybe wednesday sep26th? i remember the date because i was coming back from a meeting in aiea and was straining to catch even a tiny bit of it while sitting in traffic. WOAH. that was some amazing sky action.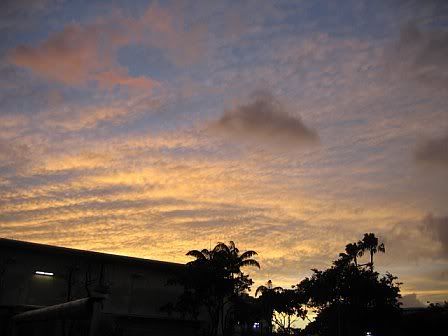 well hopefully someone got some good shots from it. i, in turn, made sure to stop by valerie's new ward location to say hello…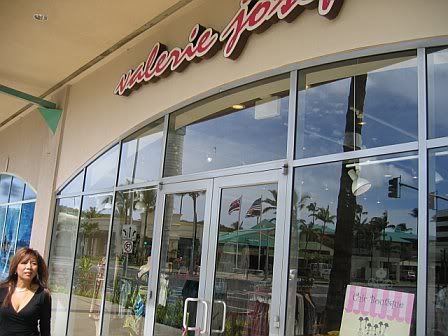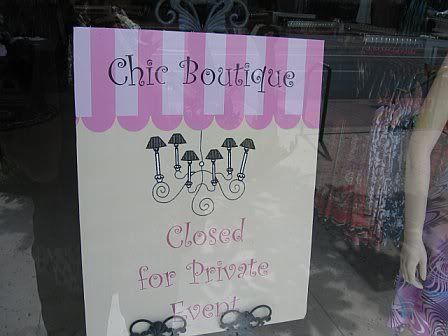 do you shop at valerie joseph? if you do then you already know her whole deal with super personalized service and crazy good attention to detail. like, any and every detail.
she has impeccable taste.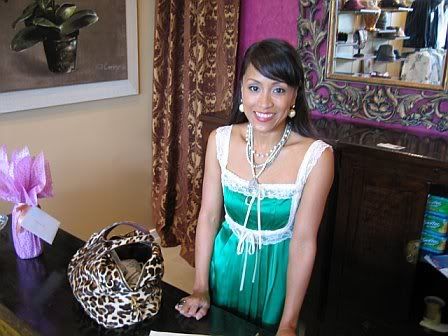 OH WHAT! meanwhile back at visionary. you always know when the vertical junkies are in the studio. you can hear them all the way from the parking lot. and HEY! FLASH!??!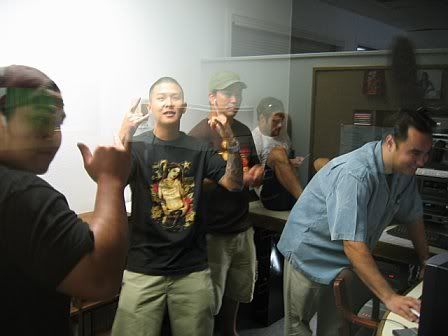 FLASH!! can i just say i love it when you guys team up. i can't wait til thursday.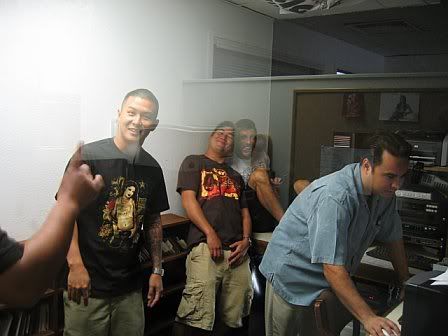 other random whatevers? OK! how about dave choe on the cover of vice? that's so hot i'm gonna spell it wrong. HAWT.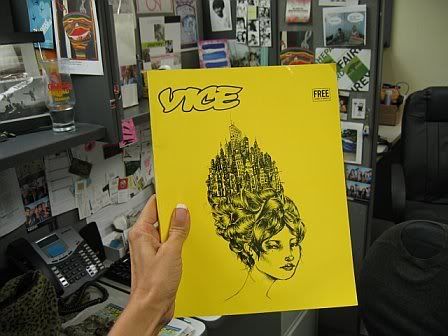 ok ok what else did i do. OH! i was first in line as usual. the event? modern luxury at heaven on earth.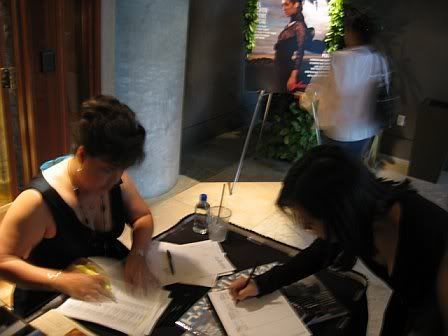 the line situation was. well. you know. you were there. i saw like every single person on oahu there. nice list mod lux!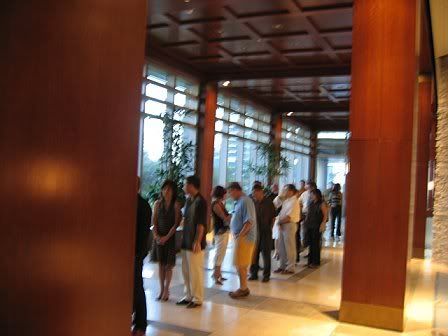 JORDAN! you're so cute. i love that you read me. acting like i'm all in the scene. YOU in the scene boy! with your official website and tv shows and stunning starlet friends and singing abilities and such. MUAH.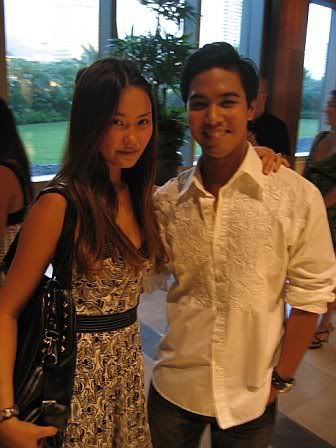 modlux is a gorgeous publication. serious. they list all the things that we all talk about but put it on this higher income bracket level and really bring a celebrityish air to stuff that we all do. you know what that means right? hawaii is 'it'. we're 'it' you guys! i'll see you in the hamptons. oh wait, where do YOU summer?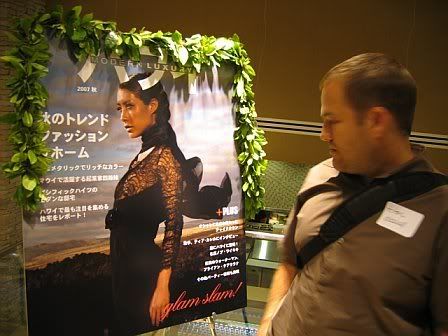 two K[ch]ristas again!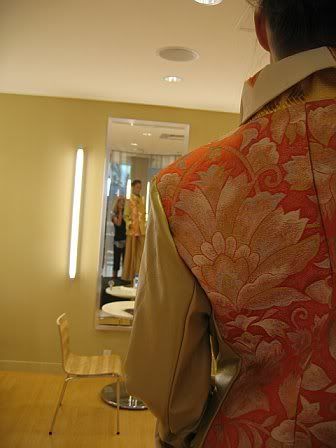 well here. you couldn't really see her from that angle…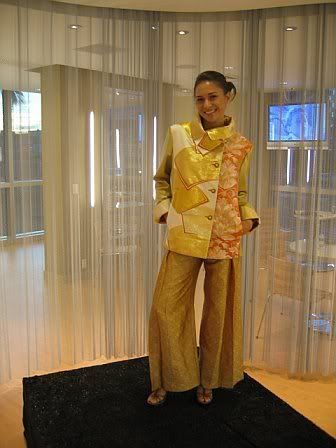 oh don't think there wasn't any and everyone there.
it was definitely the who's who of the lush and plush. hi lora!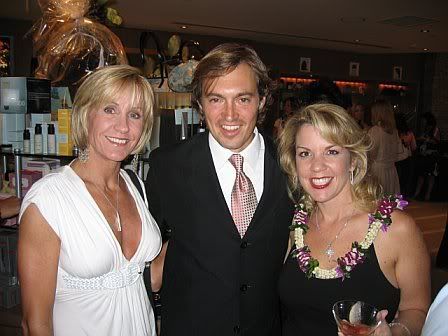 david patterson from the pr store was there. he was all "i knew i'd see you." but i was all "i knew i'd see YOU."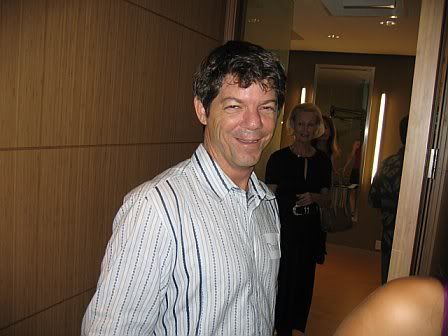 genevive! thank GOD you're not in new york yet. BOOK THIS GIRL! no doubt she's in first class on her way to paris or milan soon.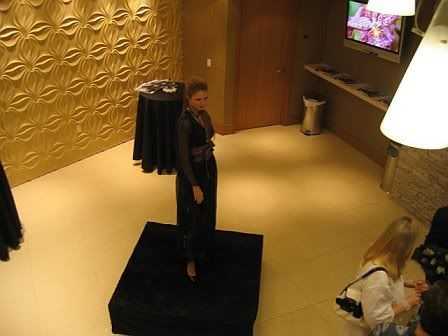 broke out while the line was STILL crazy like out the door long. it was an emergency! a shoe diva emergency!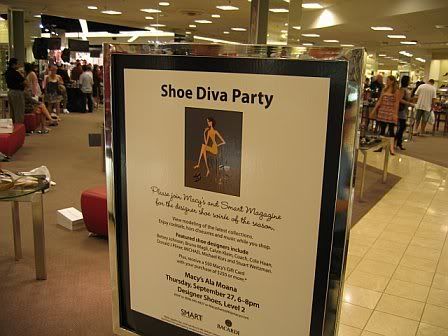 have you been to one?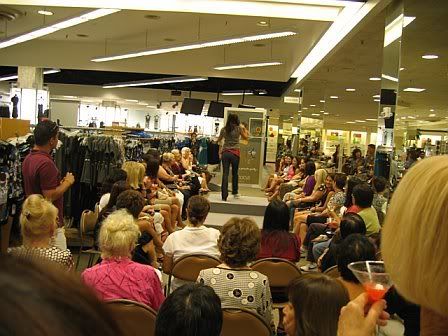 you should! complimentary drinks….
HI!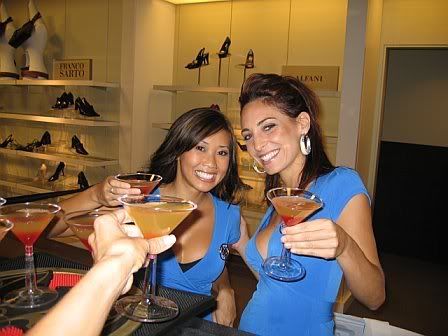 HIIIIIIII!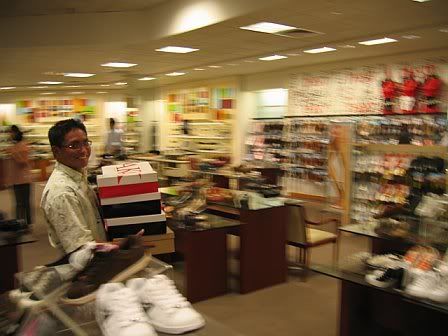 i am SO in to flats and have been for evs. but i dunno… i mean, jesse just called me tall and statuesque. maybe heels…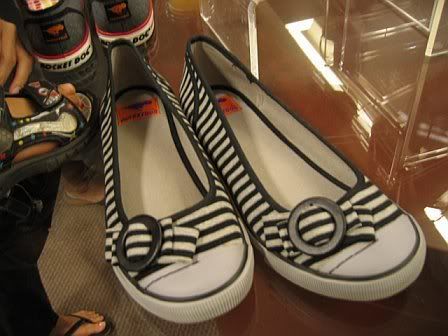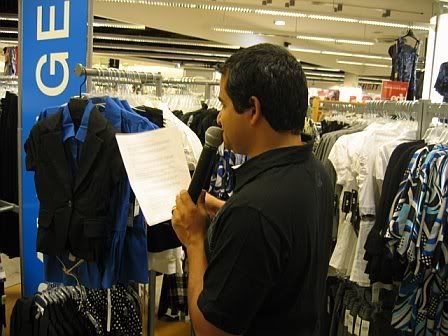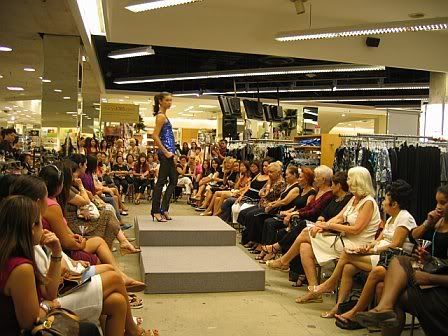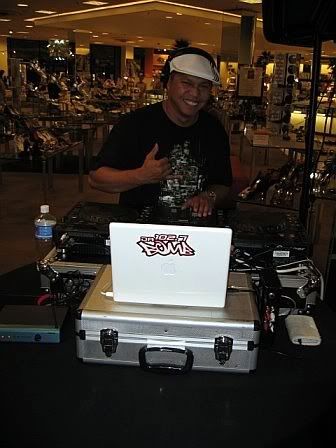 and friday, well you know what i did. last friday of the month is uniform. and it will never change. infinity. do what you want. i'll be here.
ok, i MIGHT be over here. but just for a minute.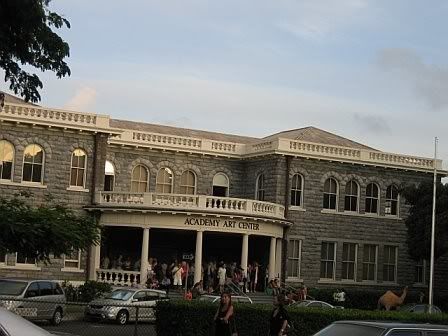 can't not be here. i mean. come on! Art after DARK.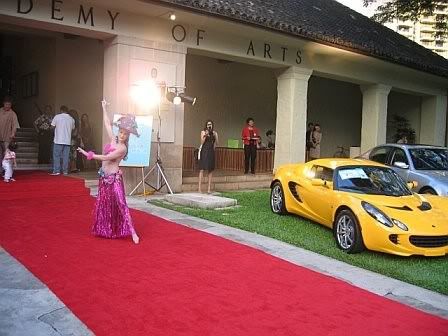 look! a human sized flower…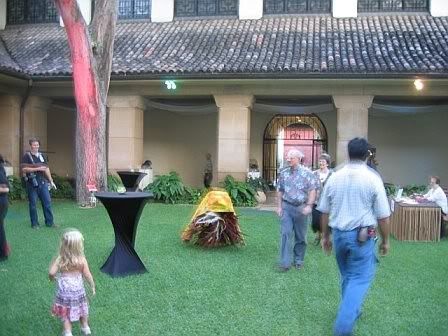 …that grows!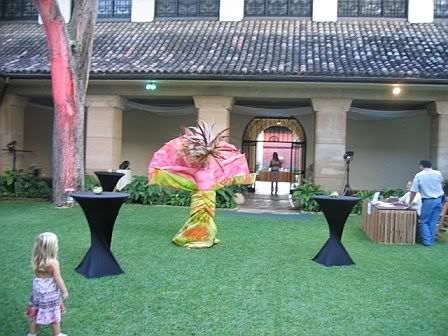 call me a bloodhound, but i know if there's kai vodka here…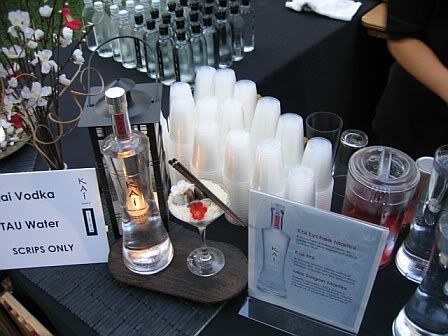 …that DANA BLACK is near!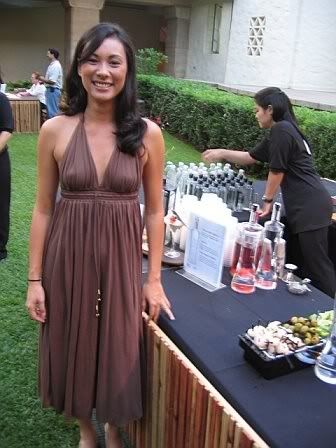 groundUP made their art after dark debut. word!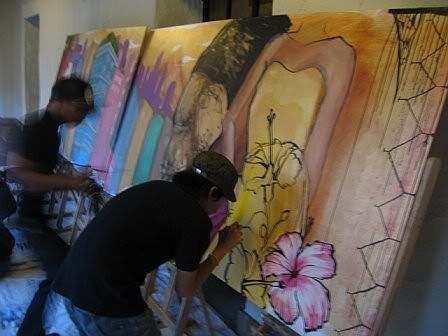 PANCHO! hi…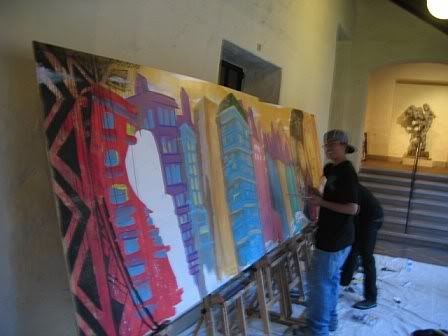 if you were there then you are probably thinking i'm full of shit. no way did i get a shot of this courtyard so empty. guess what! THIS is what it looks like when you arrive at 6.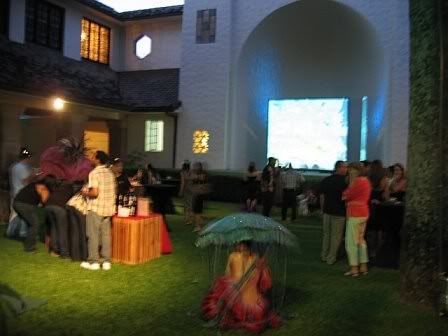 stephen was talking about a new strategic plan in the latest newsletter.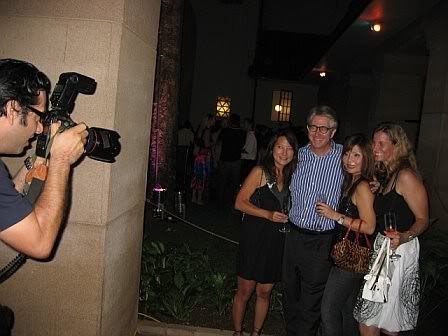 and sakara was wondering what the theme was earlier this day. the blackwells always come to art after dark dressed in theme. and do you want to know what she does if there isn't a clear theme? she comes in the right colorway. BLACKWELLS! intelligent. ps: hi dawn and patrick.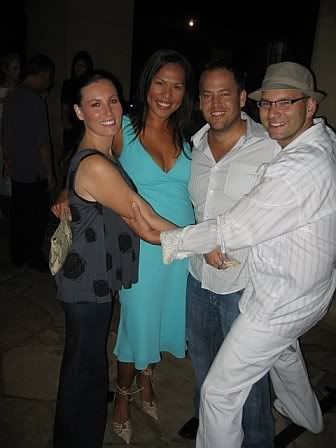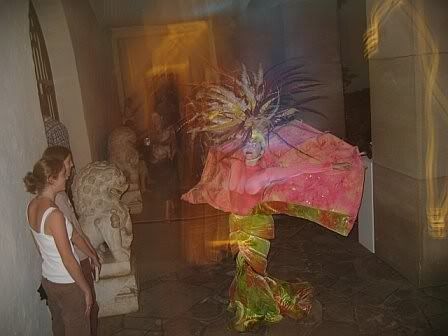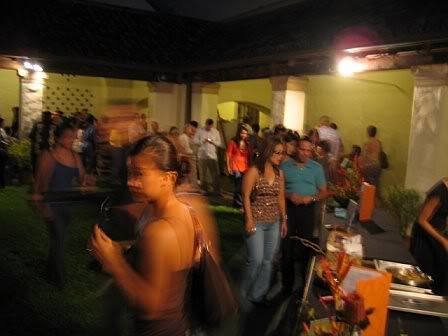 oh HEY! for my friends from seattle reading this…. look who's got some stuff at the honolulu academy of arts. EH!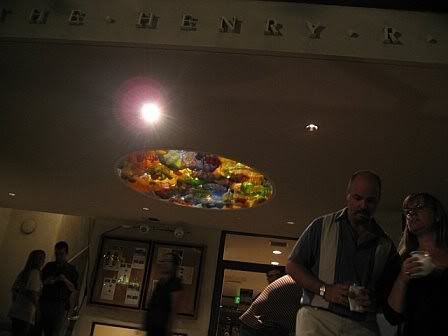 oh, and the sponsors for this one definitely spared no expense. did you see the SEARCH light?!
adam green, his mother, and an anonymous fabulousness. hi!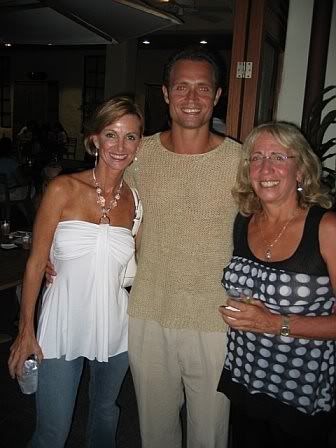 ginger. HI!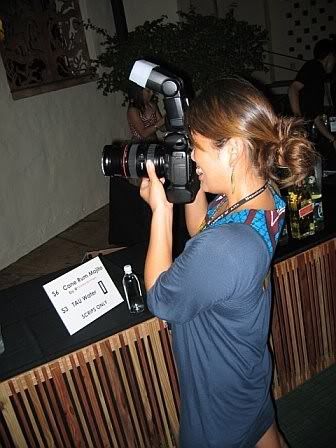 morgan and naomi. HI!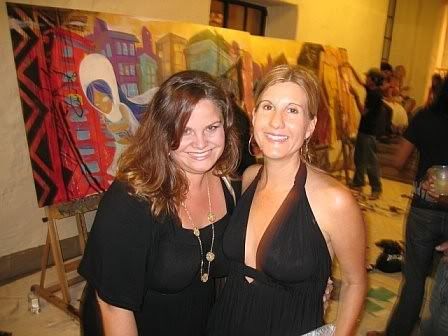 jen and seth. HI HI!
lorenz and steve. hello!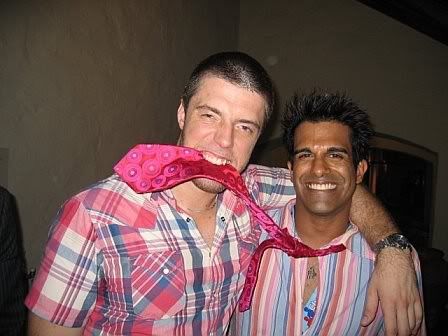 joah. haw haw. HI!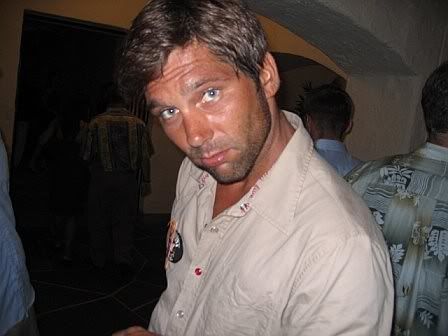 not sure why the script system all of a sudden came in to play. but guys. if can? no more! it made the lines unbearable.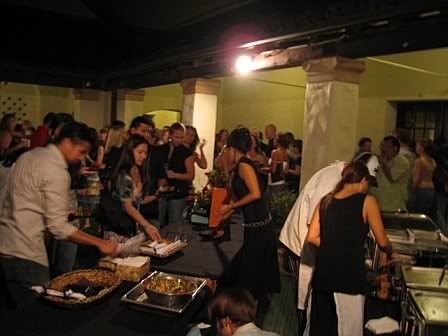 listening to paisley from tempo valley stand in for maria remos with the grooveimprovartists made all my troubles melt away tho…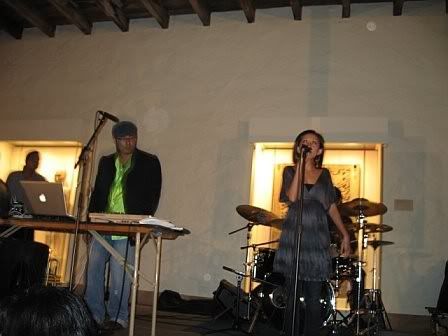 hey guys…
just checking in on the live art. this was auctioned off right there you know…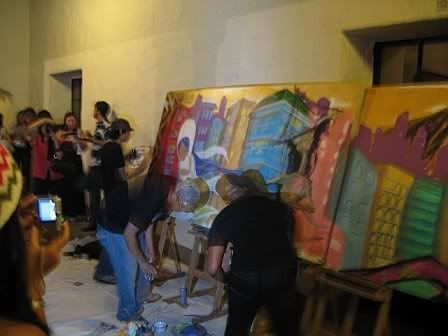 ps: PANCHO!!!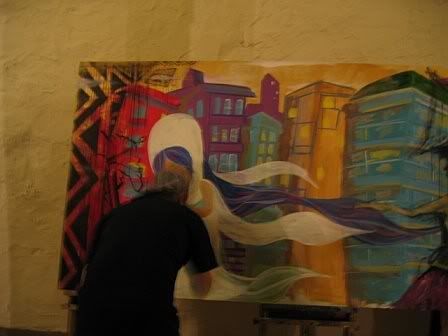 don't think it wasn't like max capacity too. as usual. ha ha it was funny to see a lot of people who haven't really ever seen this event too. their faces. they are like… what the… WOW!.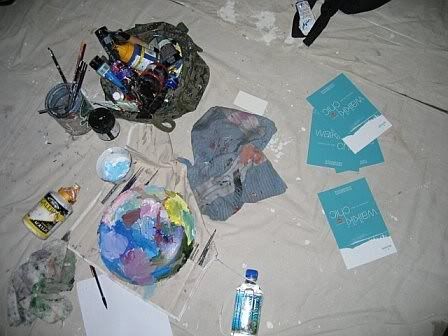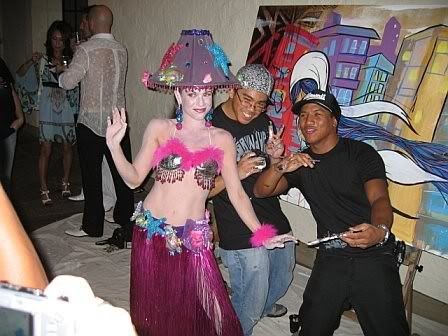 haw haw joe bock is so cute. i was taking this and he was like "HEY!! LOOK!" pointing someone out with a go! airlines shirt.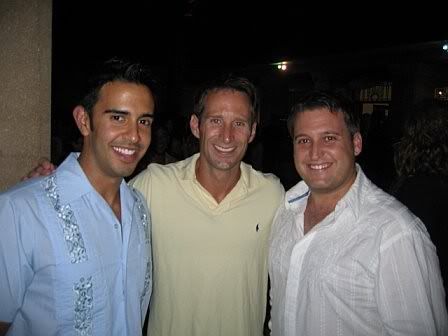 sorry you can't see, it was hard to get over to her… but that's the outfit that was in my first pac edge mag column! remember? well, i do.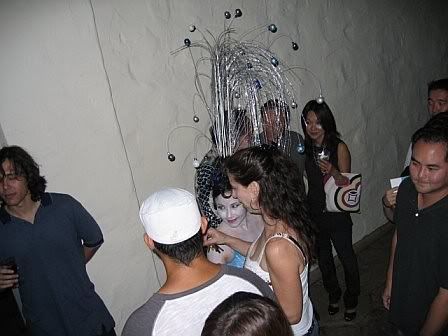 oh NOOOOOOOO! josh is going to kill me. KILL me. i'm dead.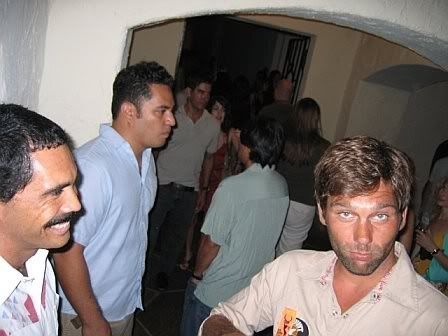 the blackwells had their new camera out. guaranteed they've got some good stuff in there.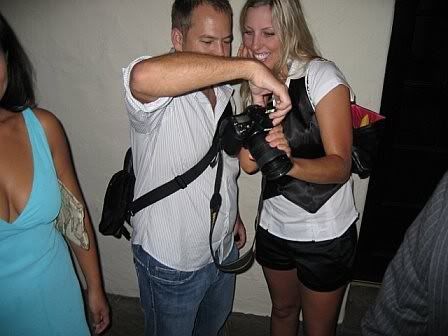 checking back with the groundup…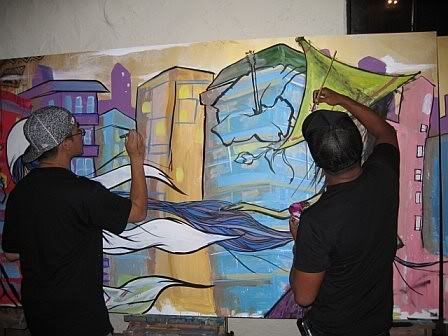 ps: PANCHO!!!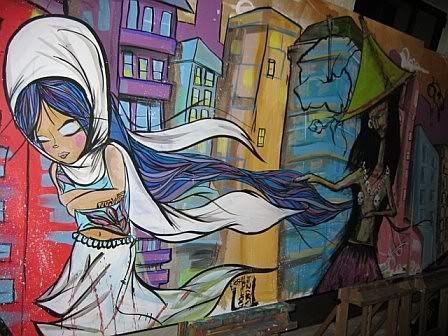 ps: this full piece went for over $700.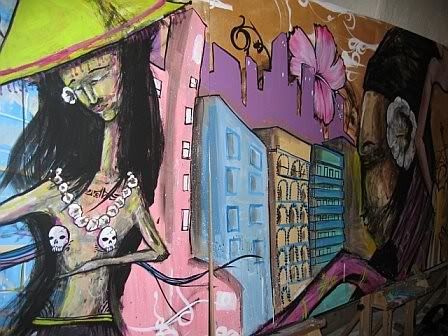 hello…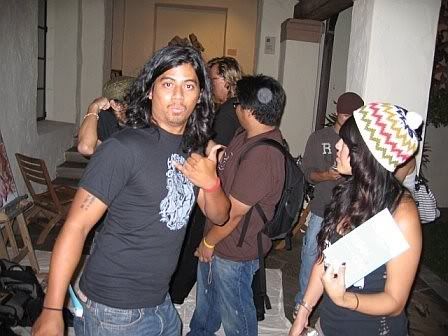 hello hello…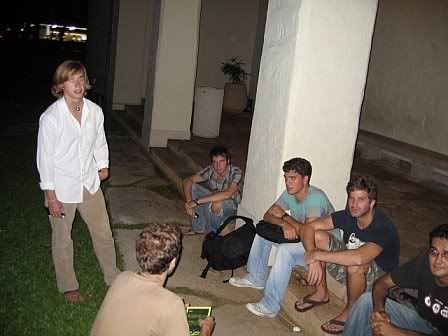 a last friday first for me. i actually stayed til the bitter end. it was weird. probably because i hadn't really done much all week. was keeping on the mellow tip. you know. it just sort of happened.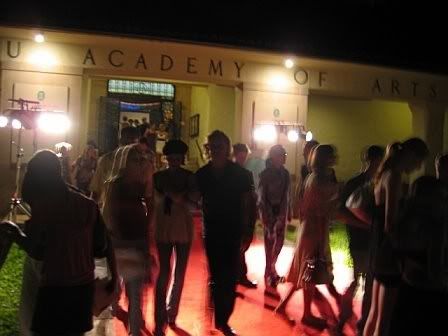 normally i would NOT agree to a stint downtown. airspace workshop and stella definitely changed my mind with a quickness.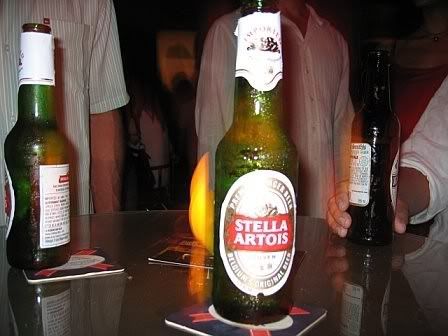 skip ahead two hours. actually, with all of our conversations about the future, should i say skip ahead two decades?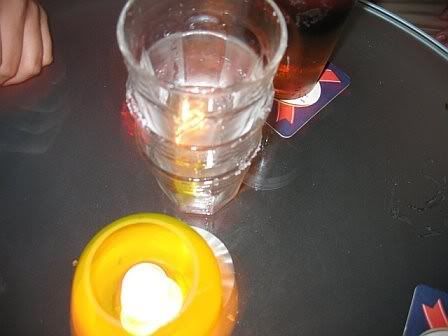 soul clap! and thirtyninehotel. check it out. a PODIUM. this matters. it looked so hot right there on mangy hotel street. this town is getting hotter every second i swear.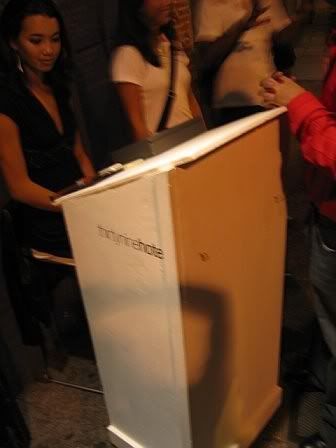 don't think it wasn't crazy fun up there….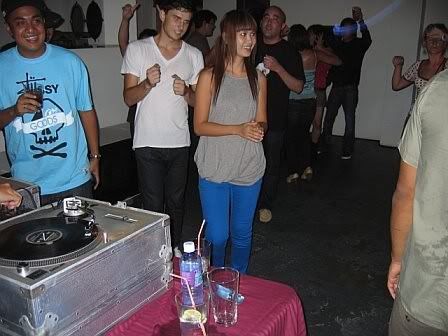 eskae you're going to die. i've been calling you "E-sake" this whole time. i never once thought "ESKAE" as in "S.K." like your name. Steven Kanemoto. what the… UCK. i can not believe how un-phonetic i can be sometimes. forgive?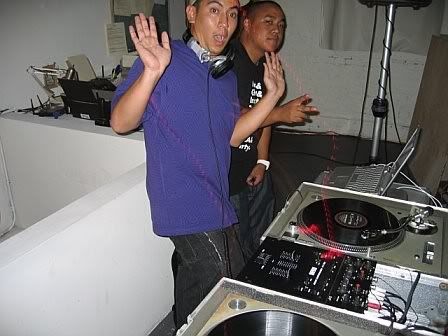 ps: did i mention how bad ass dope double fun ill his soul clap parties are?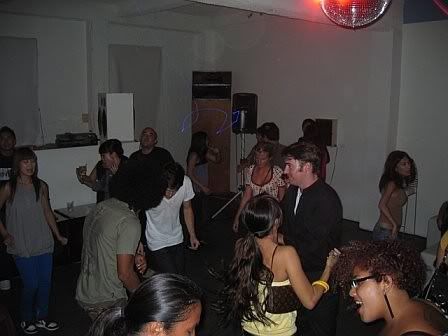 oh! the portraiture. i mentioned this before. it is pretty cool. dana's project is in there if you missed it when it was at the first hawaiian center. it is a really cool concept. DANA!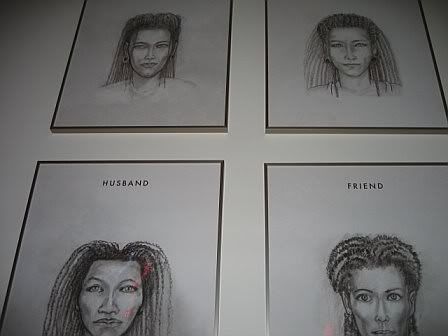 so what do you think of jose's new media social experiment anyway? have you heard me blabbing on the radio or what. haaw haw. this one running now makes me want to open my car door and jump out right on the freeway. "drink STELLA!" AAAAAAAAGH. ideas for a funny outro tagline that doesn't make me sound completely retardedridiculous are being accepted right now. help! [ps: thank u stella :)]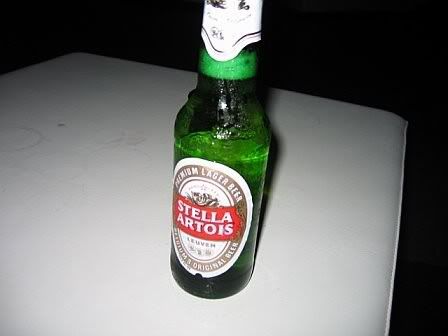 another venue where i stayed til the bitter end. it was so weird! i normally the first one IN the spot and NEVER the last out one. never never.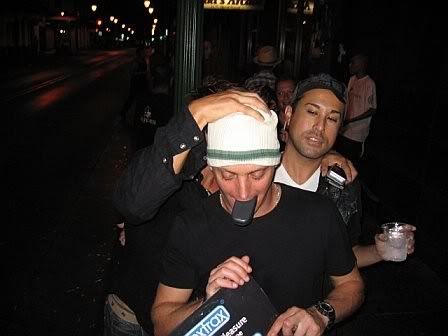 but der was around and i haven't seen him in a minute. believe it!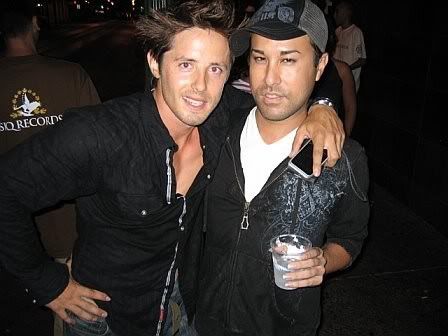 til the bitter end on a friday night. interestingness.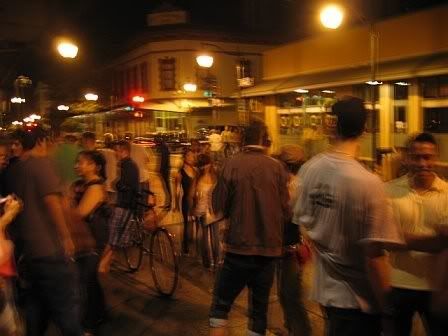 skip to sunday. ok? how about a little flavors of technology eh!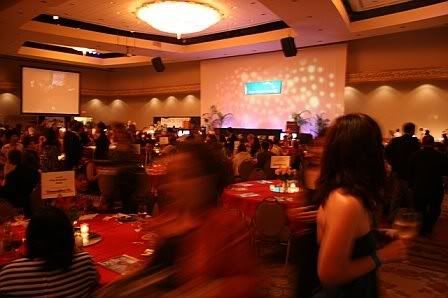 this is andrew sato and his lady. another visionary superstar right here and i'm not kidding.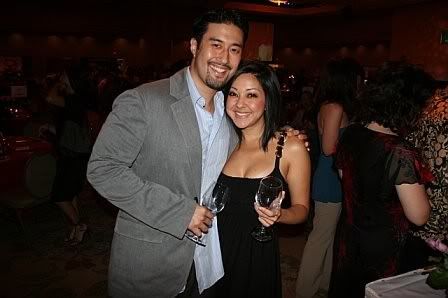 a little vino in the door.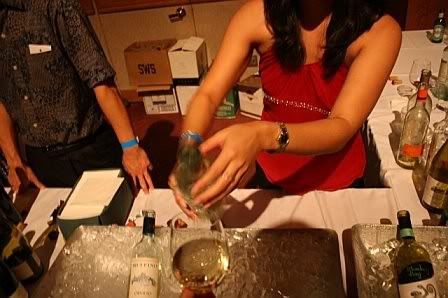 tons of people go to this, by the way. like everyone in honolulu it seemed like.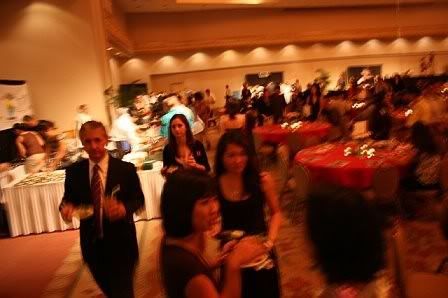 not gonna lie, tons of free food from some of the best restaurants helps with the whole appeal factor.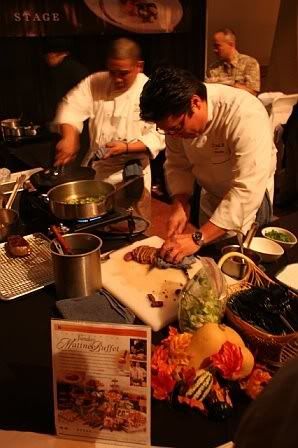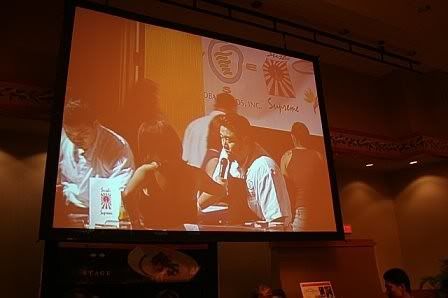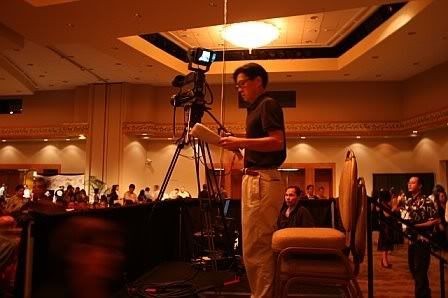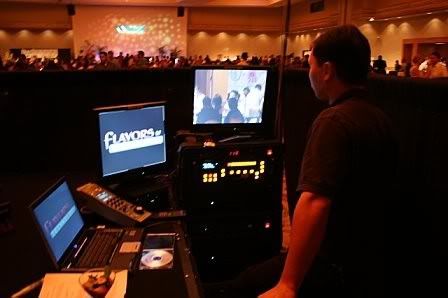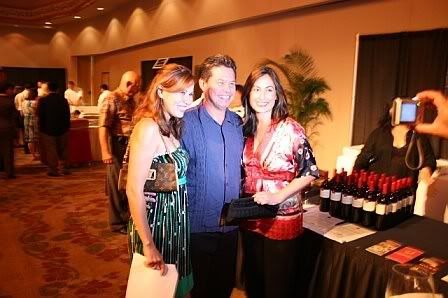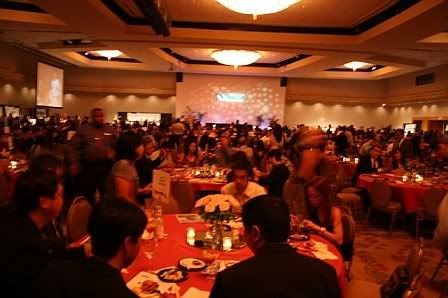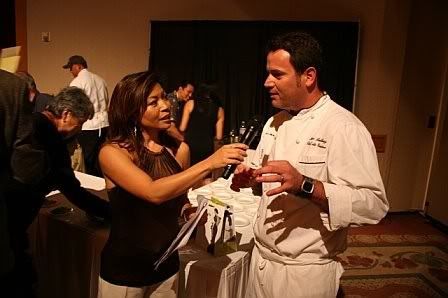 the best stuff there. hands down.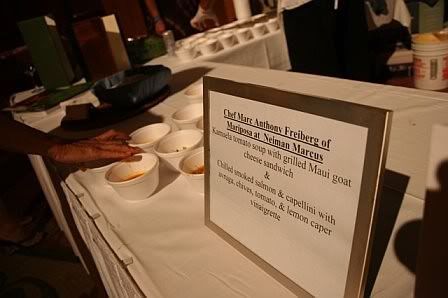 wait. it ties for first with ruth's chris if that's ok.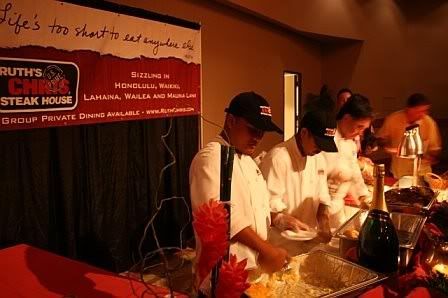 cedric from visionary and naomi from pacific edge. two representatives from both of my jobs. together! such a sweet thing this is.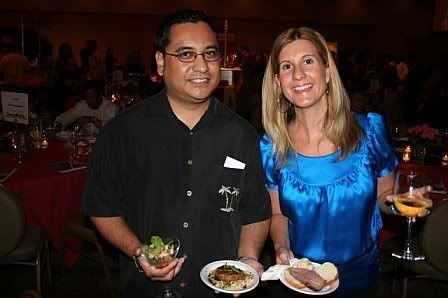 speaking of sweet. red bull!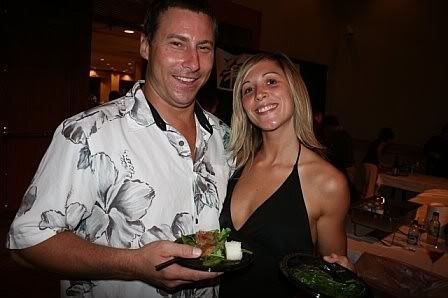 and… other things!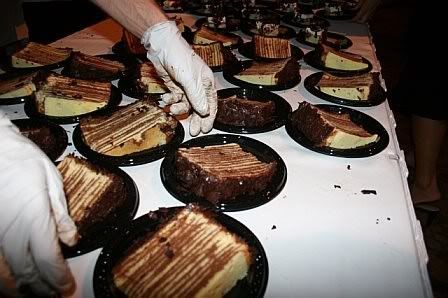 WOAH!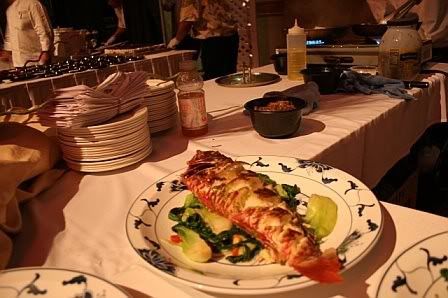 omg ha ha do you remember me! i lurked you before with like the exact same look on your face, hahaha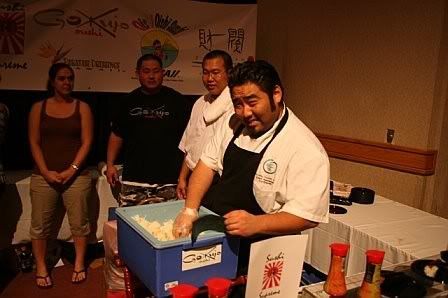 avco won the technology service award, by the way. aw! it's not like they have a 37 year history of doing business in the local community or anything!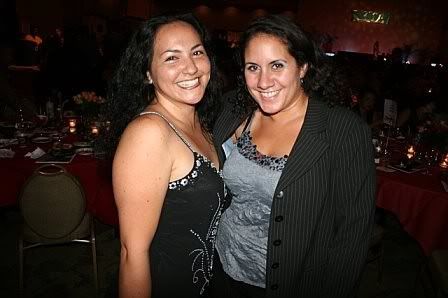 the pacific edge table. and look! darin from sweet nothings!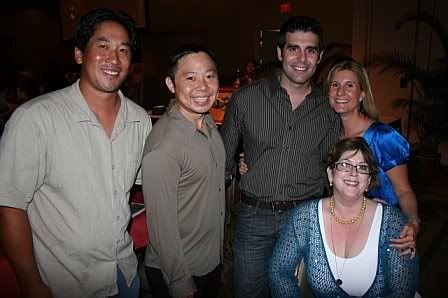 hi!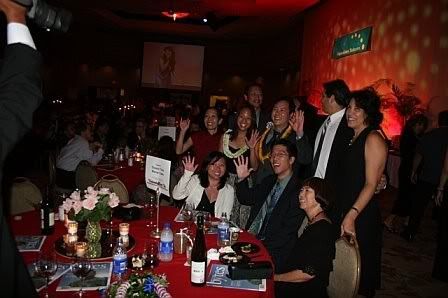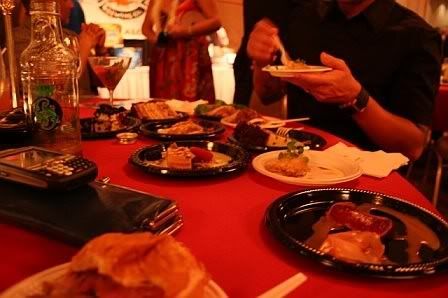 jasmine trias is HUGE as in gold record huge. you have no idea. or wait, you probably do. i didn't. man. i'm SERIOUSLY thinking about getting tv….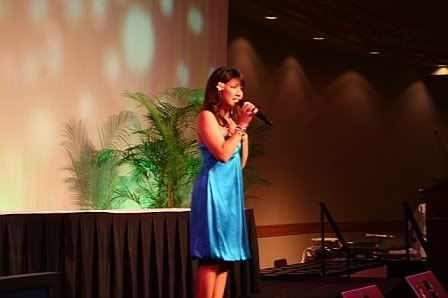 woah.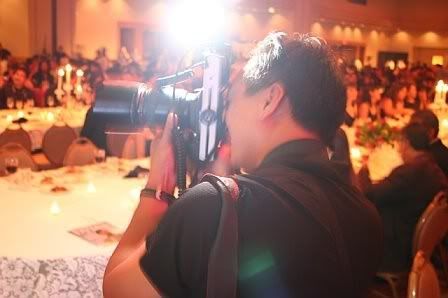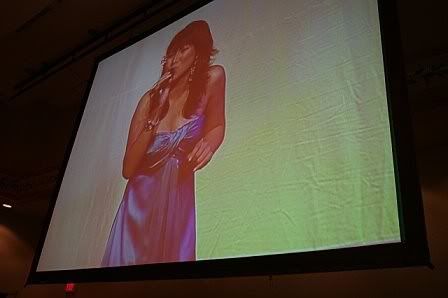 ok you seriously WHAT did people have to do to get this…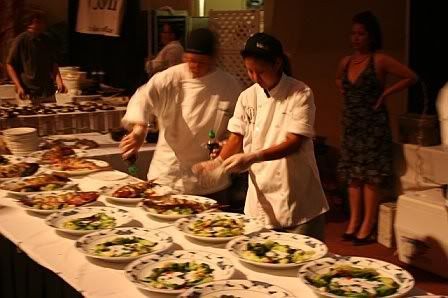 …because i sure didn't. LOOK at this! holy yum.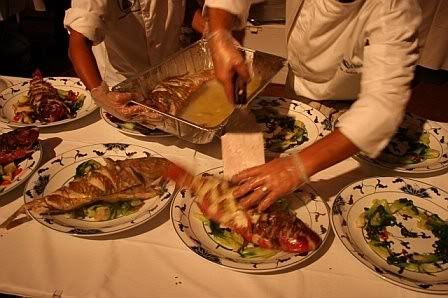 aw. elliot takane!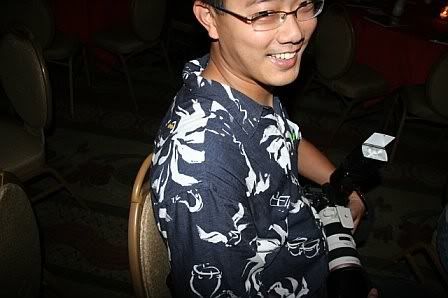 oh. hey, mayor.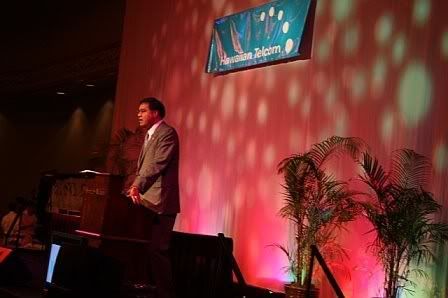 you know he was saying some things about the future of technology in honolulu that had me kind of hyped you know. i'm also very happy with the city and county boat thing that he's really trying to get off the ground. these are steps in the right direction for a city such as ours do you not think?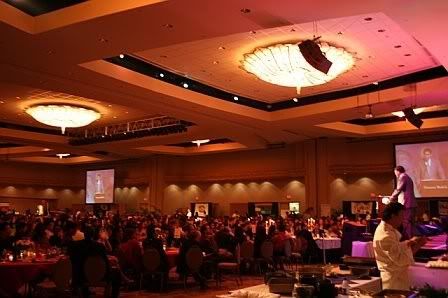 oh hey! you guys are here too!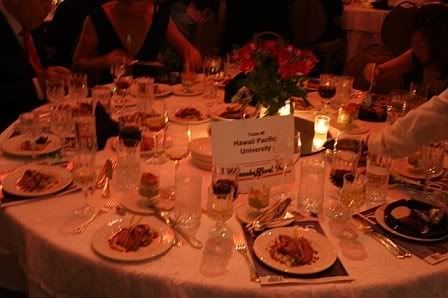 here here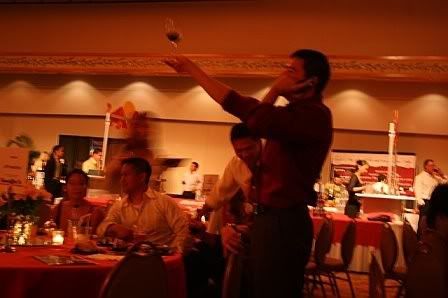 HEY! nice…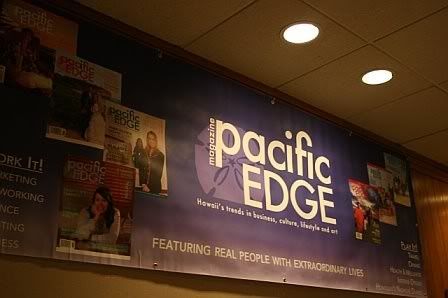 ok that's it. it's late. i'm tired. don't EVEN think there's not some extreme fun happening this week tho. hello! senior frog's party debut from vertical junkies AND flash and matty?!?! holy double team! see you there thursday. and don't even get me started on this friday. as in first fashion. it's going to be DOPE. i'll mention it in my daily [ahem, far left side] update but go ahead and rsvp to info@alohatower.com NOW because you'll automatically get a rad goodie bag with GOOD stuff and free entry to all the after parties! FASHION!