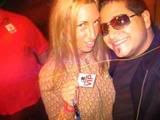 Oh maleko. seriously. you are one of my favorite people. infinity. you may or may not know about our mutual inner geek. maybe you do? did you ever hear the club301 podcast? be careful. there's swearing. but ya anyway, check out what him and KEVIN COTTON have been up to! sign up for the e-mail update too if you really, like REALLY want to know what's going on. they lay it all out. arts. culture. clubs. parties. dive bars. street fairs. like today, for instance. i'm sitting here all overwhelmed with life and it just dawned on me that it's friday. SHIT! then i check my e-mail and have this nice message from them with links to pretty much all that's happening during the busy halloween infested weekend. i would highly recommend subscribing to this e-mail blast. it's unbiased. it's all honolulu.


don't worry, i'm not on some hiatus. i'm just so crazy busy you really have no idea. maybe you do? one of three usual questions is "when do you sleep?". ahm… that's a good question.
if you listen to 93.1 ya the spot i do is totally out of date and might be for a minute. i still have a grip of shots from ctrl alt del and shiny toy guns and the rest of hiff. and the lion king cast cabaret show that i got to see for destination dance groove hawaii (WHAT a night). soon. soon.
ps: thanks for all the nice comments on the last photo update. it matters!