….was just one smidgen below "out of hand" settling in comfortably around the "crazy" mark just above "spectacular."
Full photo blog starts NOW!

so what. we got lacy opening a lil champagne…
maggs lookin a lil to the right…

THIS face.

me and sarah honda in a tie breaking shoe battle. you will never beat us.
speaking of my favorite scensters…. mister russell tanoue in all of his grand good side bestness

dressing in theme on wednesdays is the norm at acid wash by the way…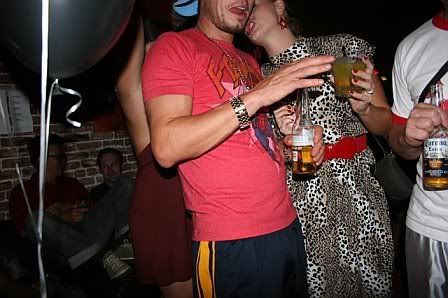 ivan was doin a lil double fisting…

were you there? there were balloons EVERYWHERE. good call….
the usual scene these days. damn mike. good work. it's about tripled in clientèle since the beginning days…

lucy was there…. [drool]

you know what i'm totally fine with getting older. as long as i get to keep doing the hair. k? thanks.

ps i was beyond giddy tonight.

did i already mention the balloons? ok. because that was totally going on.

professional ice skater nikki mcmullen. there.

and in theme. lovelovelove,

oh WHAT. that's right! nocturnal sound crew. these are the BEST ones. they do it once a month. nocturnal sound creeeew!
omg corey. the only white guy i know that gets red faced from drinking…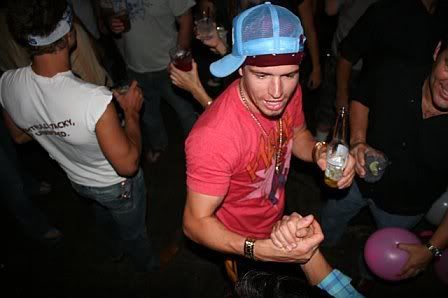 alex dot com! someone tell him i WAS SO at his launch party friday. i so was. the photos are somewhere. swear to god.
chris and terren what's up! hows parties?

nocturnal sound CREW.

don't think there wasn't a lot of people there.

and don't think pommy was even a little bit sober.

seriously got nothing but love for them. it was impossible to not dance.
woah. matty's shirt close up. bamp!

haw haw terren was doing his carlton dance.

huh russell?? all of a sudden a little untrusting of my lurking abilities? come on honey, have i ever gotten anything other than your good side…

friday art walk. with a broken camera. yes a broken 20d. the battery is charged but it says the battery is dead. any advice? in any case, this is the first and last friday shot.

BUT! there is proof that i was totally at first friday and the dosomethingtonight launch party. in a video. that's been shortened. a little.
Moving on… to the lost vault of shots from like 3 weeks ago that I just found… i totally had coffee with enigmatic davie wilkie! davy shindig! too bad i didn't have the camera for my guest DJ set with him on his friday show. you would die if you saw my selections…

this is like the 3rd CD he's made me. they are all super good. just a totally awesome perk in the world of friendship-with-dave.
and since i'm a wahine and since i'm social i'm TOTALLY a social wahine now! omg! it's so fun. the meeting was at cookies by design…

cute cookie overload!
aw!
aw aw!
ladies and gentlemen. introducing…. my future husband!!!
this was actually a lot of fun. we got to make cookies and meet each other and well it was pretty much the cutest best night ever.

i love LOVE morgan childs by the way. she was the one who did carly's riveted launch before. remember that? omg! TOTALLY transformed thirtyninehotel. i walked upstairs into new york that night. she is amazing you guys.
ran into candee on my way to geeks in manoa.

walked in to the most fun geeks in manoa (do you still call it that aaron?) meeting by far….

…we were actually there until the borders people kicked us out. hardcore! SO much fun. i love these guys.
worked this past saturday….
did a little something something for the smart car though, so it wasn't like REALLY work. it was fun. … smart car invasion!
so who thinks brandon, who is like 6 foot ten thousand, can fit in this car?
guess what he can
just got off the phone with nateo. he said he was in san diego for asr but not "asr proper" haw haw. i was at a trade show of sorts myself. the hawaii woman's expo! that's right. proper.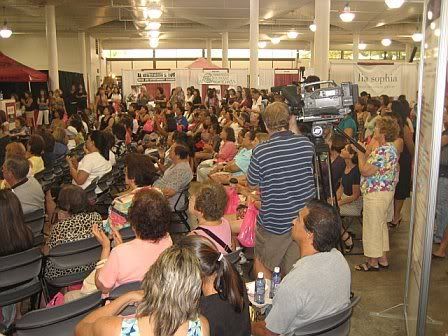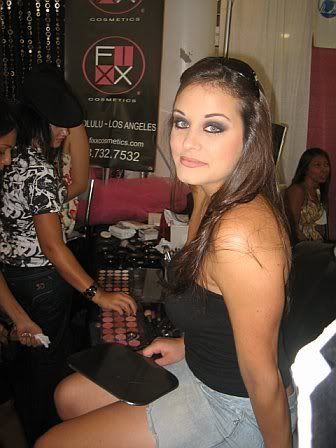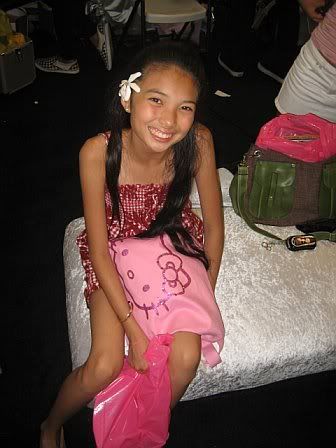 jake the snake has another event coming up this thursday people. don't sleep!
saturday night showdown in chinatown and gourmet dinner from js market. what!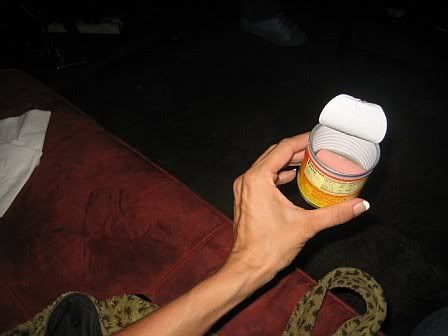 sorry sorry sorry i know you usually tune in for my brilliant commentary and that this entry somewhat blows. you know that's how it is when i'm in a hurry. unfortunately i'm cameraless from now until further notice. we'll see how i figure this one out. i DO have a smaller camera with a broken display courtesy of mako but it's kind of on the north shore right now…. but just WAIT until you see THOSE shots!
til next time…..