slowing down a bit these days. …
…i seriously know what amy is talking about. i would elaborate, but i think you already know what i mean. if you don't… don't worry. it's not necessarily a bad thing.
meanwhile on the north shore. i chilled with jessica rabbit last weekend…
…and terrorized her new old puppy. remember the one she had in her purse at longhi's? (shhhh.)
hi!
chill

skip ahead a week to downtown.
friday.
taste of the arts!
nice selection. not nice prices.

honey walnut shrimp on a little plate, please.

george! what's up! remember me? s'ok if you don't. i mean. i look kinda different now.

good presentation on cooking, by the way.

get to mark's! they have some killer paintings up right now. now now now. hurry!

ps: i love those mirror things that show what you're doing. ever since kid koala i'm an advocate. i'm trying to think of all these things you could do with your hands that people would want to see. like… ah… clipping your nails?

aw. HI!

anne! HI!!

teach ME how to shoot HDR you guys. [ps: HI!]

hi hi hi!

hi! [ps: omg! haven't seen thomas since paris. what the…]

ps: joe has MOO CARDS! what the… these are the ish if you don't already know. a select handful of ppl on oahu have them. but i think it's catching on…..

meanwhile on stage. the best band everrrrrrr. tempo valley!

aw. little james on the drums back there. such a talented family.

omg! kitty chow! totally my favorite favorite cherry blossom dancer. looks like stuff on stage is about to get ill!

in a good way

i wonder how many people have seen them before? it went over VERY well i must say. i think people were scared/excited that they were really going to, ah… you know….

… but yay! you should know by now that a cabaret is NOT stripping! it's a tease. a classy one. i'm in.

shit! what the. GAH! i guess i can tell you i was on my plan C camera. one has strange not-working behavior and one was on the north shore at jessica rabbit's house. this one is like from the 90s and … well i did the best i could.

PS: i should mention… it's the HEAVY camera users that usually do go through quite a few in their lifespan. i know shad has had like 5 broken cameras at one time before. it happens. it's not *necessarily* because we're irresponsible…

… just heavy users.

woah. sunday in the trees

it's nice how you can drive like ten feet mauka…

…and wind up in straight up jungle.

or in this case, bamboo

the most practical i ain't. but eh. payless shoes, it's not going to kill me.

main destination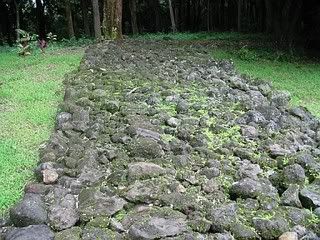 meant for dignitaries, and guests of royalty…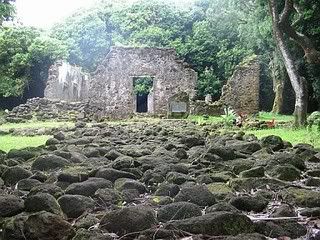 …at one time

ya you know, if i was you i would find me delicious as well. look at how veiny i am. yum yum!

that's all i got. i'll get more. plan C camera is actually quite nice. when i use it properly. that's the same type of camera i used all year in '05. now THAT… was a good year.
so anyway. OH! congratulations tim jackson… i heard you won the sunburn classic at a'ala park. very cool.