not trying to scare you, but i'm really in to these entrepreneur/geek meetings that aaron does. super interesting stuffs and interesting people and each month there's more. and more.
broke out after to lurk the barely legals at o lounge. it's been a while…

oh what the! it's a bomb event. rad. jt was there then.

and so were they…

oh WHAT the haw haw! look at who caught derin in the middle of an "i KNOW right?" back there!…..
russ was fashionably late invisible tonight. bummer! good to see the rest of the junkies tho. muah.

kanoe part 4!

so charlie does the work of about 7 people here at the station, then continues on into the night to scoop the parties. tell me that's not A+. give this boy a raise.

derin also gets a raise. to my favorite boy on the island. i was starving so he brought me some leftovers from kochi.

*sigh* cw loves u forever infinity, favorite boy on the island. i don't care if you're always on the phone or not. i will never care. f.b.o.t.i.

what's strange about o lounge is that all the smoking hot ladies usually arrive there early, then all the boys come later. then it gets crazy crowded. snogfest. classic. we loved it. left early tho. it happens.

this shirt! again! i've seen it somewhere and i couldn't remember… now i do. ERIC!!!

oh, sorry. it's still wednesday. and it's time for friday-for-grown-ups. acid wash. yea-UH.

it's not all grown ups tho. also stylish fashionable trendy talented singer designer types. hi!

and lovely big smiling faces types. HI!

and deliciously golden bronzed boutique and fashion types. HI!

and dosomethingtonight website guy types. HI HI!

and sean remos's hot lady types…

and… HEY! where's your smile mister

ah. ok. thanks. ps: DAYUM.

woah JOY!!! you are looking crazy smoking hot these days. who are you seeing? you know if you started dating this guy in the photo above you here it would be like this total brad pitt-angelina jolie status.

seriously the best night out ever. like ever. ever ever.

so check out how weird this is. antwan and i were chatting and randomly figured out that we were born on the same day in the same year. like, the exact same day in history. i tripped out. even tried to take a shot of our ids together but that didn't exactly turn out.

shaun is back! what the…

mike the filmbot is back too. WHAT THE! lyan rau! [shaka]

haw haw shaun, part two

my shoes win. sorry. but they do.

corey! dig the makeout behind you bro.
ok last one of shaun. but come on man, i never see him.

…or his friends.

talk about night of the return of the living dead! LUCKY?!?!?!?? dope. i hear he has a new tattoo shop something too. WHAT THE! tell me more…

ps: mikendo is gone now. and ryan has a website now.

skip ahead one night. and a few years. dave lawrence is celebating 5 years of dave. just 5? well then. hooray dave!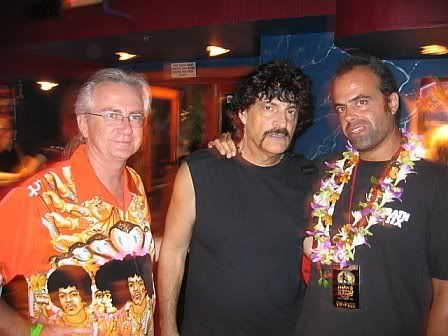 you know who he reminds me of? do you remember brian nordberg? U.H. volleyball circa like 2002? the saran wrap headband guy? he was hot. anyway, long lost twins? i think so!

ps: it doesn't look busy because i am very early. wanted to make sure the smart cars arrived!

but it was a nice chill sesh with dave hisaka and the legendary b-rock

and cedric! the eerily laid back always smooth promotions director that SHOULD be stressed out but, like, never is.

frank b shaner showed up too. sorry i'm not really getting the best shots here.

raiatea helm's new band! ok ok ok it's 'technically' mick fleetwood's band. but raiatea! woo.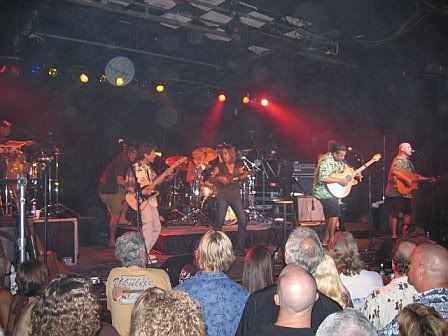 don't think the green machines don't know how to have a damn good time.

our girl is all growns up! this is a really fun band by the way.

don't think suzy ford wasn't totally there too. grown ups!

speaking of grown ups. OMG! Yvonne Elliman!!!! i'm seriously fanning out right now.

i HATE HATE HATE having my pic with famous people. i feel like SUCH a 'tard. i can never pose right because i'm all nervous and wind up looking like THE biggest geek in the world. in this blog entry there will be two that prove my point. here's one of two:

frank b shaner sent this to our table. at least that's what they said. i wonder tho.

skip ahead a few steps west.

stopping by next door to see how lacy's benefit is going.

hi!

lacy WHERE did you find these edible flower things. they made the champagne sooooooo good. it was the eventual end of me. but very good.
what is THIS face? lame. yuk. stupid yummy flower champagne. but i wanted you to see my 'animal' motif….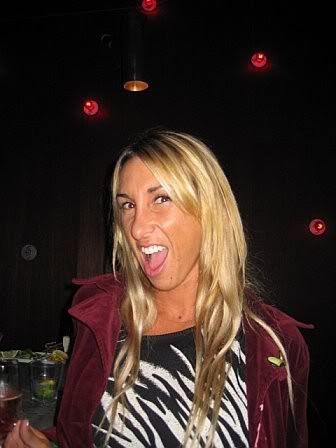 …nice huh!

purse too. but this one is always with me. like always. i will most likely be buried with it just so you know. it never leaves my side. mainly because of who gave it to me. i miss her.

woah.

still friday? well thank you charlie for continuing where i happened to leave off…. it looks like fubar was a grand success… all the photos are here on our website for the zone. what! hi ladies!

hi russ!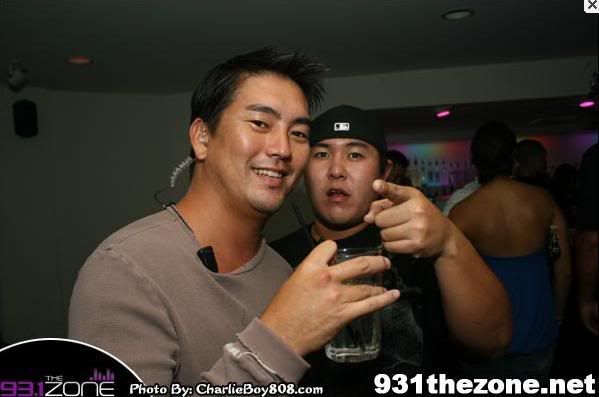 hi you. who knows this guy? i saw him wednesday and didn't get a chance to say hi. you were too busy taking photos of every gorgeous girl that was there. where are you putting all your shots dear? us lurkers need to know…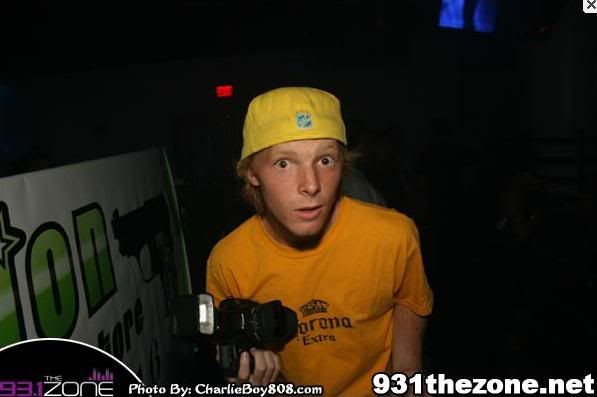 ok so skip to saturday…

…at the waikiki shell. i don't mind, disney– but thanks for the heads up!

some lost enthusiasts if i ever saw them. esp ryan ozawa! woah man. he is the number one lost fan on oahu. have you SEEN any of his podcast weblog tv interview website lostpedia project things?!?! trust. anyway, i grabbed joe and ryan to help with the show and i'm so glad i did. they each took WAY better shots than i ever could. ryan's and joe's.

the wine at the pre party was like voss. only wine. but voss. wine.

empty…

…shell.

HI!

lurking the pre party…

…and michael giacchino. HI!!!

lurking the percussion too. actually eric took these. and HOLY SHIT eric!!! thanks for the hook up this was the most amazing night ever. like, ever ever.
so michael's score for LOST actually called for an actual sound from an actual plane. eric actually had to find an actual piece of actual plane. believe it!

and starting now, i'm SO sorry. the shots involving any of the lost cast will suck. bad. as in no flash and total lurk status. i HATE taking shots of celebrities. if you know me you know this. it's just awkward. esp if you're at a party with them. you want to be the cool one that has the conversation not the oozing fan that's drooling w/a camera. i was a little of both here with narrator terry o'quinn. it was hard tho. i mean. the guy just won an EMMY….

oh NOOOO! so busted. shit. ugh. SORRY.

sorry sorry. but yes that's daniel dae kim again. he was SO sweet. totally remembered me. we're like totally on that level now. it was so rad. there was no way that i was going to ask him for another photo after that. now that we're like on this super rad FAMILIAR basis. i have to resort to stalker like lurking. sorry…

i was actually getting super nervous overall. this helped tho.

michael giacchino and jorge garcia saved my ass. even tho i hated having to ask for a photo they were nice about it. and let me! i really didn't want to be in it but ryan insisted. they both were so cool tho talking story with the crazy hyper blabbering stalker that is me when i'm around famous people. thanks for that you guys…

i was reeling with pleasure for sure. i'm FAMILIAR with the lost people! woooo. i was even standing by the bar at one point talking to this super cool girl and her friend came over to talk story and it was evangeline. EVANGELINE!! i was trying to be cool but it was hard. normal people they are, yes. stunningly beautiful people that are super famous, ALSO yes. jesus my hands are sweating thinking about it. let's go check out the orchestra.

woah! they starting…

it was so so so good.

lurking around backstage…

there was SO much percussion in this piece man. and only 4 of them playing. so crazy– they were hustling like you wouldn't believe. i couldn't leave this spot it was so cool to watch.

intermission with gerard. hey…

HEY!!

i wasn't hungry anymore thanks to the voss looking wine. on second thought i really should have had some tho.

saw the second part of the show from my seat. it was soooo amazing.

jorge!

couldn't sit still. had to see how this was being done. i mean, it's a big deal!!!

michael conducted the last part! it was so good. i put a video up earlier. i know it sucks but …. you can sort of get a feel for the piece. so powerful!

ps: don't think there wasn't a lot of people there…

and don't think there wasn't a standing ovation…

oh ya and ps: i was IN THE SHOW! …and don't think i didn't freak out times a thousand when carlos showed me his shots. WOAH!!! i'm totally an OTHER!.

this was probably the coolest moment of my life so far. and i'm not gonna lie to you… that's saying a lot. thank you to eric and kristen and abc and disney and lost and friggin the universe for this special moment. i wonder if you'll see this part on the season 4 dvd? the future only knows……

erm… that's all i made it to this weekend. sorry. i know there was a lot. but free alcohol both friday and saturday did me in. in in in. i'll have to watch that. hope everyone had a good one.