…maybe it's time to try a fried candy bar and see what the heck happened to the old Dawg House in the International Market Place. I hear it's called Lava Rock Lounge now. I also hear it goes off… and I think there's even like this whole cave thing going? OH and I remember someone saying $2 mai tai's all night on Thursdays. I don't think that happens anymore–wait, I know it doesn't. JENKO is there now and she's doing live bands and PBR specials. Sounds good to me.

see what happens, it's on til 4am at that spot. I'll be at shoe diva early. you might still be able to rsvp for that so get on it….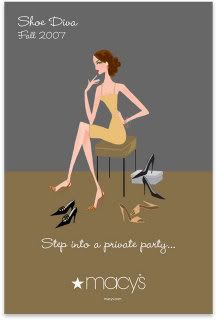 SMART & Macy's Present Shoe Diva
Thursday, September 27th, 2007
6:00pm-8:00pm
Macy's Ala Moana, Designer Shoes, Level 2
Join Macy's and SMART for Shoe Diva, the twice-yearly party that celebrates one of our most favorite things: new shoes! See the latest collections from designers Betsey Johnson, Bruno Magli, Calvin Klein, Coach, Cole Haan, Donald J. Pilner, Michael Kors and Stuart Weitzman. Hors d'oeuvres and complimentary cocktails will be served while guests try on the latest and most fashionable footwear. Customers who spend $250 or more will receive a $50 Macy's gift card. And you can enter to win great prizes, like a pair of shoes from Coach and Calvin Klein (!) and more. The party is free and open to the public, 21 years of age or older, but reservations are required to attend. For more information or to R.S.V.P., call 945-6427 or send an e-mail to MacysEventsHI@macys.com.