well that was fun. the whole creating this then having to create it again thing. yaaaaaa. woot!
sidenote: check out the photo of the week i was there! he's brilliant! *sigh*
(standy by for fanned out lurking-by-cameraphone evidence)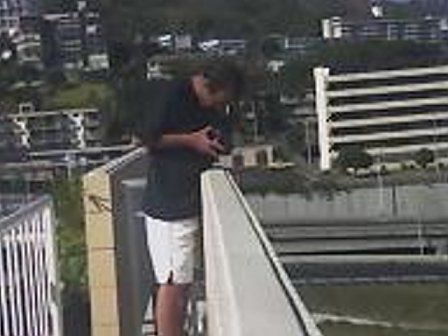 so skip to last week. did a little celebrating with the king of fab at you-know-where. it was a very good july, thank you mobilyplay and trulia!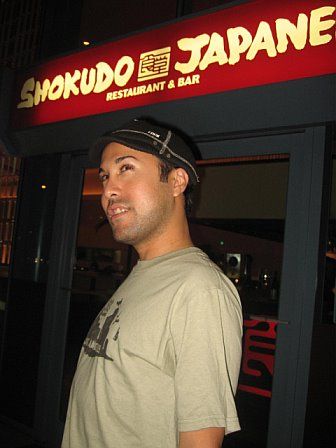 so birdhouse and transworld came out to skip around and jump in front of the NEX. missed that but caught up with blair and lance. blair takes a ba-zillion digi-shots too.



i wish you could see germ's hat better. it was plaid perfection!



sad face by resherrific. she says it's because she never sees me anymore. AW! what about friday boo?



it was a dinner-free super sake night for me. truth be told i'm pretty much over shokudo. at least for now. check back in three months



chris kays has never tried sake before. seriously. i know, we were all shocked too.



homegirl had a nike ring. MAN people from the mainland are sooooo stylish! *swoon*



skip ahead to last saturday. er. ooooo web time travel! super fun stuff right? time to go back up the hill to the contemporary! the spam is still there-- only some has dried out



this video is the drive up tantalus with the camera pointed towards the sky. looking down at looking up.



manila folder ship. seaworthy. worthy.



jeff told us this artist was there until the very last second installing this. oooo insider info! i saw the pics too.Mbr>


one colonel two colonel



skip ahead to this past saturday. BAMD CAMP! has it already been a year? damn! thanks philip and matty for the vodka bar and unlimited chili dogs. seriously. damn.



daniel takamura knows pennylane



steph!



ah, doin a little promo i see!



morturary chris's hair grew, like ten feet since i saw him last.



malia has lowered her shirt sayings to a PG-13 level



new crush: barely legal backstage vixens


old crush: grown-up backstage vixens. maria and maggie!



so the show today was BMP since aubry is off-island. actually, it was BMMP since monica was high-tailing it all over like i've never seen. ps: monica? who are you kidding with those glasses and a ponytail! everyone! that's MONICA IVEY!



unprompted simultaneous snarls from vince and sarah



so the show was at the waikiki shell this year. i had a LOT of fun at kaponos last year but HEY! everyone loves an ampitheater...



the sporadic rainshowers we've been getting managed to hold off for just enought time today. thank you, weather



shaun mendiola! how's foats?



actually tried to get diamond head on the horizon. totally messed this up. ack.



so hot hot heat was pretty good. i actually liked all the bands. it's been a while since i've seen any mainland bands. way to stay up guys!



hot hot heat was a crowd favorite



random something from sunday for you



skip back to this last friday. oh the fun! and HEY! it's time to celebrate kyle's birthday with a trusty old bottle of gg...



..and his BFF! aw, my bff's bff. and don't let germ fool you! shit was exciting!



HEY! claire is back in hawaii. we are all pretty excited about this.



boat-rob will be playing the role of "just rob" for now. he sold his boat to get a bigger one. and brad from bamp is looking not even a little bit lonely without the AMP.



yes the new issue is out and KIETH MALLINI IS ON THE COVER! ahhhhh!!!



don't get super excited. but my column is in there too. you can get it at borders.



skip back to saturday morning (ooooo web time travel! oh the fun!)



the boys woke up super early to go to sean kelling's brother tony's house for a big ol birthday luau. and i'm not talking plastic lei and paper cups with pink hibiscus all over them mister! they actually dug the imu and burried a pic for kalua pork. say hello to the traditional hawaiian stove, friends!



haiku plantation.



this reminds me-- me and kyle caught a GIANT HUMONGOUS catfish on sunday with our bare hands. serious! we let it go though cause hey man, we're city slickers.



speaking of traditional hawaiian cooking. there's kenny brimer pounding out some delicious poi!



the new baby!



done good!



this is what poi looks like



it's very similar to kyle's day job. sort of. actually, neve rmind! but he does super good at this



so that's it friends! take care and such. see you next time.