well then. i was totally at next door for indie night last tuesday. proof.



my heart....



...is sick of being...



...in chains.



but! it's wednesday now. august 1st! BLAZE! finally out of the twenty something abyss. that deserves a congrats man. for real. trust me. 30 IS the new 20 and whoever tells you different just stomp em.



HEY! wednesday pau hana and we're driving in the opposite direction of the listening party?!! what the...



ps: love riding in sarah's car.



went reeeeeeeeally far.



nah. we're at the water park. the hawaiian disneyland! because no beach makes up for riding super fast down a wet plastic tube.



actually, it's a fashion thing. fashion!



with music.



molly rushed back from the bathroom looking for quarters. i thought she needed a tampon. no way! there were all these fun little toy machines. we all got engagement rings and little bouncie balls



...nice dave.



fell in love with the band. like, all of them. lost at sea they're called. and they play jazz minds every monday and wednesday night. guess i know what i'm doing next week.



i've seen jake every night this week. he's working over time to promote. for the love....



no seriously. is it possible to make an entire band my boyfriend?



time for the fashion show.



sorry.



WHAT! woah. who did this? i forget. the mens clothing was really good.



did you see the banger? i totally made a video of it.



nice job!



it's still blaze's birthday! time to get funky



well!



acid wash wednesdays are going so damn strong. they have plans to make you pay never. i can't think of a better way to get over hump. day.



what! YOUR birthday too?? man. august 1st be pumping out the rightness.



i know right.



nocturnal sound crew! KILLING it at acid wash. every time man.



well lookie who i found!



ha ha you guys are so rad.
they were pretty hyped to "finally" catch me. ha! like i was hiding...



but ya they work hard to get the scene condensed into one resource. i'm grateful for that.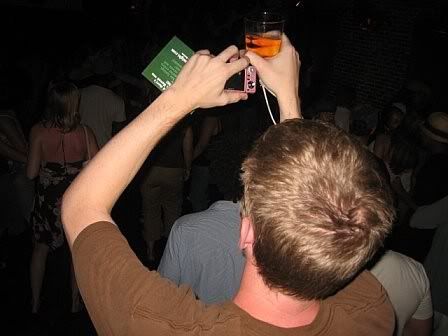 i came over and danced with echo and terren but for some reason my shoes got soaked with water on the dance floor. it was making me do these really odd dance moves. ya. it was the wet shoes people.



it's you!



haw haw



thursday we had a blessing at the station. oh ps: i am using mako's brokwn-display canon in all of these. so i have no idea what setting it's on or if its in focus. overtime.



it was very sweet actually. i really feel sorry for people that don't work in an environment with so much love.



we had a love after party at shanghai bistro. there goes my diet detox!



the bomb is the bomb. number one again i hear. rad.



real deal reed and the real ritchie aqui.



prepare to be disinigrated...



so drew totally made it past the first round for american idol. did you hear? dude. he is such a star.



from day...



...to night



stan still!



i'm at next door now. for the love part two! and guess who ELSE is a leo. ivan cruz!



don't think he wasn't celebrating with a crew.



ladies!



don't think the live art wasn't completely legit.



i hope nobody bought that one on the right. i want it.



hi!



celine + hot rollers = cw drooling.



muahmuahmuah.



so goldenchild is in the jps school. he's gonna be a hair stylist! man i can't wait to see what he can do with my mop. ryan! call me.



smart!



oh, here you can luck sean.



ladies!



terren!



hair stuff!



models!



makeup!



cristina!



ooo i like the hair.



maggie!



don't think there wasn't people there.



i did my best to get good runway shots. if you know me. well.



um ya. sorry?



the fashionistas are having a CLOTHING swap! august 18th. it's gonna include lunch and everything. check it out.



oh you. you you you.



sorry jake. i tried. i think kalima nailed this shot tho. thank god! such a nice job you did.



what the! what am i trying to do here.



loved you.



did you get yours?



get your ten time while you can people. he's only here for another week before going back to sf for a few months.



so i want to say michael keany won an award or something for his article on graffiti in hawaii in honolulu magazine. he donated his photos for a slideshow tonight and i have to say it was nothing less than spectacular.



...especially with soul pacific on stage.



WHAT! hello.....



sorry. i kind of took like a thousand like this. i couldn't stop. i was unstoppable. this act was amazing.



ESPECIALLY during this part. were you there? WHERE is the video......



another amazing installment from jake the snake. nice week! what hey it's another first friday. guess i'll see you at thirtynine tonight. muah.

home