well hello! i see some were wondering where i was. don't worry! here i am! i have been on a baking hiatus, obsessively trolling the baking isles at safeway and foodland trying to come up with the perfect cupcake. serious. i decided that strawberry with cream cheese frosting (the "light and fluffy" frosting) and a wee-bit of pink sprinkles makes THE perfect cupcake.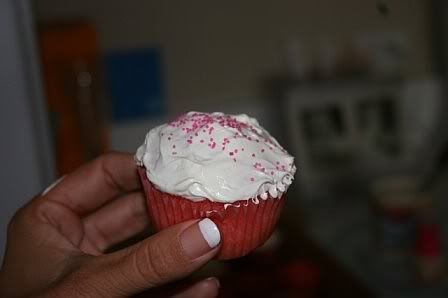 oh, and the answer to your question is YES! i'm OKAY! see, it was my birthday and i wanted to bring cupcakes for everyone, that's all. there was a lot of redecorating going on at du vin that day. the day i celebrated the anniversary of my birth.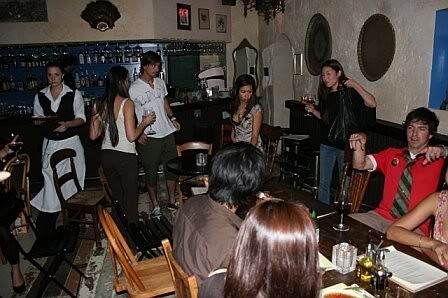 i liked the bright front area with the extra large royalty tables that have a very endearing "look at me!" quality that is necessary on days such as this. but eh. this isn't a 'milestone age' and it's not like the wave is still around to gather all of you to another crazy cw birthday bash. this year was dark, warm and cozy. so dark, warm and cozy, in fact, that we were reading menus by cell-phone, friends.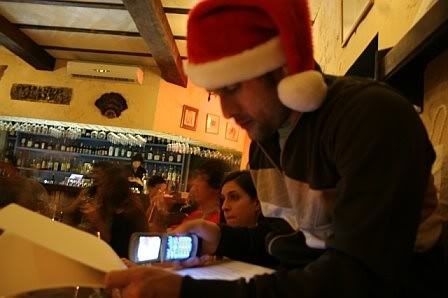 at this point, i just want to say mahalo. really. i love you guys.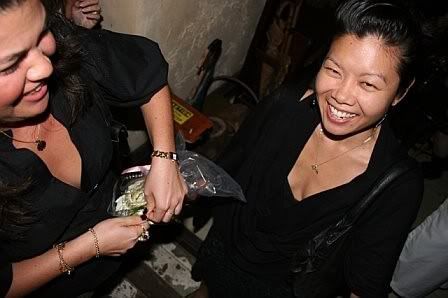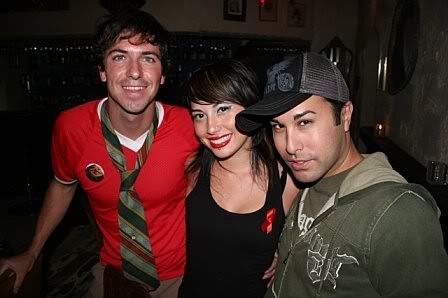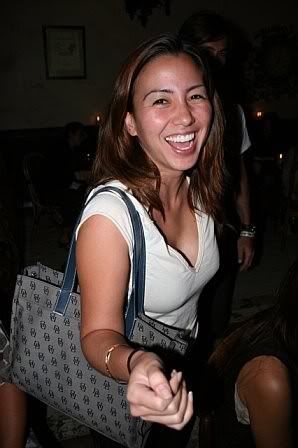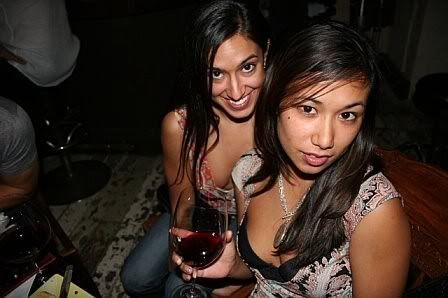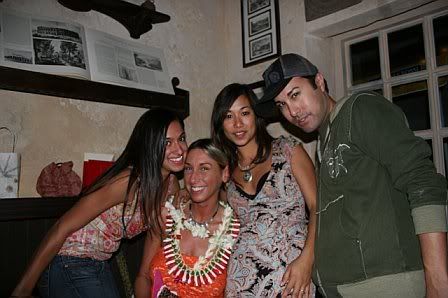 lol, esp thanks to ho'ala and chris, who were pretty much the foremen in the du vin overhaul that was necessary each time more stopped through.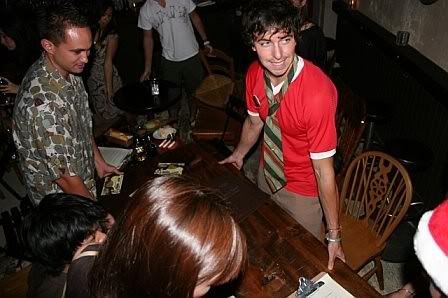 and to chanel who has the best holiday parties ever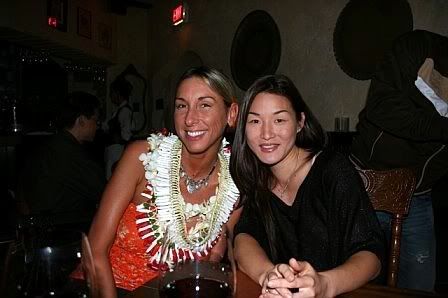 and to princess chinatown for letting me eat half of everything she ordered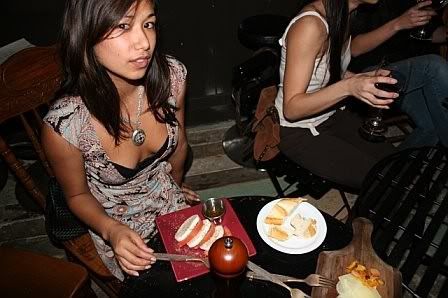 and to flashee and derin for their especially giddy moods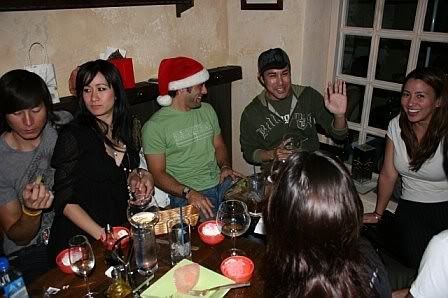 and to miss kaleihikina akaka for reinventing....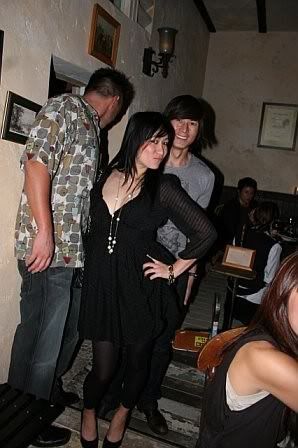 ...fashionably on time appearances. YAYYAY!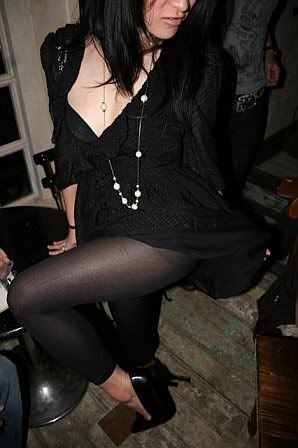 and to the princess of waimanalo for my personal seranade. loveyouloveyouloveyou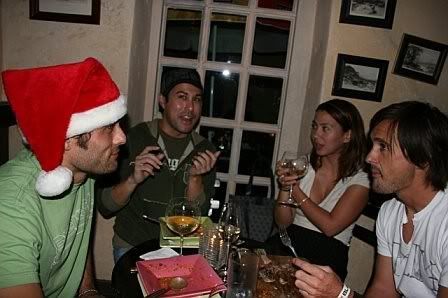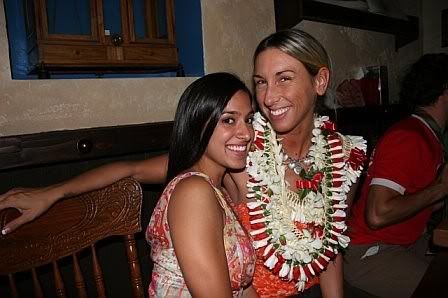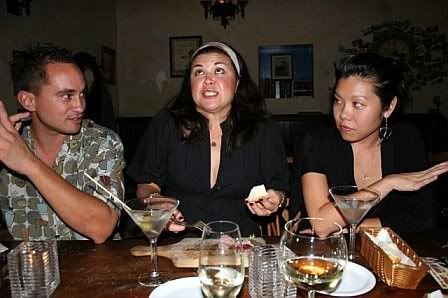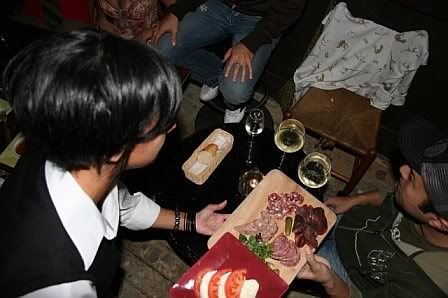 resham is home from boston so she got her xmas gifts from lacy early. welcome home doll.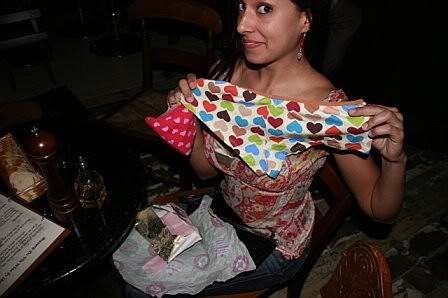 [honey, should i mention friday night's a'ala banter here? no? ok. loveuuu ;)].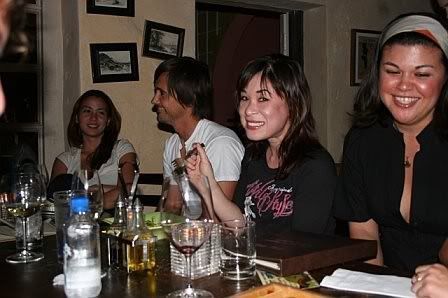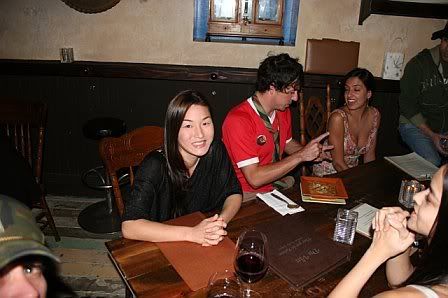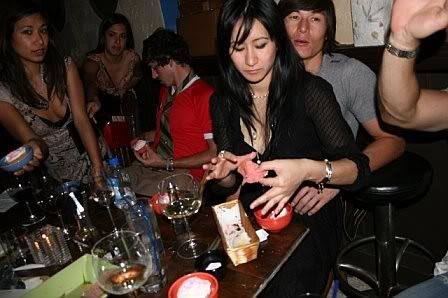 see? cupcakes, man. i'm in to them. i have a stack of lemon ones in the fridge right now.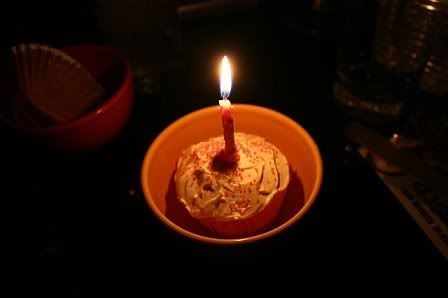 jacquie's card. aw!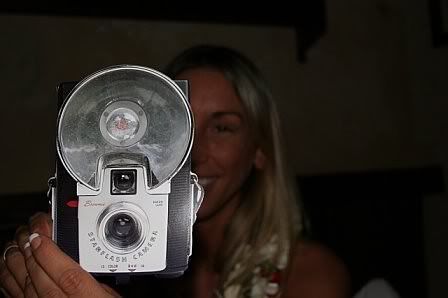 aw you girls....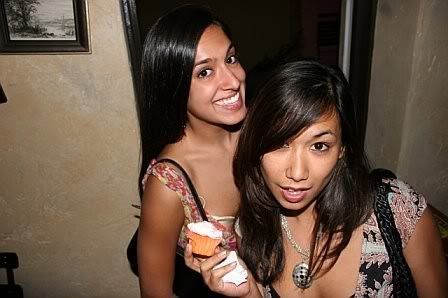 KAYKO!! *pant pant*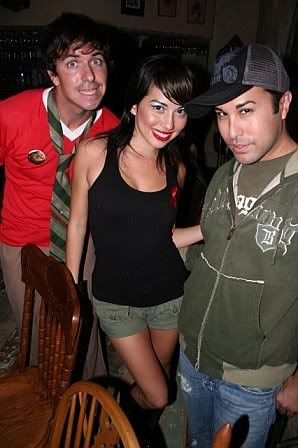 aubry puts the A in BAMP. he also understands essential promo placement, since i was all about this cupcake.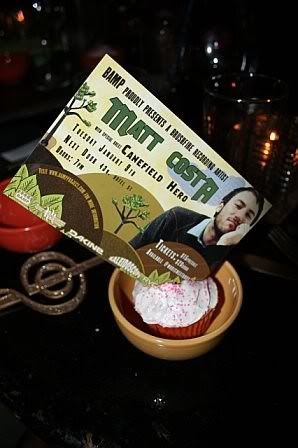 friday was birthday part two. birthday part colonel! mmmmmmmmmm mishen annual christmas bash please? OK!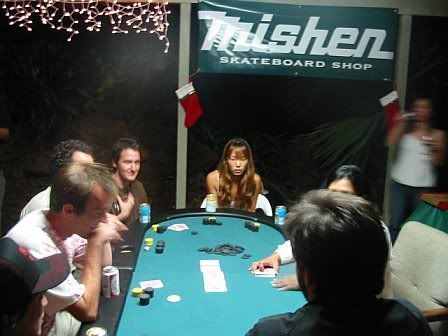 last year we bowled on the north shore, brah. this year we played texas hold em and blackjack.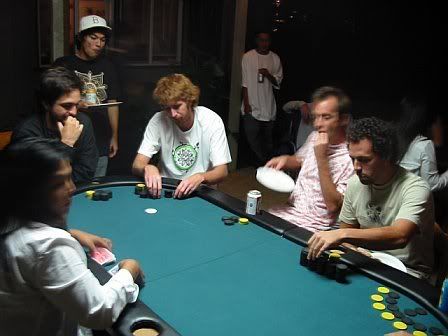 spoiler alert! germ won the tournament.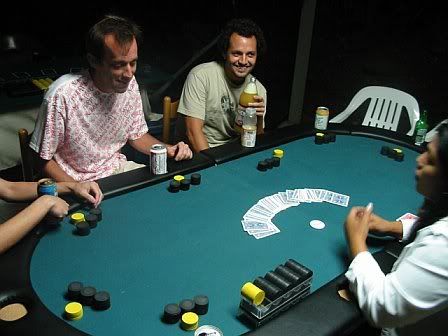 i love love loved this! and hey, you are better at blackjack than you think you are. trust me! try it.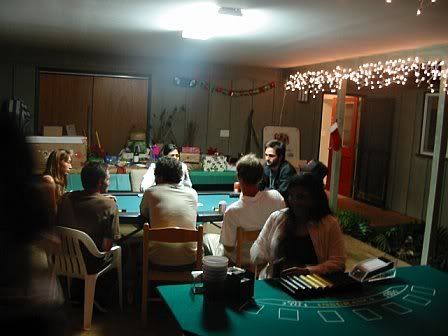 saturday did a lil opposite-end-of-the-island day.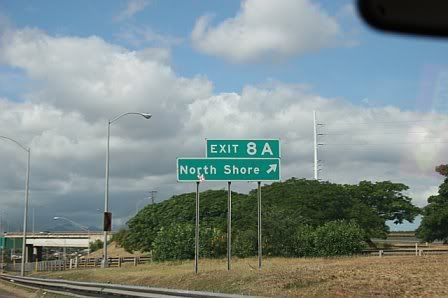 the country is so. ahhh.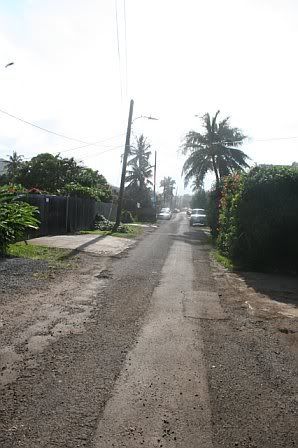 as townies, we... tend.... to.... stick out a bit.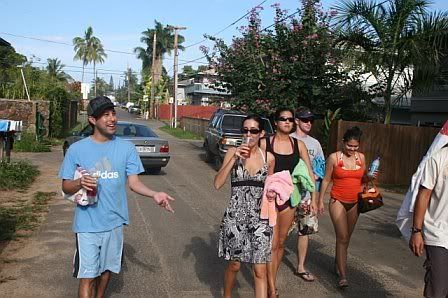 saturday december 23rd 2006. the ocean was ...perfect.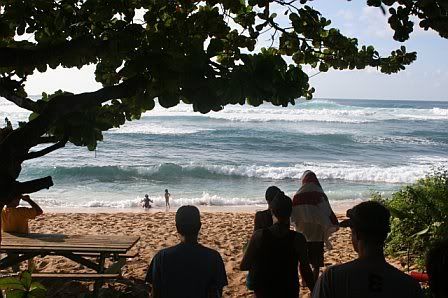 i mean i'm sure there have been bigger waves. but today...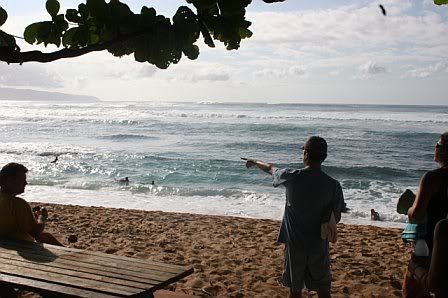 ...was just.....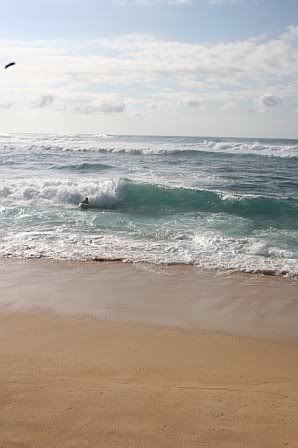 ...perfect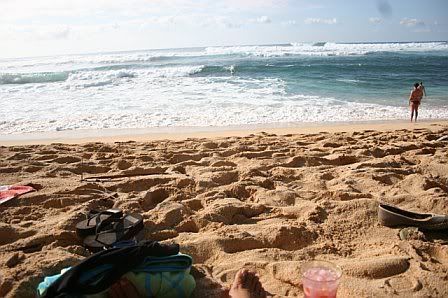 there were people doing tow-in. you know? i think we missed the contest this year. wait, yup. shit was over last weekend. ahhh... congrats andy! mana's got that on lock, by the way



meanwhile in town. what's up with this venture? do i need to tell you that it's not the best idea? stick with ad walls in bathroom stalls, please. this is HAWAII. thank you. love, christa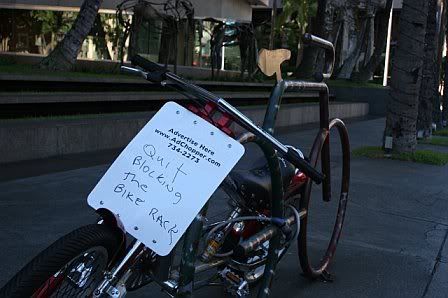 christmas morning with colonel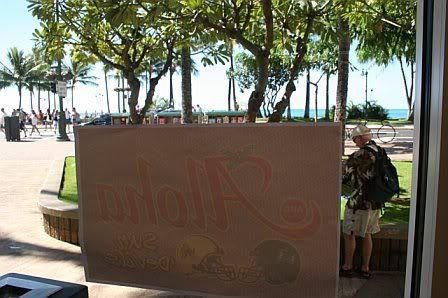 beach and lulu breakfast.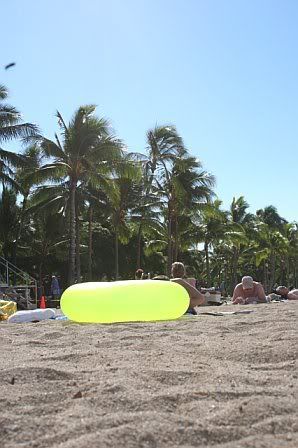 pretty sure waikiki is the best place to be christmas morning ever. for us at least.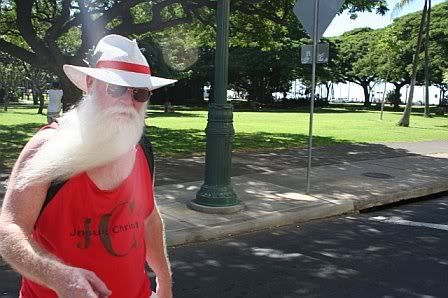 hope everyone had a good one. HAPPY BIRTHDAY LISA!! we're not the same age anymore! :(

safe and happy new year. lovelovelove