uhh, hullo.


gonna get right to it, it's a long one. better warn you now there's about 150 shots loading down there, mister.


i flew out to san diego for another funwackyweekend of asr tradeshow-ing. (last one is here for cross refrence) E CLOTHES ON??!


so ya, chuck happened to be on the same flight over. we had photobooth fun in the airport.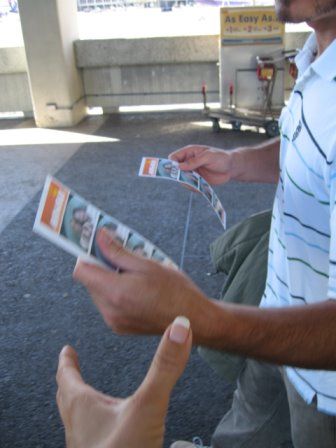 represent!
(was trying to figure out how to get these to kinko's for business cards.)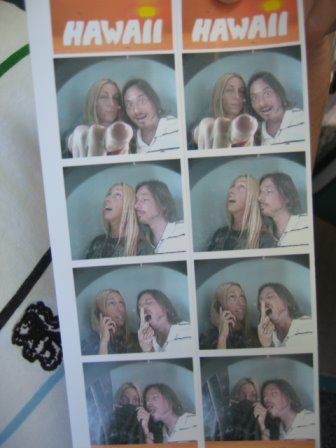 i love love LOVE flying in to san diego. it looks like you're going to land right in downtown. the very first time i ever did (waaaaaay back in 1995) i was seriously freaking out tho.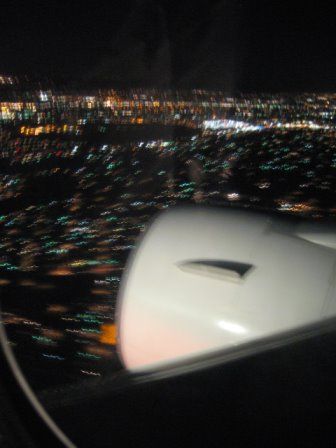 thursday is always the mellow night. cruised at anzai's with the bedpan. watched the latest shitty kids production. it was.... nothing short of spectacular. only had to hide my eyes twice.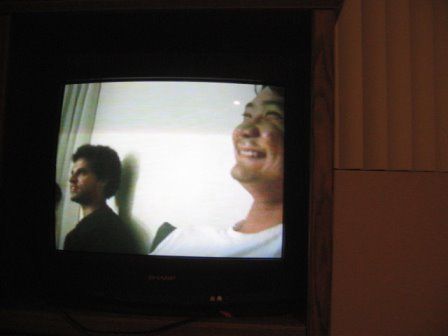 finished off the evening with gregory esquire at beagles. apparently, i missed the peak hours. sitting around drinking beer and listening to records is ok.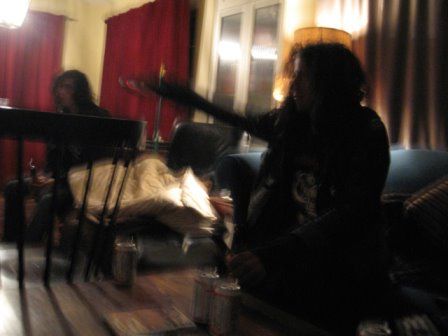 forgot to ask who did this.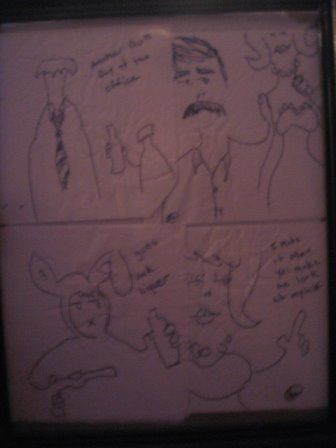 so next morning i headed over to the show. my first stop on the floor is always the volcom homeys. they always have the craziest shit happening.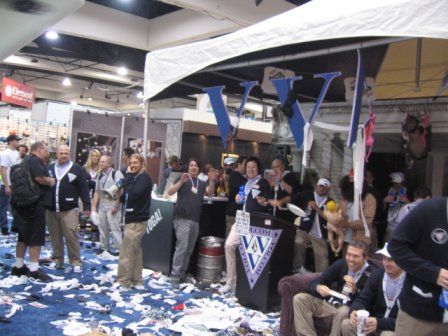 and there's a volcom homey right there. mister stratton. STRATTOOOOOOOOOO!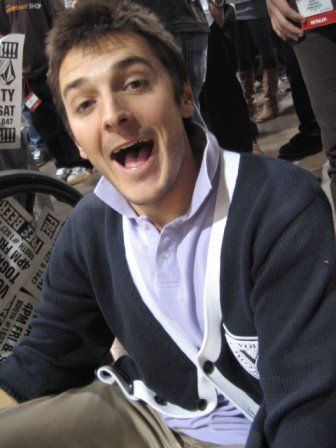 rush chair? BWAAAAHAHAHAH! (get it?)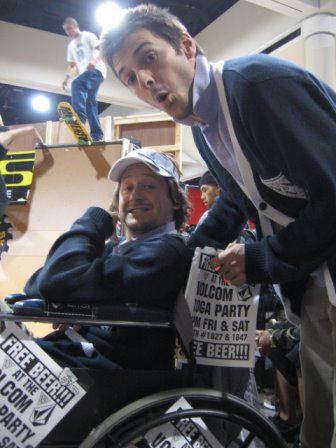 mini-ramp-a-riffic. that's ernie torres up there. can't you tell? come ON!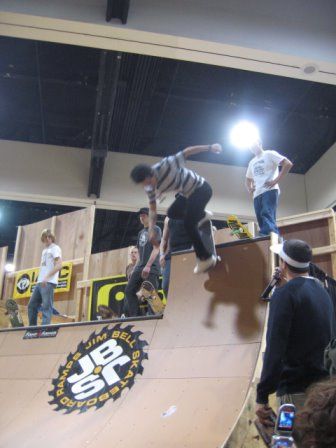 kaikea they had this nice little rail this time. next time i'm bringing out out. wait-- there's ernie AGAIN!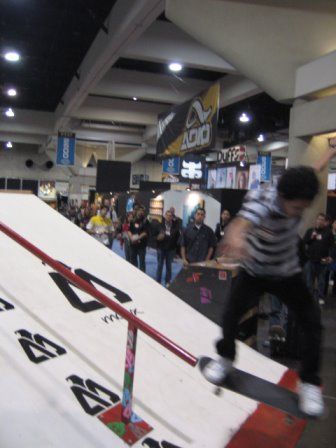 whatwho!?! LIIIIIIIIZARD!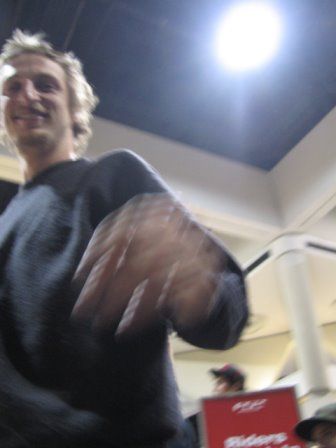 lizard king doing his thing up there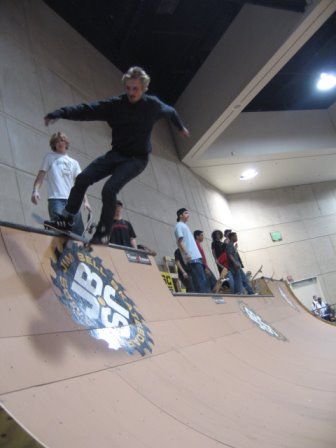 every time i see you you have a totally different look. so hot right now!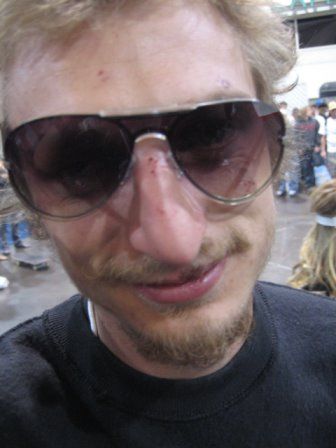 soooooooooo the new supra stuff. seen it?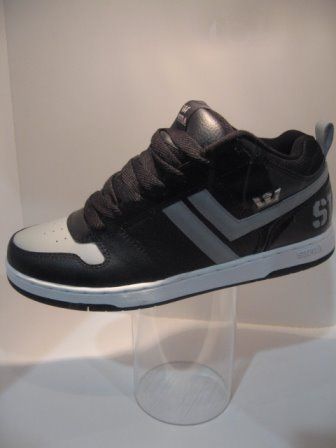 woah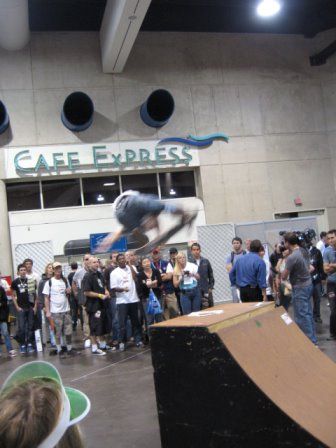 tap on my shoulder. turn around. to THIS face!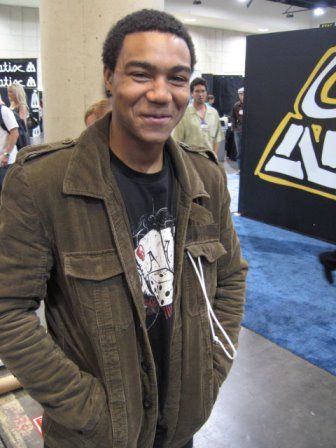 aw! terell robinson! he misses hawaii too. showed him the little heavywater piece on them-- he hadn't seen it. says he's coming back on his own as soon as he can. he's got more best tricks to win first...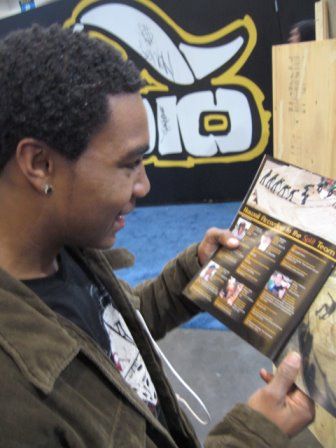 yo eric how's accounts today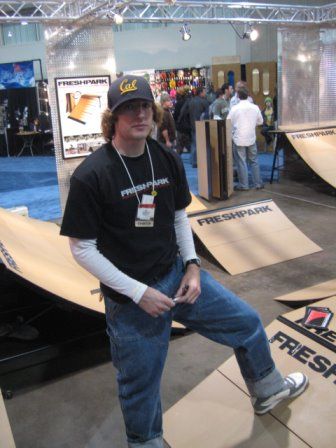 adam dyet kind of won a huge am too.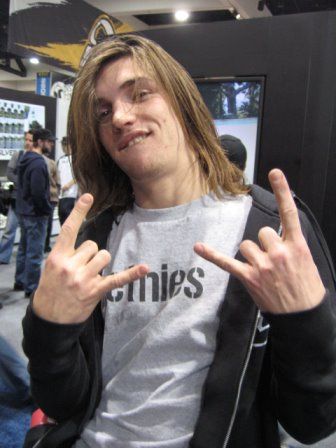 something fishy going on at blacklabel...






i found out what it is! adam alfaro is drinking before 4.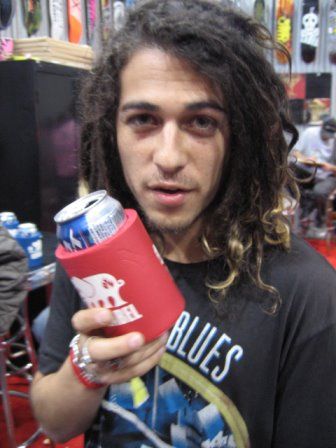 ran into the rob gonzalez, mayor of long beach with his cabinet.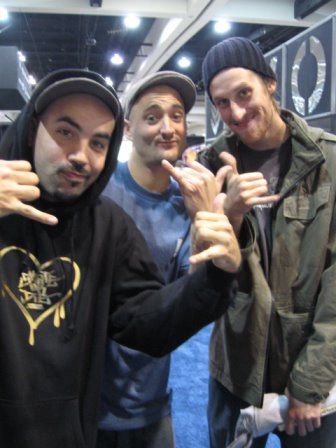 fender?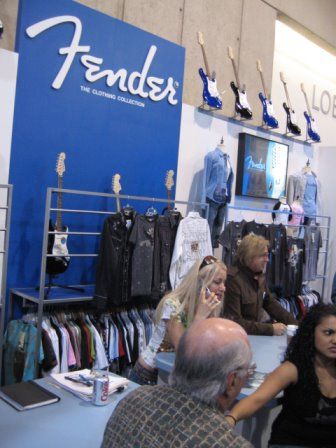 having a make-you-own-shirt station gimmick so hot right now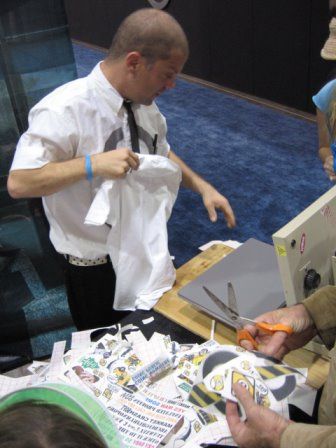 having hot chicks with big fluffy asses represent your company and exploit them at every tradeshow so hot right now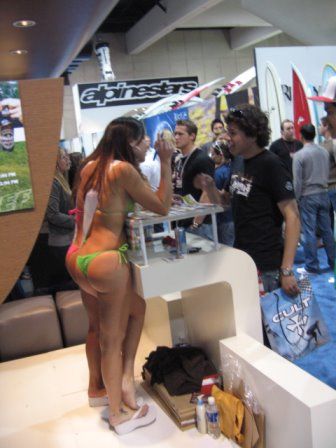 meanwhile back at the volcom booth...






in case you haven't noticed, they were doing a "rush week" theme. very animal house.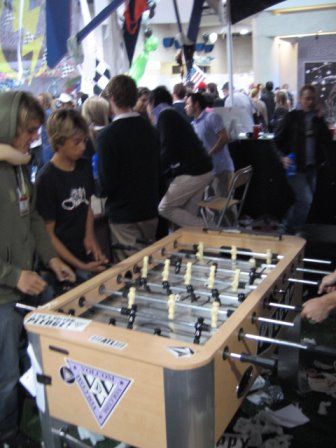 supersecret fridge stocked with goodies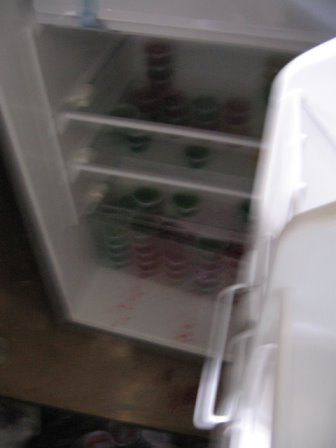 shoooooooots steve!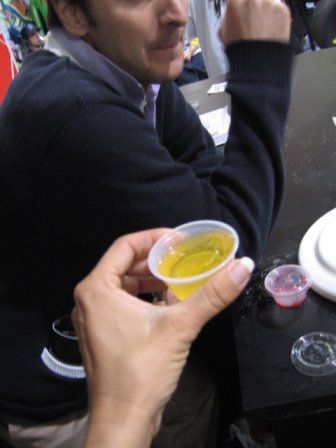 blondes.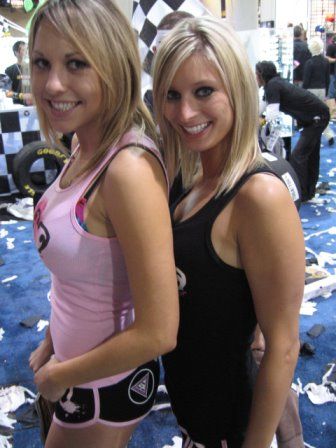 shooooots eugene!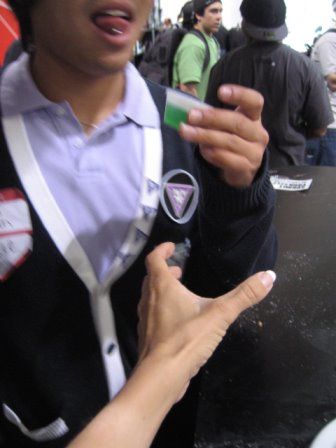 I WIN I WIN!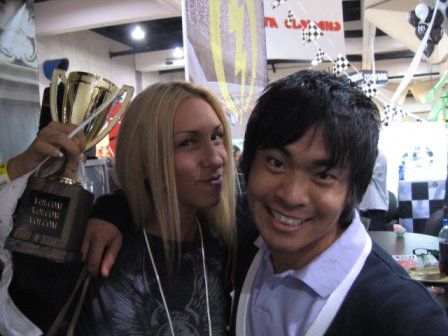 huh? corey? what are you doing you're not famous. juaaaaaas kiddn.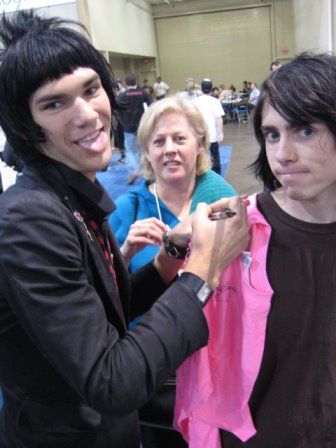 so lizard was nursing a banged up face from getting jumped last week. who would do that to OUR LIZARD.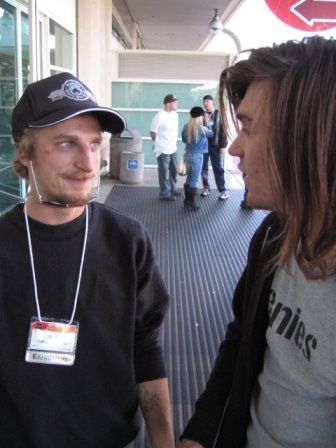 butt envy?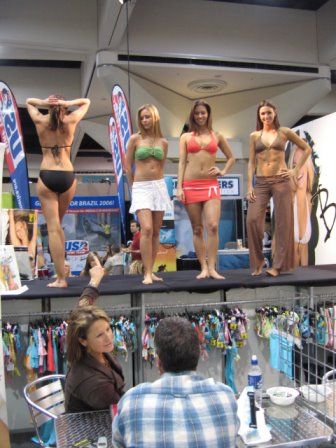 casino gimmick so hot right now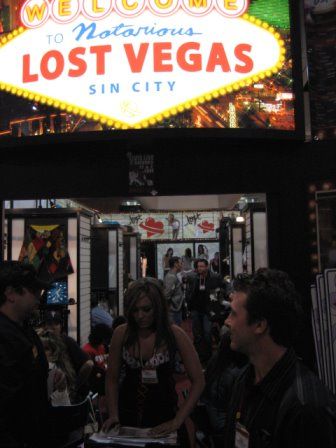 i would be cleaning up if i got in on this, yo.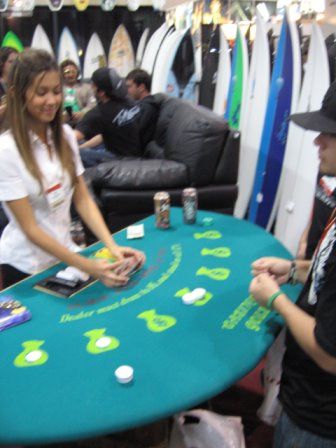 HAWAII WHAT!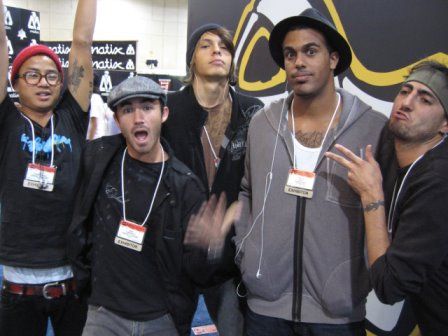 well i'm sure you heard. toy machine blessed our boy and johnny layton has gone to the pro darkside. BUT! he's takin kailua's own missy pesterna WITH HIM! holla, i only INTRODUCED you two. i better get an invite to the friggin wedding. just saying.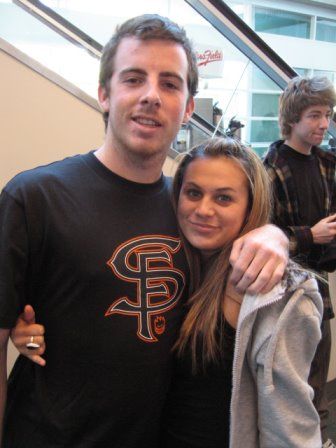 matt and brian! brian's another one of those constant-appearance-re-inventers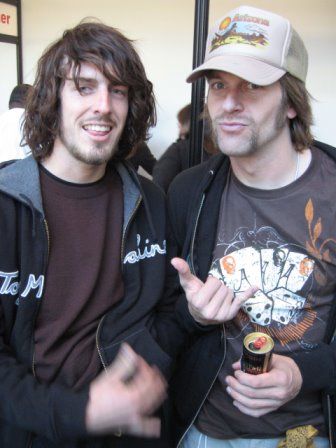 now THIS is what i'm talking about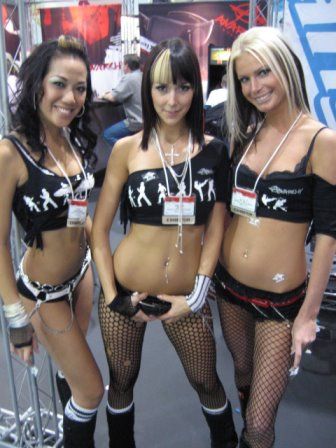 meanwhile back at the volcom booth...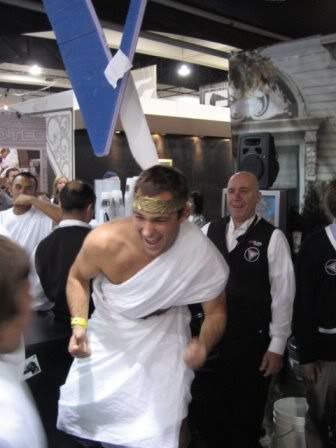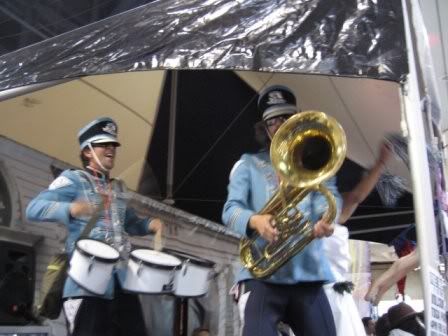 someone looking a HELL of a lot more legit than... me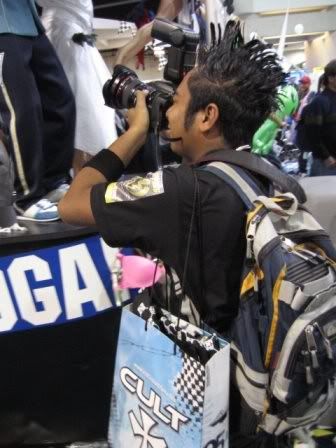 who is this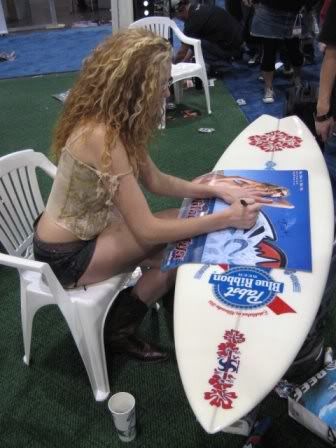 OHHHHHHHHH! didn't recognize you with clothes on.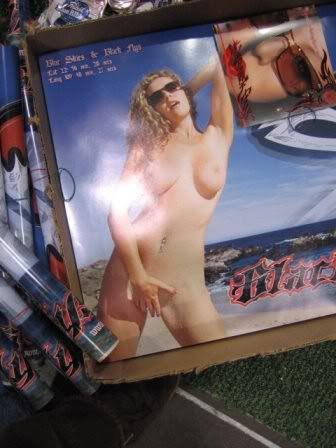 whatchoooo lookin at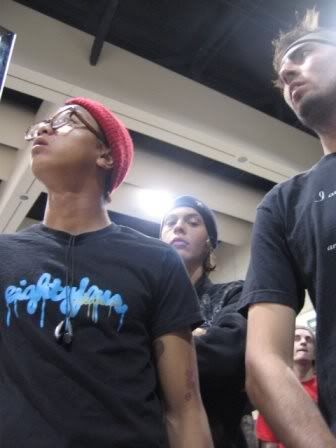 oh, nick on the mini ramp during the pro-only demo. cause he's fuckin gangster.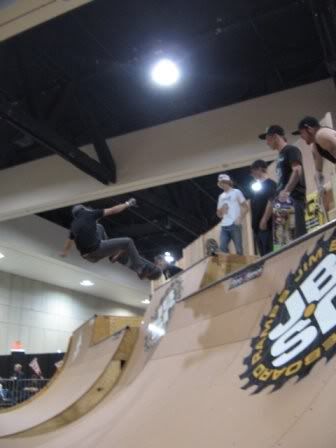 time to go upstairs. to the back. down one flight. out the door. to THIS!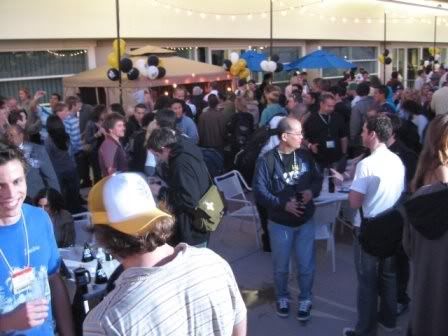 the etnies party! wait, who's celebrating 20 years. i know asr is up there. but etnies? shit, i KNEW i should have read all those press releases lora bodmer sent me...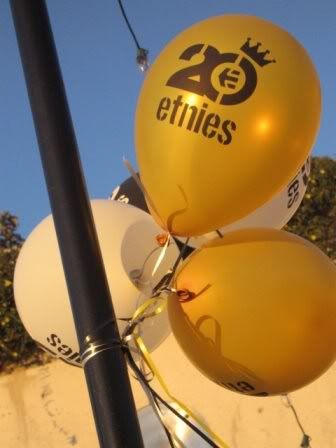 haaaaaaa ha me and this dude go way back. he served me beer at the hurley party last tradeshow.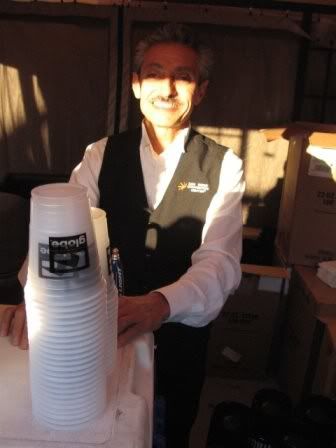 is it REALLY necessary to have sketch security on the roof?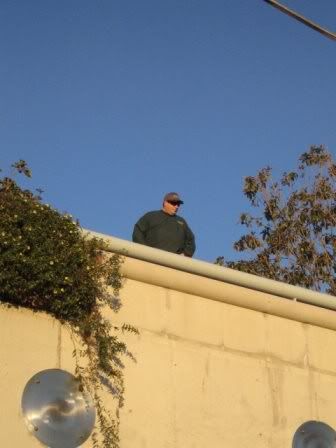 with these guys lurking, probably.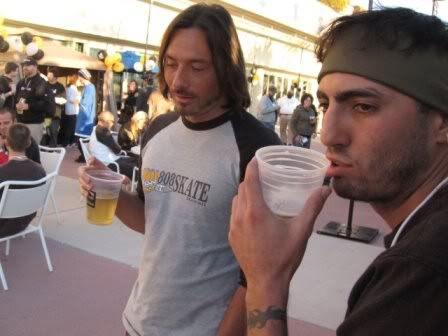 100 Percent Clothing's luke was representing oahu too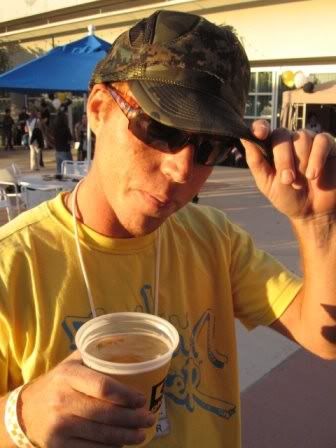 shoooooots.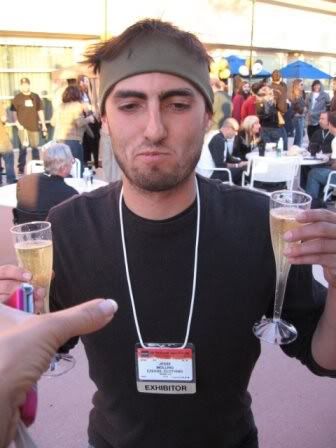 shoooooots hot chick. you know i'm a sucker for treats.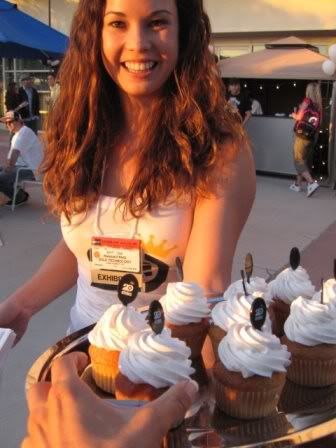 Philip Pendleton puts the P in bringing-christa-an-es-Present! aw look how busy he is!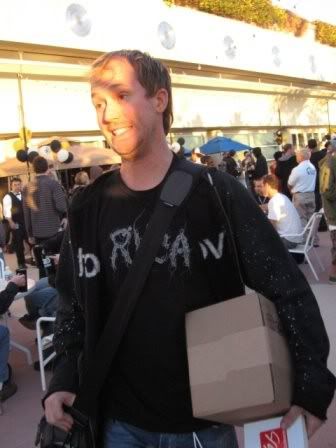 guess who he does art for. then guess who he is. KIND OF a big deal. this was right before i asked him to do some stuff for phelony.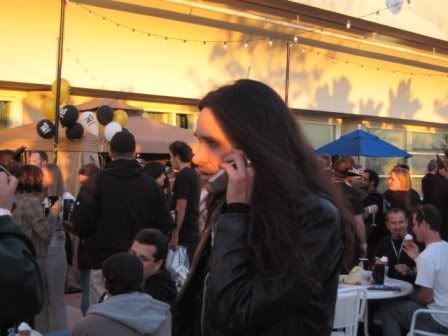 yes, my friends. there WAS, in fact, a cupcake fight.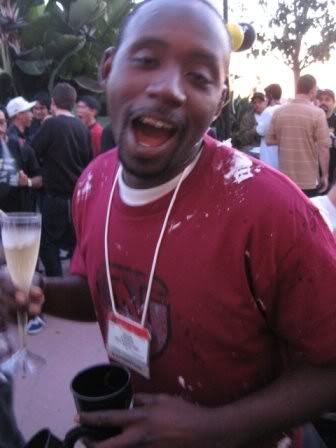 GRAHAM!!! used to be proud to make the city of long beach better. i think everyone eventually gets sick of an office job. now he's in the industry at sol tech... KUDOS!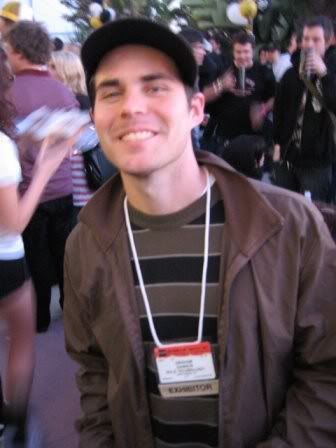 woah look at that. ryan sheckler getting older and i'm staying the same age...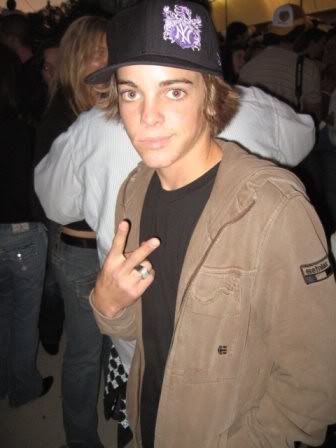 asked these guys for a "shaka"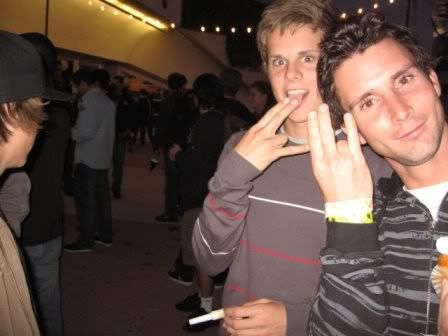 not a big drinker i am. had a few drinks i did. starting with those jello shots. philip told us to get over to the RVCA party by 6 cause they had a grip of free vodka. listen we did.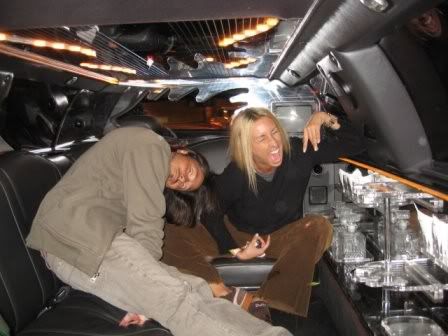 chuck is a very, very talented man.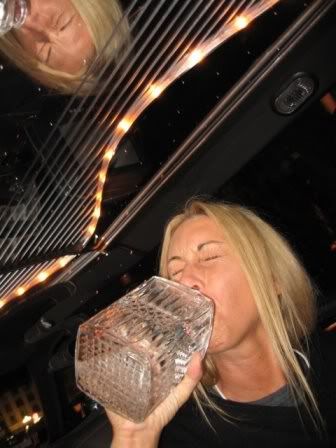 mr pendleton didn't lie. there WAS tons of vodka...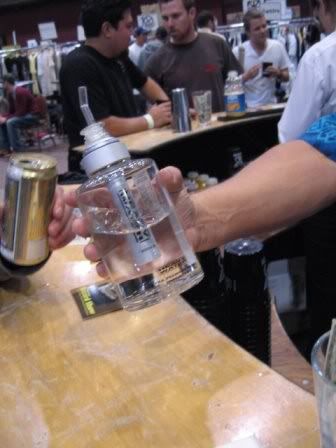 but this shit was NO party....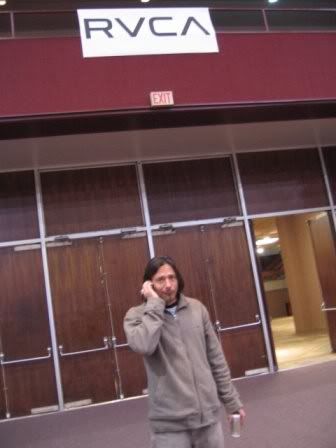 in fact... it looks... like.... ANOTHER TRADESHOW.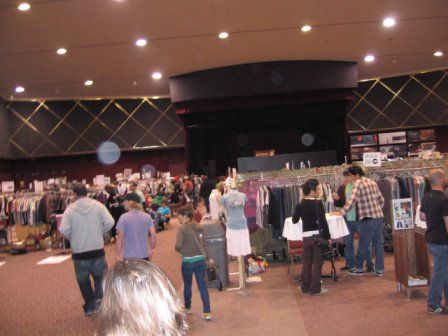 me and chuck are toast. we're randomly wandering around. not making it a secret that we're wasted. and don't want to be there. i DID find some cool shoes to look at tho.






monster truck shoe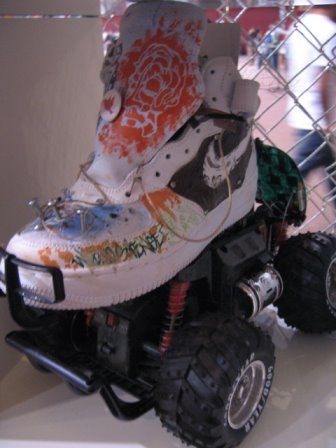 spray paint can shoe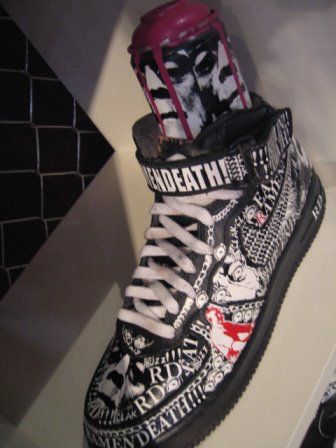 outside. get in touch with russel and seana-pete reilly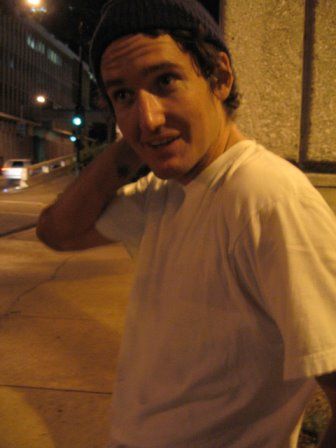 i was pretty wasted. RUSSELLLLLLLLLLLLLLLLLLLLLLLLLLL!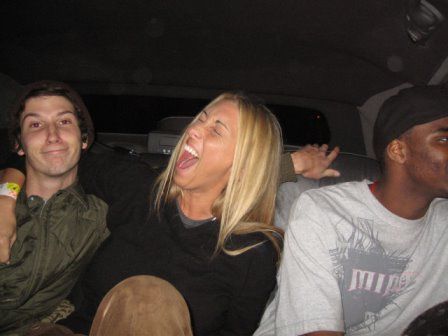 have i mentioned yet that sean has been doing really good? he's been sober for over a month and skating. he's got an interview this week and just picked up a wheel sponsor. everyone stoke out on sean reilly now.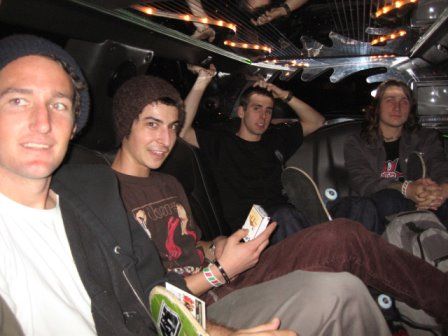 i wonder how he likes dealing with drunk christa and chuck tho.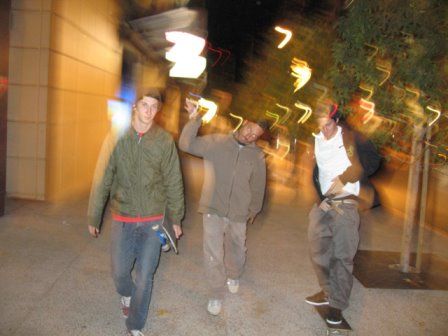 i have about sixty shots of the four of us going from the limo to the van. SIXTY. the more fucked up i get the more shots i take.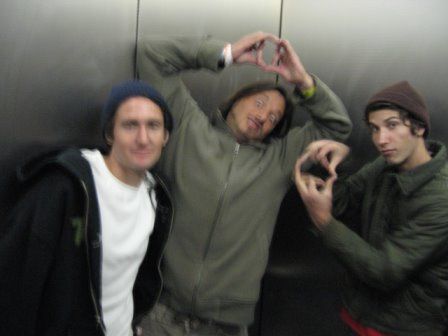 time to leave my hawaii homeys for a sec and check in on mike rusczyk's am retirement party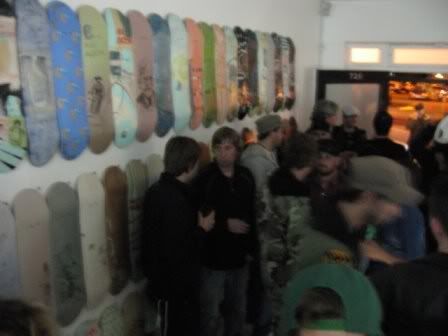 no dinner and drunk. ATTAAAACK!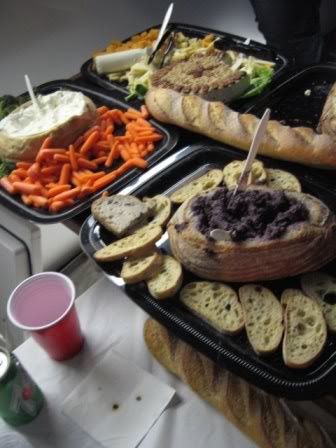 mikey painted like over a hundred decks in one night. some sort of something. shad has the blurbs about it on his site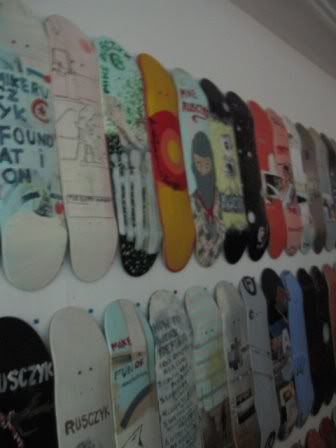 i think one out of six shots i take of our friend justin roy come out like this.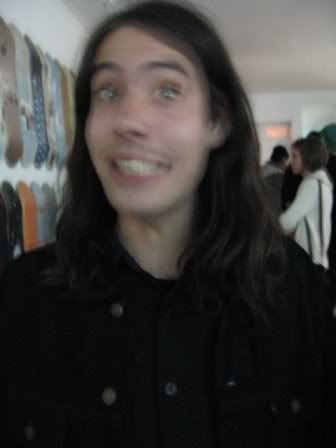 the frenchie and alex. aw. groms.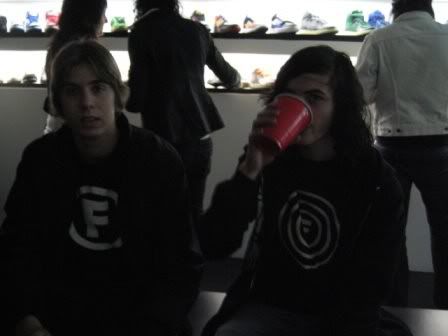 ritchie belton gives the wine the thumbs up, man.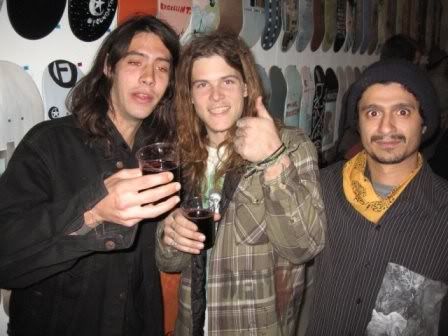 shad lambert dot com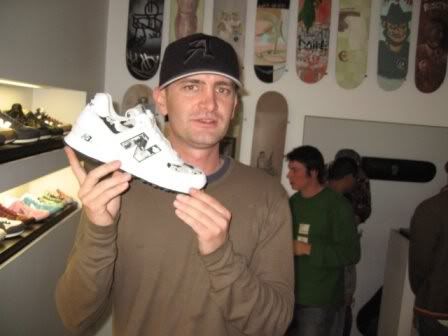 mike explaining why he painted so many boards in one night to grant britton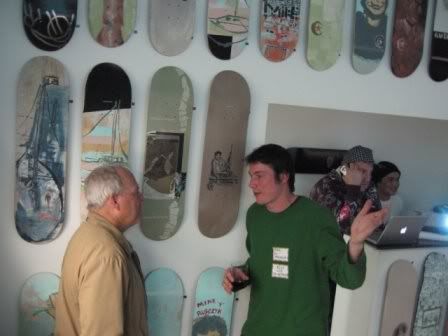 gareth stehr and justin strubing. right?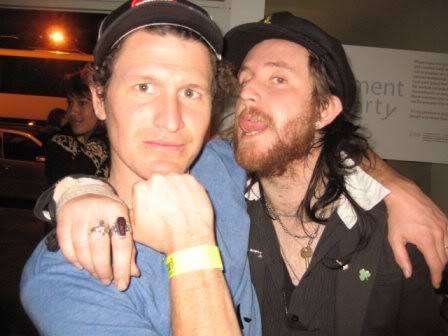 beagle was kind of totally beyond sort of wasted at this moment.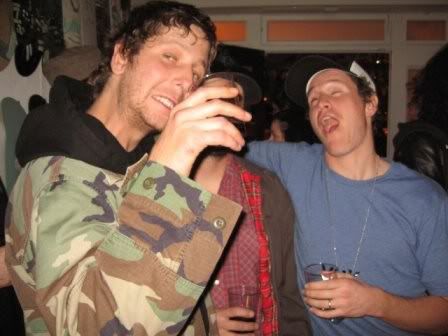 aw. mike's name tags. one says kiss me i'm irish. LIE!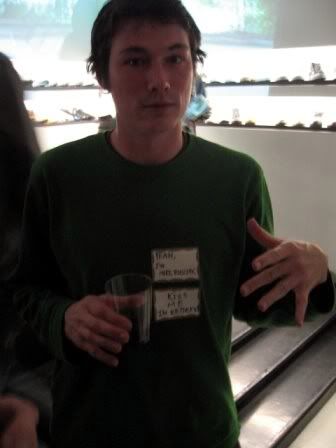 josh is everything you could want in a team manager, by the way. very organized. super fun. gets shit done. and gets totally trashed at your parties.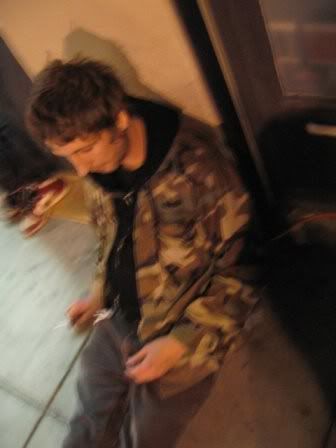 making a scene he is not. this spectacle is a very common one in san diego.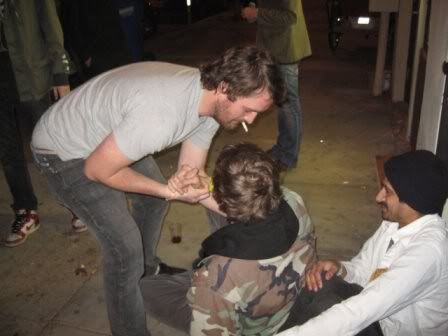 time to dig out. and the reason for why i haven't drank much more since the RVCA fake-party-bait-and-switch-to-another-tradeshow fiasco. you can't tell, but the colonel is on that plane.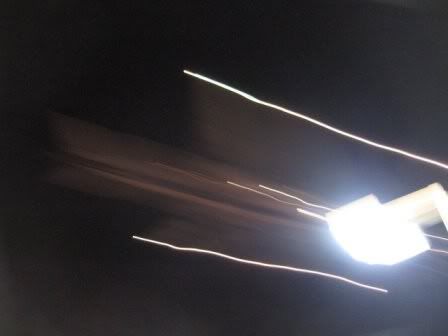 time for some hawaiian love. cruised with the boss-man over to see jerald anzai again. will was home too. and chuck just kept on drinking.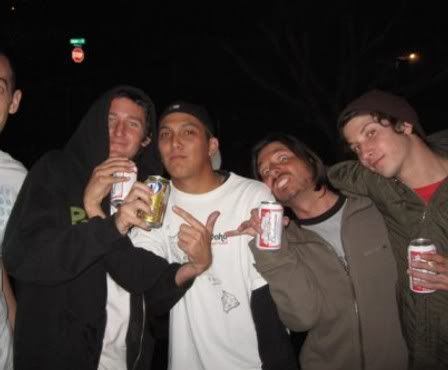 jerald did too. (and NO, i will NEVER get tired of chuck's 40oz stickers, friends)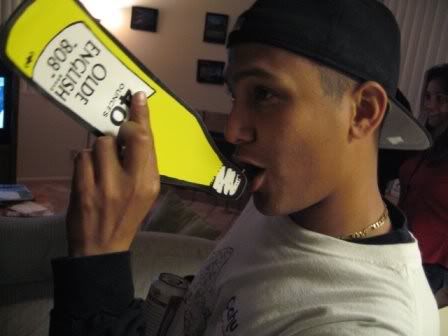 WHO says the colonel's shots are better than mine? well that's him behind the lens, folks.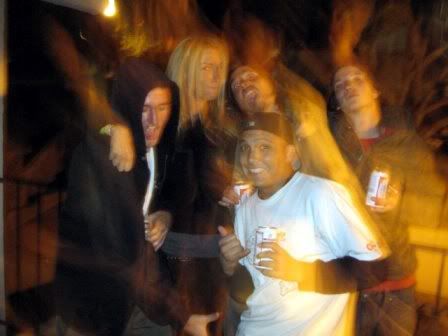 (aw, juaaaast kiddin. i heart kyle! i heart kyle!)



chuck debuted the dvd for the homeys.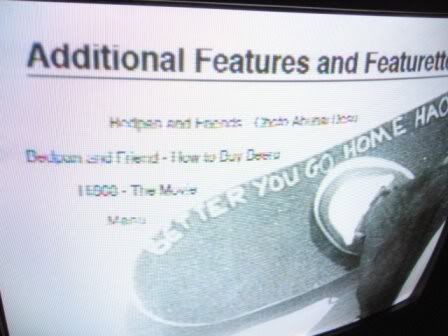 great night. good antics. chuck in rare form. snuck out for some QT. it was..... quality!

took a very necessary trip over the coronado bay bridge the next morning.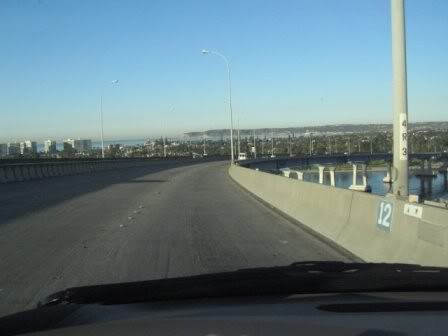 hotel del coronado. the ONLY place to eat breakfast.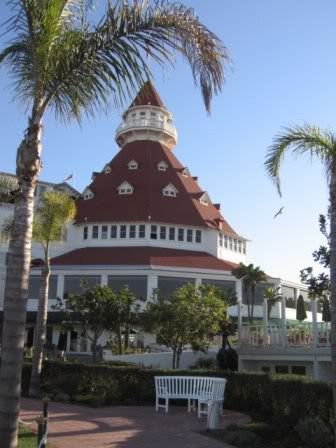 overpriced? maybe. but shit's all you can EAT son!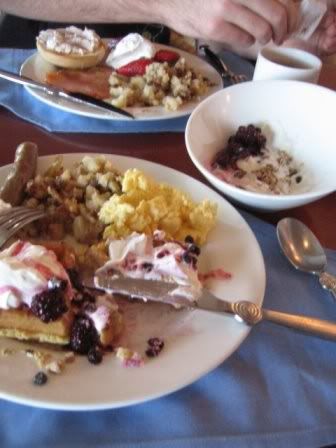 guess where we are now.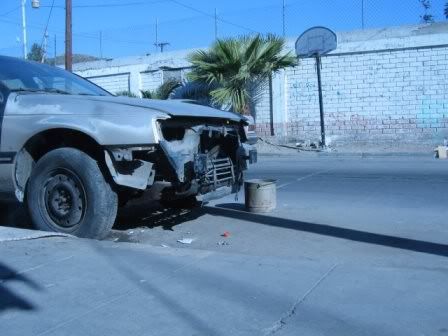 ha ha got on the strand after and just kept on driving. wanted to show kyle how close mexico was. wound up crossing the border man, and they didn't have no tortillia-wrapped-tostada crunch-wrap supremes there!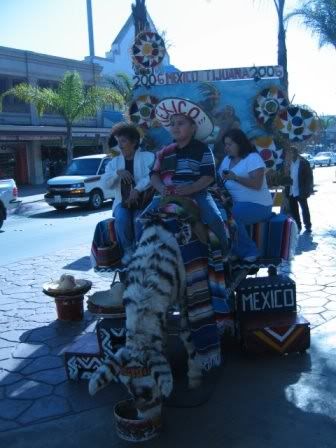 tried to find a seahawks one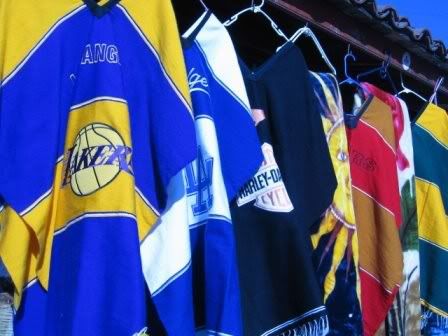 fucking YES! represent!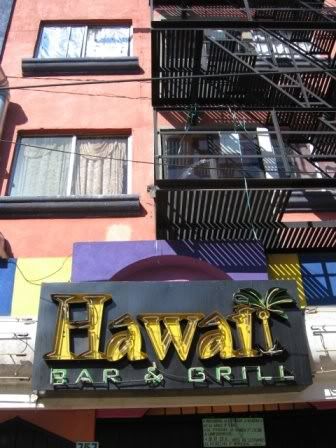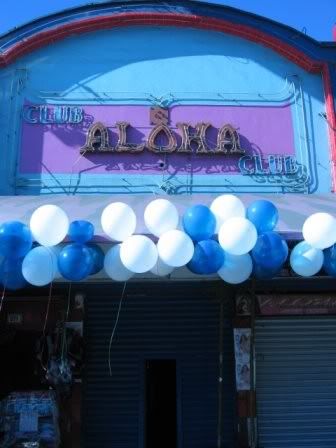 wandered around for the better part of three hours without buying any prescription drugs, blankets, or tequila shots.




still a great day! i LOVE mexico!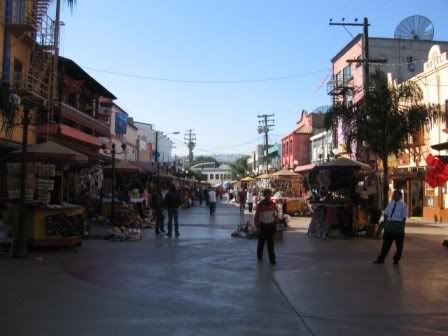 after a nice lunch with the fam we cruised through the old 'hood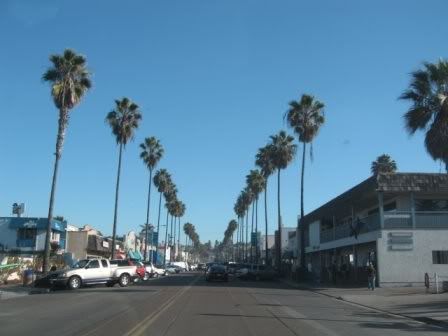 dog beach! looked for harley my old doberman. he was probably having lunch or something. didn't see him.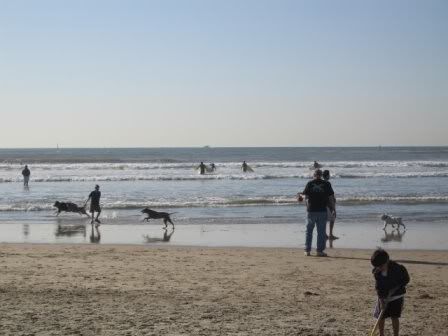 got an invite from shad to the SUPRA LAUNCH PARTY. i kind of blew it. we were SO there but there just wasn't too much happening downstairs. sorry shad. you know i love you. besides, you got that shit HANDLED. drunk idiot fight at 7-11 movie included!

THIS was my only shot from the party. ......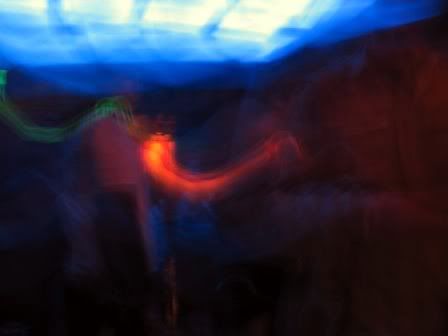 we were itching to check on jerald and the hawaii homeys down the street at thin. "THIN"?!?! FUCK YOU california!

juaaaas kiddin. thrasher party!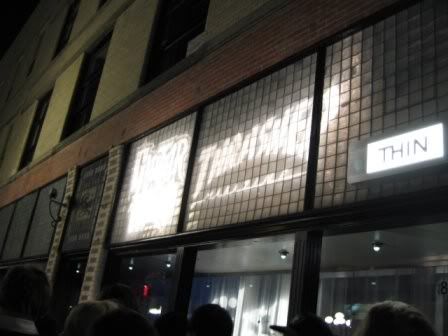 ALF KONDO! CADE!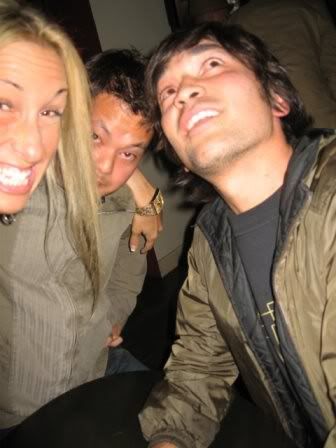 aw, the 'aina!! LYAN MAU! YICK NAMASATO! JERALD ANZAI! JESSE!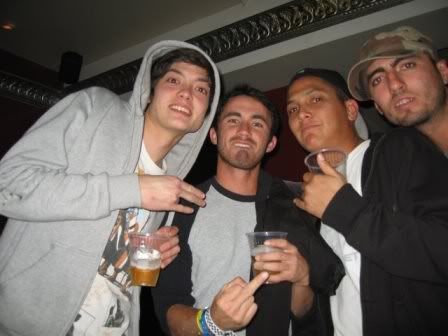 first time getting to kick it with ryan. he's so.... animated! entertaining! cade agrees.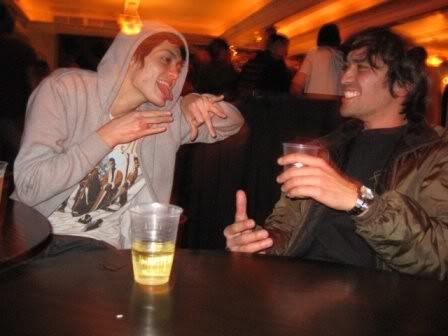 just so happened to be sitting next to eric. what up!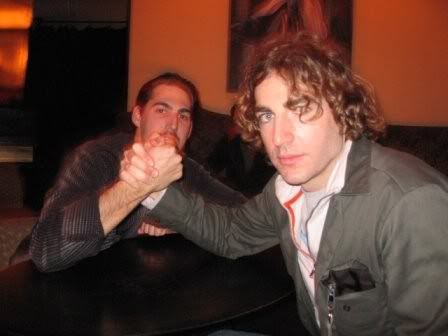 nick said every shot i'd have of him would be with his friend, the bird. well joke's on YOU yamasato! i got like three without it! MUWAHAHAHAH.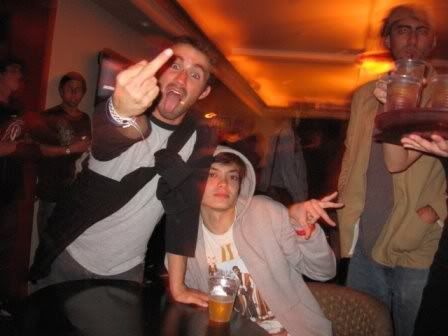 almost thought he had the same apb shirt that kyle did. couldn't see that good tho.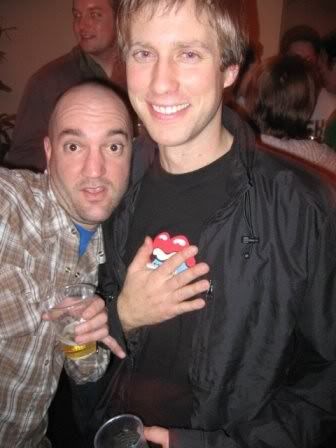 ok. just making sure i didn't miss anyone. man we were having SO much fun.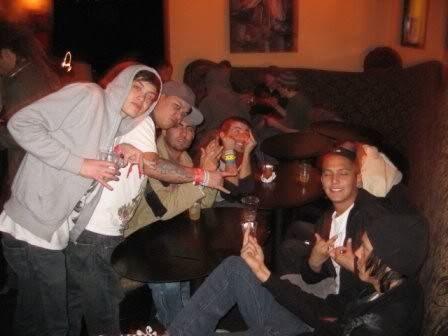 heard jesse went to the drunk tank after this. can't imagine why.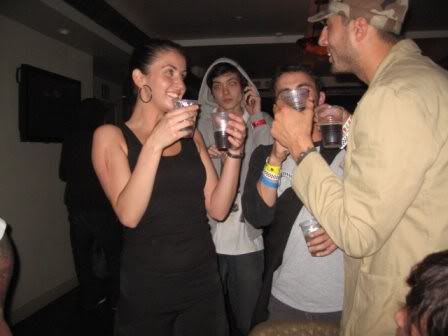 no really. it's not like anyone was drinking heavily. HEY! rod chmolak's
brother!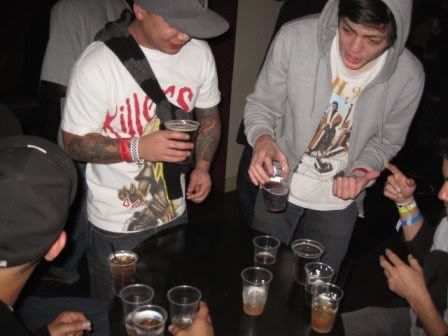 WHAT UP ROD'S BROTHER!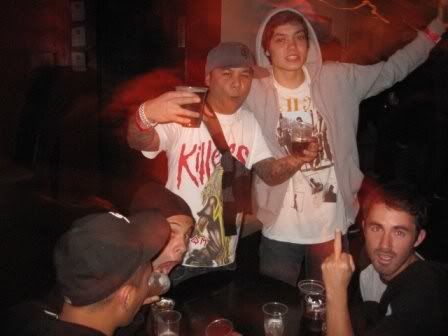 sick of these shots yet?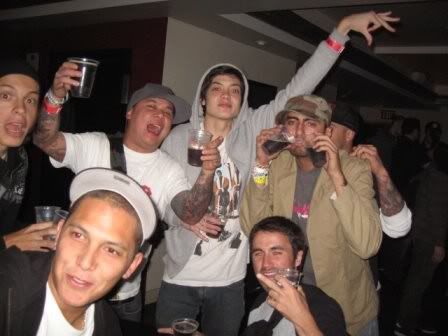 no? GOOD!






my "photo" pass from the supra party. maybe only the second or fifth time in my LIFE i've ever felt legit. i was very proud. um. and very drunk.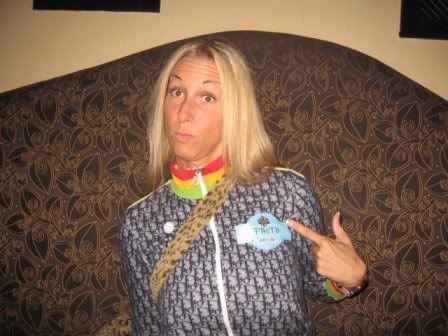 ok ok ok. good times. apparently me and kyle dug out just before mayhem broke loose. got a call from sanae the homeys were cruising at the hilton-- had to say hi.

MISS MARILIA!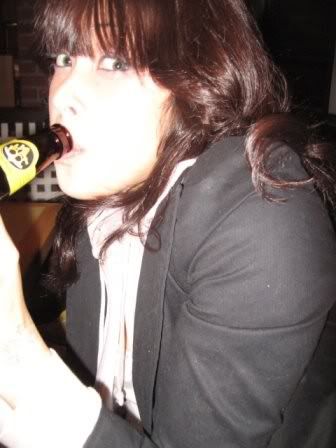 don was showing us how to do these wicked cool shots that you huff. they get you ridiculously fucked up. standby for some sequences now.
don nguyen will go first.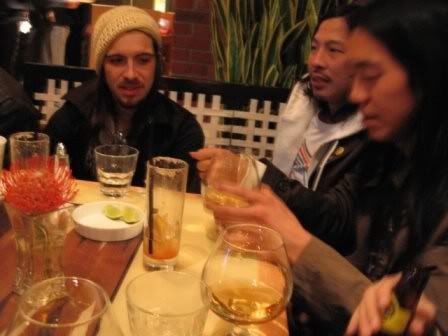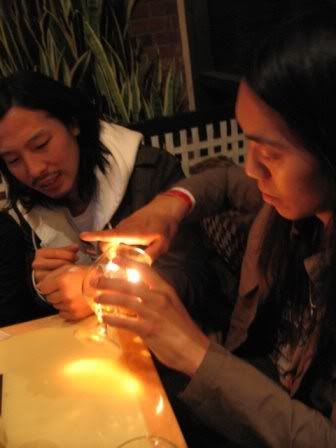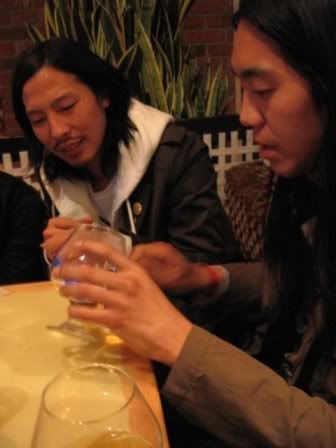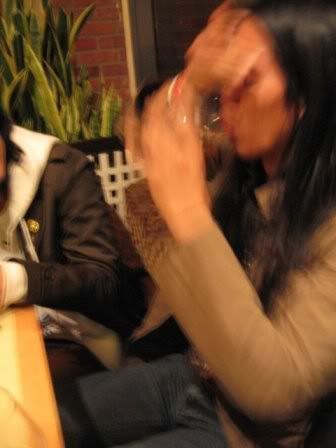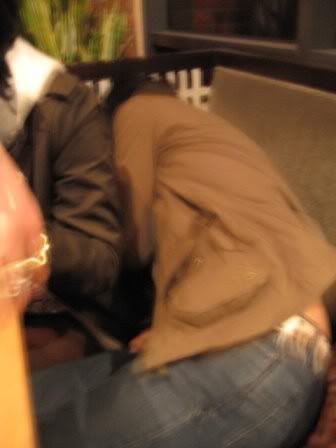 HAAAAAAAAAAAA! holy shit. that's how fuckin NUGE is reacting. i am now officially scared.




sanae is not. she is next. YOU GO GIRL.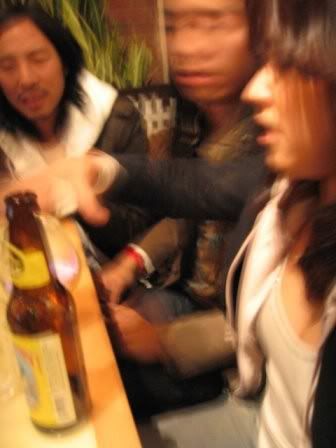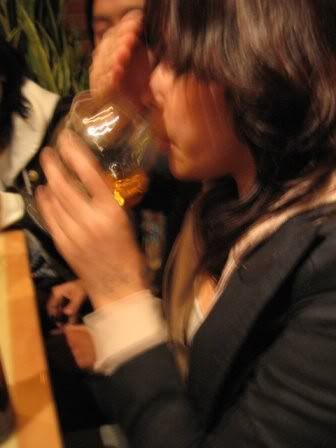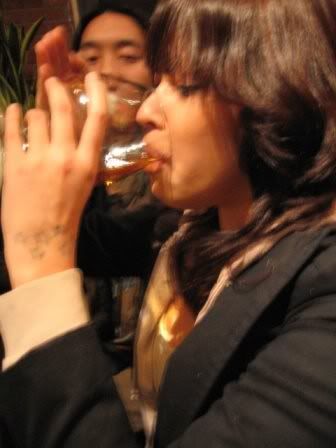 shieeeet son. EASY STREET!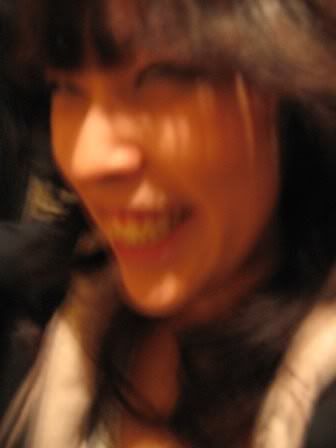 ok ok ok i'm not so scared anymore. ragdoll's turn.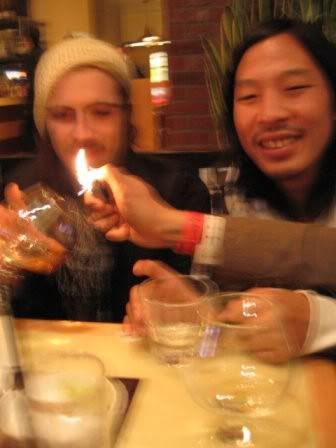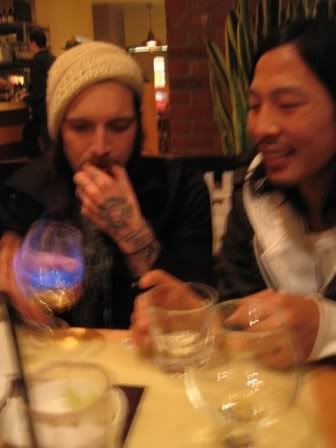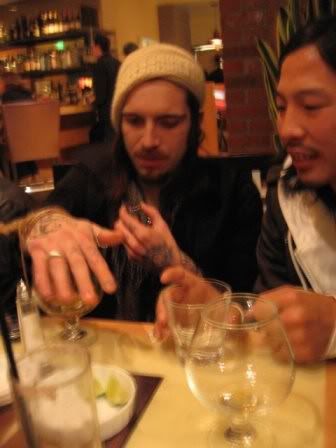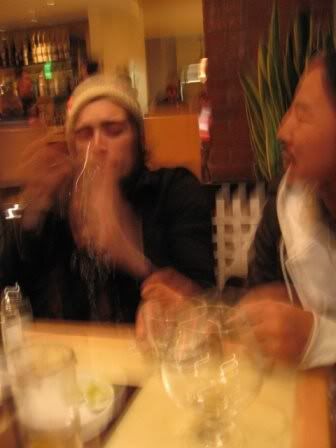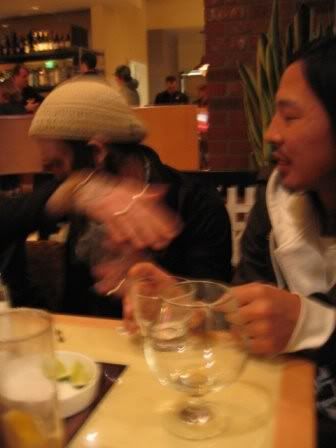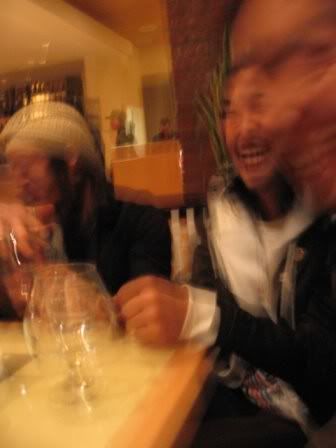 oh dear. what are you looking at. fuckers. FINE. hand it over.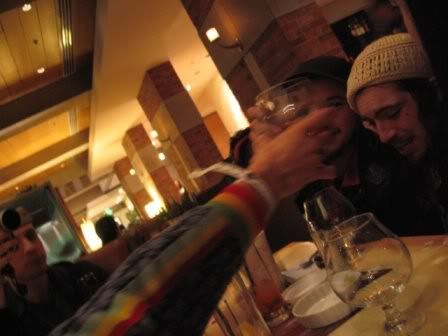 i had to let don light mine. i'm not much of a pyro.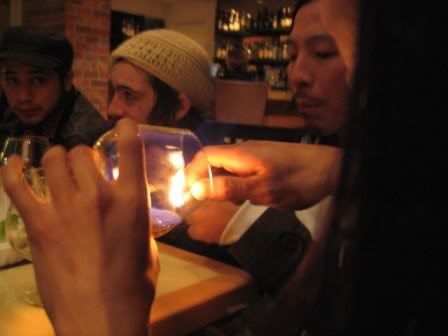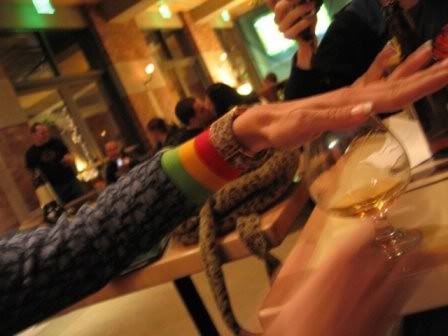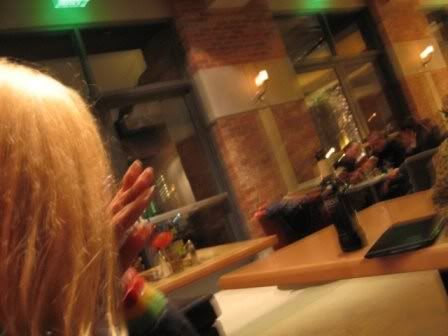 not too bad. just the huff part that really gets you. i was fuckin feeling MIGHTY fine after that too. great evening. great weekend.BR>


back at home. straight to apb for their little demo cd premiere.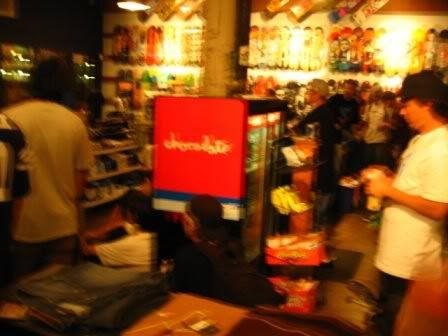 ryan has the shots here. we love you, oh hi rolling media.






ok! well shit you've just scrolled through a lot. you're a little scrolling machine there aren't you? WELL!



scroll on just a little bit more and i'll let you in on oahu's festivities for the week[end].



friday-- CHRIS KAYS SKATEBOARDING GOD has officially grown up to the ripe old legal drinking age. his girl, however, has not. they will be celebrating at brew moon. get there. get our boy something strong, he's funny when he's drunk.
FASHION45 after, i'll be taking shots for my column so make sure you're looking *extra* hot and sexy. you can do it. you ARE sexy.



saturday-- the men of playgirl are back in town. 8pm at the wave. you SO remember THAT week, right? RIGHT?!?! shieeeeet.
after that it's another fun bobby flash bottle service for afrika bambaataa at next door. I LOVE IT.




BUT TONIGHT!!!! tonight tonight tonight is my most favorite ever hawaiian QUEEN of vocal HEAVEN miss paula fuga at next door. see you there. you LOVE this girl. you love her, you love her.





K BYE! LOVE YOU! standby-- next thurs chuck has a birthday... and a dvd release party....