hello ello ello!

this was kyle's effort to cheer me up after the car-window-diorless incident.
it's not there anymore, but it's why i love love love love him



monday was a nice day to have lunch at the hilton hawaiian village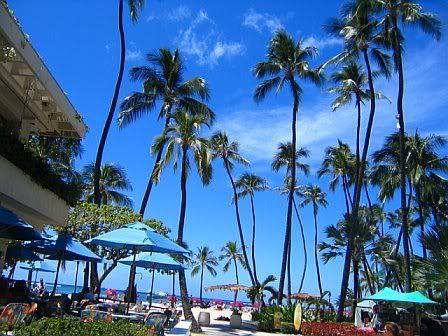 girard/richardson minus their CTO waiting to eat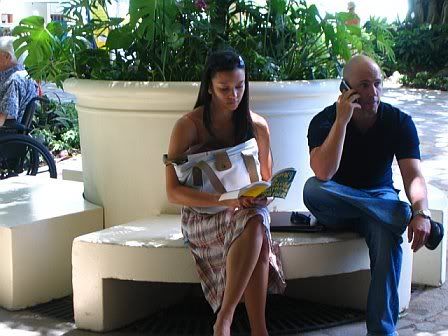 oh-- we were in waikiki today because of a "winning minds" seminar. hum. i already know i rule i don't need to role-play and pay someone $600 to tell me.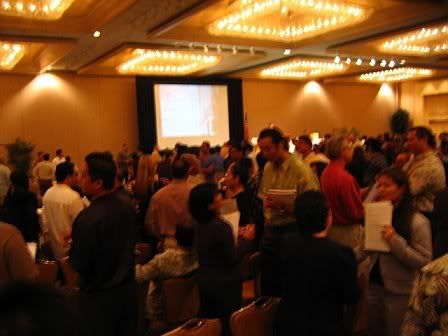 side-note: jacquie went to a photoshoot at lunch on tuesday and came back looking all supermodel. it was too cute.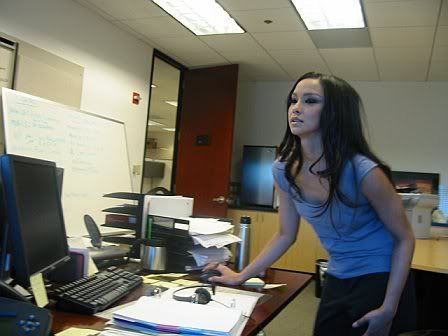 OH HEY! i know you're probably sitting there all broken up about duane chapman's recent arrest. we were too. he's totally like our work-neighbor. and check it: we're both "hunters" right? so ya, we were surprised and somewhat saddened to hear the news. lurking in the office on the way to work we saw that "he" was still there tho. hmmm!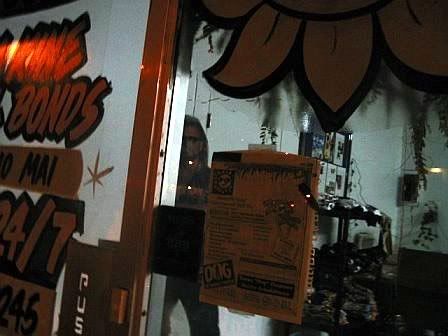 after work we showed our support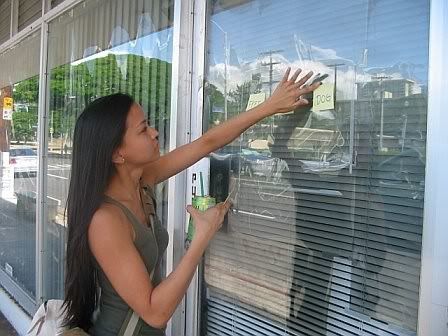 free the dog, man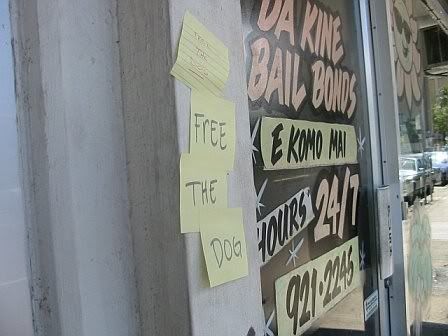 one more work-related note: jacquie and i are going to do an art project with all the starbucks consumables. it's due by September 29th. We better get to steppin.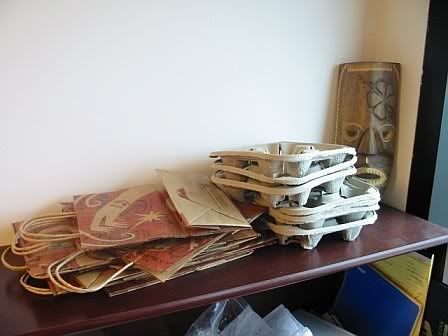 ok last work-related note: people read our blog! there was a spike in our activity. how nice! The blog is here. just saying.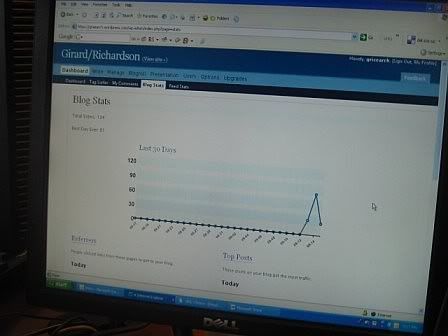 so. remember how i was saying that i always see elaine in the most random places? behind the screen at the smart mag party... on the menu at lulus... wednesday she jsut happened to be at wahoo's dressed like a sexy nerd-girl. or something. ELAINEEEE!!!!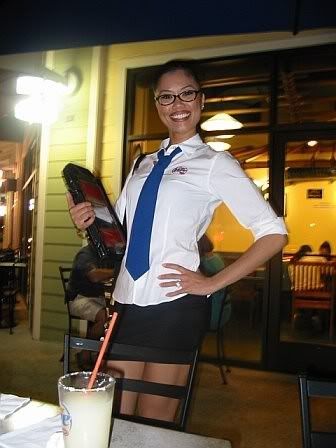 me n derin were having some cheap ass day-after-popular-college-taco-tuesday-day tacos. it was nice to see her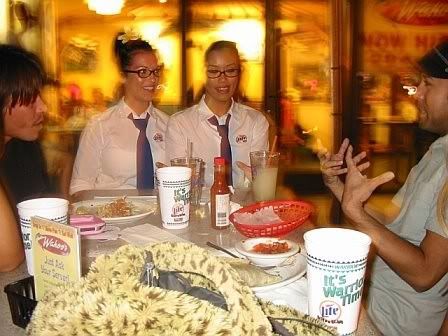 skip to saturday, please. to the sheraton, please.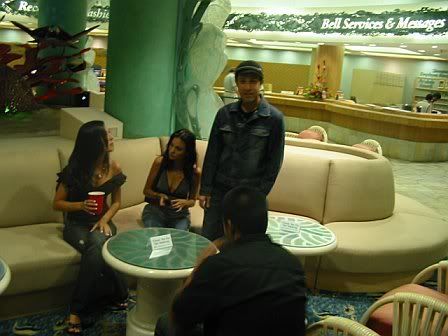 skyline still going strong. hey, man. it's a fun night. and tonight was extra special, i'll tell you why in a sec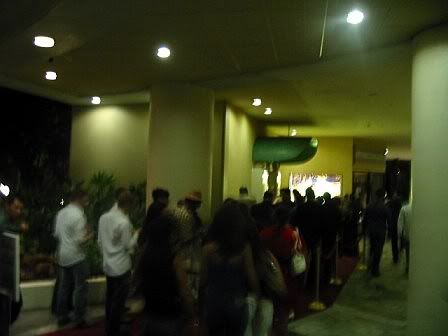 i was JUST thinking how much i miss maggie.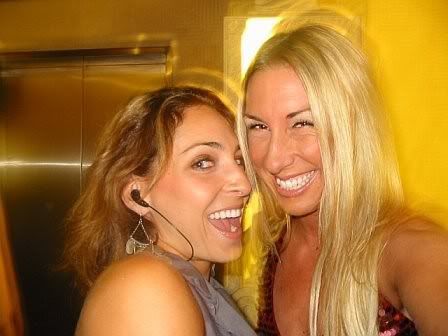 tonight is a celebration...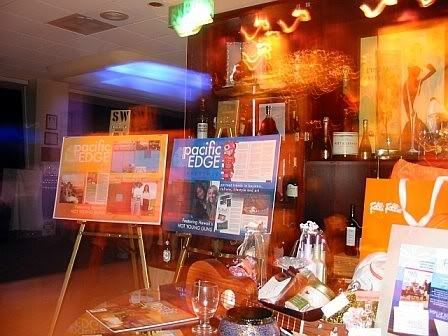 ...i still have a job at pacific edge. read my column, please!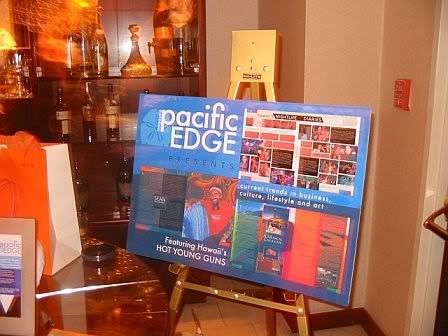 no, seriously. please read my column. thank you. love, christa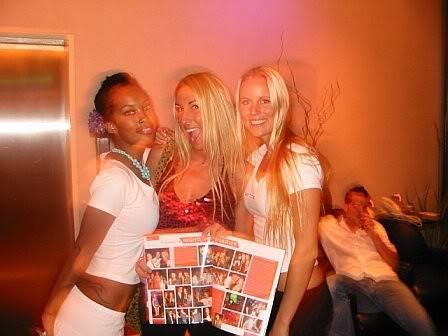 brandon is that a nod to the i heart hi crew? loving it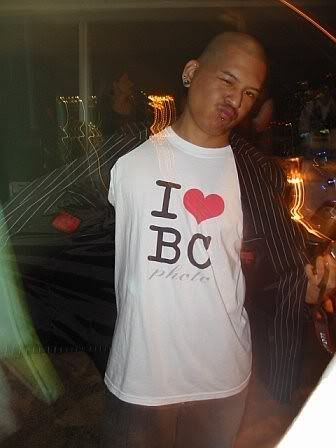 steve aoki is back back back. and hey! chris brown... i just saw you at the apple store.



maleko was there being... maleko!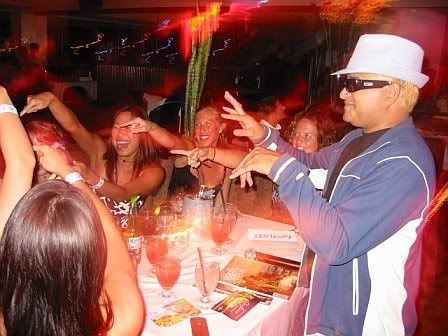 leanna reacting to my column...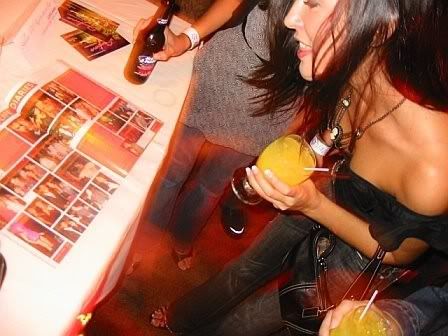 i think they were amused. *whew*



revolution dave was all styled out tonight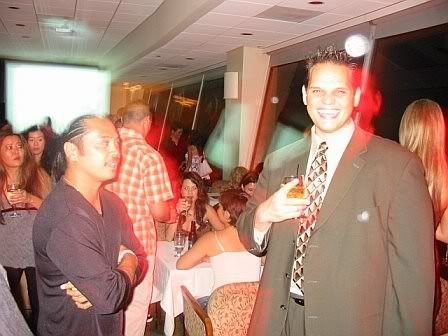 my pacific edge peeps!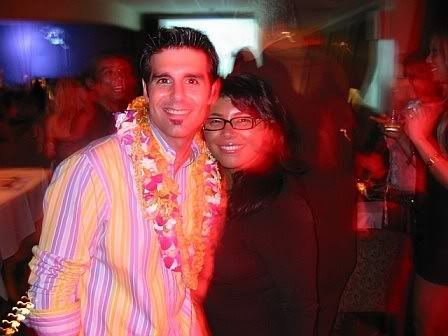 me n der noticed a lot of euro types out tonight. what's up euro-types, how's the nordic land been these days?



naomi and jamie are getting married on kauai. i think, like, today.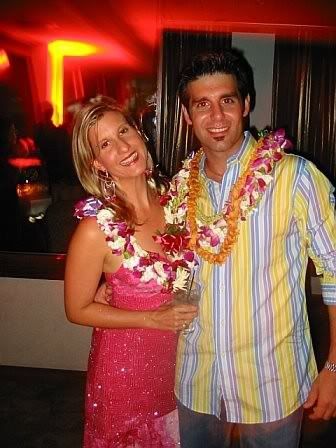 they had a bunch of friends in town for skyline that are all flying over there. nice!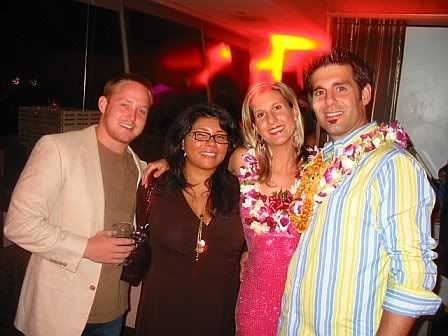 derin got his table back. thank god!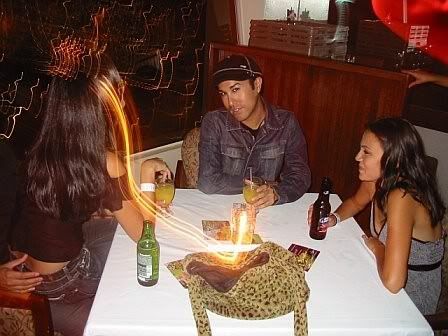 i saw philip pendleton there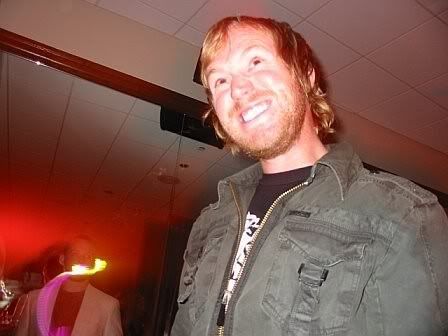 i saw malia and suyin there too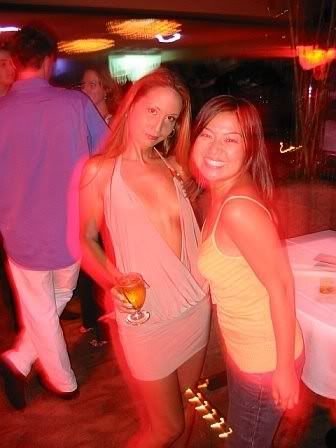 pretty much the standard reaction to my stuff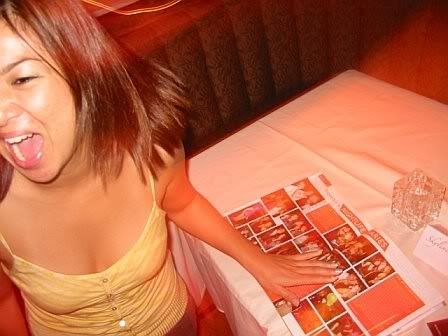 just when you were about to ask me "Hey! Where's Elaine?"... HERE she is!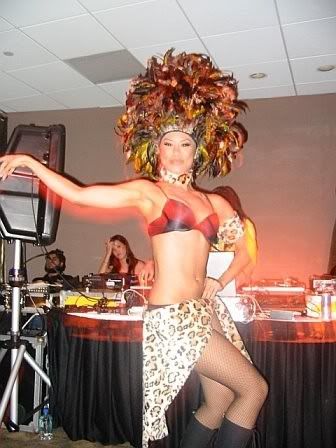 kamilo and maria and steveo were there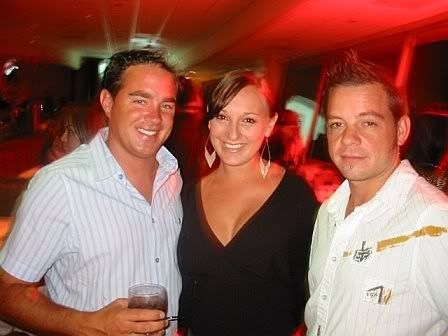 dance dance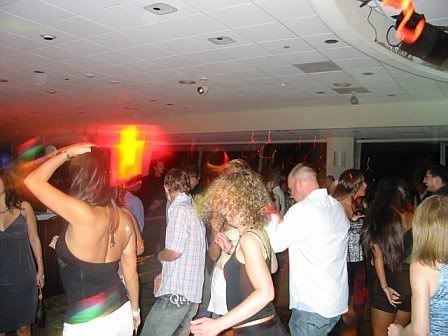 hey, the music was SUPER DUPER good tonight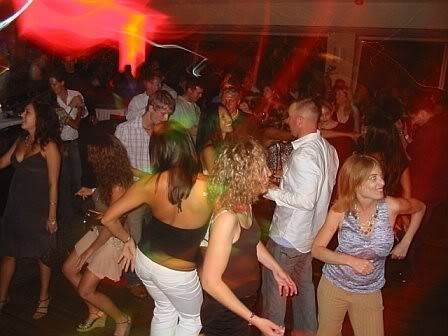 if i was good at taking photos and/or didn't have my nice camera stolen this would be a fantastic shot of peter maharaj and russell tanoe. *sigh*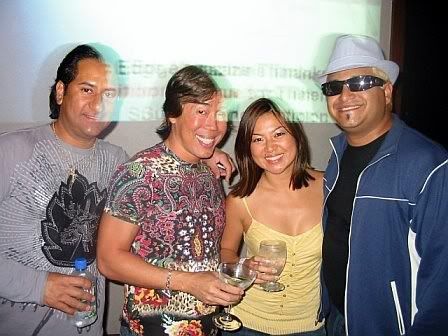 star was there!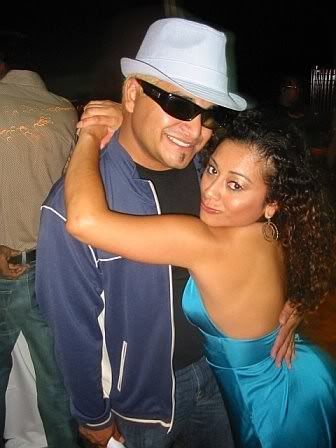 and i saw JEN VO!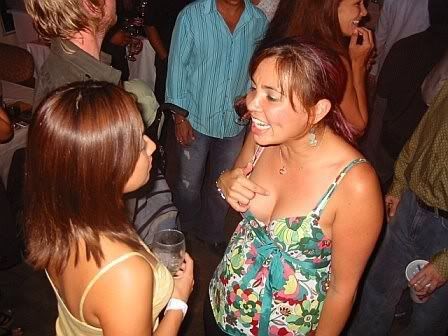 dance dance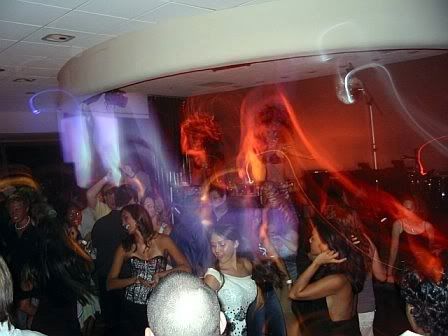 BAMP'ers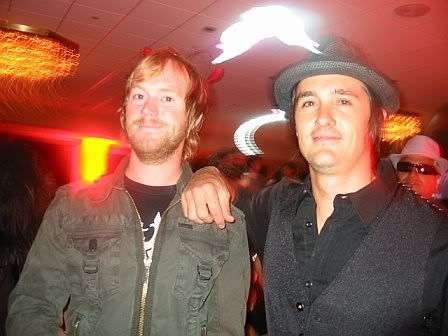 sarah was there tooooooooooooooo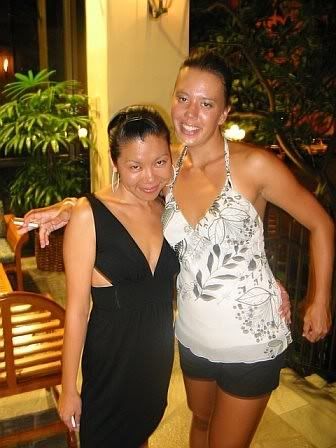 aw, hugh! bunny ears! how adorable. i think this might be the first pic ever with someone doing this to me. it's about time!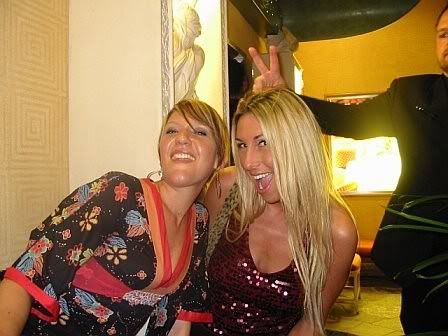 skipped out to check out method man at pipeline. boy were there a LOT of people there. was too dressed up to get to our usual spot. sorry friends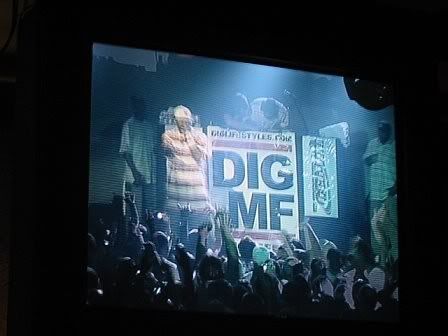 but HEY! method man......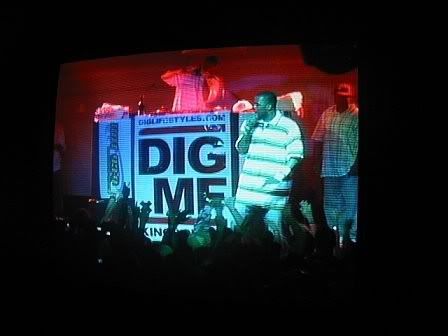 saw some of the hawaii skate scene. applenuts with bryan wyland and chris kays. What's up, you kids pro yet?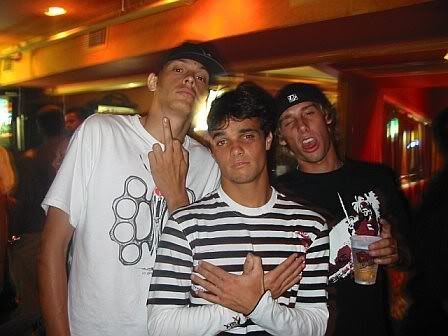 had to get back to kalei. derin and i got a few reports that she finally showed up. WHAT!



ya i liked that one too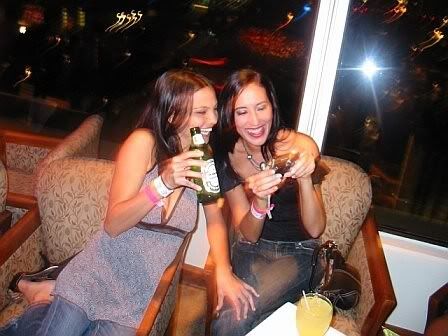 AUKAI REYNOLDS. seriously. proof! it was his birthday. i can't even remember the last time we saw an aukai reynolds outing. i think it was like that karaoke thing.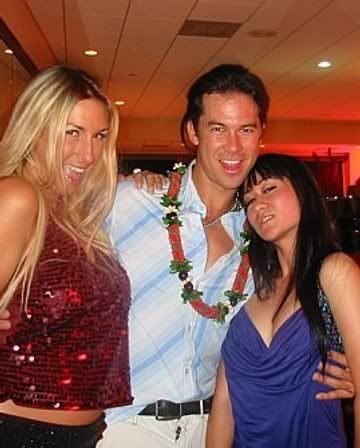 lol thanks for the shout out kalei honey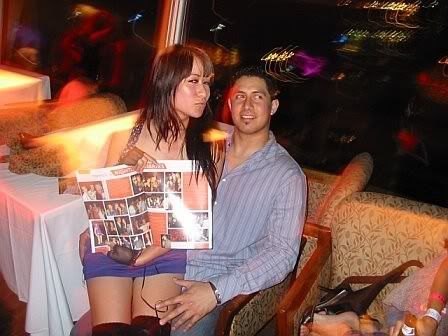 it was her birthday too i think? aukai? is this your lady? what's going on here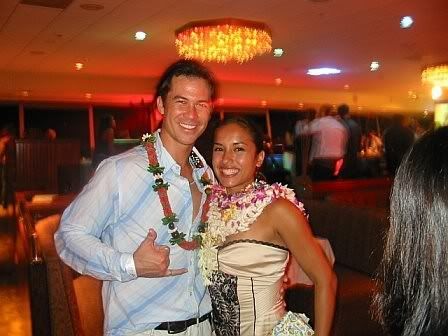 HEY TAMRA! let's go to the museum....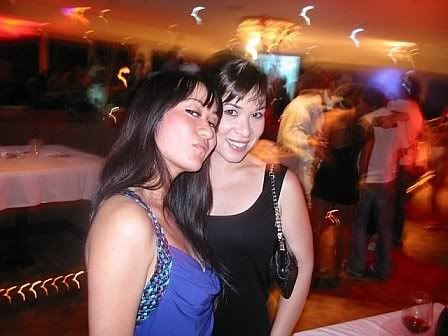 last note: please read my column. thank you. i love you.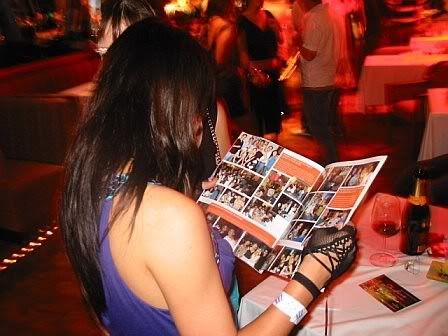 what to do now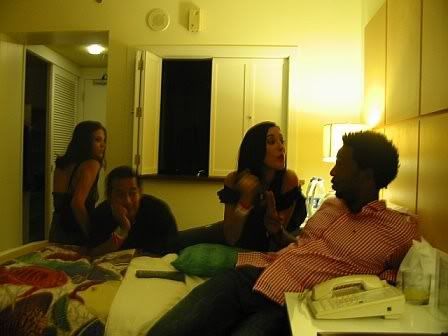 ah HA! rob n flash came by to collect the crew and drag us to kelly o'niells. a place we would NEVER do on a non-skyline night. apparently, it's where the sheraton people unwind after hours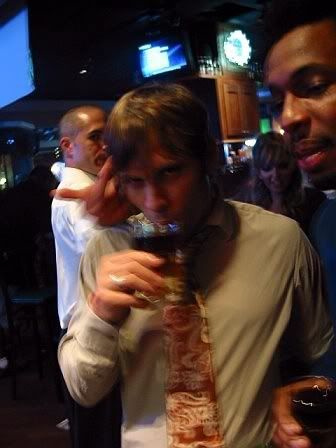 green. nice. thanks!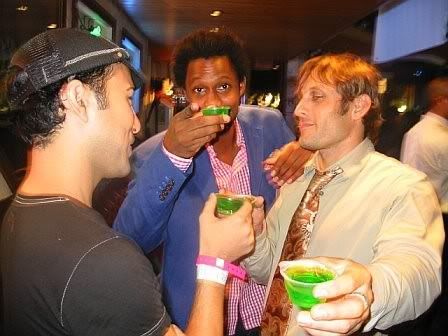 back at the sheraton with a collection of sheratoners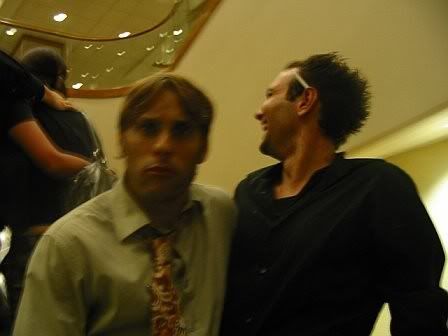 did NOT want to leave my nice comfy sheraton bed today. had a super tough time getting up for the pool party esp. since housekeeping apparently forgot to come and kick us out at the 12:30 check out. maybe the securty that came up about 6 times the night before told 'em to go easy on us. either way. how's der's pool attire!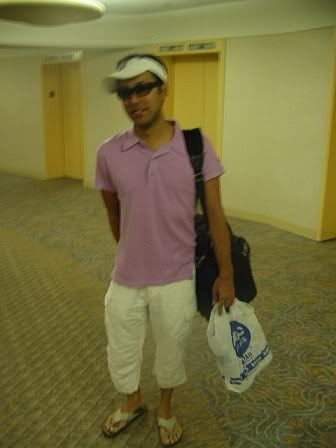 i was already missing maggie. ok, feel better now.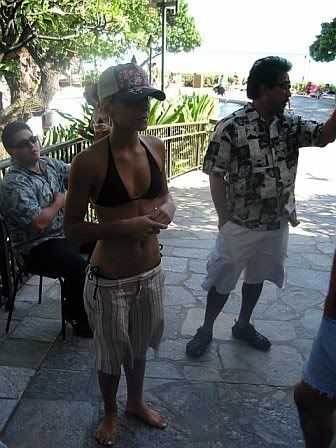 not as many shots this time. i hid in the cabanna the whole day. wasn't feeling it. booooo.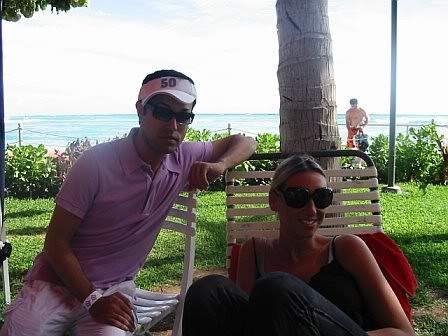 a fair warning to NOT buy one of the $10 cheese burgers. they are not that good, like, at all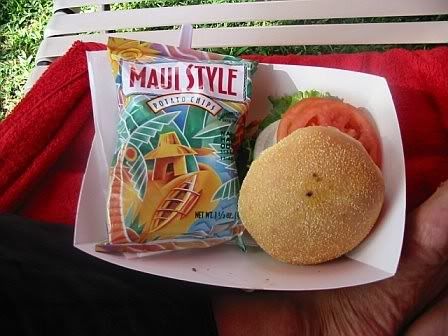 kid millionaire with maleko. everyone was all bright-eyed and bushy tailed today. nice.



derin and outfit #2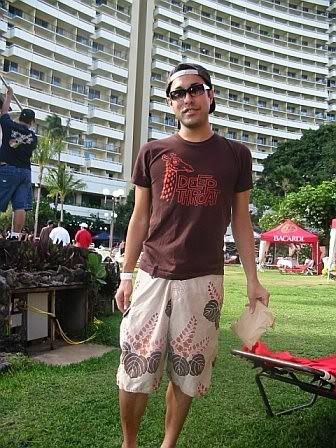 lorenz sell came out.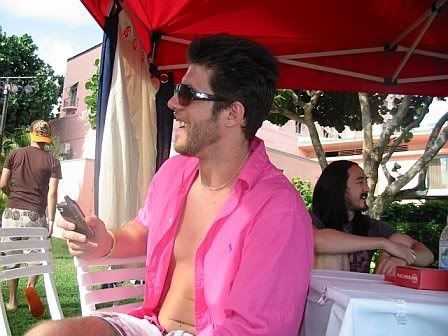 steve was all "let's play with real money." of course i agreed. i even won the first hand... that's about it tho...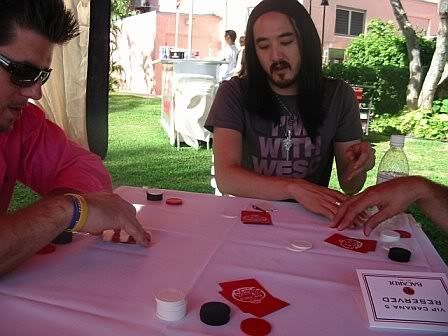 sorry-- i know i'm supposed to use my flash. ugh. back to the cabana for me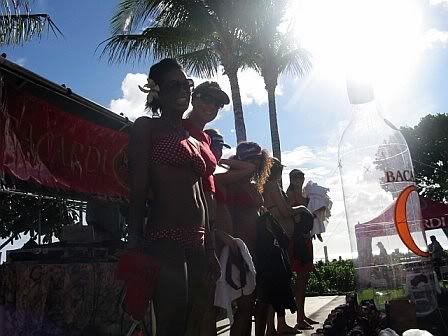 alex told me about her urban nomad adventure. kyle honey thanks for helping! i heart you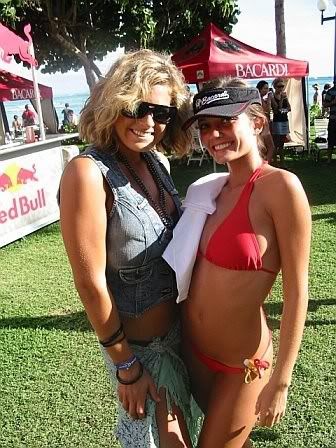 lots of skin at the volleyball net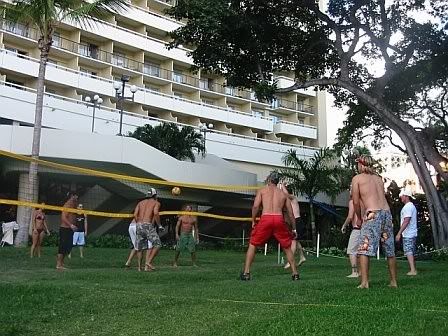 thank GOD malia surell just sent me her photos. they are super good. here's some of hers and i love you malia honey:

i missed two but here's her shot of the fabulous twoesome at two.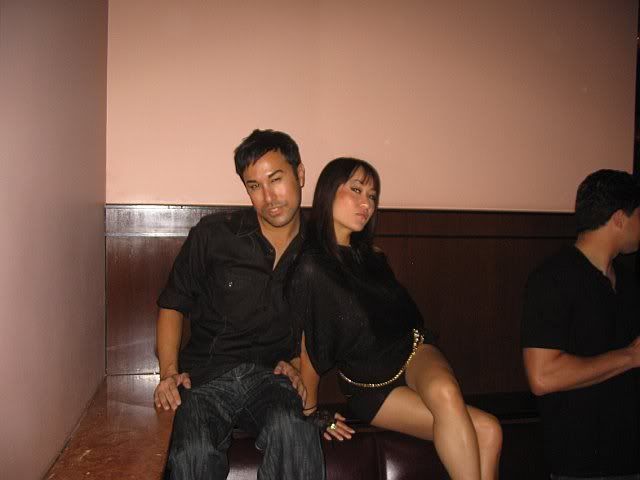 looks like it was a good time eh!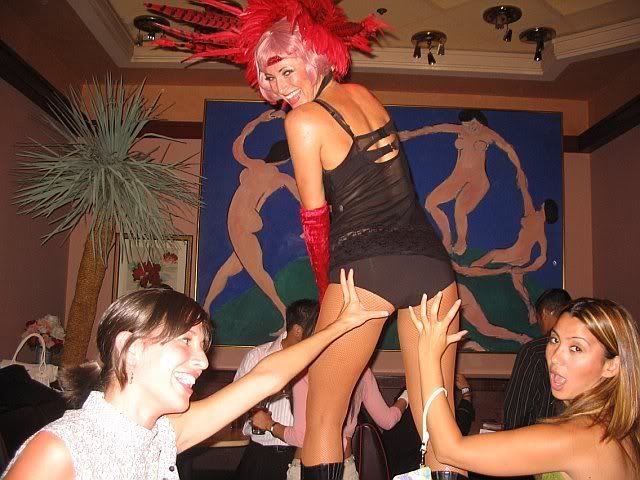 the old crew out for aukai's birthday. man, it was nice to see you guys. esp jen vo. come out more!



some of the pacific edge peeps, who, i HEAR, may have been a little tipsy this night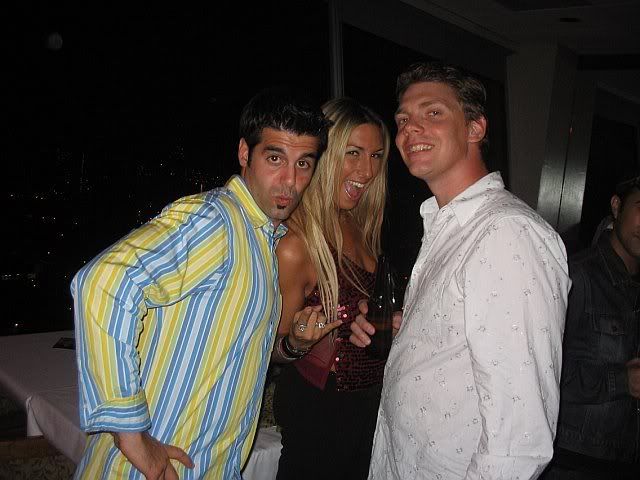 me again me again! hehe i remember malia sniping all night. i was super duper proud :)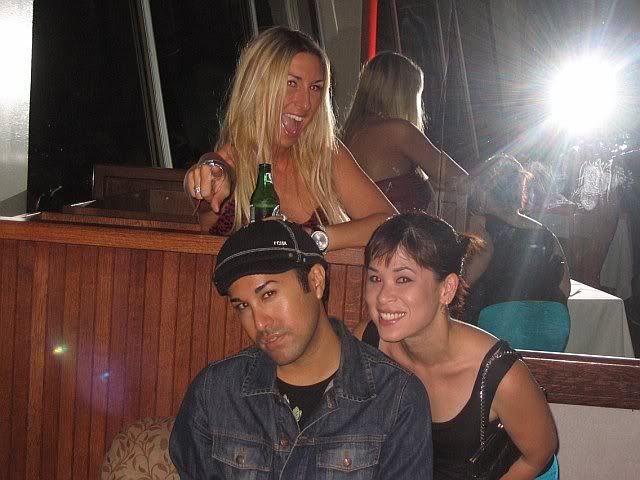 tim hazelgrove and stevo with matching hairdos.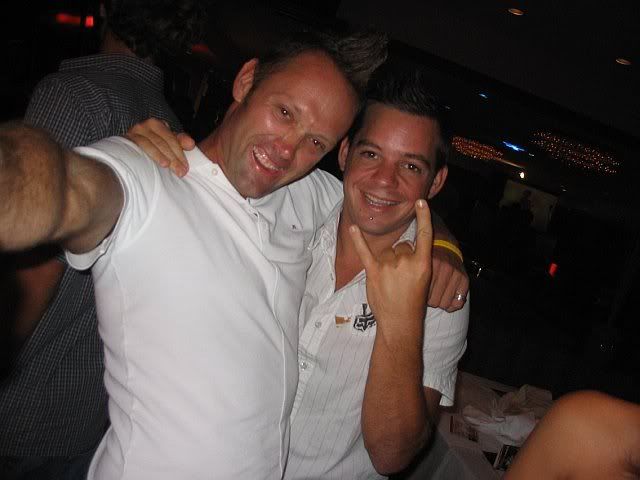 last pool party shot. hooray for the bacardi girls-- they are getting better every time.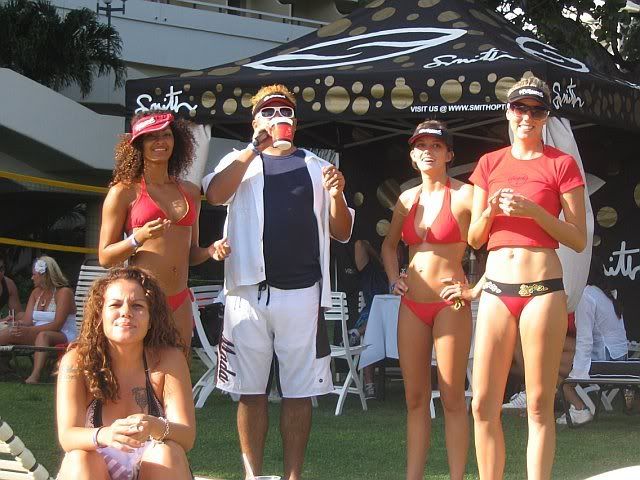 that's about it. see you!home