ugh. it's 1045am on wednesday. i can't sleep and haven't since like monday. ugh ugh ugh
but these pics are why i truly love honolulu. most of you know i had to work nights allllll weekend and it SUCKED not seeing everyone out and about-- but because of this beautiful island with it's beautiful nightlife i was able to get all kinds of action on random days and at random hours.
it all started like a week ago. flash has a new dig on mondays called

and it was fun. kawika was out-- when's the last time you saw him NOT working?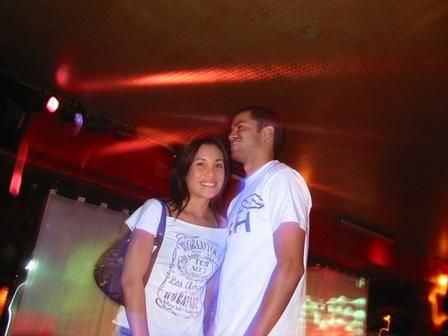 we had fun

byron was stoked to see him not working too. wait... byron. what are you doing... he's OFF tonight. oh wait, kawika doesn't dj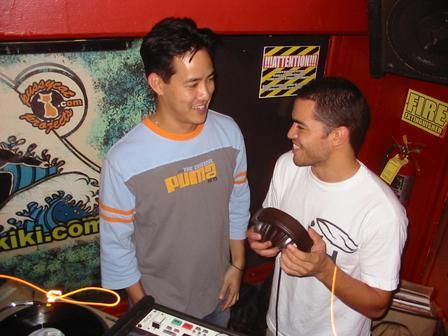 okay what next...OH! my new favorite night out! TUESDAY.
yes you may have heard about thirtynine hotel-- they have jazz on tuesdays. it is so much better than what you are even sitting there thinking.
it's richard's spot. he is a very dapper man. i, on the other hand, am making a ridiculous face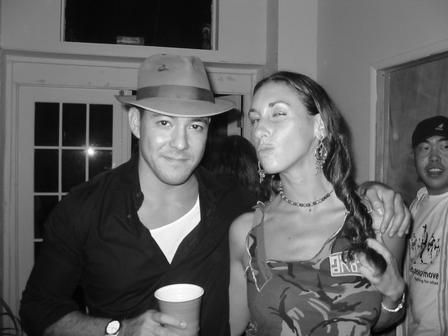 (oh yeah-- went to b&w because i was thinking "oh, jazz.... that's like artsy and shit")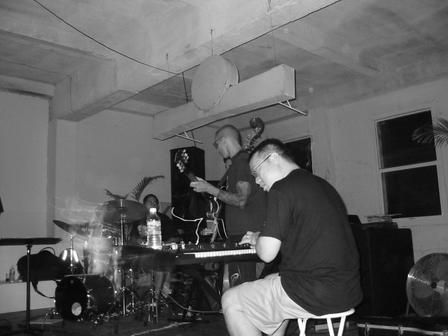 okay. so eric. he's a musical genius. masters from julliard. principal for the symphony here. and like 26 fucking years old. and a slut like me. i love it. and emma. mmmmm don't get me started on emma. the first string player i ever liked. and of course ryan. me and ryan were working every angle we could with emma. she's so .... innocent. i dig it.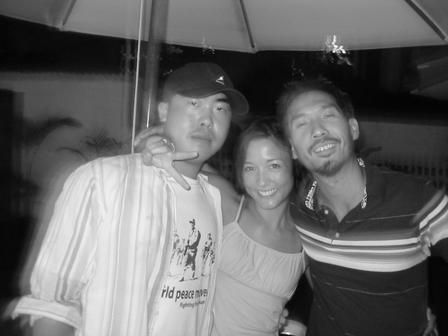 i'm telling you people. the place is great. too bad the black and white makes it look horrible. richard? please don't hate me.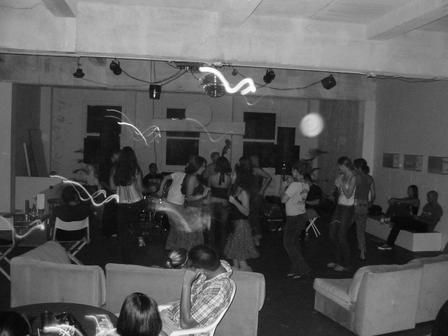 oh maria. my darling princess of waimanalo. i miss our sandy beach days too. but hearing you sing makes me forget everything and i love you for it.

that's tony there. ANTOOOOOOONIO! i think you probably know him as swampa zz from indigo on thursdays. whatever-- i know him as this super gifted musician

and that would be miss jen vo. my darling darling jen vo.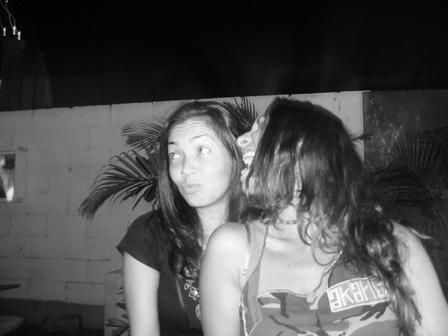 jackie loves me. thank god because MAN.....

another reason why i love this place? chris lamm.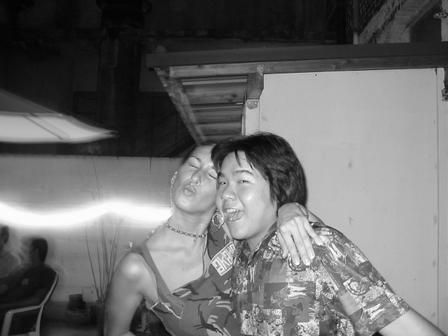 and you all know scotty-- how surprised was i to see him on a tuesday! probably as surprised as he was to see me, ha ha.

okay so what now. oh-- work. work work work for the next few days.... skip ahead to sunday morning at like 5:50am. miss christa is driving home from work and makes a quick stop to check in on club 301.

cheryl. man are you a sight for sore eyes.

gotta love flash and matty for giving ME a place to go at 6am, don't you think?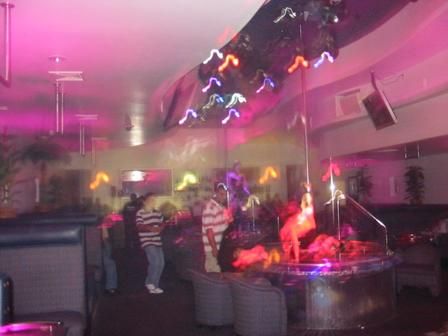 and *sigh* ikon was on. good thing because he's so fun to grope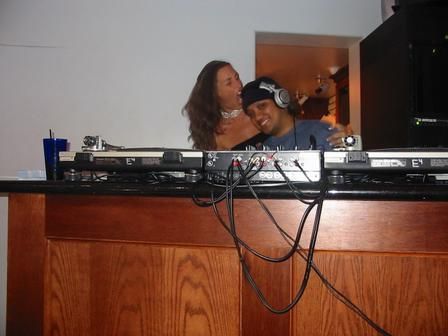 so now what.... oh-- one more night of work then another TUESDAY is in full effect. tuesday was my friday and i'm starting to really like tuesdays. i mean it.

but briefly--- i was on my way to erics and i saw zana. and i'm like "that can't be zana-- shes' in seattle" but it totally was her car so i was like BEEEEEEEEEEP on kapiolani right in the middle of that stank-ass backed-up bullshit traffic. and look who it is! BEEEEEF!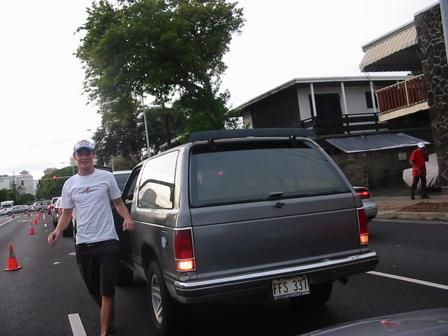 ya that was super cool to run into him. and it was even cooler to have this little catch-up in the middle of the road with everyone getting all mad, hehhe. (zana honey i thought you would like that)
okay so ANYWAY.
i crused out with eric for some pink lady action. IT'S NARISSA! (er, in the pink)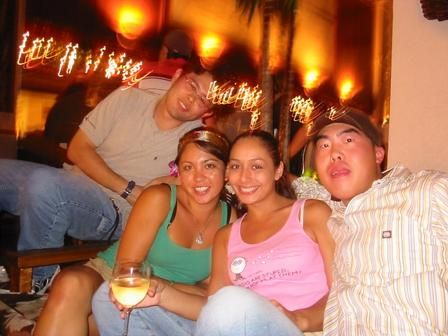 awwwww they like me! they really like me..... (pic from danielle)

getting photogd by danielle. but i think this one is super cute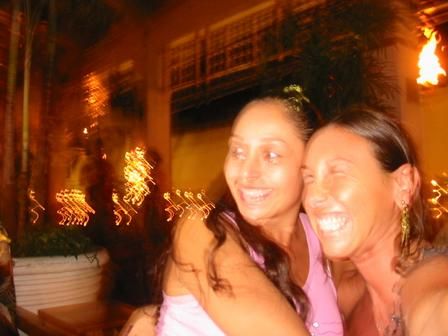 aimeeeeeeee! danielle!!!!!!! narissa!!!! *sigh* i'm such a sucker for you girls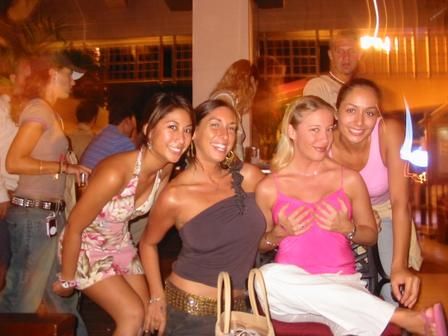 char came out too. it was a myspace hottie takeover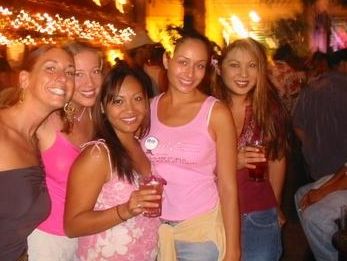 okay now ON to the buddha bar! for jade! mmmmm jade jade jade
*gobble slurp gobble gobblerpfh*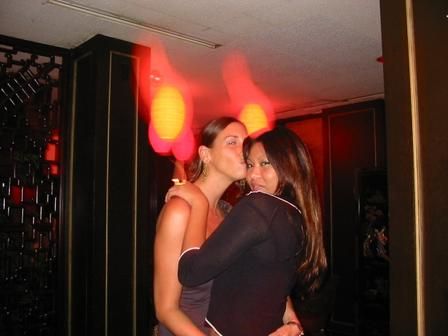 it was actually merissa's birthday

.
and jade is the shit because she has all these hot friends. me and eric were in heaven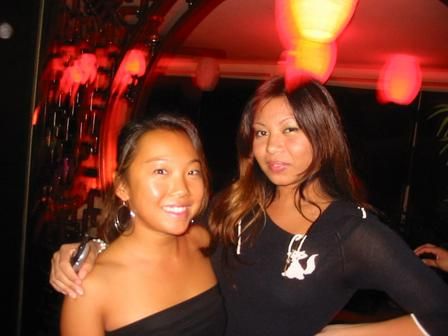 see? i mean..... damn! that's bonnie.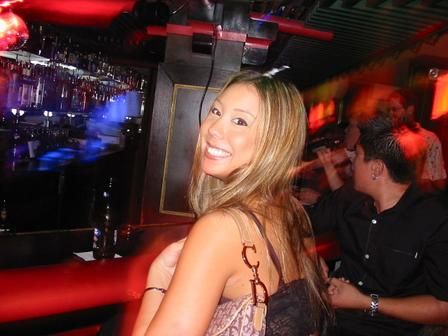 and NOW! because it's tuesday again after all.... it's time for....
guess where (no really, try to guess..... or just read it backwards and know that i'm on hotel street..... hey!)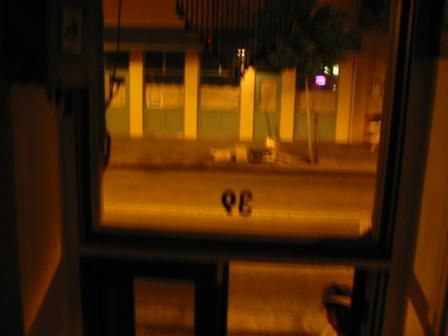 and yes i'm an idiot. the color ones are way better......i didn't take any inside this time because i didn't want to be obnoxious with my flash. actually-- tonight we mainly cruised outside. there's always so many damn interesting people there to meet or talk to. i fucking love it. and AIMEE! your favorite jay was there. i'm so sad you wern't with us.
look who was here! it's kieth patlin from freesounds



and jenny from indigo. SO hot this one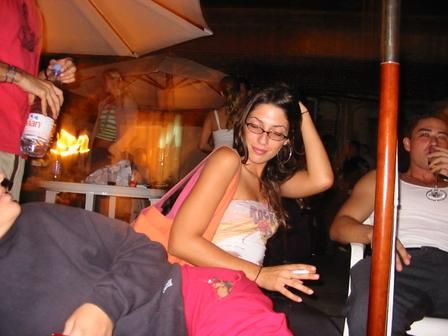 maria's fucking beautiful leg just got prettier

so that was fun. ON TO PUSSYCAT LOUNGE.... because the avenue d girls are STILL in town! fuck yeah i'm so glad i got to catch them.
uhhhhhhhhh...... slutslutslutslutslutslut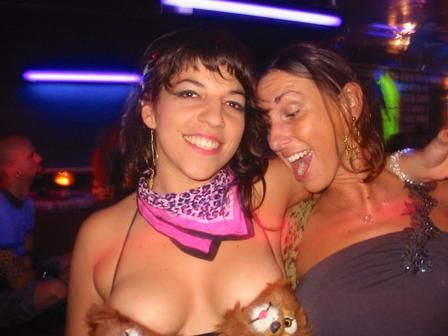 hahah flash is in slutwhore heaven

my favorite person to randomly run in to. it's THE MERC

oh man the look on these faces is FUCKING classic. i love it. FLASH WHO TOOK THIS ONE?IMG src="http://img.photobucket.com/albums/v468/cwittmier/2fdaf6df.bmp">
oh shit the girls are on

"face down ass up that's the way i like to fuck"

"if you can't stick it in my pussy you can stick it in my ass"
(no shit, they are RAUNCHY people. they almost even had me blushing)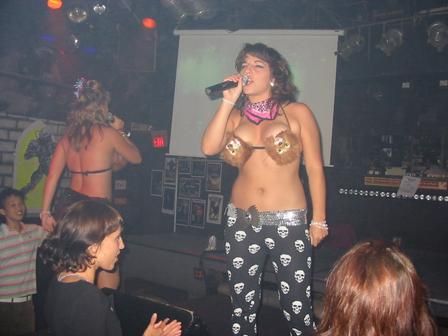 i just might love this guy more than he loves boobs. maybe.

aww its little justin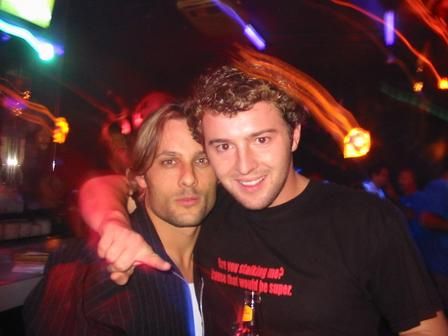 sorry. i had to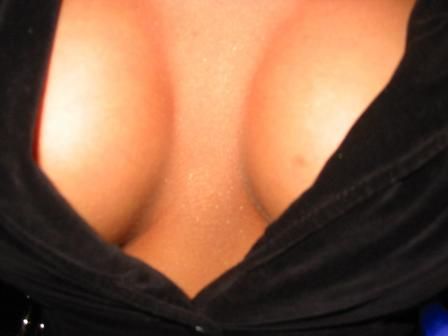 actually-- that one and this one is when flash had my camera. i think these are his photog debut. bravo!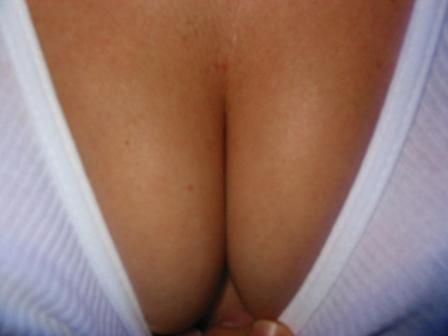 oh man, yes tonight was solid. and it went for maybe too long. i think i should try to get some sleep.
wait-- one more. from the old 301. because it's rare that we go there anymore. this is all you get. i was TOO naughty tonight to put up anymore. oh man..... ask me and i might tell you the story. it's good.

so what. this week is looking good. no work til saturday-- but it's just sat-sun daytime so i'll be out! gonna catch LB short bus and the W and hoot! another skyline! hoot!