so i was bummed that pommy was doing all the inviting to this bougie party saying "leave your panties at home"
i was like HEY! we aren't college kids going to a kegger in the dorms,
we're sophisticated adults, pommy!



but HEY! there was that super cool ice block thingie to guzzle alcohol from. CHEEEE!



skip back an hour. yup. it was kalei who got it started people. KALEI. if that's not a party jack-of-all-trades then YOU tell me what is.



were you wondering where the ketel one was? hah. derin hid it so we could hog it all to ourselves. i know, SUCH poor bougie party etiquitte.



the dj was blocking off the areas that were super fun to explore last time. ha i wonder if it was because kalei was jumping up and down on their furniture? either way, booo.



planter pots double as drink coolers at bougie parties.



back to blonde. it's hard to move away from. i will never move away again, blonde. how i missed you so.



i see kyle mitsumori. hey kyle! over here!



ha haa someone in my office said there was some "riff raff" there. i'm guessing it was tim and jeremy because they were the only people wearing hats. ha. little did the office guy know they were the FUNNEST people THERE. and those hats are expensive!



vincent kimura is off to hong kong soon. to LIVE. forever. can you believe that? ugh.



tim taylor. TIMMAAAAAAAAAAAAAY! it's fun to say that about people named tim. if you're keeping up, i do that to tim jackson too.



so ya these guys are traders in my building downtown. they work on the same floor and trade in the japanese market so no need for the cheesy aloha-shirt office garb that is standard in honolulu. like us. we're, like, the derelict floor of 1132 that rolls out of bed and into the office. ha. thanks for the party, fellow non-traditional-office-attire guys. always fun.



and since kalei's eyes were closed in that last shot she must be redeemed with a fab pic. it's standard.



toot update: he still has that person-face thing going. angst or something. poor emo kitty.



and he's still killing lizards all over the place. note half of it across the floor.



zana update from a few weeks ago that i forgot about because it was in my other camera: she packed up some 40s to send to chuck but the conformist bastards at the post office wouldn't let her ship them. so i got em. YES! old e how've you been? it's been about 13 years!



saturday morning first thing. manoa hike. what else?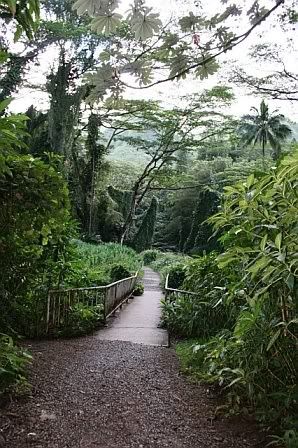 poor kyle let me wear his dunks on the manoa trail because my slippers were... slippery. they got completely coated in mud. his nice new dunks. aw. we let them relax on the beach to see if that could make up for the mud.



came back to town to discover the homeys were having a little session at the kinau bump.



it makes people propel in the air super high. very strategic.



sunday. HAPPY MOTHERS DAY MOM! i miss u.
we went out to ka'a'awa to celebrate our poor motherless selves with a bbq.

...but those shots are on the other camera, still on my counter. coming next time. love u.


home