good evening ladies and gentlemen!

while christa was away, i, richard cheese, got to play
photographer, scenester, and blogger. with my trusty LG Envy Camera Cellphone in one hand, and a martini in the other, i captured three strange days of singing, swinging, and wedding-bell-ringing.

so, without further adieu, welcome to my
fabulous weekend in honolulu!

on thursday night, i arrived into HNL and had some "cocktails" in the airport with christa herself, who passed the blogger torch to me for the weekend. then, it was out into the island night.

what better way to begin my trip to Honolulu than with an unauthorized entry into motor vehicle (HPD UEMV Sect. 2D-ii)! yes, less than two hours in hawaii and my rental car got broken into! someone smashed through the back window and stole a suitcase out of my backseat! there was glass everywhere!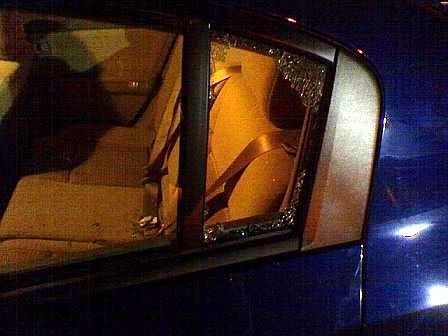 here's the police report...fortunately, the suitcase was EMPTY! psyche, thief bitches! they did get my tux shoes, though...
where did the crime occur? let's just say it was outside of an "adult entertainment establishment" whose name rhymes with Glub Gine Gee Gine. who invited me to meet there in the first place? rhymes with Glash.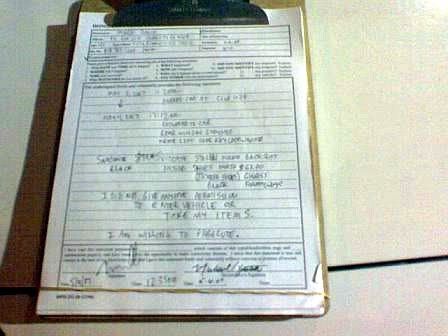 the next night, it was dinner at Mariposa. the usual suspects were there, Matty&KC, Flashee, Kalei, Lukee, Derinee, and a 939 dancer, we'll call her "L." our server jessica was a delight.
there was champagne...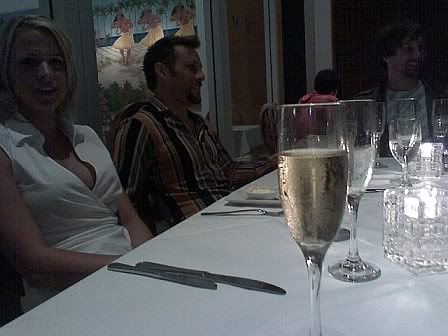 ...and salad...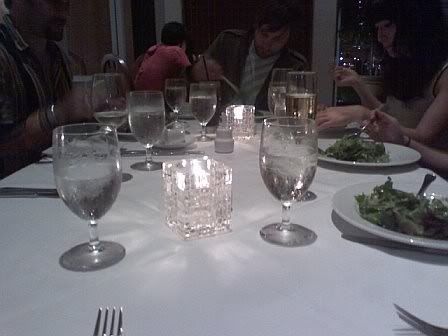 ...and monkeybread and corn chowder and salmon and minty chocolate sticks!!! so good and so blurry after a while!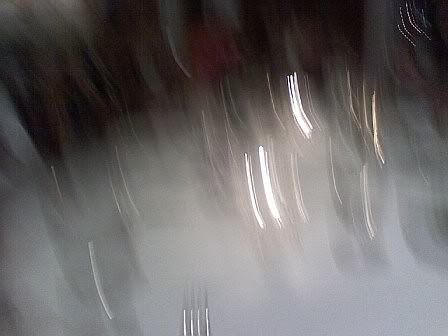 a car ride later to indigo, where flash got a table and derin got a buzz going.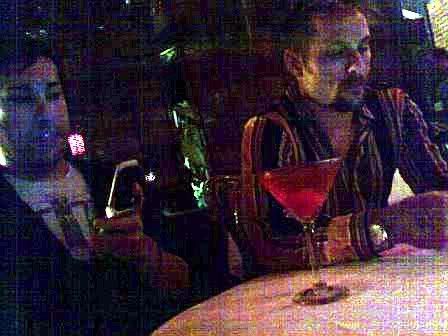 there were numerous drinks and lots of peoplewatching, particularly the petite asian lesbian with the short hair and the long rack who kept on walking by. i love hawaii! these are people who i think i met but i don't remember.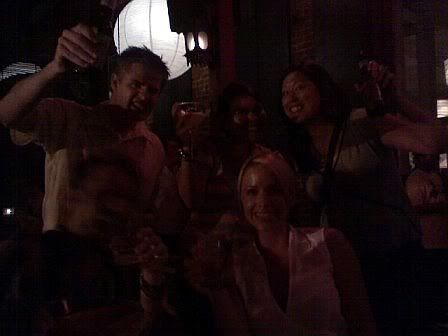 but i do remember these two! miya and lis, so cute and sweet, like king's hawaiian rolls! lis is a dancer who works with L; miya is not a dancer but i sure wish she was! call me, baby! p.s. not really a good idea to take out a baggie of marijuana and roll a joint ON THE TABLE IN FRONT OF EVERYONE. you gots to chill my babies!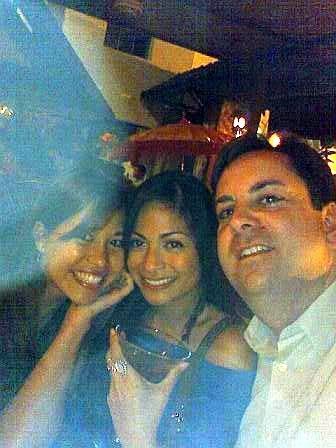 saturday night i stopped by the sheraton halekulani hotel's house without a key to see my friends Greg, Rick, and Clyde in Po'Okela, a great traditional hawaiian music band. HWAK is a great place, the least touristy tourist restaurant in waikiki. ocean view + fried shrimp + maui potato chips + dinner rolls + pina colada = delicious!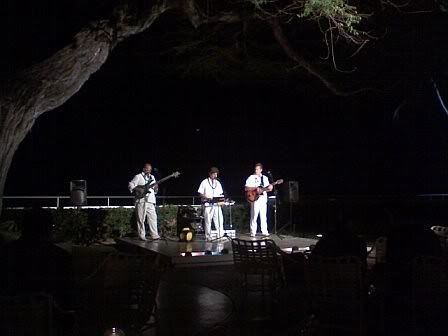 then it was on to SKYLINE at the Hanohano Room, hosted by yours truly RICHARD CHEESE! this is my VIP table, and those things on the table are called TOO MANY FLYERS.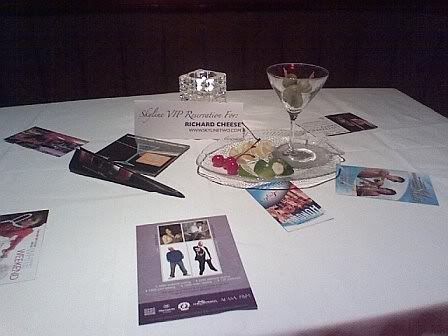 the view from my VIP booth---that poor shadow dancer is trapped inside that box! someone let her out! help!

on the table sat a GIANT 2-foot-tall martini glass filled with vodka+cranberry. this is the fabulous derin being refracted through the glass.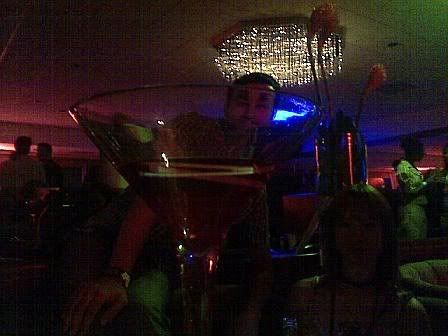 by about 11PM saturday night, derin and the martini glass both contained the same amount of liquor. also pictured: San Francisco's #1 mashup DJ Mei-Lwun's lovely Latvian wife Lija!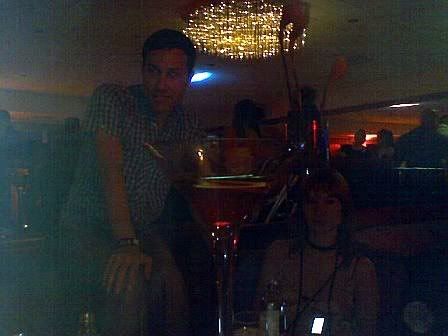 shiny kalei!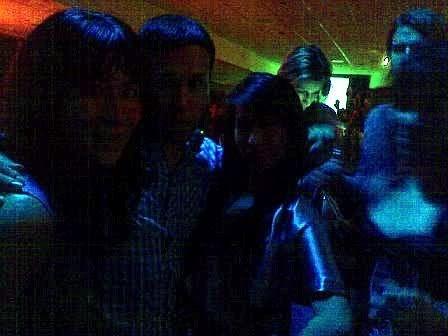 nice people, some with accents!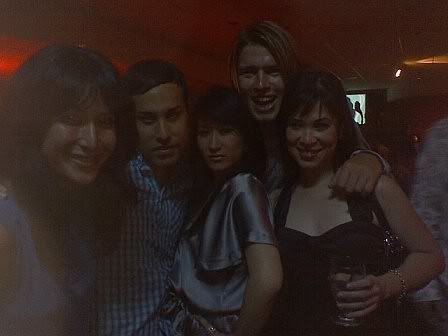 nice composition!

Smiles everyone! We want our guests to feel welcome!
Lija and Maggie! yay!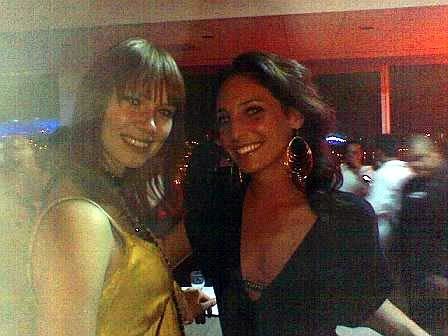 cinco de queso!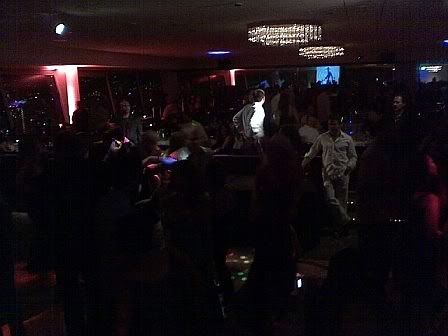 SF #1 MU DJ ML!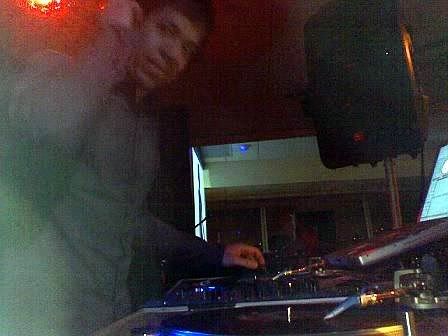 a classic christa-type photograph: photo of a photo being taken!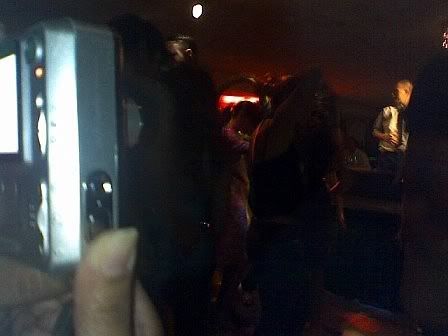 well lookee here, it's the groom-to-be, maleko!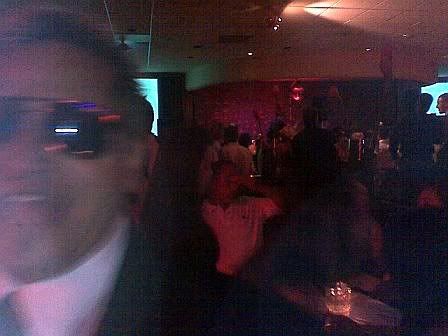 ...with MY bride-to-be crystal (flash's seester!!)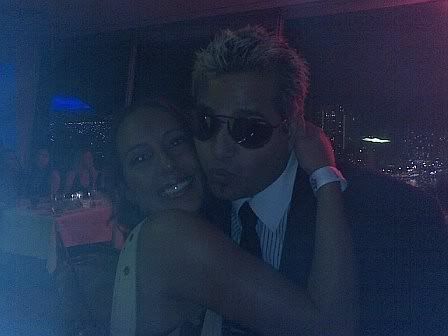 one of these dancers let me have some throat lozenges! thanks!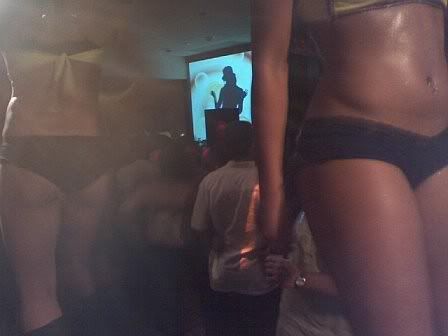 and thanks for the shaking perfection!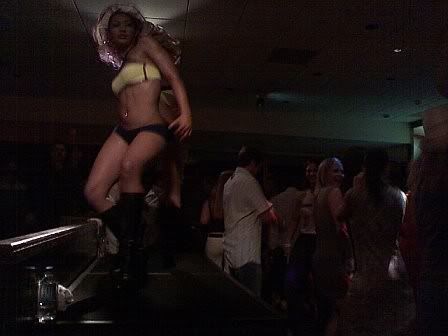 looks like the shadow dancer is looking for a lost contact lens!
somewhere in this picture is me, smart magazine's molly watanabe, and the really cute lacy, who needs to call me even though she apparently has a boyfriend, because he is so not right for her!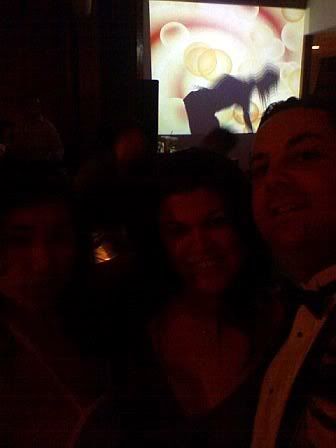 my skyline night reached its peak when these two knockout babes crawled into my booth and posed with my cocktail.
carissa(?) on the right, and rochelle on the left, with my sign in her mouth. that is a good sign, indeed.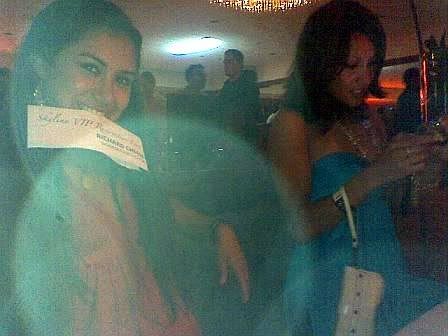 sunday morning ... maleko and gwen's rockstar wedding, complete with rockshow laminates, modeled here by maggie, kc and matty. these vip passes came in handy as fans under the hot kualoa sun! it was HOT!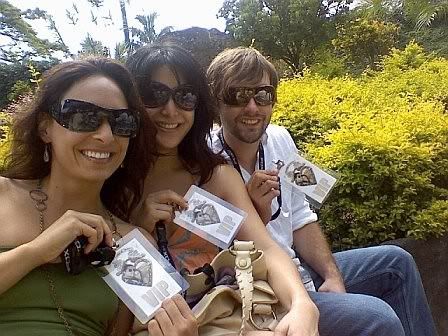 some of the hot guests!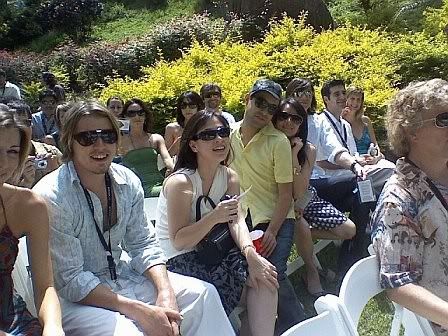 groomsman flash catches a nap after the ceremony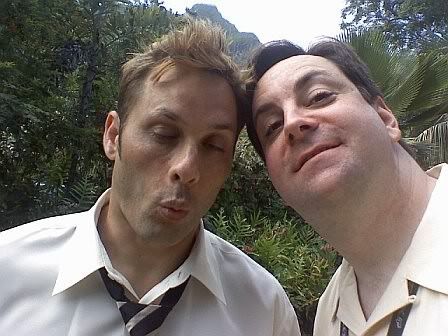 christa angle!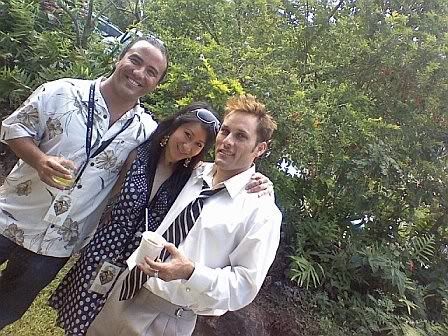 this picture...well, i have no idea... but it was awesome! seriously, check out that amazing scenery. look at the mountains! i count four mountains. i've got my rapelling gear in the car, ladies. seriously, nice rack, red-dress chick! email me!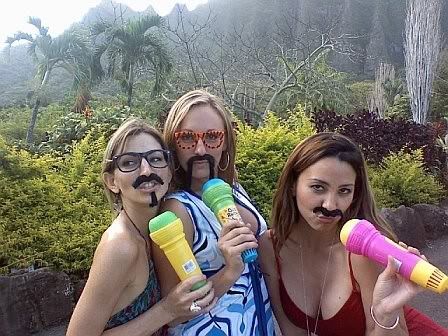 the wedding spread included meatballs, lasagna, tabouli, greek food, chicken pockets, vegetables, rice, and Maleko & Gwen brand bottled water!
the bar served drinks named after the newlyweds...i drank Gwens all day!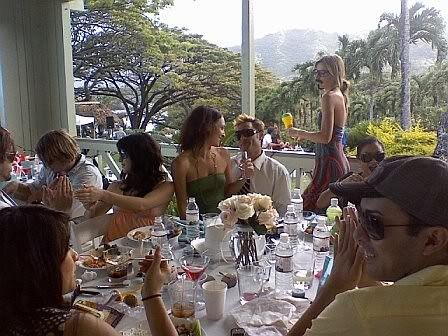 christa photo! my shoe is not the white one and not flash's con.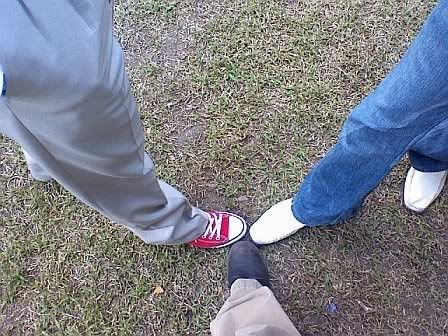 apparently, there were fake mustachios in the party favors. maleko, please upload this guy's wedding video message footage! 'twas hilarious!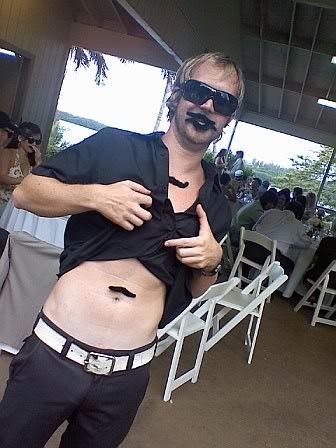 not too hot to boogie down! note the polkadots everywhere!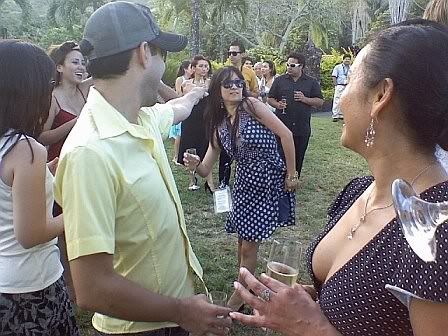 flash toasts the happy couple, paying tribute to Tom from myspace because that's how M&G first met!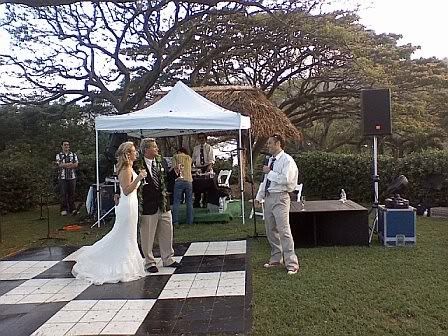 a photo of the photo of the newly wedded maleko and gwen!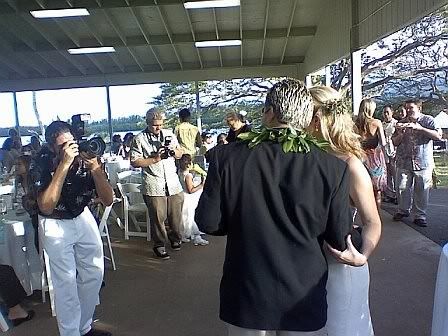 this table won "most beverages" contest!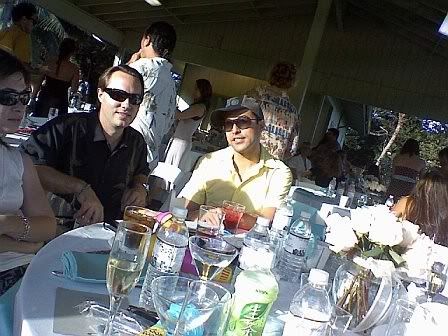 speaking of lost contact lenses, it's star! she saved my life in 2005 when she found my contact lens that popped out my eye in flash's car while i was superdrunk after a wave waikiki show. aw, the wave!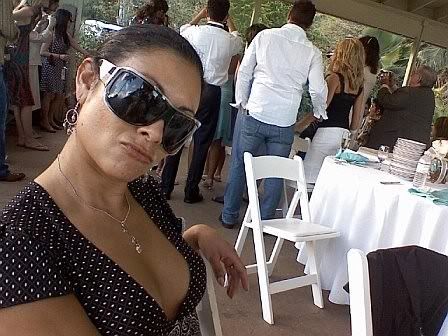 at the reception, a band called Two Shades Of Blue (consisting of star101.9's radio station engineer dale on 'lectric jazz guitar and a great singer named melody) performed standards and pop numbers. i joined them on stage for some spontaneous sinatra covers (including The Way You Look Tonight while M&G danced), plus we did a live vocal mashup of "Summertime" mixed with Sublime's "Doin' Time". it was crazy! also appearing as wedding entertainment: four don tiki dancers!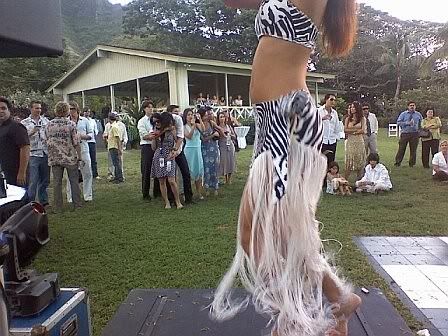 the fifth don tiki dancer!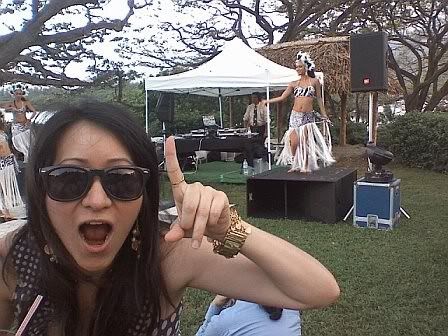 it was hat out! p.s. polkadots!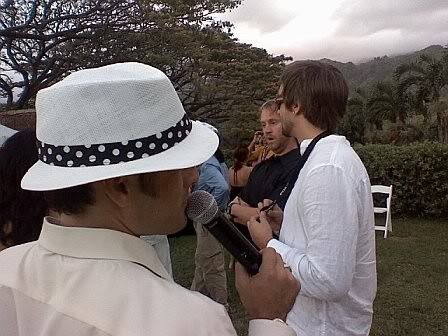 mmmmm champagne!
alternate caption: not-so-tiny bubbles!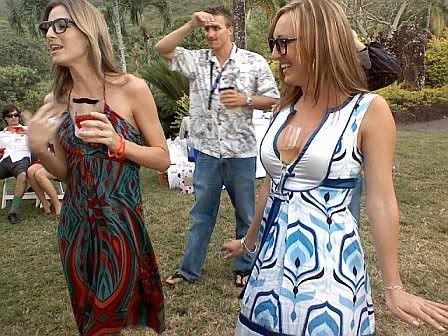 mmmmm water!
alternate caption: flash poses next to maggie's fine ass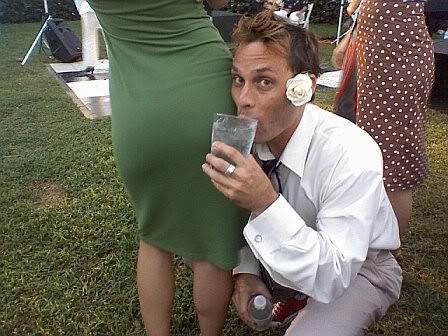 p.s. more polkadots!
and so, as the dusky sunset casts its farewell rays upon the chinaman's hat, we wrap up this blessed day of love and light and ohana and champagne...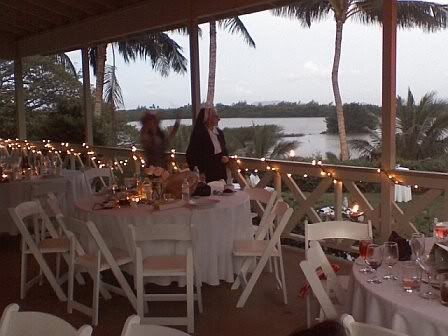 lots and lots of champagne!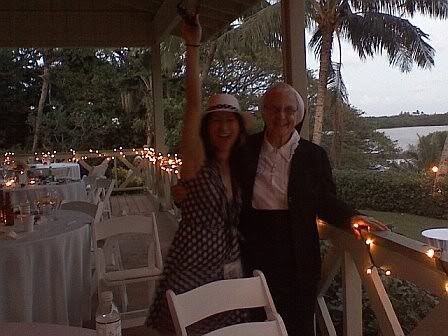 peace out, yo!
thanks for inviting me, hawaii!
aloha,
RC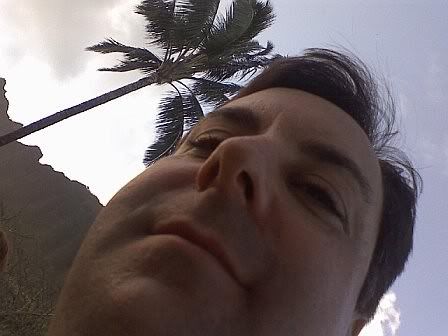 p.s. thanks to christa for letting me blog!
nachos taste better with christa!